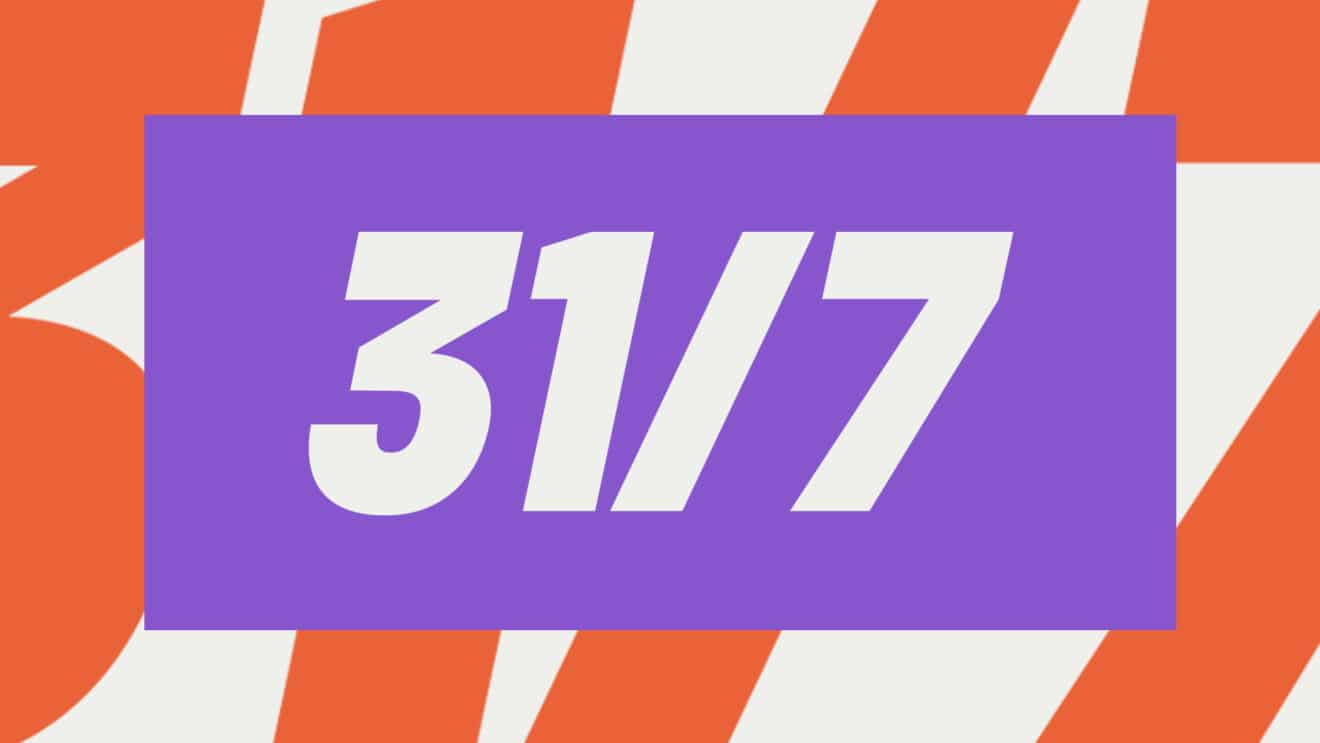 If you've seen the headline 'Emma Hayes to leave Chelsea to manage USA', you might have screamed . You might equally have thought 'cool, woman quits job and takes new one'.
Welcome screamers and shruggers alike. In today's newsletter I'm going to lay out why this is one of the biggest football stories we've had in aaaaaages. It's a long 'un but I've chunked it up nice so you can read it in itty bitty bits.


I hope you like it and please let me know if you do by emailing me at [email protected] or hitting reply at the top there.


Emma Hayes was born in Camden 47 years ago and was soon obsessed with football. Injury prevented her from playing, so she started coaching younger than most, which is one of the reasons why she is very good at it.
Over two decades in coaching, she has become an exceptional people manager who knows how to motivate players. This is evident in the staggering record across her eleven-year tenure as head coach of Chelsea:
Six WSL titles

Five FA Cups
70% win record
Champions League Runners-Up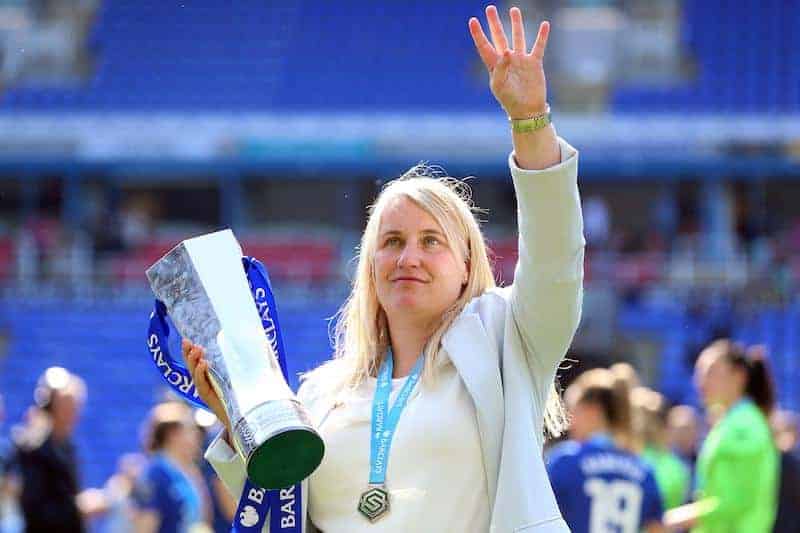 Hayes is pragmatic — rather than insisting on a particular style of play, she adapts tactics to suit the opponent, doing ⚡️whatever it takes⚡️ to win the game. She ingrains this drive to win in her players, while insisting on humility and the understanding that "you're never too good to lose". Her other favourite buzz words are legacy, hard work and family.
Alongside a focus on mentality, Hayes fixates on 1% gains and takes a practical approach to controlling the controllables. It was only last season that most clubs clocked the lift in confidence associated with swapping out white shorts; Hayes has been thinking about this stuff for years. Chelsea's dominance owes a lot to her dedication to getting the most out of female bodies — at Cobham, where Chelsea train, Hayes' players have a Women's Health Coach and a Pelvic Floor Coach.
For decades, women have been unfairly slated, deemed 'not good at football', ignoring the comparative lack of research into women's bodies and the resources required to support them.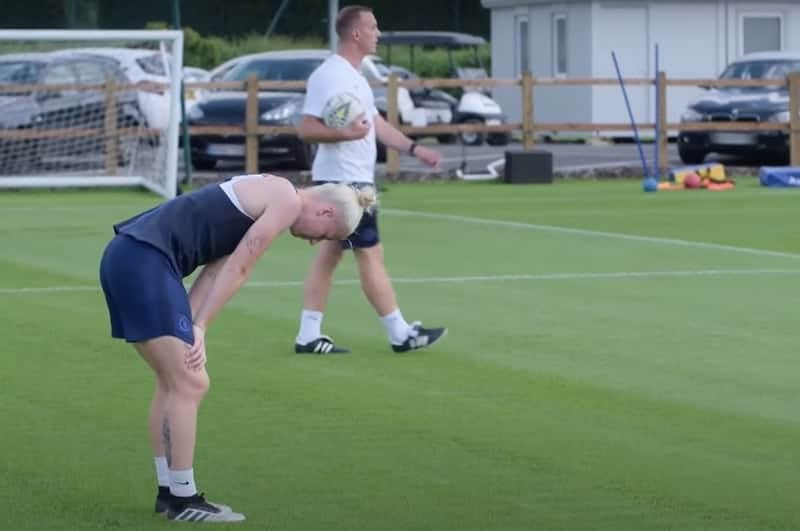 In DAZN's documentary
One Team, One Dream
(it's very good and
free to watch on YouTube
) Hayes sums things up nicely after Bethany England scuffs shot after shot wide in training.
"In that session, our top goalscorer has scored the fewest number of goals. Struggling, can't move, missing shots on goal — in excruciating pain because she's an endometriosis sufferer.
"So if our top goal scorer is not in a position to perform at her best, is the failure with her or is the failure with us?"
Emma Hayes is already a pioneer of women's football, and she's about to take a job at the organisation that have valued it highest and for longest.
Two weeks ago Chelsea demolished Aston Villa 6-0. After the final whistle, Hayes told her players that she'd be leaving the club at the end of the season. Minutes later, a club statement told the rest of the world that she'd be pursuing an opportunity 'outside club football', and journalists immediately linked her with the vacant USA job.
On Tuesday, US Soccer confirmed the rumours and announced that Hayes will take up the post in May, two months before the USA compete at the Paris 2024 Olympics.
US Soccer's 'ta-da' unveiling didn't hit the same when we all already knew it was happening, but it seems like Chelsea had to rush out the news of her departure, presumably because someone outside of the club who was in the know was about to break the news before them. Damn journalists.
What does it mean for Emma Hayes?
She'll get to spend more time with her five-year-old son Harry. In
an interview with the club
, Hayes remarked that she has never picked him up from school or been to a sports day. Managing a Women's Super League side demands four-hour round trips to lead daily training sessions at Cobham, as well as working every Sunday — whereas managing an international team looks more like the 9-5 job that the rest of us are used to. Between sporadic two-week camps abroad, she can make more time with her son among planning and research.
She'll get paid loads of money. The deal means Hayes will earn an annual salary close to $2million, making her the highest paid women's football coach in the world.
She'll live her dream. When
the appointment was announced
on Tuesday, Hayes said: "The feelings and connection I have for this team and for this country run deep. I've dreamed about coaching the USA for a long time so to get this opportunity is a dream come true."
In the noughties, Hayes spent five years coaching Stateside, including a stint in charge of NWSL team Chicago Red Stars. She likes the WoSo culture over there and will be looking forward to the resources she'll have at her fingertips.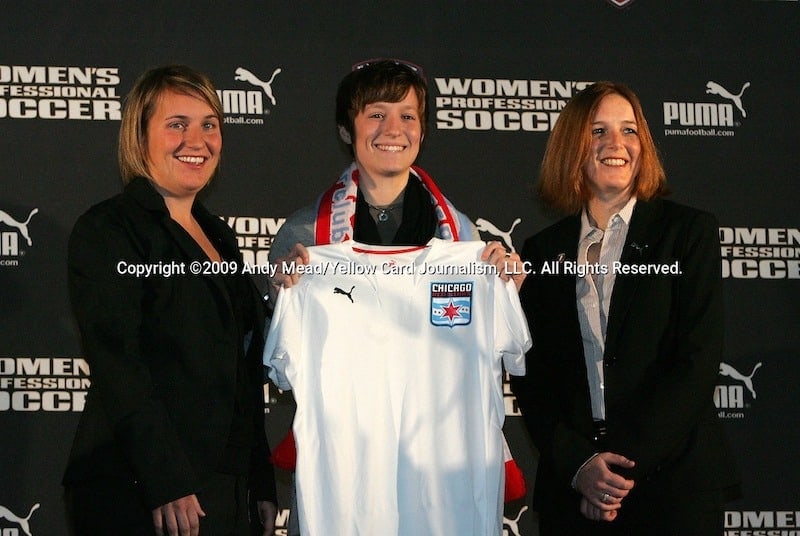 Yep, that's Emma picking a young Megan Rapinoe in the draft (the fair process by which the league teams select players from the US college system). Her ethos is all about 'team-building' over big names —

but she's not bad at spotting talent either.
What does it mean for Chelsea?
The good news is that Chelsea have a long time to figure out what to do next as Hayes will continue as manager until the end of the season. With the USA preparing to compete at the Olympics next summer, Hayes was keen to stress that her thoughts won't stray from the task at hand: "I'm here until the end. I haven't died, I haven't gone anywhere. I'm here, doing this job. My full focus and attention is on what I do for Chelsea."
This is important because it's probably the last big chance that the Blues have to win the Champions League for some time, since Hayes' exit can only be followed by a total rebuild. Denise Reddy, Hayes' long-term assistant, will probably go with her to the States, which rules out a continuity of the existing culture that has thrived at Cobham for over a decade.
The right successor will be hard to come by since, simply put, there are few football managers out there who can match Hayes' calibre. It seems likely that Chelsea will look long term, appoint an up-and-coming manager, and let them mould the team in the way Hayes did over eleven years. Someone like Aston Villa coach Carla Ward or San Diego Wave coach Casey Stoney might not win the 2024/25 WSL title, but they might have the vision to build another sustained period of dominance.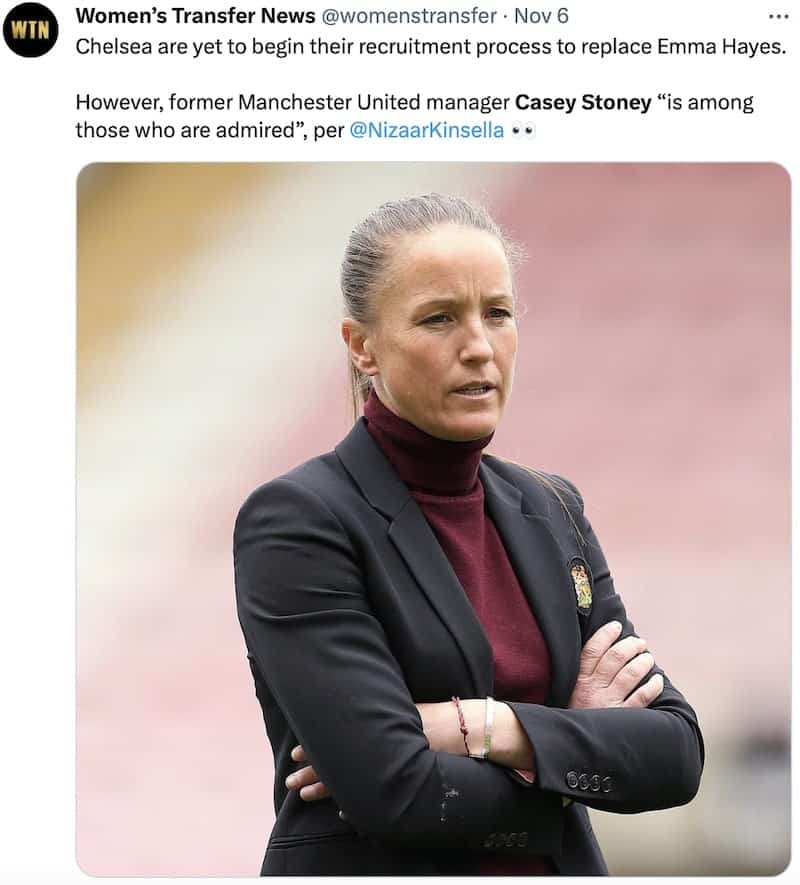 Whatever happens, Chelsea's future will have legacy-obsessed Hayes' fingerprints all over it as,
according to The Athletic
, she will meet with the club's technical directors once a week to help create her succession plan.
For the players who love her, it's gutting. Captain Millie Bright, who has worked with her for nine years, said she was "devastated" by the news, which is both a professional and a personal loss. Young 'keeper Hannah Hampton will be gutted for other reasons, after considering the chance to be third-choice under Emma Hayes more valuable than the Aston Villa no.1 shirt she gave up this summer.
Hayes has created and 'is' Chelsea Women, so her departure will bring about enormous change. Sam Kerr and Fran Kirby, for instance, will have lots to think about before their contracts run out next summer.
What does it mean for the USA?
No one was ever that delighted to see former USA boss Vlatko Andonovski step onto the scene. There were calls for patience as he got to grips with the team — but patience ran out quite dramatically when the States' World Cup campaign ended disastrously with a Round of Sixteen exit.
Fans of the USWNT won't tolerate losing and as such, Hayes' appointment is the perfect marriage of — as journalist Adam Crafton puts it — "the team that has to win" and "the coach that always wins".
What's more, Hayes 'gets' America and what WoSo means there, so she already ticked a lot of the boxes before she got past the 'psychometrics and abstract reasoning tests, in-depth discussions of strategy, coaching philosophy and the current player pool, as well as evaluation on the reactions to pressure, culture-building and interactions with players and staff', which is what US Soccer say they put candidates through.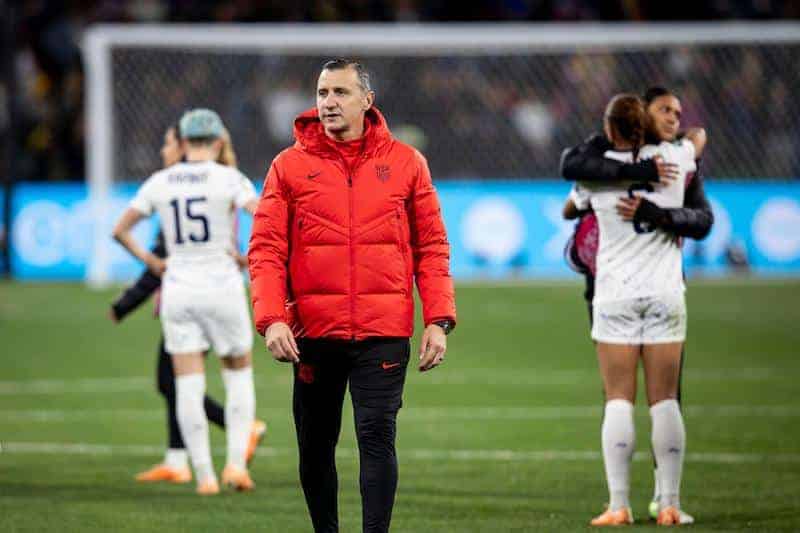 The perfect appointment? There is one hitch. In order to snag their winning coach, the team that has to win must accept probably not winning Olympic gold next summer — which, US Soccer hopes, is a small price to pay to have the right person in place ahead of the 2027 World Cup.
After May 18, when Chelsea's season ends, Hayes has two months to make preparations for the start of the Olympics, giving her two international camps and just four friendlies to put her ideas into place.
She's insistent that she only has her eyes on Chelsea for now, so there won't be space for her to keep tabs on American players for selection decisions — that will remain the job of interim manager Twila Kilgore, who will remain as assistant following Hayes' arrival.
In the meantime, Hayes can begin sowing the seeds of her culture in USWNT forwards Mia Fishel and Cat Macário, who train under her at Chelsea.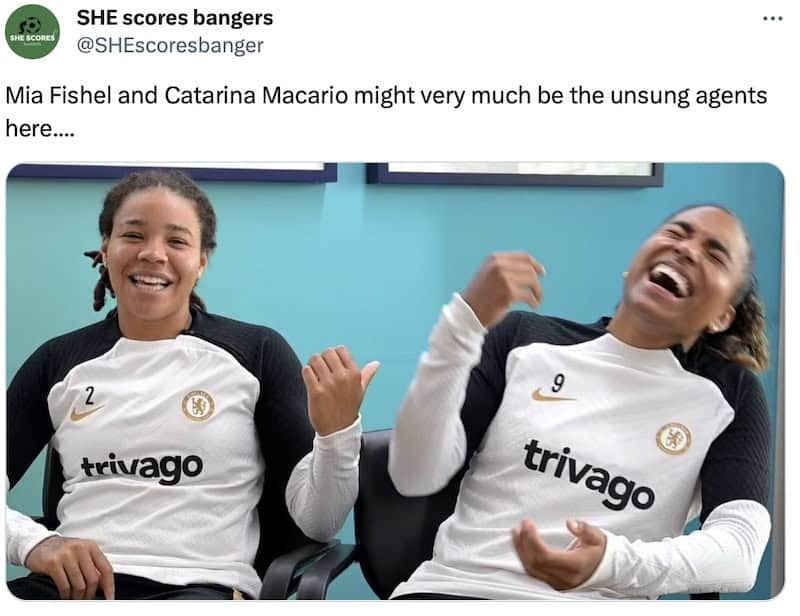 What does this mean for Women's Football?
Short answer — LOADS. But here are the main points:
1. Money, money, money — US Soccer are making a huge statement by paying Emma Hayes that much. If I were Sarina Wiegman, I'd be trotting directly up to the FA's HQ and saying, 'Hi, how much does Gareth Southgate earn, please?'
2. Development — I can't lie, I was hoping Hayes would take the England job one day, and this appointment disappointed me because I felt it took that opportunity away. On the other hand, though, an English manager crossing the Atlantic to take the best job in women's football? Makes you proud, don't it? And it makes me want to take my coaching badges. If Hayes' success overseas inspires more women to become coaches then that would be as fine a legacy as managing the Lionesses to a trophy.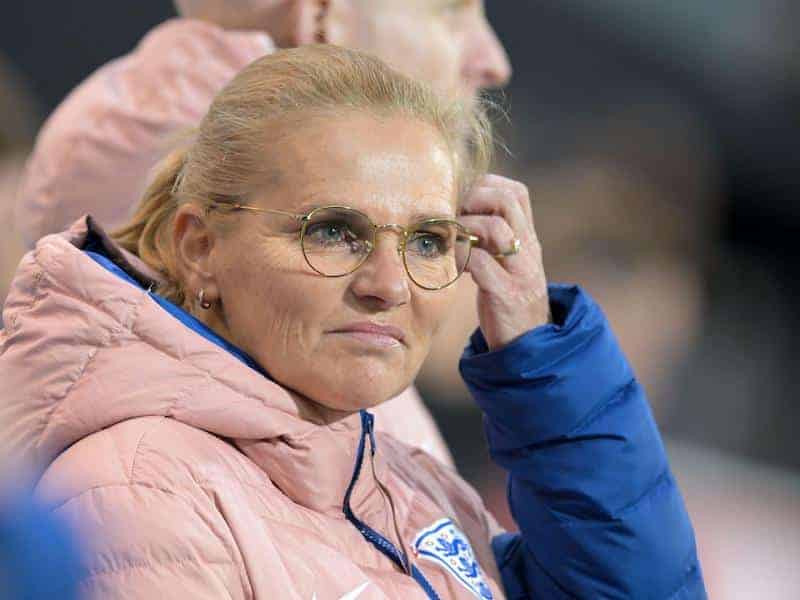 3. The WSL is back — sorry, but it was getting boring, wasn't it? Chelsea may well win their fifth consecutive title in May, and I for one can't wait to see someone else lift it. The other teams are all licking their lips.
4. Yelp — remember how much fun it was when the World Cup wasn't a foregone conclusion this summer? They really do have good players and Hayes really do be a great coach so, it feels like the season for laughing at the USA is over.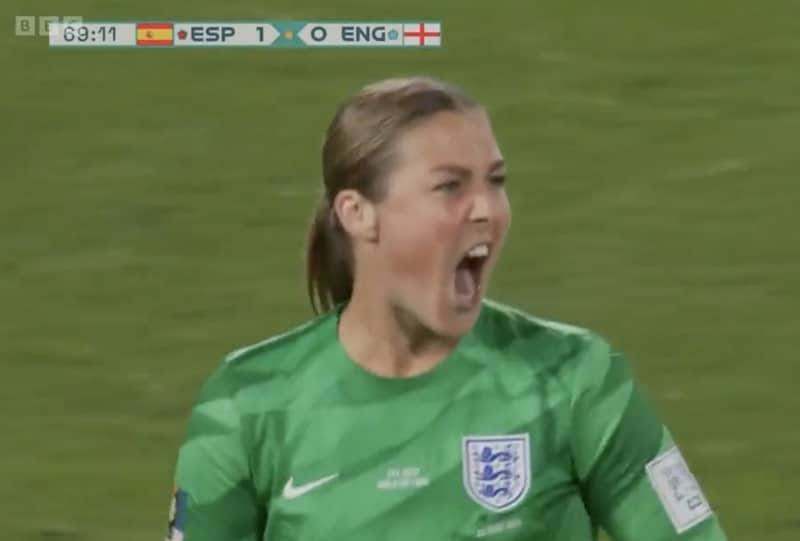 "My gran wasn't happy about it actually. She told me off
" — last week Mary Earps revealed that she was in trouble for her sweary outburst in the World Cup final.
What could she do? She'd just saved Jenni Hermoso's penalty, keeping the scoreline at 1-0 for the last twenty minutes, keeping the cup firmly within the Lionesses' grasp. Sarina Wiegman later said that she felt at the time that this was the turning point, that England would go on and win it.
"Fuck off," is the only response. Nothing but "fuck off" would do, here. Sorry Gran, you're wrong!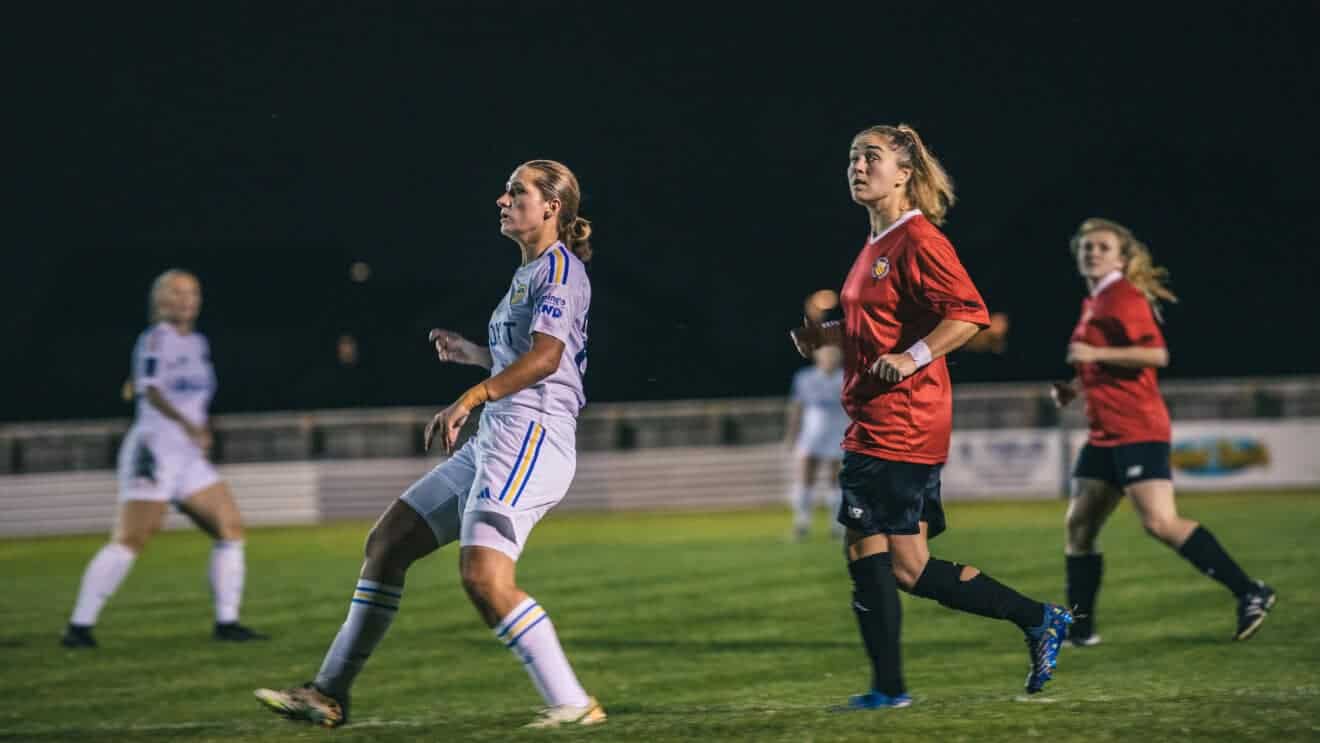 Soggy bogs and misty eyes
A non-league ground lined with golf brollies for a rainy FA Cup tie reminded me of being at Histon as an 11-year-old. This time, Leeds brought the magic.