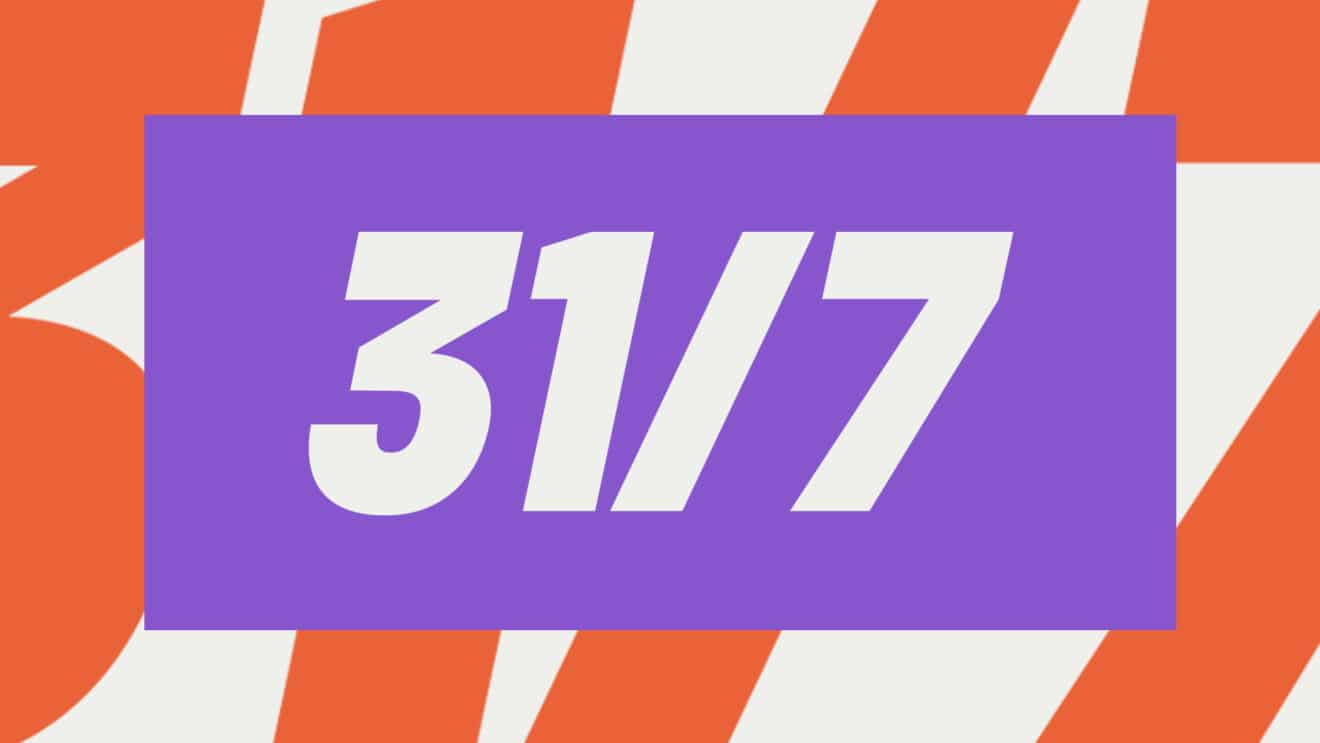 Hello, Flora here. 31/7 is a weekly but I was at Wembley on Thursday night watching the Lionesses becoming the nearest thing to world champions this side of the World Cup, beating Copa América champions Brazil on penalties after a 1-1 draw. So I thought I'd write and tell you how it went.


Remember that if you have any comments, requests, jokes, compliments etc you can reply to this message or email me at

[email protected]

.


"Are you going to watch tonight?" the man at the desk says, before I can ask him to charge me for the fuel at pump 6. The question surprises me. I'd forgotten I was wearing a football shirt. And wait, isn't this the next village along from mine? I didn't think people cared about that kind of thing around here. I tell him I'm on my way to Wembley as I pull out my wallet.


"Good for you," he says. If he gets time, he'll watch it. It'll be a good match, he reckons, since Brazil are world beaters. It's great, isn't it, how winning the world cup [sic] really put women's football on the map last summer.


"Yeah," I reply. It really is. "Hope you can catch the match."


Just like on 31/7, I feel like I've won before a ball's been kicked.


I meet a girl who feels the same on the Jubilee line. About eight years old, she bashes back and forth in her seat willing the train to go faster. Her cheeks bear St George's, at the bottom of her spotty leggings are a pair of astros, and the three lions are riding what looks to be her Dad's old navy hat.
I wonder if any of the husbands have slept with wives that aren't theirs
He apologises as he plonks himself beside me at Stanmore tube station.


"Bet you're wishing you'd sat in another carriage," he jokes as a swarm of seven children and four adults pile into a space previously occupied by me, my thoughts, my packet of Quavers. The vibe is weird. They are a party of combined families, I suppose, and I wonder if any of the husbands have slept with wives that aren't theirs because they should have plenty of things to say to each other but I am inexplicably the subject of focus.


I ask him where they've come from and he says Newmarket and I tell him really, I'm from Cambridge, and he can hardly believe it, despite the fact that we are seated on what is one of only two remotely desirable routes to Wembley from that neck of the woods.


As it turns out, his football team will visit my village for a tournament in May, ain't it a small world, and he jokes that they need another coach and no one especially laughs and after that I realise that I'd rather speak to the daughters than their dad and return to my thoughts.


I don't know whose children are whose, but they're seated in age order like the von Trapps, each generation marking the moment in their own way. Seated beside little Greta in the astros is a braided girl in an away shirt yielding a flag like a lance. Next along is a girl in a scarf who is relishing the Easter holidays, as she won't have to defend the thin red crosses she's delicately painted onto her nails to her form tutor on Monday.


Then there's a pubescent pair in Air Max and North Face refusing to wear their pride, and two university-age daughters in England shirts — the shiny white ones what they won the Euros in. I wonder if the students' love of football survived the wild ride of puberty or if they, too, ran away inside of themselves a while before rushing back to the pitch. Either way, the nipper on the end in her astros won't let any of them forget that today is a really special day. And it is.
Yes, the large concrete-and-gazebo car park out the back was indeed suitable for children
Arriving at Wembley Park station, I walk in the rough direction of the bar where I drank my last pre-Wembley pints almost four years ago. In 2019, my mate Elena and I helped to set a new record attendance for an England game when we watched Phil Neville's Lionesses play Germany in a friendly at the home of football. We were really excited, found a really great pub, and started the proceedings really early in the day.


It was our duty, we had decided, to bring vibes to this new fandom, this disjointed crowd of people, some of whom had never watched football before. Well-oiled, we flapped and flailed and shouted a bit in the upper tier of Wembley before we realised no one was joining in and tried to keep a bit more of a lid on it. For me, leaving the stadium bowl while the ball is in play is something of a cardinal sin. For breaking this golden rule on this most special of occasions, I was instantly smited as Ellen White bagged the only England goal of the game while I was fannying around on the empty concourse. I think I was getting food while Elena was peeing or something. I watched it happen on the telly, and then when we came back together we just exchanged this knowing glance of 'yep, we've fucked it', but it was funny so we didn't mind.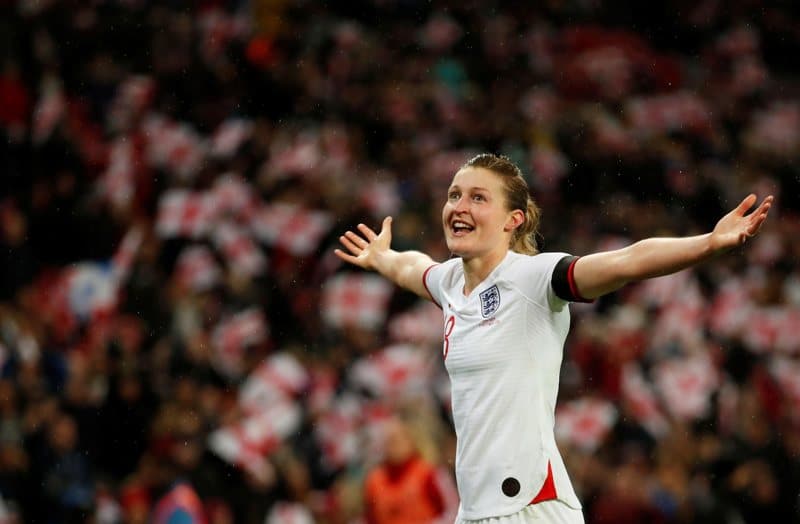 All of this was preying on my mind when I was hunting for a place for a pre-match pint, but by then it was mercifully too late for me to do myself too much damage. Three chirpy doormen were really grafting for my attention, shouting the same looping refrain like market traders, 'food and drinks, plenty of space out back, kids are welcome'. Once I'd walked past neon signs that read 'You're not in love, you're just drunk', and 'the naughty corner', I could see that yes, the large concrete-and-gazebo car park out the back was indeed suitable for children. In a sense, being too young to drink, they were the fortunate ones. I know, say the line Bart, London pints are spenny. How many weeks' pocket money for a Guinness?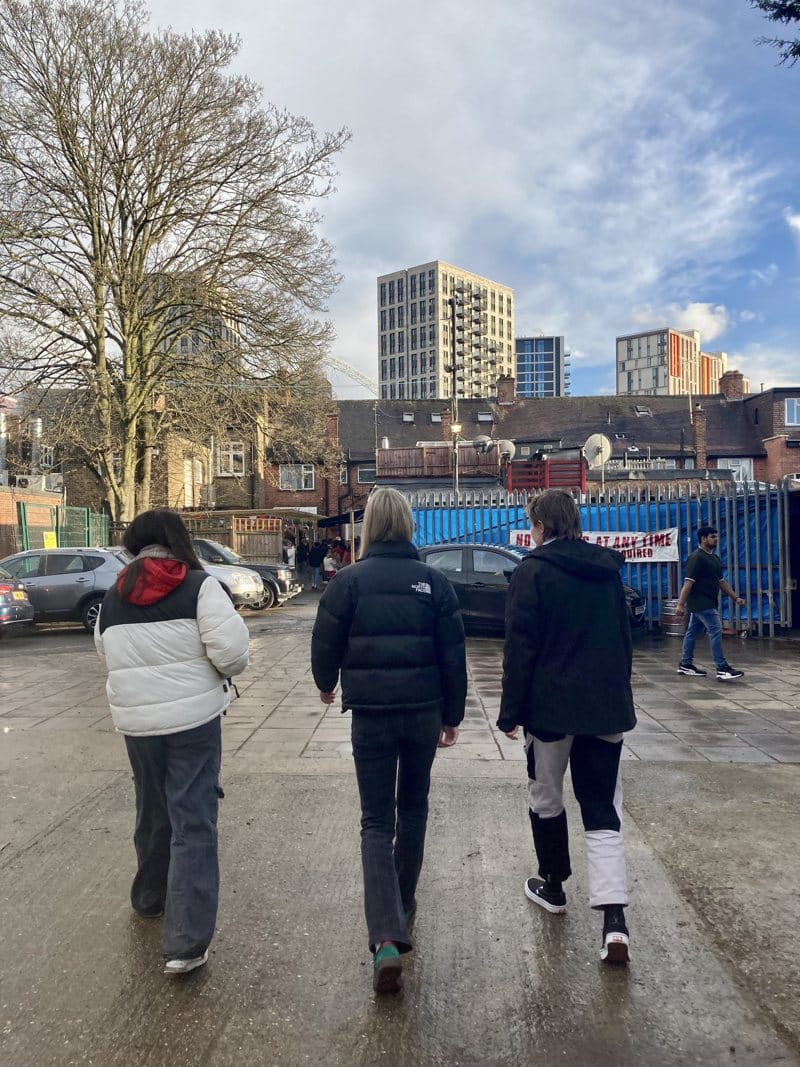 Eight pounds, and as I sat down, the rickety plastic bench nearly propelled my £8 pint asunder. It might have given the kids a laugh. Three of them were parading a banner around the car park which advertised their football team, Starcross Dons Youth F.C. I'm stunned, shocked and delighted to report that if their banner and Google are to be believed then they travelled from Devon for the occasion.
We have to beat these world beaters, matey-boy at the Histon Gulf petrol station knew that
The only note I made during the match was about Leah Williamson beating Brazil at their own sexy flairy game. Eight minutes in she did something nice with her feet then chipped the ball to beat a player. England did a pretty good job of commanding things in the first half, though they lacked a little inspiration up top. I didn't like all those offsides but I did enjoy seeing Jess Carter getting a go and giving 'watch Keira Walsh on the ball without gasping challenge' my best shot. I liked seeing the goal, but I wanted to see more.


In the second half Brazil were shooting toward the goal below where I was sitting with my Leeds Hyde Park pals, and I dunno if it was preferential treatment or what cuz we're a bunch of legends but England decided they'd let their opponents do most of the talking up at our end of the pitch. We saw a lot of the ball. The Lionesses didn't. Every time they got it there were about four yellow shirts on 'em like THAT. It's not a nice feeling, to have the ball but before you can think someone is trying to steal it from you or getting in the way. Just bog OFF, will you???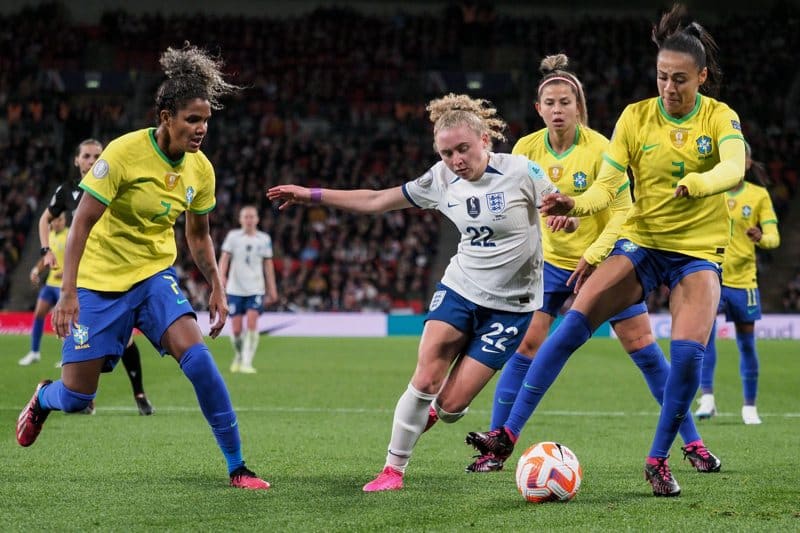 It wasn't the most scintillating game of football I've ever seen but I was having a good time and I didn't really want to do the long trek home. I'd have to do it either way but if I could just watch a little more ball-kicking first that would suit me fine. When Brazil equalised I wasn't mad about it. I'll let England sacrifice a glorified friendly so I can have a bit more of a nice time. That was until Leeds Hyde Park 1s captain Cleo, seated beside me, asked what kind of message it would send out to the Lionesses' World Cup opponents if they DIDN'T lift the coveted Finalissima trophy? We have to beat these world beaters, matey-boy at the Histon Gulf petrol station knew that. UGH.


I've often wondered what England's post-match routine would look like in the event of defeat. The Lionesses love to lap the pitch, clap all their adoring supporters, have a little boogie to Sweet Caroline, maybe give some shirts away. But it would be a much more sombre affair if they lost — would they face the music, or head straight down the tunnel?
We love you anyway, Ella
A few weeks back, after England avoided defeat for a 29th successive game in their Arnold Clark Cup match against Belgium, I asked Sarina Wiegman if she had a plan for how they would react in the event of a loss. Like a mother protecting her cubs, she denied speaking to them, ever, about their impressive record. The focus is not on winning, she said, the focus is on the style of play and how they can improve it.


This is the same coach who has invented one of the most 'positive vibes only' warm-up routines I've ever seen. Before heading down the tunnel before kick-off, the substitutes stand in a tunnel formation and clap as the starting eleven sprint past, presumably to boost confidence and foster team spirit before entering the fray.

That same 'all in this together' spirit extended my wait for the answer to my question. When Ella Toone's penalty was saved, every player waiting for her by the halfway line gave her a high five. That must be nice. We love you anyway, Ella. It was a mechanised performance of togetherness which told any watching World Cup coaches who might have licked their lips to see England falter in injury time, 'we have been rehearsing, we might not be perfect but we'll be ready.'


Mum, I'm scared. It's not really bopping up front right now and I don't know why
Mary Earps, meanwhile, was doing a sterling job of personally delivering the football to each of her team–mates, handing on the baton of responsibility while preventing any sneaky gamesmanship from the Brazil keeper. Letícia Izidoro wasn't interested in any of that, though. After picking it out of the net, she could hardly be bothered, only tossing the ball halfway to the feet of her team-mate waiting at the penalty spot.


Later, as I was approaching the Hatfield Tunnel, Vicki Sparks' report on the BBC's midnight news bulletin told me that 'Chloe Kelly was the hero once again', but that 'Mary Earps deserves credit, too'. It made me think about how much football loves a narrative. Yes, we get it, Toone and Kelly scored important goals, just like last summer, and it was also at Wembley again. But aren't 'keepers sick of being 'also rans'?? Fuck it, she didn't cover herself in glory with the equaliser, but can't we have a fresh theme? A new hero? A little bit of justice for Ms Mary Earps? She rose from the ashes, snatched victory with both gloves after opening the jaws of defeat.
Shoutout to my sozzled Leeds Hyde Park coach Chloe who, as the penalty order was being decided in a very serious huddle down below, confidently forecast that 'MARY ALWAYS PERFORMS ON EASTER WEEKEND'. I hear you sis, but this time Earpsy-babes was stepping up to play Christ the Redeemer.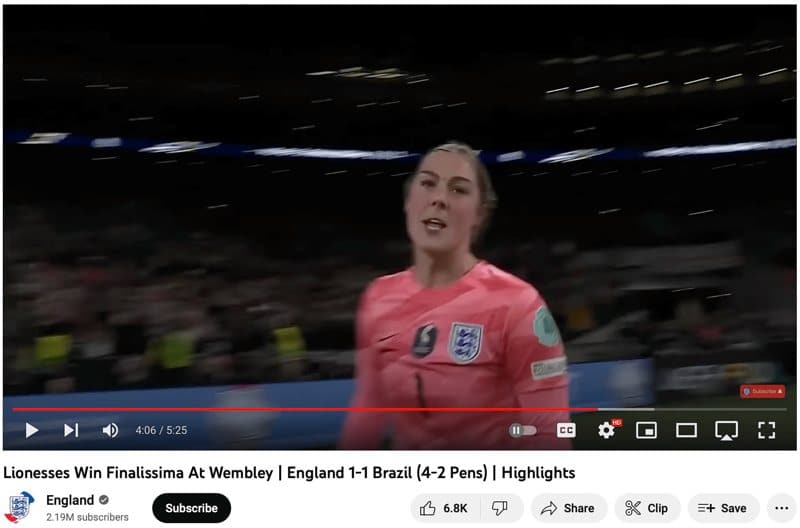 In her post-match, Wiegman praised her players' resilience, which really will play a big part in the World Cup this summer. But Mum, I'm scared. It's not really bopping up front right now and I don't know why. Also, I can't figure out how to express what I'm feeling here, but the best I can come up with is: Alessia Russo has it, but does she have IT???


I went for a piss at half time and as I was coming up the stairs my heart skipped a beat when I heard the booming voice of the stadium announcer say the words 'ELLEN WHITE'. She's cancelled her retirement, she's tucking in her little white shirt and — never mind IT, she's coming HOME.


But she was in her civvies, toting a big golden boot which only tells of all the great things she's DONE and nothing of all the magical things she will continue to do in the future for England inthefantasyworldinmyhead.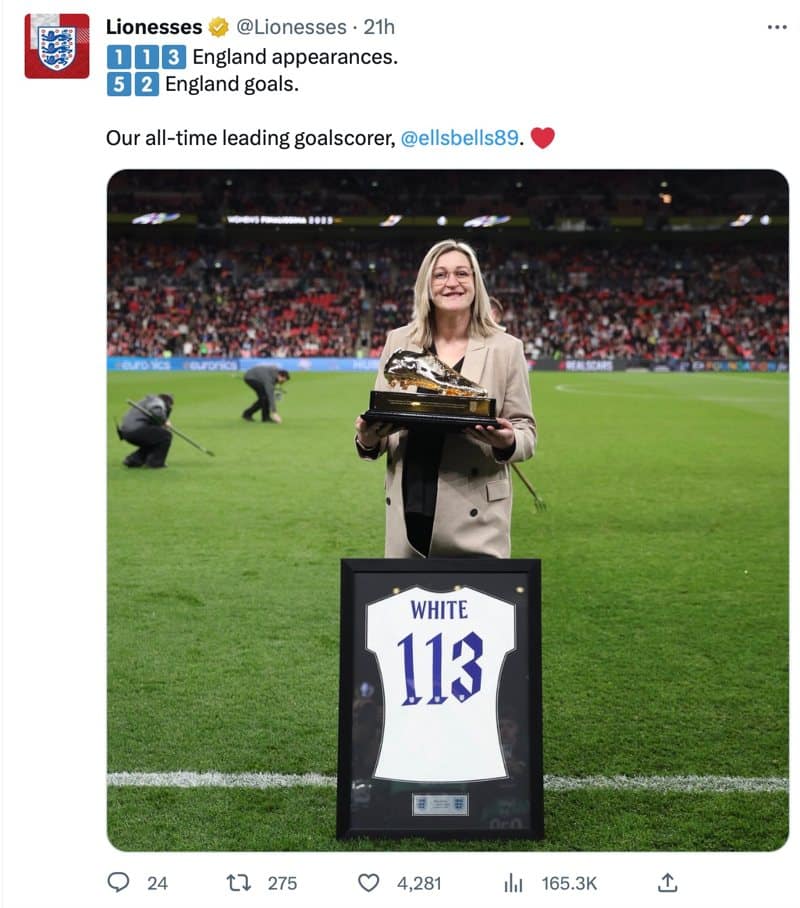 I miss Jill Scott, too, but to be honest I'm rather relishing seeing her hit her stride in her new rent-a-legend role. Is there any public appearance she won't make? Don't let me stop you, Jill, I'll never tire of you. When she is presenting Match of the Day in decades to come, how am I going to tell my children that this is how she marked her final game in an England shirt, and will they believe me when I say that no, this wasn't even the best thing to happen on 31/7?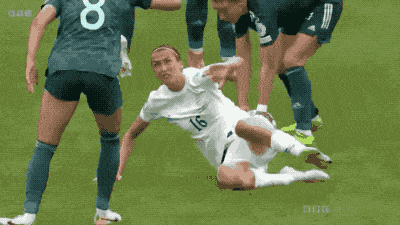 How did Jill feel carrying the trophy on for the presentation, the England lasses lining up to lift it without her? Probably a little more ok with it than she might feel come July.


In the grand scheme of trophies, the Finalissima ain't all that. But no trophy is to be sniffed at. You've got to win something to get one, and the win against Brazil counts for more than the wins against short-of-piss-poor-but-not-far-off Belgium, Italy, and South Korea which earned them the Arnold Clark Cup in February.
All over Wembley there were families dancing to Shania Twain
That was evident in the way the team celebrated at Ashton Gate. Leah Williamson's team-mates gave her a mock drum roll and then the England captain waggled the cup in the air for about three seconds. Keira Walsh did her own piss-take trophy lift before passing it to Ebony Salmon like it was a pint in a nightclub. There was something quite Lola Lo's dancefloor about the whole affair, actually. Amid the celebration, there was a rendition of their favourite private joke, taking the piss out of Rachel Daly's kneeslide against Italy. This group of girlies were going to have a nice time and no one outside of their circle mattered.


I don't know if Arnold Clark ever cared for pedigree, but he wouldn't earn it with a trophy that looked very much like it was made of plastic, or by firing streamers so excessive that the players were near-immobilised in a big yellow web.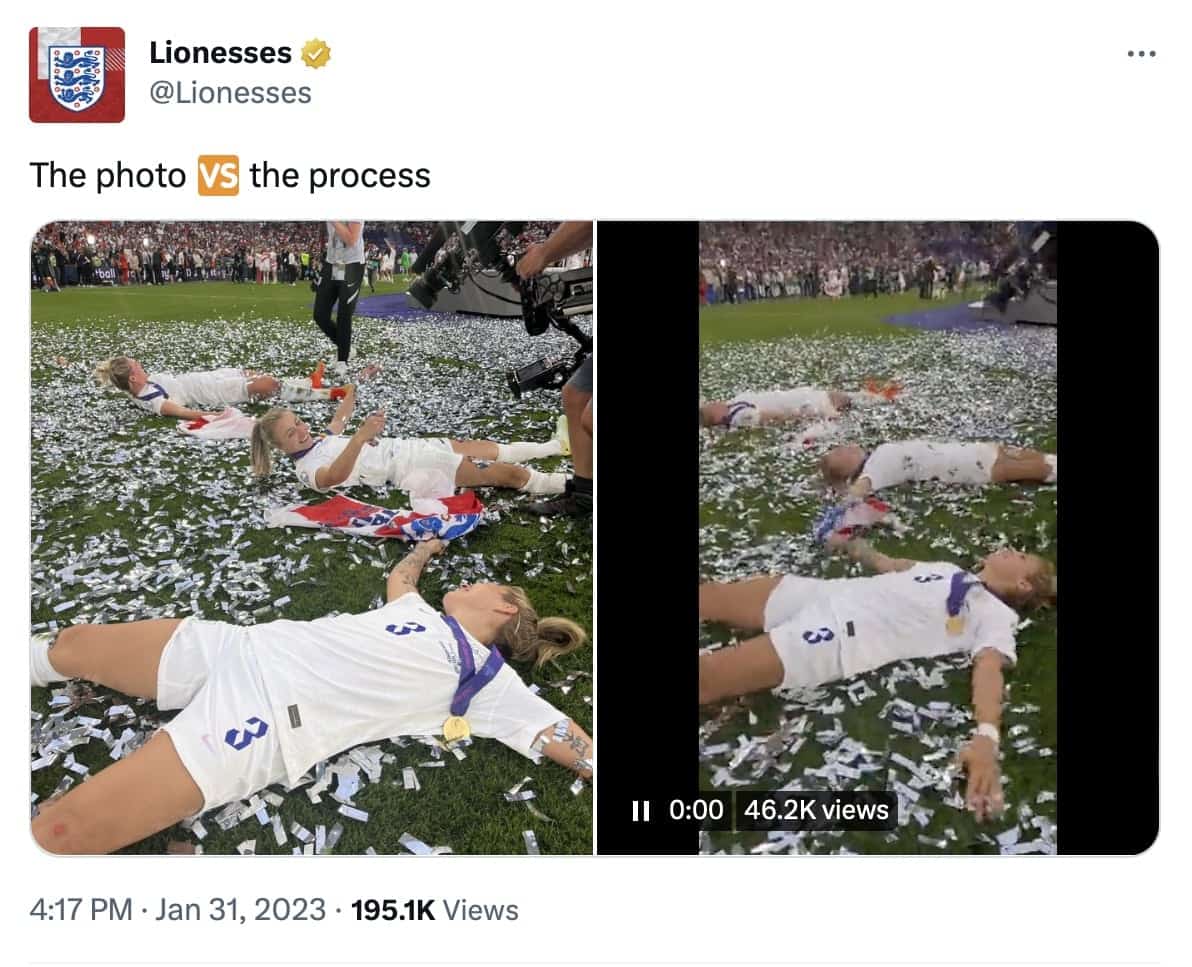 At least the Finalissima trophy is quite pretty, the confetti friendly. It was gold this time, but nobody made angels in it. One of my favourite moments of 31/7 was hanging around at the end and watching the players take it all in once they'd switched the cameras off. With the bulk of the crowd gone, it was quiet, and cool, and if I was pulsing with joy I could only imagine how it was for those players down on the turf.


For those that weren't there that day, wasn't the Finalissima the next best thing? Given the nightmare of escaping Wembley, I was surprised by how many stayed to watch the presentation, but who could give up the chance to savour a drop of that sweet, sweet Euro-winning spirit.

Maybe, come summer, the momentum will stop dead, a late goal will halt the racing train and shatter the Wiegman dream.


As I considered making tracks, I took one last glance around the stadium. I wasn't alone up in the Gods. All over Wembley there were families dancing to Shania Twain. And down on the turf, between men with brooms sweeping up golden shards of glitter, there was Mary Earps, the last player on the pitch, strutting and swinging her champion hips. ⬢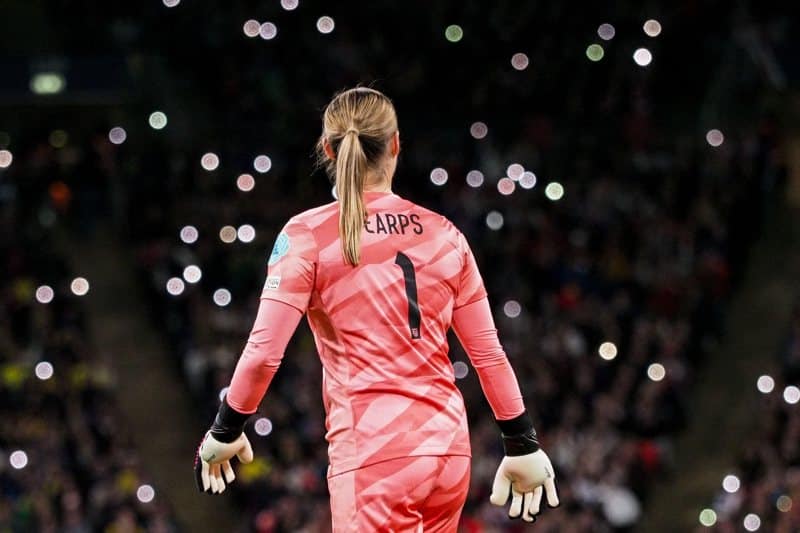 Thanks for reading! Don't forget you can get in touch with me anytime at

[email protected]

— and if you enjoy these emails, it's a great help if you forward them to everyone you know so they can read them too. Cheers!