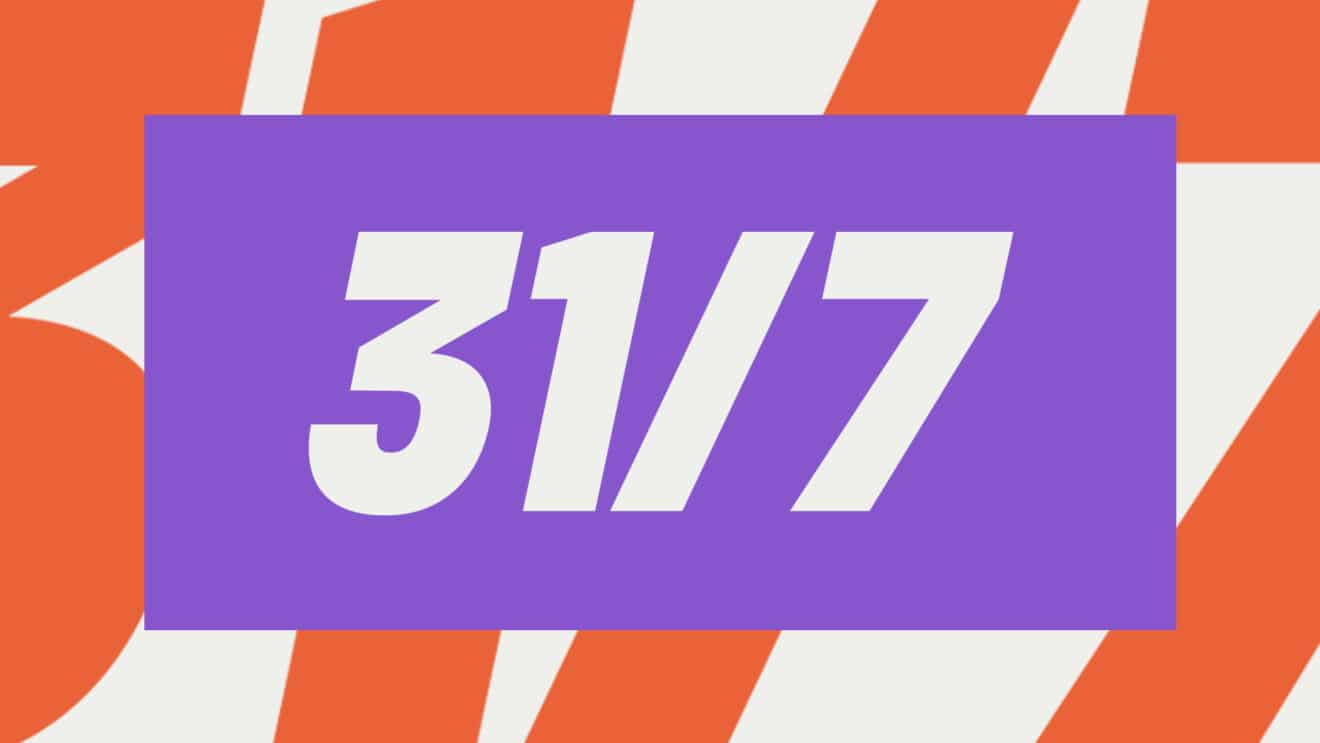 Hello, Flora here, welcome and thank you for reading this 31/7! This week I have been thinking about:

What happens when bodies break
How bullies never win
Why rich men can't just leave us alone
…among other things!
I am really happy that you signed up for this newsletter and would love to hear from you. If you have any comments, requests, jokes, compliments etc you can reply to this message or email me at

[email protected]

.


Leah Williamson is out of England's squad for the World Cup.


After watching Spain's Euros hopes dashed by the loss of Alexia Putellas, and Germany super-striker Alexandra Popp pull up at Wembley on 31/7, maybe it's only fair that Sarina Wiegman's too-good-to-be-true dream team are dealt their own dose of destruction.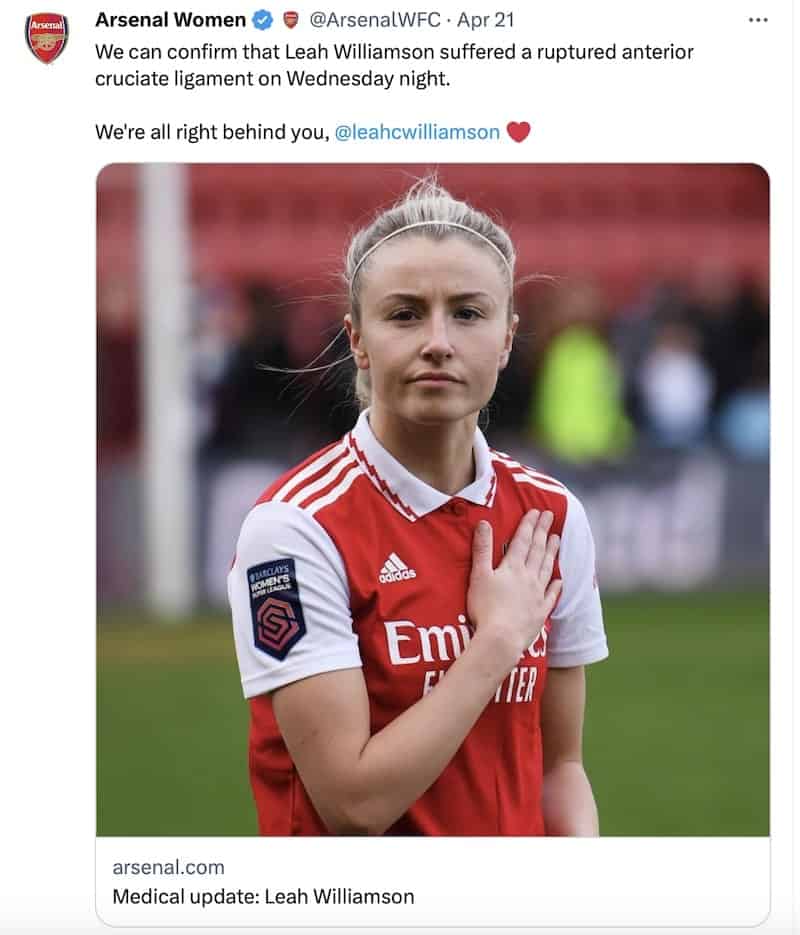 But geez, did it all have to come at once? On the same day that Arsenal confirmed our worst fears, Chelsea manager Emma Hayes put a question mark over the head of Williamson's England centre-back partner Millie Bright, and now a surgeon has taken a knife to Lucy Bronze's knee.


If the sight of Leah Williamson's face contorted with pain was too much for you, try the words 'bony cartilage lesion' on for size. Apparently Millie's needs 'cleaning out'. I feel queasy.


With the stranglehold it has over women's football at the moment, it's easy to think of the ACL as a malevolent spirit like the Wicked Witch of the West, determined to wreak havoc on the wonderful world of WoSo.


But Millie's 'bony cartilage lesion' shudder and Leah's post-injury Instagram appeal to be left alone remind us all of the grim material reality of injury. Never mind bringing it home, Williamson probably can't even click her heels together without yelping just now, and it'll take more than a bit of magic spray to melt her adversary.


"Unfortunately the World Cup and Champions League dream is over for me and everyone will think that's the main focus," she wrote. "But it's the day to day of what I'm about to go through that is the most draining of my thoughts."


So maybe we should all put our moaning and scheming about what the heck we do in Australia without the most excellent captain that ever graced God's earth on hold and think for just a hot sec about what this all means for the person who suffered the injury.


When I was fifteen, I broke my hip playing football. Yeah, fifteen. Screwing your ACL is almost trendy right now, but fracturing a pelvis before the age of 70 surely makes me some kind of, excuse me, hipster, I suppose. Once I'd got over the novelty of suffering an injury usually reserved for pensioners, I was left with the pain of getting out of bed every morning, my body seized with sleep, inching my leg to the floor, wincing with every degree as a two-second job took two agonising minutes before spending the day oscillating between physical pain and the nausea of codeine while trying to revise for my GCSEs.


I'm pretty sure no one was writing headlines about what my absence would mean for the future of women's football but if they had, I'd probably say 'go away, all I want is to be able to run for the bus again'.


You don't know how much you love your body until you can't use it. When my palms swelled up after I infected rowing blisters with dirty river water, I craved tying my shoelaces. Then last year, I nearly went mad as an ankle sprain stopped me running around for a matter of weeks. When you stop going to training, you get out of the loop with your mates and have to find some other way to spend your Tuesday evenings. When you stop playing Sunday afternoons, you have less to share with colleagues come Monday morning. Any kind of injury thrusts you a long way from the normal in ways which you can't foresee.


And that's just for us mere mortals. If football is your career, your day-to-day and your social life too, then that's a large chunk of your routine thrown off-kilter when you suddenly can't play, and your sense of identity takes a hit too.


In one slip of her feet, Leah went from standing Arsenal skipper and captain of the national football team to a woman who will spend much of the next nine months hanging out in the gym. Injury means loss as well as pain, and there are few professional football players who stood to lose more than Williamson right now.


On Monday, she'll watch her girlhood club fight for a place in their first Champions League final since 2007 without her. An already-depleted Gunners squad will then try to scrabble back into the WSL top three so they can compete in Europe next season, with Williamson hopefully back on her feet.


Then there's obviously the small matter of the World Cup, England's best chance of winning it in decades, and the hopes and dreams of tens of thousands of aspiring young footballers on her shoulders.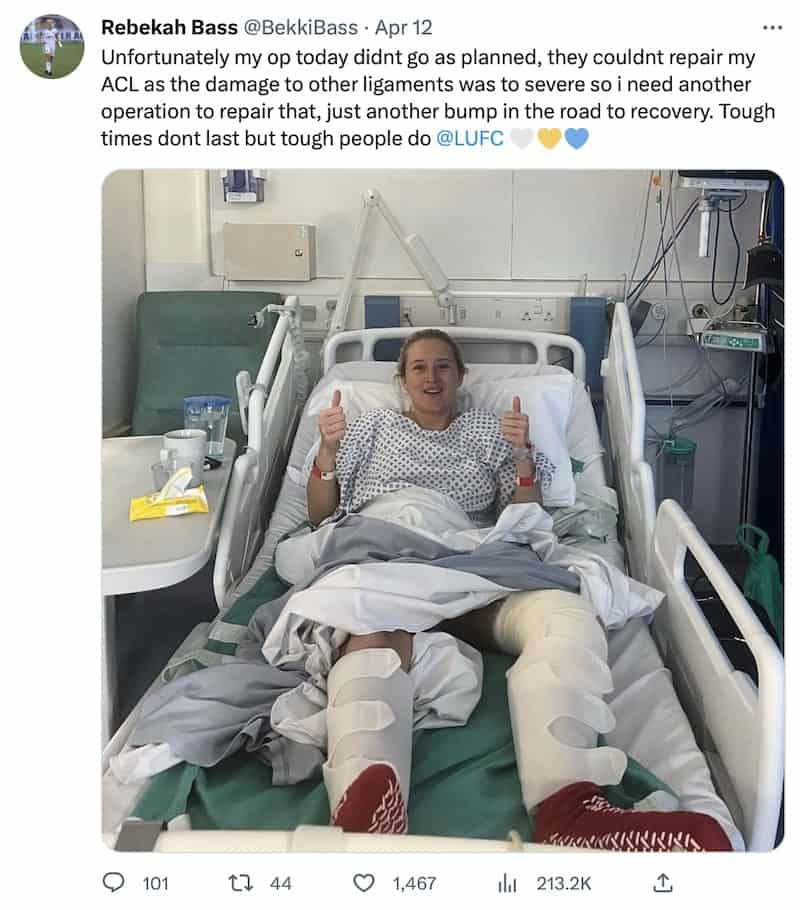 The road to recovery is about more than being patient and taking painkillers, and ACL recoveries are among the most gruelling of the lot - just ask Leeds United Women captain Bekki Bass.


While playing Stoke City for a chance to face Williamson's Arsenal in the FA Cup, Bass spoiled her anterior cruciate ligament, her medial collateral ligament, her lateral collateral ligament and her meniscus in one fell swoop. "I felt like the whole world was crashing down," she said.


Her team-mates went on to win and played at Borehamwood without her, while Bass and her golf-ball knee were confined to crutches. Hope took the shape of a surgery scheduled for April but the appointed date has come and gone and brought more disappointment, as the doctors opened up Bass' knee to find it more mashed up than they first thought. No progress has been made. UGH.


So guys, it doesn't look nice, but I think Leah Williamson is going to be okay. Cuz highs and lows are built into the game that she's been living and breathing for years. And this week she's been hanging out with fellow recovering Arsenal legend Kim Little and a dog — so how bad can it be?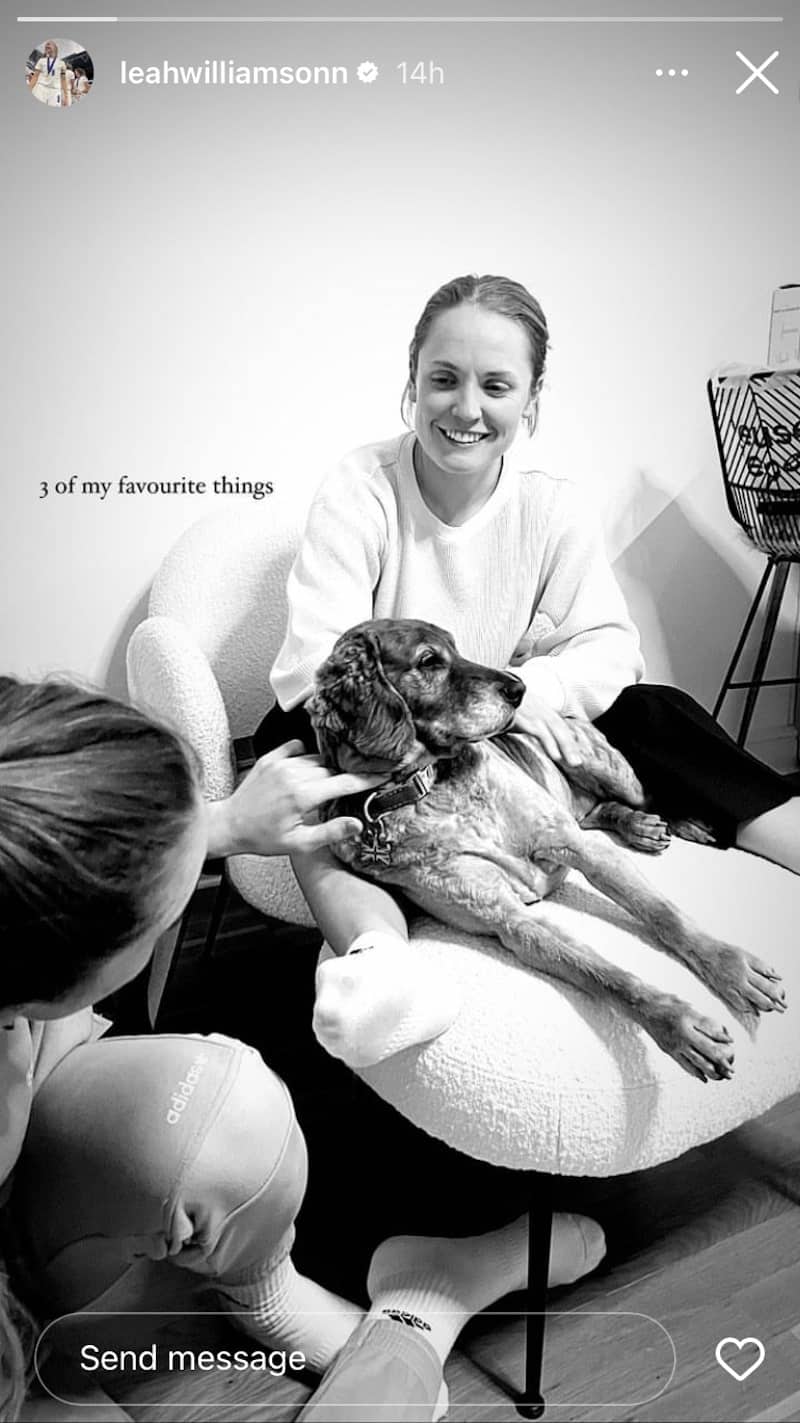 "I have given and will continue to give everything that my body, mind and heart possibly has to the Arsenal and Lionesses," she wrote on Instagram. "I will still be there through thick and thin for all my teammates and their biggest supporter."
Winning feels good, beating a bunch of meanies feels even better.


All of my Leeds Hyde Park team-mates were nervous ahead of our title decider against West Yorkshire last weekend. If our opponents avoided defeat, they would seal the championship then and there, on our turf. This would not be okay. Between the need to prevent this, and the potential to snatch the title for ourselves, there was enough incentive to get the win.


But after West Yorkshire bullied and cheated their way to a win in the reverse back in February, the desire to show our rivals what a proper nice football team looks like and can do was perhaps the strongest motive of all.


Rather than finding their own strength, these lot preferred to weaken their opponents — and the ref — into submission the last time we met. Everyone else in our league is really nice and so, with one whiff of abuse, we were knocked for six.


I questioned myself a lot afterwards. I could rail against the unsporting tactic of getting in our heads but wasn't it my head, and didn't I let them in? Maybe through years of playing football I should have wised up to this kind of gamesmanship.


But on Sunday, we were ready for the shite they'd sling at us.


Preparation is everything. We're competing in a league where double-digit score-lines are not a remarkable occurrence (and still, the majority manage to stay nice!), so there are more than a few Sundays in the season when it's safe to have a bit of a gossip during the warm-up, and you can usually get away with turning up fifteen minutes ahead of kick off with the stench of beer still on your breath, if the moment calls for it.


You don't have to pull together as a team on those afternoons when you're going through the motions of beating, say, a team near the bottom who concede on average five per game. The result is a given. You don't have to motivate your team–mates if they never get tired, you won't put the burners on for a recovery run if you know the opposition striker can't hit a barn door, and there's no need to play it square if your spunked shot results in a mishit goal kick which puts your attackers right back in it.


We all love winning but it means nothing if it's routine.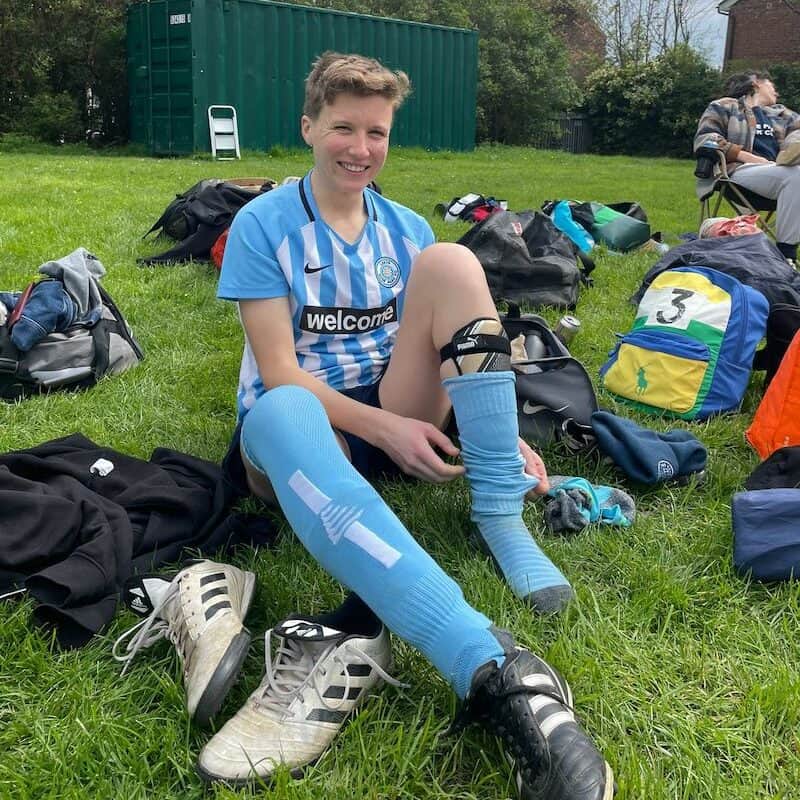 On Sunday, losing wasn't an option. Neither was drawing, and so everyone was switched on from the get-go. Raising each other up takes many forms. We had some excellent rousing speeches, but to be honest one of the most reassuring moments was when Mary quietly confessed to me that she, too, felt like she was going to throw up.


Thankfully we safely made it through to kick-off without ejecting our breakfast. But fifteen minutes into the contest I was leaking out of a different part of my face after bringing down a centre-back who put herself between me and the ball in the final third. She leapt to her feet and screamed in my face, which felt especially great because I was on the floor and couldn't move, while the memory of her being homophobic to me last time we locked horns added a certain je ne sais quoi.


I stayed down on the ground. Usually this means I'm winded or crippled by cramp, but this was a game against West Yorkshire. So there I was, crying on the grass, and feeling a bit embarrassed about it. But before long, there was captain Cleo to make things better. I was tempted to do as she suggested and come off the pitch, but I'm glad I didn't as it would have likely meant more tears and the feeling that the little bastard had won.


I got up, I carried on, but I didn't get the chance to yeet the witch into next season because a few minutes later I was in the referee's book.


I did, however, witness the precise moment when she gave up in the final ten minutes of the game. We were leading 2-0 and she booted a simple pass straight off the pitch. Her shoulders dropped and her mouth fell silent.


I don't think I'm a particularly vengeful person but I will admit that I would have enjoyed wiping the smile off her face. What actually happened was even sweeter — she wasn't undone by me but by her own fatal headloss.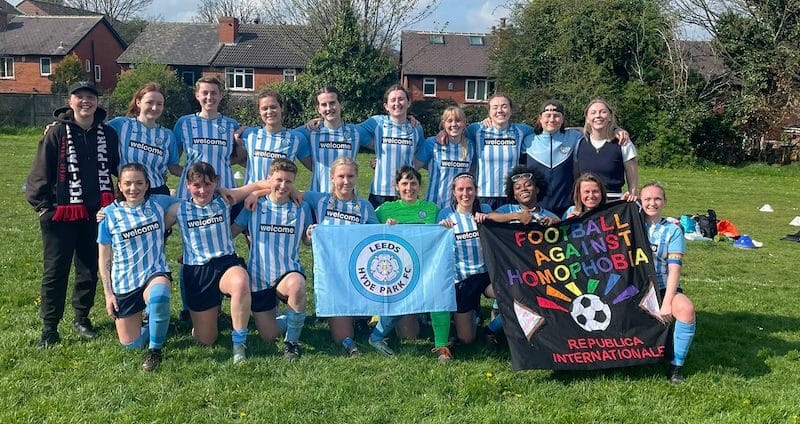 But really, Sunday wasn't about her being a bellend, it was about us being magnificent. To claim the title, we have to find three points from a double-header against the third-placed team, Golcar, who could nick our promotion spot if they beat us twice.


Unfortunately, West Yorkshire will go up regardless, so in our final two games we'll be battling for the chance to withstand their icky mind games all over again next year.


Whether we get it over the line as champions or runners-up, we will be ready to face the challenge.
Remember that time when some of the richest clubs in Europe were like 'let's create a league for the 'best' teams and, yeah, it's a competition, but if you do really badly in it nothing happens'?


Then it was kind of humiliating for those involved because after lots of people pointed out it was dumb the whole scheme collapsed in a matter of days? Some Super League that was.


According to the Daily Mail, Tottenham Hotspur chairman Daniel Levy wants the same teams to compete in the Women's Super League every year — with no promotion or relegation.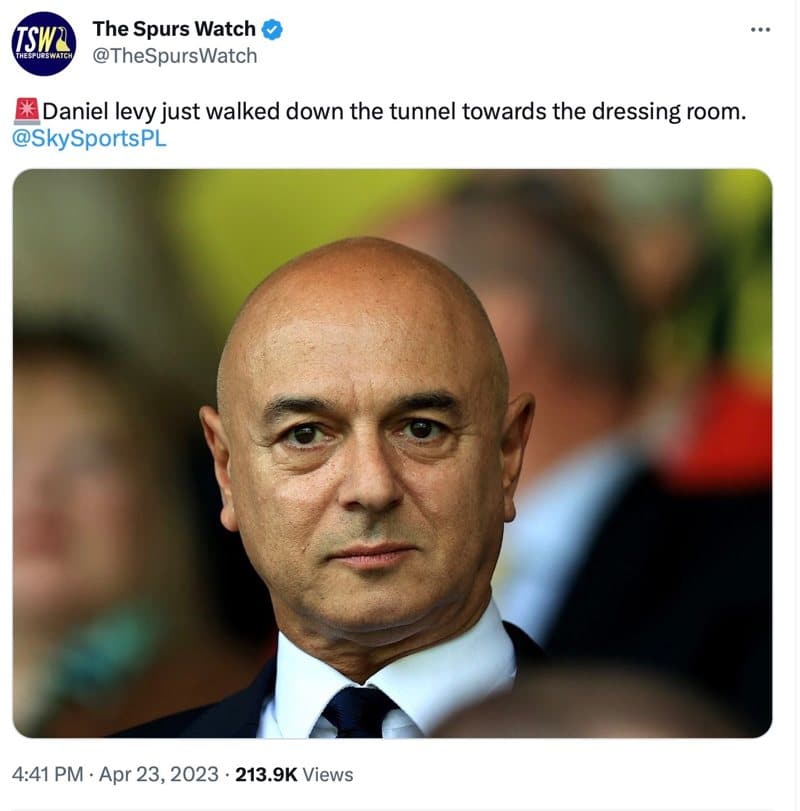 No, the Daily Mail aren't famed for their rigorous and honest reporting, but the WSL table definitely doesn't lie, and when you see that Spurs are three points off the bottom, you're left with little choice but to believe 'em.


Apparently Levy reckons that clubs will be more willing to invest in their women's sides if that investment is protected from the risk of getting relegated.


Okay, fair, no, you're right, Daniel, now that you put it like that, it doesn't really make sense that this boom in women's sport should benefit anyone besides you and your very large amounts of money.


One of the funniest parts of this — a close second to the Twitter user who called Levy a '2p Voldemort' — is that the investment he is talking about is relatively small, and he still doesn't want to make it. When Spurs signed striker Beth England in January, it cost him £250k! Yeah, it's a lot, okay, yeah — but it's less than a fortnight of Harry Kane's wages.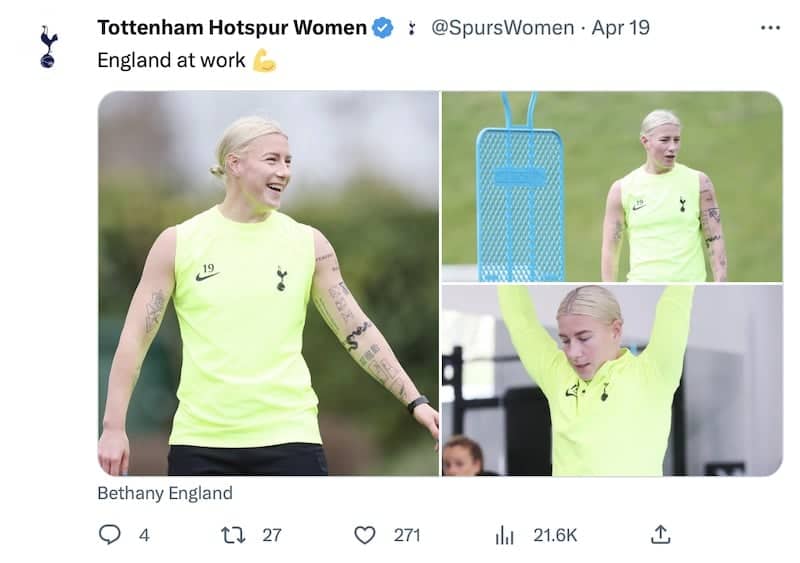 Lots of people are making money from women's football. Levy isn't one of them, so he's salty that he was one of the last onto the bandwagon. Manchester United were too, but since they formed in 2018, they've taken things seriously and can now boast the development of some of England's finest players — Ella Toone, Lauren James, Katie Zelem, Leah Galton — as well as the potential prize money from topping this year's WSL and competing in Europe next season.


How's that for a returned investment, Levy?


It only feels like it's 'too late' because come the final day of this WSL season, one of the world's richest football clubs could have their pants down at the hands of Reading, whose annual turnover is about 10% of Spurs'.


Even on his own money-minded terms Levy looks silly, and that's before we visit the most important point of all which is that, regardless of return, investment is the right thing to do. It's nice to support women to play football and it's nice for fans to have a thriving team to root for. A lot of people have reasons to spend money beyond simply making more of it. It's a shame that so few football club owners come into this category.


It's a bit chicken and egg, of course, you can't have high-level football without resourcing it, and no one will resource it without wanting something back.


Well. Levy's north London neighbours, Arsenal, have been throwing themselves behind their women's side since before Leah Williamson was born.


On Sunday, interim manager Vicki Jepson will lead Tottenham in a relegation decider against Brighton, their fifth WSL game without a permanent manager since Rehanne Skinner was sacked in March. The next day, the Gunners will compete for a spot in the Champions League final.


Wearing a great pair of trainers, Maggie Murphy, CEO of equality-first Championship side Lewes FC, gave a much more reasoned and eloquent explanation of why Levy's proposal is 'short-sighted' and 'lacks an understanding of the football ecosystem', so you should definitely give that a watch.
One big badge is on track to escape the fourth tier, and it's not Leeds. The Whites were played off the park by title hopefuls Newcastle United on Sunday, so I wrote a bit on how the Toon are leaving Leeds behind.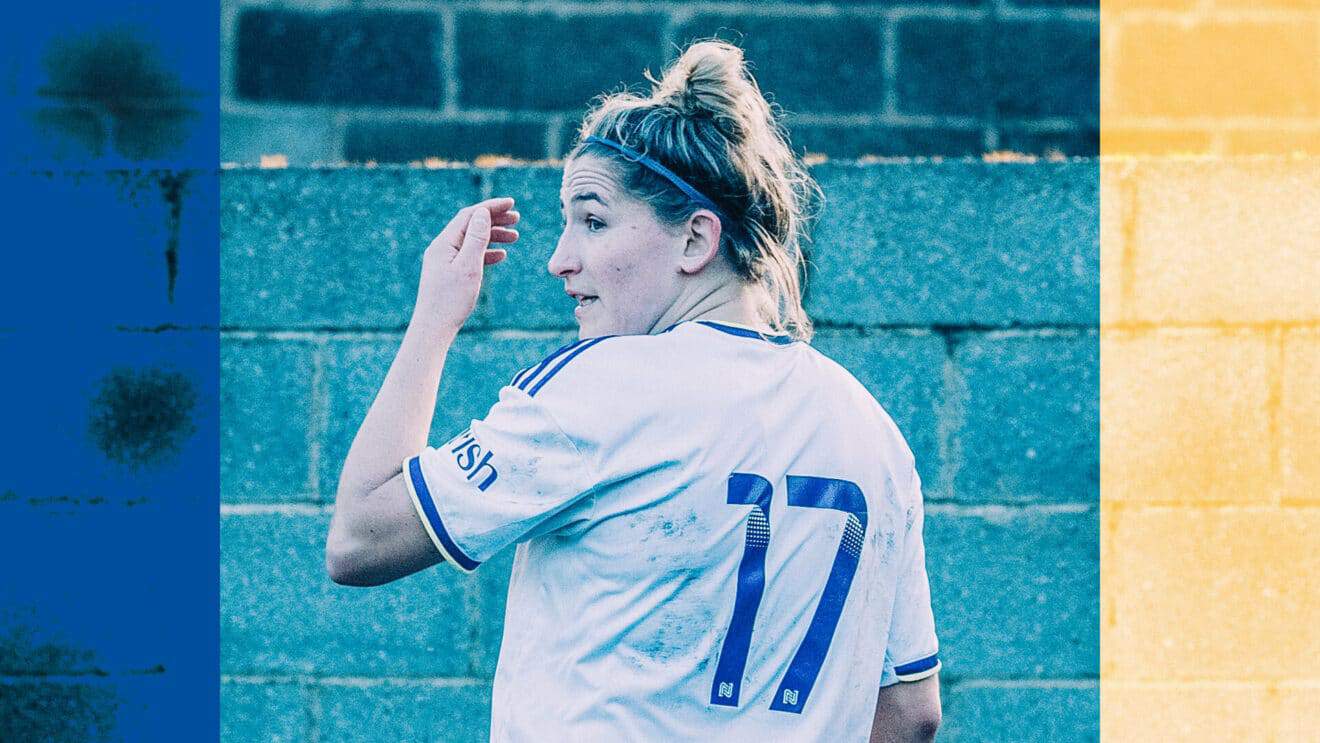 Cutting the margin
Leeds United Women's last home game of the campaign was a lesson from Newcastle on what needs to be done next season.
Champions League semi-finals second legs

Barcelona (1) v (0) Chelsea at Camp Nou, Thursday 5.45pm

Will the Blues repeat their quarter-final v Lyon heroics? Will the returning Alexia Putellas still be the bad bitch she was before her ACL went? Has Lauren James been practising penalties?

Arsenal (2) v (2) Wolfsburg at the Emirates, Monday 5.45pm

Will Kate McCabe stay on the pitch? Will all 22 of the Gunners' knees make it through the 90 minutes? Will it be an N7 sell-out?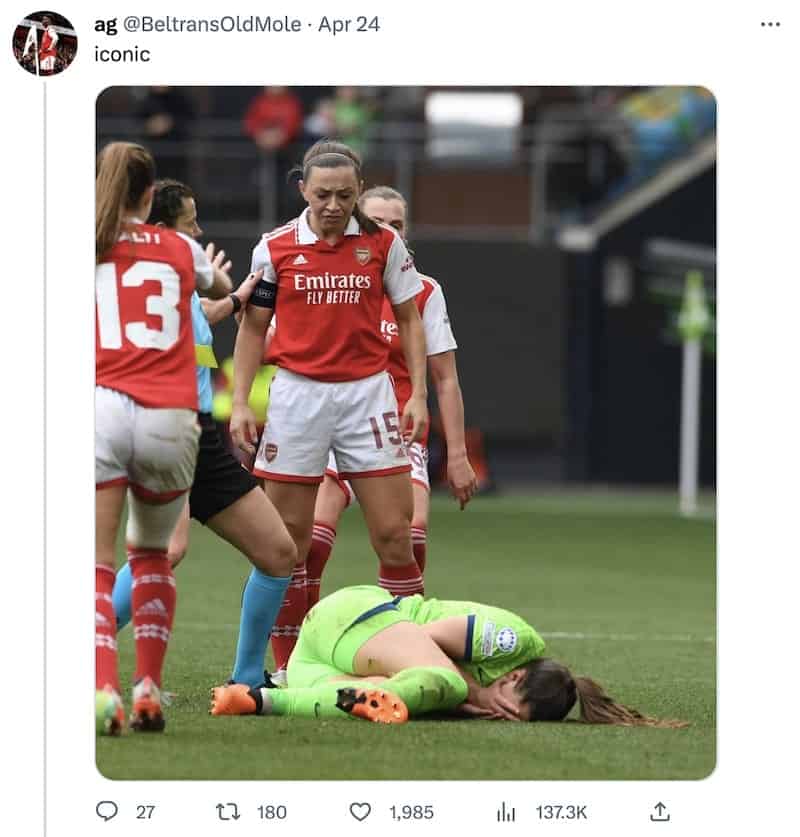 FAWNL Southern Premier

HUGE game in the title race. Second-placed Watford host leaders Oxford United at 7.45pm on Thursday. One point between them as it stands.
It's last chance saloon for Bridgwater United and Plymouth Argyle, who will play for their place in the division in their final games on Sunday, 2pm, against London Bees and Crawley Wasps respectively. Though Argyle are two points to the good, all four teams are in dreadful form so anything could happen.

FAWNL Northern Premier

Final game of the season and, with two points separating them, Burnley, Wolves and Nottingham Forest could all still pinch not necessarily promotion but a chance to earn it in a play-off final against the winner of the Southern Premier — yep, it's dumb.

Women's Super League

A chance for Tottenham or Brighton to pull away from the relegation quicksand as the teams face up on Friday, 5.15pm.

Last day of term vibes in the Women's Championship

All twelve teams are in action but no one will be working too hard since, with promotion and relegation tied up, there's nowt to play for.

Leeds Hyde Park v Golcar United, Sunday, 2pm

If we win, the title is ours, let's have it.

After the game I'll be having a quick nap before joining hundreds of women and non-binary people to build a barn in just 24 hours. My shift is midnight until 6am so I'm excited to watch the sunrise over Woodhouse Moor.
In four years, Leah Williamson will be thirty, flirty, and fit (PLEASE)to lead England out at the 2027 World Cup! This week, FIFA announced that it'll either be hosted by:

Belgium, the Netherlands and Germany
Brazil
South Africa
The USA and Mexico

It's Lesbian Visibility Week!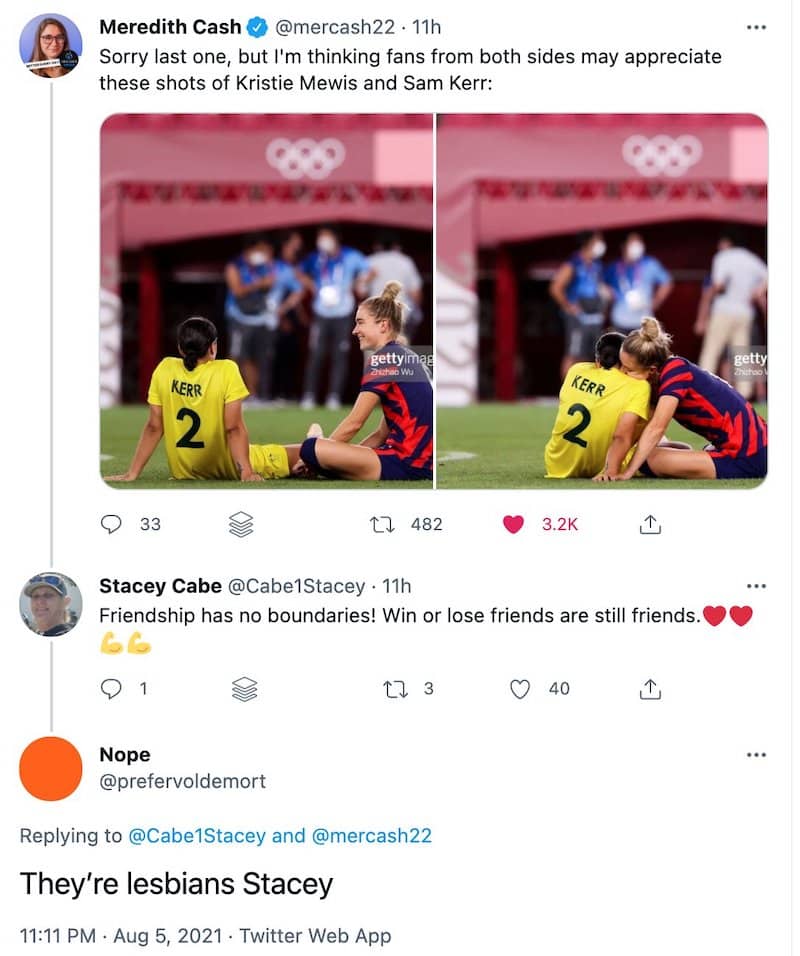 Things I'm digging this week
Bristol City will compete in next year's Women's Super League after claiming the Championship title! And they'll play all of their home games at Ashton Gate, which is kind of stunning. It seems like Abi Harrison, who scored one and assisted one on her 100th City appearance in the title-winning match, did a pretty good job celebrating!
Aïssatou Tounkara's Manchester United teammates asking her about Eid celebrations.
…more cross-cultural exchange in the OL Reign dressing room as 20-year-old Luany teaches NWSL veteran Megan Rapinoe a dance to the sound of Brazil reggae artist Oh Polêmico.
Jonathan Liew's beautiful report on Arsenal v Wolfsburg
Aberdeen-born Aston Villa defender Rachel Corsie shared this joyful video of Pittodrie ball boys embracing after the Dons' second goal v Rangers.
It's a girl! Ellen White 2.0 is in the house. I wonder if Sarina Wiegman will still be in charge when she's old enough to lace boots on.
UEFA have invited a panel of footballing experts to put their heads together regarding some of the game's biggest issues. It comprises… you guessed it — ✨ 24 men ✨
Alex Morgan went full Mean Girls and straight up body-slammed Angel City defender Paige Nielsen on Sunday. Despite Morgan being extremely gorgeous and talented and popular, Nielsen did not think it was awesome and posted footage with the caption, "Alex Morgan knew what she was doing… so bad…" So boo to Morgan for being a cheat but an even bigger boo to Nielsen for subsequently deleting the comment, under the pretence that she really meant to critique VAR, and denying us all the online cat fight we all crave and, frankly, deserve!!
Still knees, they'll never be safe.
Thanks for reading! Don't forget you can get in touch with me anytime at

[email protected]

— and if you enjoy these emails, it's a great help if you forward them to everyone you know so they can read them too. Cheers!