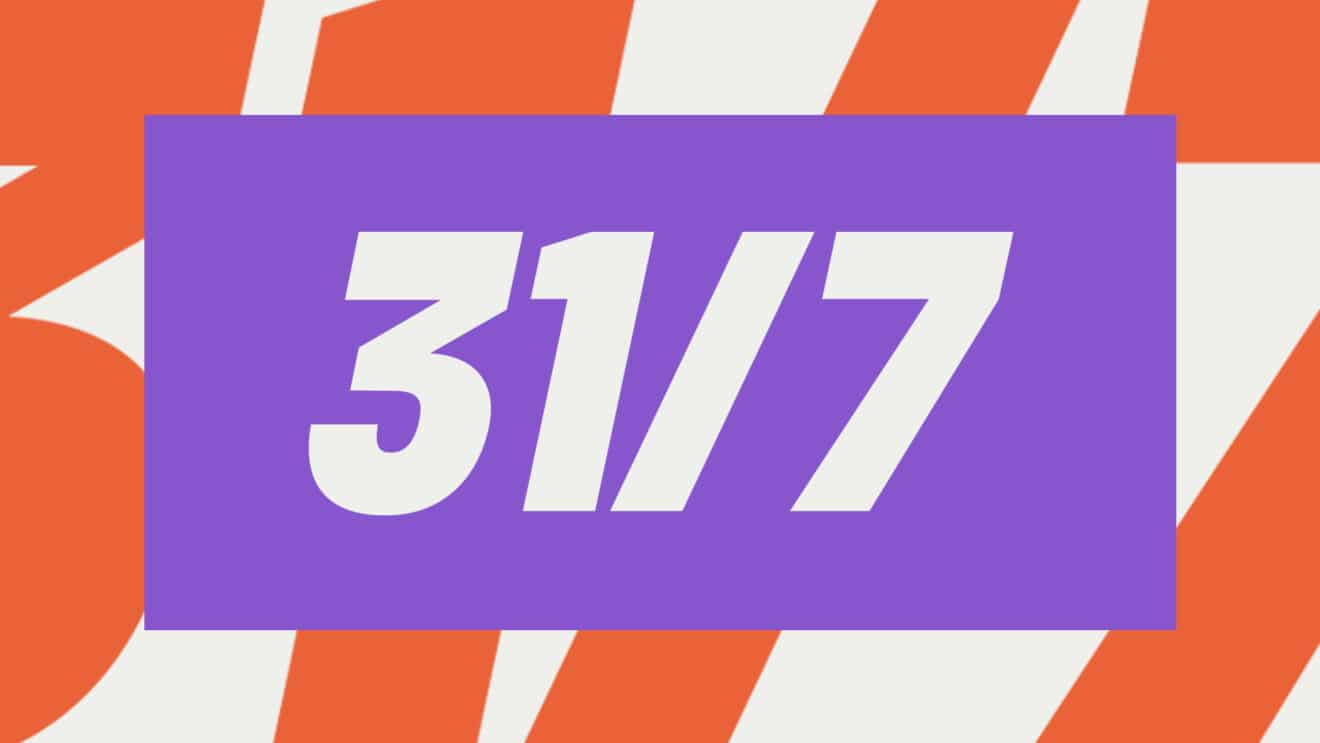 Hello, Flora here, welcome and thank you for reading this 31/7! This week I have been thinking about:

Why footie & feminism go together
How pretty the NWSL is
What it would be like to have birthed Leah Williamson
…among other things!
I am really happy that you clicked on this newsletter and would love to hear from you. If you have any comments, requests, jokes, compliments etc you can reply to this message or email me at

[email protected]

.


Lucy Parker is calling bullshit and letting us know what she really thinks.


On Tuesday morning, she was called up by Sarina Wiegman again after missing out on her first England camp to injury in October. She tweeted that she was 'unbelievably grateful' but, by dinner time, she'd turned her mind to bigger things.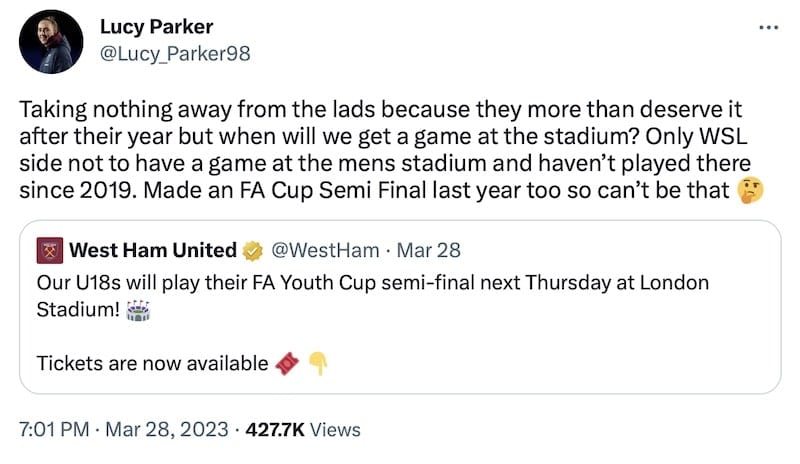 Oh dear. You know, I'd really expect more from a club who [checks notes] so value their women's side that they made it the plaything of nepo baby Jack Sullivan, appointing the owner's seventeen-year-old son as managing director in 2017.


Feminism is hard. When I was a teenager, I was desperate to fight for women's rights but I didn't know how. All that I knew of 'why' was the whisper in my gut that suggested that things aren't really fair. It's only when you're among people who hear the same whisper and give it credence, a name, a presence in the room, that you start to believe your own.


Then, I was a little ball of fury, and now I'm irritated, with the power to do something about it. I've marched to reclaim the night, raised money for Amnesty International, spoken up to drunk men making rape jokes at raves.


But the fight is so much bigger than those acts, and these days so much of it seems to centre on defending public toilets. It's tiring, unpleasant, confusing. I've lost sleep over the way I've let men talk down to me as a grown, adult woman who could, probably should, do something about it.


One time I didn't let myself down as a feminist came in the second year of my degree. I was captaining our uni's second team at the time. During a feisty match, one of our strikers was repeatedly called a slag by a member of the opposition coaching team from the sidelines. I wrote to their vice chancellor. I had a lot of time on my hands, then, so when I say I wrote to him I mean I fucking wrote to him.


This was no email. It was a hand-written letter, corrosive and civilised. I dread to think how many times I visited the thesaurus that day. But it turns out being a pretentious little bitch with an axe to grind pays off. I received a sincere hand-signed apology from the big man, and later found out their scummy coach ended up in a disciplinary.


Writing this has reminded me that weeks ago I was supposed to file a report to the FA after a player said some homophobic things to me at a corner one Sunday at the beginning of March. The truth is, I can't be bothered to trawl up the way it made me feel. Can't someone else put the effort into making all this shit go away?


It wasn't hard for me to draft a letter in defence of my teammate, but the motive for me to stand up for myself is not so strong. Similarly, Lotte Wubben-Moy didn't canvas the government for her own gain — the door was already open — she did it on behalf of the next generation.


In post-match interviews, players love to note how they worked hard for each other. It's what makes football beautiful and Cristiano Ronaldo ugly.


Sometimes it's an A4 side of carefully-crafted prose. Sometimes, if you're Lucy Parker or Sydney Leroux, it's a tweet. But let that little ball of fury burn, baby.
I took a peek across the pond at the weekend as the NWSL 'regular season' started with North Carolina Courage v Kansas City on Saturday. I don't know when the 'irregular season' starts but I will be keeping an eye out for that as it sounds much more fun. Here's the sum total of what this ignorant soul already knew about the competition:

Women's football is popular in the States and the NWSL is kind of a big deal
Teams have fun names like 'the Thorns' and 'the Reign'
Rachel Daly and Ebony Salmon enjoy it
There's a thing called the draft which makes sure the best players are distributed fairly
They do the rugby thing where the team that performs best across the season doesn't necessarily win and they do play-offs to claim the ultimate title
The league is trying to recover from the effects of last season's investigations, which resulted in staff from nine out of twelve teams losing their jobs for everything from verbal and emotional abuse to sexual coercion, and two entire clubs being put up for sale.
Here are some of the things that I learnt from the first weekend:

'Outside back' — I thought I'd happened on a brand new position, but it's just where Lucy Bronze and Jess Carter like to play, the American term for 'full back'
One of the teams is called Gotham FC. No, it's not a real place, apparently it's a nickname for New York.
San Diego Wave have a player called Melanie Barcenas who is 15 (fifteen)!
The NWSL experience is a far cry from some of the wonders of Saturday, 3pm in the UK, and features moments like Game Day Strut, a catwalk laid on at Angel City's opener by sponsor Birdies, an East Coast shoe brand run by two Mumtrepeneurs.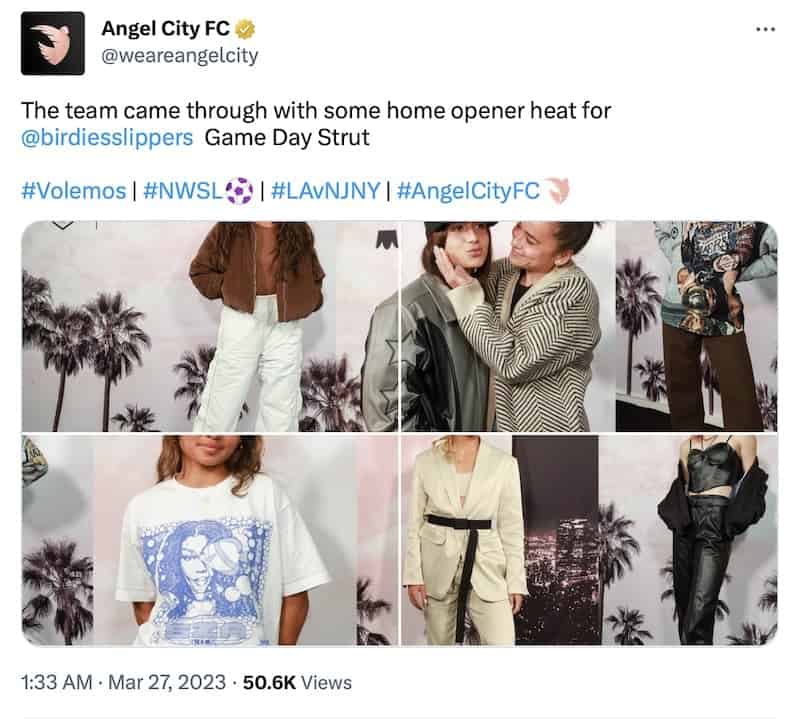 Before the season started, Angel City's general manager Angela Hucles Mangano said, "We were extremely proud of the product we put on the field in our inaugural season, but we have our sights set on making the playoffs and winning championships."


At the start of its second season in competition, the Angel City 'product' was firing on all cylinders again, selling out its second successive opener as 22,000 fans packed into the BMO Stadium (when everything else is so #glam, I can't believe Angel City's home sounds like it's sponsored by a skip company).


They snagged new toy, eighteen-year-old Alyssa Thompson, with the first pick of the draft and she looked shiny, too. The teen scored a rocket inside eleven minutes and has since been heralded by Spanish sports paper Marca as 'the new darling of American women's football'.


All good competitions need a sexy ball, and the NWSL has delivered. Would you just look at that eye-catching and extremely tasteful colour scheme! It reminds me of a really excellent newsletter I read once.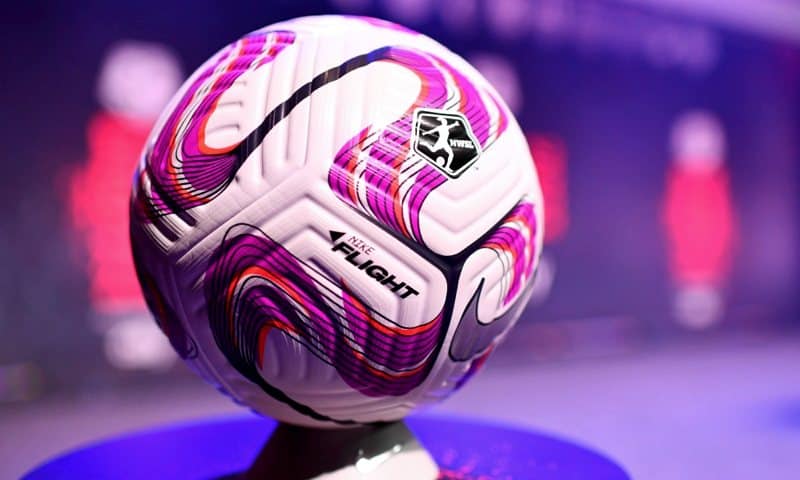 Anyway, I'm going to keep tabs on the NWSL for the first time this season because why have less women's football when you can have more?


To make this easier, I'll be following a team. 'But which team?' I hear you cry. Well, I never quite landed on a WSL side to follow since they all remind me of their icky Premier League counterparts (though I am really rooting for Bristol City to get their Championship promotion over the line).


Everything is just a bit more jazzy in the NWSL. You could happily select a team on aesthetics alone. Look at the San Diego Wave logo for goodness' sake. Arsenal have a cannon on their badge; the Wave's crest has a god-damn Pacific coast sunset.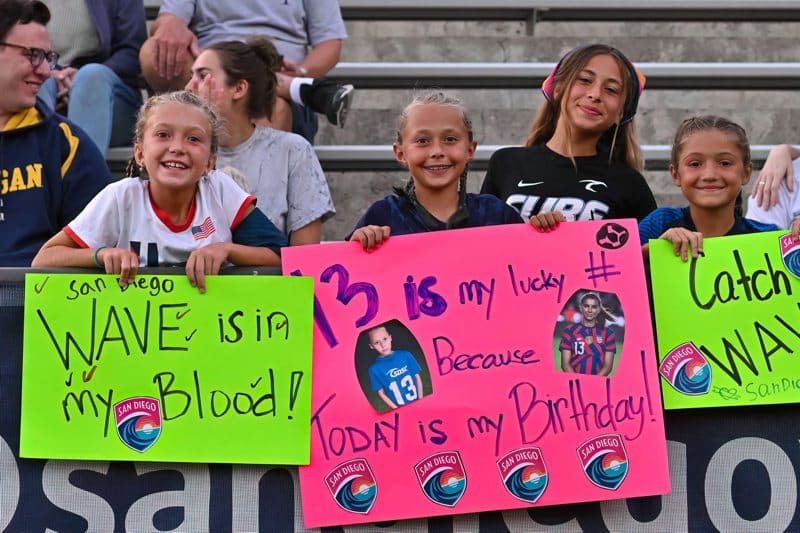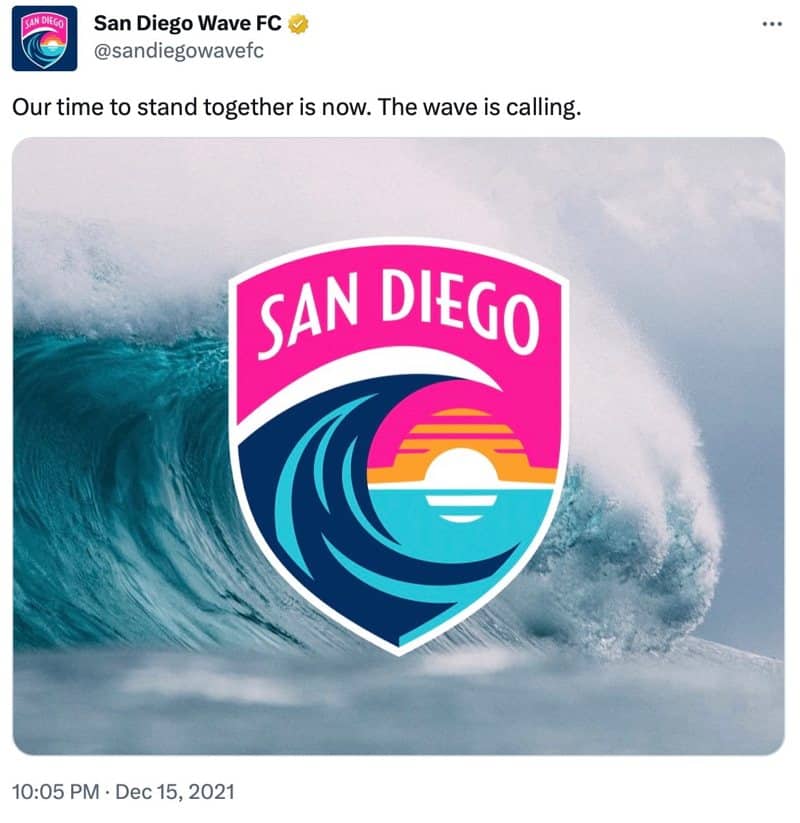 But that would be boring. I'm going to let the fates decide. Whichever team scores a goal closest to the 31st minute this weekend I'll follow for the rest of the season.


Let's hear it for the mums
Leah Williamson turned 26 on Wednesday. She marked the occasion by providing this absolute joke of an assist to help her girlhood club qualify for their first Champions League semi-finals since 2013. Oof.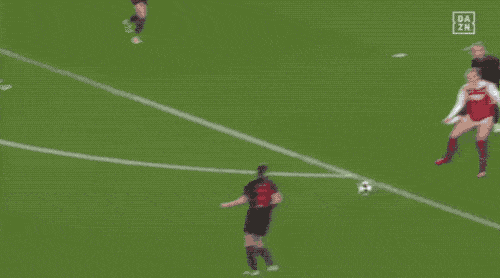 Before then, though, hundreds of fans' celebratory tweets had hailed 'THE QUEEN! THE GOAT! THE LOML!', while the anniversary of an incredible day in human history inspired a spate of TikTok compilations of Williamson's most heartbreaking looks.


Williamson's Mum shared on Twitter that she was 'looking forward' to watching it, which got me thinking about how it might be kind of surreal to have your own child read you a bedtime story, especially via the BBC.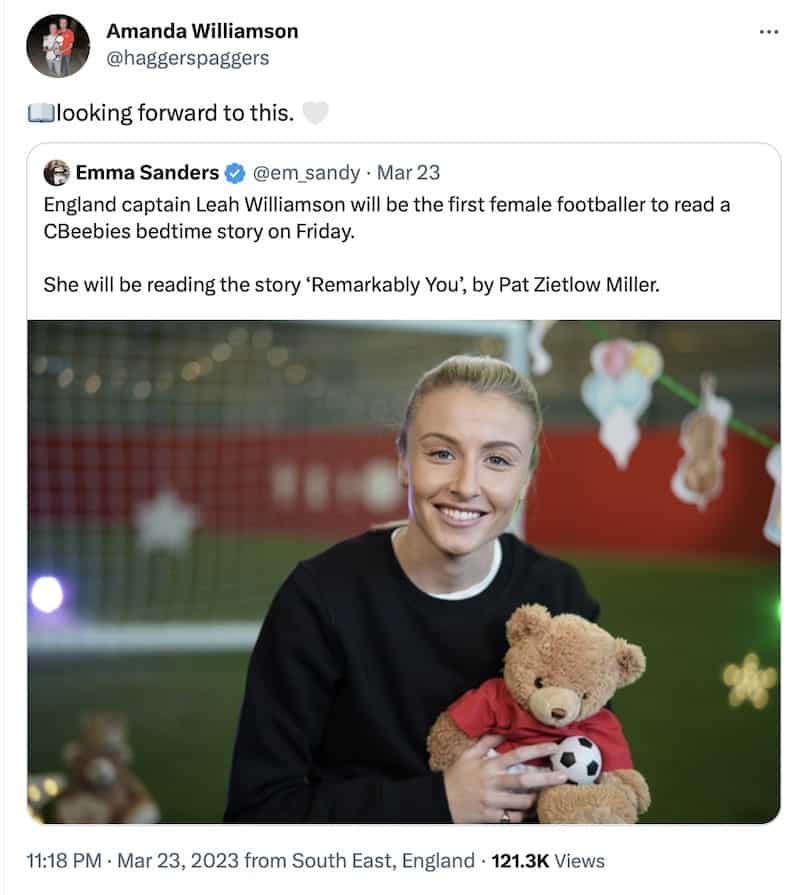 Amanda Williamson had cause to beam again on Tuesday as Leah topped the Woman's Hour Power List 2023.


She wrote: "Every second of every day I am so proud! Keep inspiring on and off the pitch Bubba."


I can well imagine that all-day pride, Amanda. You'd never get any peace, would you? Eating your cheerios, realising that your little girl is giving thousands of little girls life and energy all over the country. Walking to the Newport Pagnell Co-op, thinking 'my child has the freedom of this city'.


You could hardly get in the bath without remembering that, yes, the England captain who finally brought it home after 56 years sprang from these very loins.


So thanks for bringing it home Leah, but thanks to Amanda for raising a queen, a goat, a loml.
Leeds United are national champions. Thirteen years after they won their last trophy, the Whites lifted the FAWNL Plate at the weekend. What they've achieved is brilliant. They even succeeded in giving me something beyond my wildest imagination — a nice afternoon out in Solihull.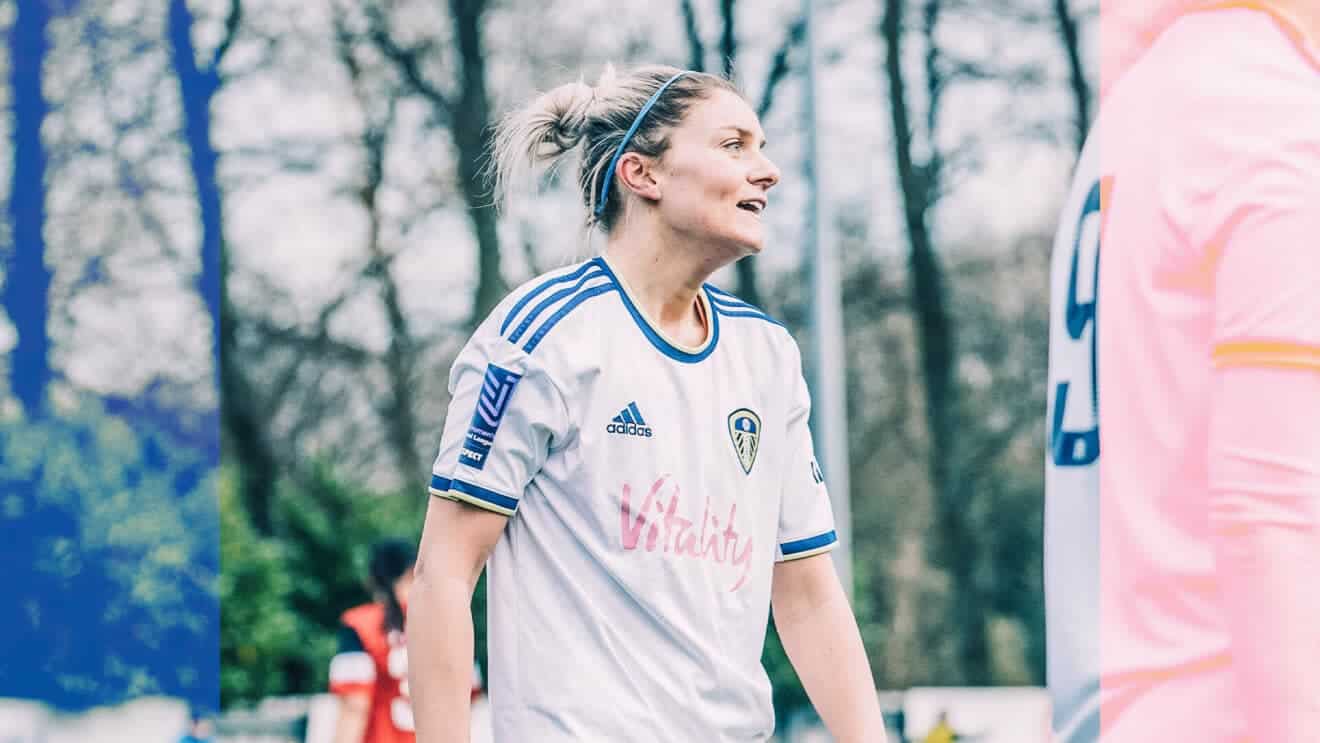 Breakfast of Champions
Leeds United Women's big Plate hangover put them under in Chorley.
In the build up to the match, I spoke to Rebekah Bass, who played in Leeds last (less successful) national final way back when, for an article on the TSB blog. For the podcast, I spoke to Olivia Smart, and you can listen to or even watch that interview below.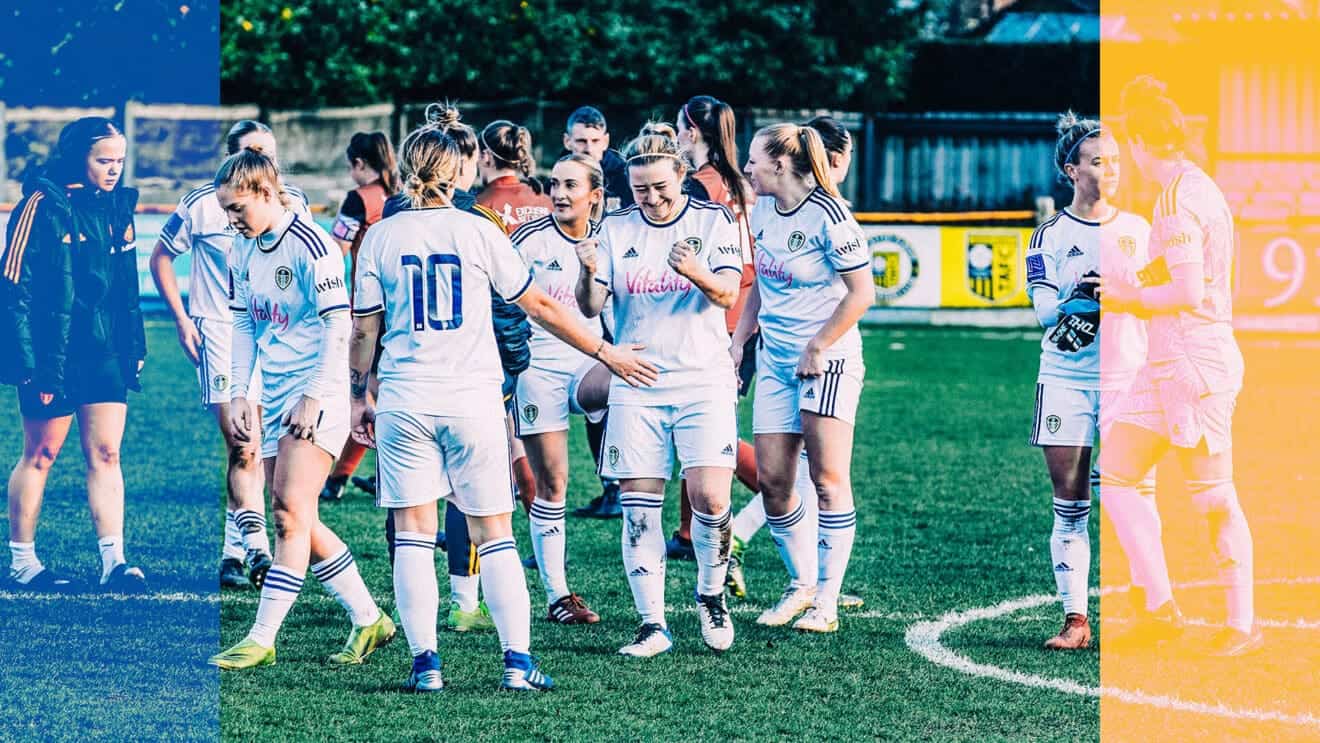 Over the line: how Leeds lifted the FAWNL Plate
This was a winning mentality, this was getting it over the line, staying composed but doing it in style.
Watch: FAWNL Plate Final Preview with Leeds United Women's Olivia Smart
Leeds United Women will fight Stourbridge for the FAWNL plate on Sunday. It's their first national final in 10 years and Olivia Smart is ready to go out and win it.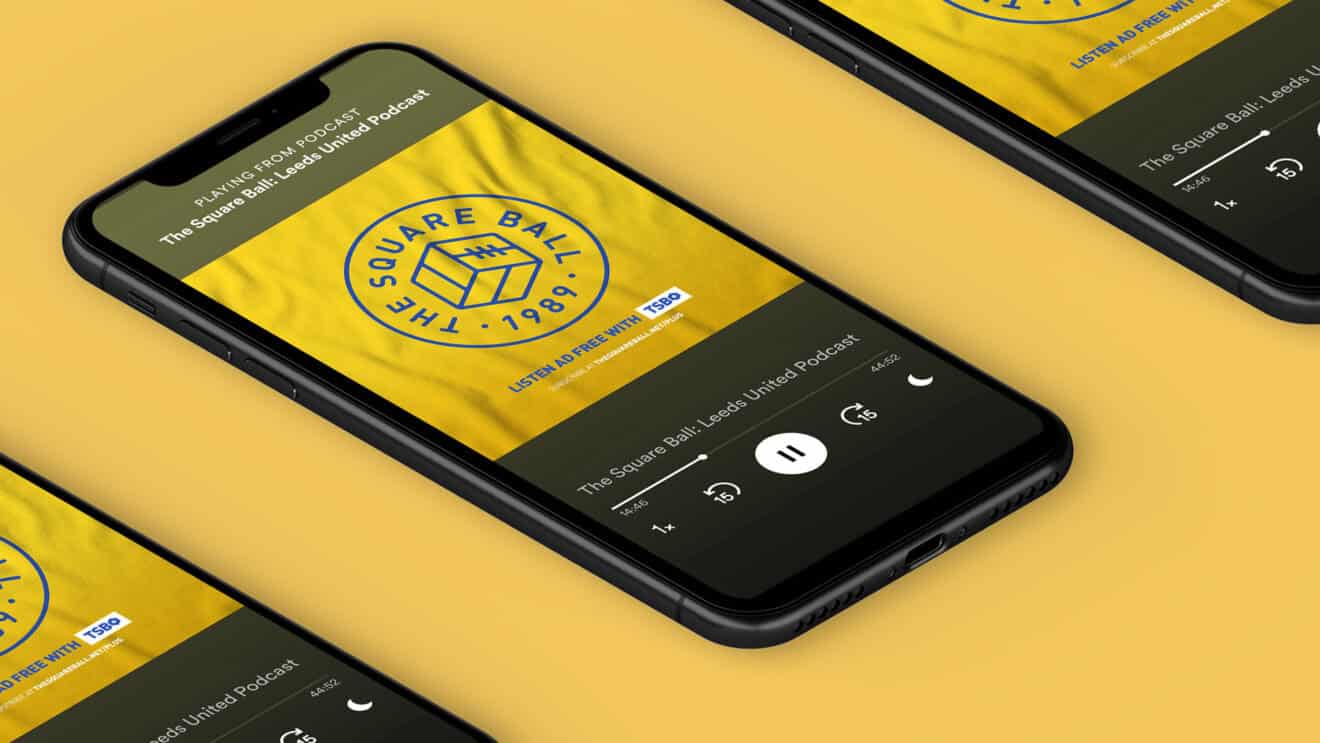 Leeds United Women: FAWNL Plate Final Preview with Olivia Smart
Leeds United Women have a chance to bring home their first silverware in 13 years on Sunday. Acting captain Olivia Smart gives us the lowdown ahead of the FAWNL Plate final.
Friday is Trans Day of Visibility. Seen and cherished.
I'm taking my Dad to Leeds Industrial Museum on Saturday and I just know he'll love it.
April Fool's Day Saturday, cellophane at the ready boys.
Arsenal v Man City. Crunch title game at Borehamwood. There's only four points between the top four teams and my head hurts from the configurations so forget the forecasts and tune into the WSL table live this weekend to watch the chaos unfold. Kick off 12.30pm on Sunday.
At 3pm on Sunday, there's high stakes at the other end as 10th-placed Reading host bottom side Leicester. The Foxes are running out of chances to turn things around for themselves - and this is quite a big one.
Leeds United Women host Chorley at Tadcaster Albion on Sunday. The newly-Plated champions will chase their fourth successive win.
Things I'm digging this week