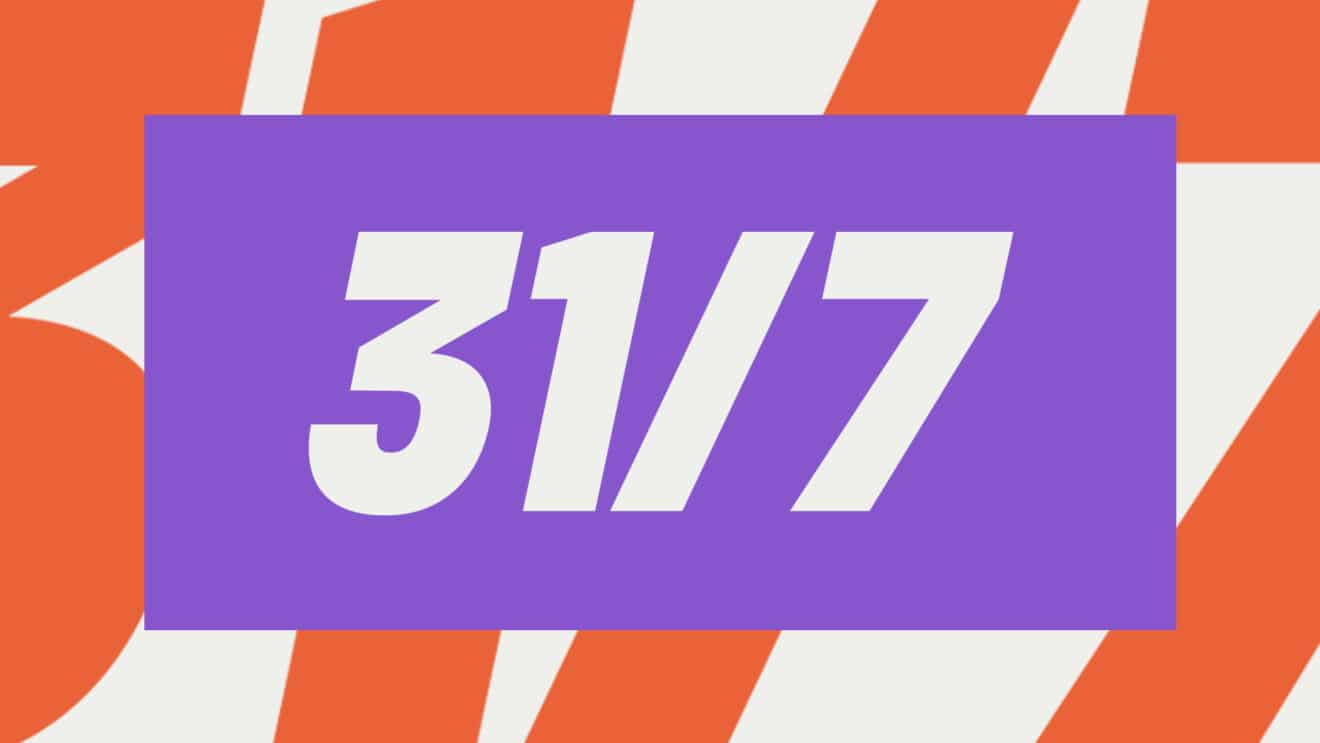 Hiya, Flora here. 31/7 is a weekly newsletter but this week you're getting an ADDITIONAL dose of football as I take you through Saturday's Champions League final between Barcelona and Wolfsburg.


I hope you enjoy and as ever I love hearing from you so feel free to send me a message either by replying to this or emailing

[email protected]

. And if you like 31/7, please do pass it on to your mates and get them to sign up too.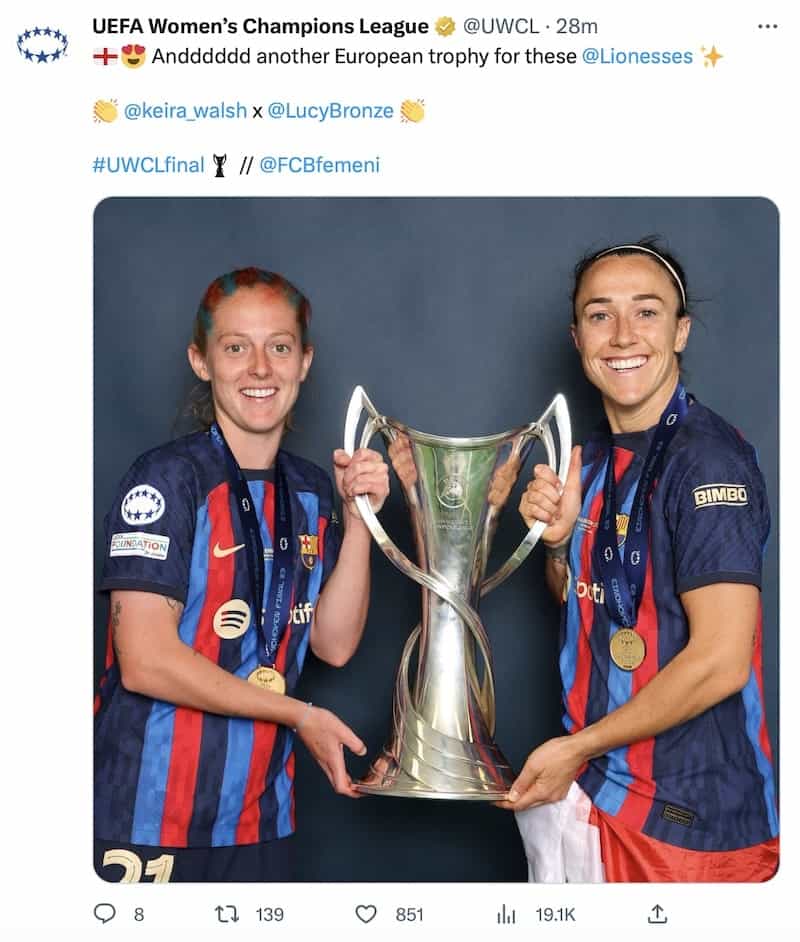 Finally, the Lionesses good news story we need and deserve.
Keira and Lucy were two of many Manchester City players who jumped ship last summer. With fourteen City seasons between them, it was kind of a big deal, especially for Rochdale-born City fan Walsh, who had been at her girlhood club since the age of seventeen.
No one who has seen these two kicking a ball will be surprised that they have quickly become valued members of the Barcelona team. It's arguably even less surprising that, after years in the north-west of England, the gals are quite
enjoying living in the Mediterranean
.
The club's fanatical supporters have already taken them into their hearts. Bronze is learning Spanish and giving Catalan a good go, while Walsh is bringing 'vibes and happiness' to the team, according to teammate Caroline Graham Hansen.
This weekend they were tasked with something a little more complex than being generally delightful. Each had a role in making good on the promise made to fans by Barcelona captain and Golden Boot winner Alexia Putellas that her team would win the 2023 Champions League "no matter what".
Last year, the Catalan side fell short in the final, which was decided in just 33 minutes when Barcelona failed to recover after Olympique Lyonnais scored three quick goals.
Putellas's capacity to deliver on her promise has been limited while she makes a measured return from an ACL injury. So she could only watch from the bench in horror as history began to repeat itself just minutes into Saturday's final against Wolfsburg.
Though not as severe, Bronze has also had issues with her knee this season, and the final was her first game back after five weeks spent recovering from a minor surgery she had in April.
With my notes reading 'it's all LUCY'S FAULT' after three minutes of action, Barcelona manager Jonatan Giráldez's decision to start Bronze in the biggest game of their season looked a bit silly.
Sniffing out the weakness, top Wolfsburg scorer Ewa Pajor hassled Bronze from the start, and though Bronze escaped the first attempt, Pajor then successfully nicked the ball from her feet and fired home from range.
Sometimes all you can do is fix your hair and try again.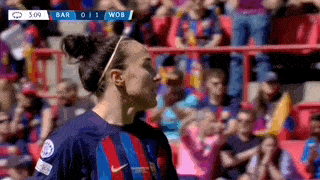 Aside from the personal agony of Bronze letting EVERYONE DOWN, it was a disappointing start to the final, which I imagined would now become ninety cagey minutes of Barcelona failing to break down a watertight Wolfsburg defence.
Barça managed to swerve last year's fate. At 33 minutes, it was still 1-0. Barcelona were keeping the ball well but not doing much with it.
Mapi León
created some hope as she fizzed a fast cross through the six yard box. Graham Hansen was there, but instead of stabbing it home, she sent the ball spinning out for a throw.
If that was the chance for the game to even out and become exciting, moments later it was gone, as Alexandra Popp sent a clean, effortless header into the back of the net to make it 2-0.
At the other end of her eleven-year Wolfsburg career, Popp played in both finals as Die Wölfinnen won consecutive Champions League trophies in 2013 and 2014. On Saturday, it looked as though she was going to have a huge hand in ending Wolfsburg's nine-year wait for a third.
We can only guess what manager Giráldez said to Barcelona at half time:
Whatever it was, it worked okay. Commentator Lucy Ward said it best: 'One half of work destroyed in five minutes.'
That's right, after the interval Barça pulled level in no time at all
🔥
Twice down the same wing, twice through Patri Guijarro, who had definitely been eating her Brave Potatoes.
Obsessed with the ease of this finish. Not even looking, side foots it top bins, casual as you like.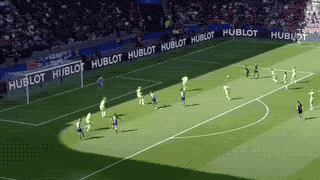 Obsessed with Aitana Bonmatí sending Ewa Pajor for a salchicha before setting up Patri for *another* one touch finish.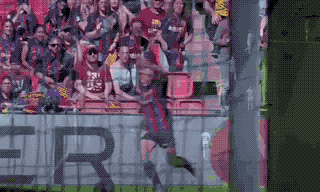 The comeback isn't just on, it's pretty much signed, sealed and delivered within touching distance of the half time whistle. From here on in, Barcelona cranked it up and Wolfsburg rolled over, their sad collapse best summarised by the calamitous way Barça scored the winner.
Once again, the right wing provided for Barcelona as Salma Paralluelo strolled to the byline and put a cross in. Mariona Caldentey fluffed it, hitting it tamely as far as Lynn Wilms' feet. With Caldentey nearby, Wilms' rightfully thought 'welly it'.
What Wilms expected: to clear the danger.
What happened: she smacked her teammate with the football.
Caldentey was alive to the gaffe and couldn't believe her luck as retrieved the ball six yards out.
Something I like in football: when there's a scramble in the box and players start chucking themselves to the ground, desperate to block shots that don't arrive. The last one here, on the goal line, is a particularly futile treat.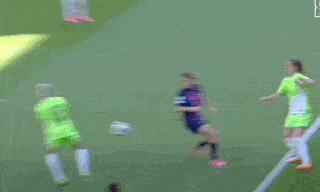 Barça looked comfortable for the twenty minutes they had to hold their 3-2 lead. Meanwhile, Popp kept getting angry at the ref and at one point Svenja Huth was so cross about a throw decision that she momentarily forgot her team had an equaliser to score, holding onto the ball and stubbornly refusing to hand it over. That was silly.
In the game's dying seconds, substitute Pauline Bremer sent a header on target and I GASPED but it was easily held by Barça keeper Sandra Paños.
So that was that — a year after departing Manchester for new challenges, Walsh and Bronze are European Champions (again). After weeks of Lioness doubts and destiny-shifting injuries, it was a bit nice to see Eindhoven hosting a little 31/7 reunion. Walsh made some confetti angels. Pitchside with Dazn, Jill Scott got to be a proud auntie.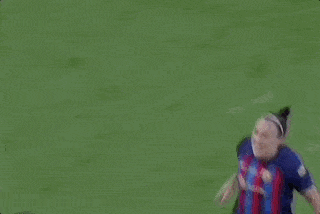 Proud bestie Leah Williamson took videos of her pals from the stands with a handheld camcorder. Proud Mum Tracy Walsh was
beaming
as she embraced her daughter after the game. Even Sarina Wiegman was there to present the trophy and bask in her girls' moment of glory.
Meanwhile. Two of the least proud people in the stadium, Popp and Pajor, looking funereal as they are invited to celebrate coming second, and scoring loads of goals on the way to falling short.
The photo of Pajor prompted someone on Twitter to question whether taking it so soon after she suffered heartbreak was really necessary.
Because it's funny I don't mind it, but the final did inspire some other suggestions for improvement in football:
We need a person to conduct trophy lifts so that after the captain has done the really exciting bit, no one is standing around looking like they don't know what the heck is happening. Maybe a running order for people going WOOO, maybe some more pyro - the whole thing could be WAY cooler.
I want more of these immediate post final whistle interviews that DAZN do. Seriously. Everyone is so jacked up on adrenaline that broadcasters be like 'how did that feel?' and players just go 'WAAAAAAAA'
I'd like more players to follow Keira Walsh's lead and go full school disco with team colours hair chalk.
Player Mums, we need you. Amanda Williamson (@HaggersPaggers), Julie Roebuck (@JRoebuck50) and Tracy Walsh (@TracyWalshy) are putting in a shift right now but I want MORE from this World Cup.
Send more English players abroad so that wee children can see how COOL it is to speak OTHER LANGUAGES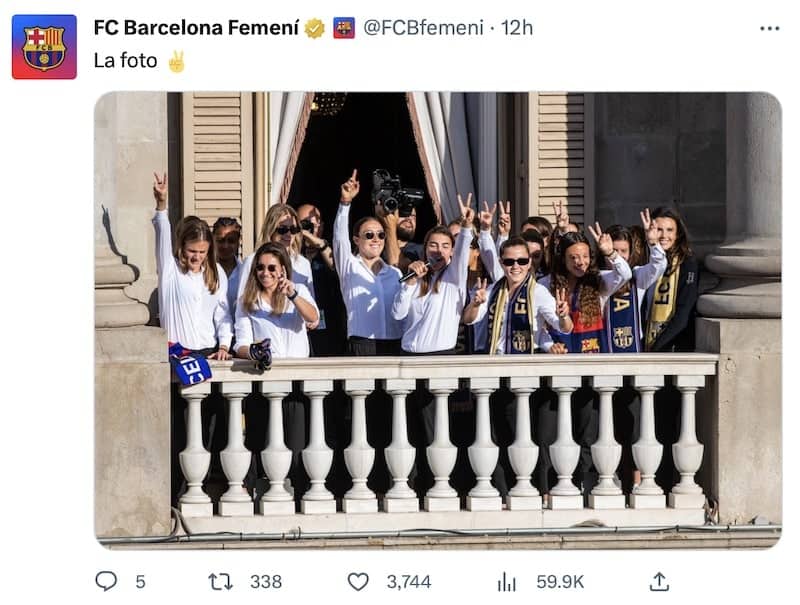 Thank you for reading! Remember you can slide into my DMs anytime at

[email protected]

— and if you enjoy these emails, it'd be ace if you could send them to people who will also like them so they can have a read too. Cheers!
The Square Ball is not, technically, a football club. But if we were, we'd design really nice football shirts for everyone to wear. And with help from Admiral, that's exactly what we've done.


Following the release of TSB's home and away shirts last year, we're completing this season's set with our third, a proper yellow shirt ready for the sunny side of summer.