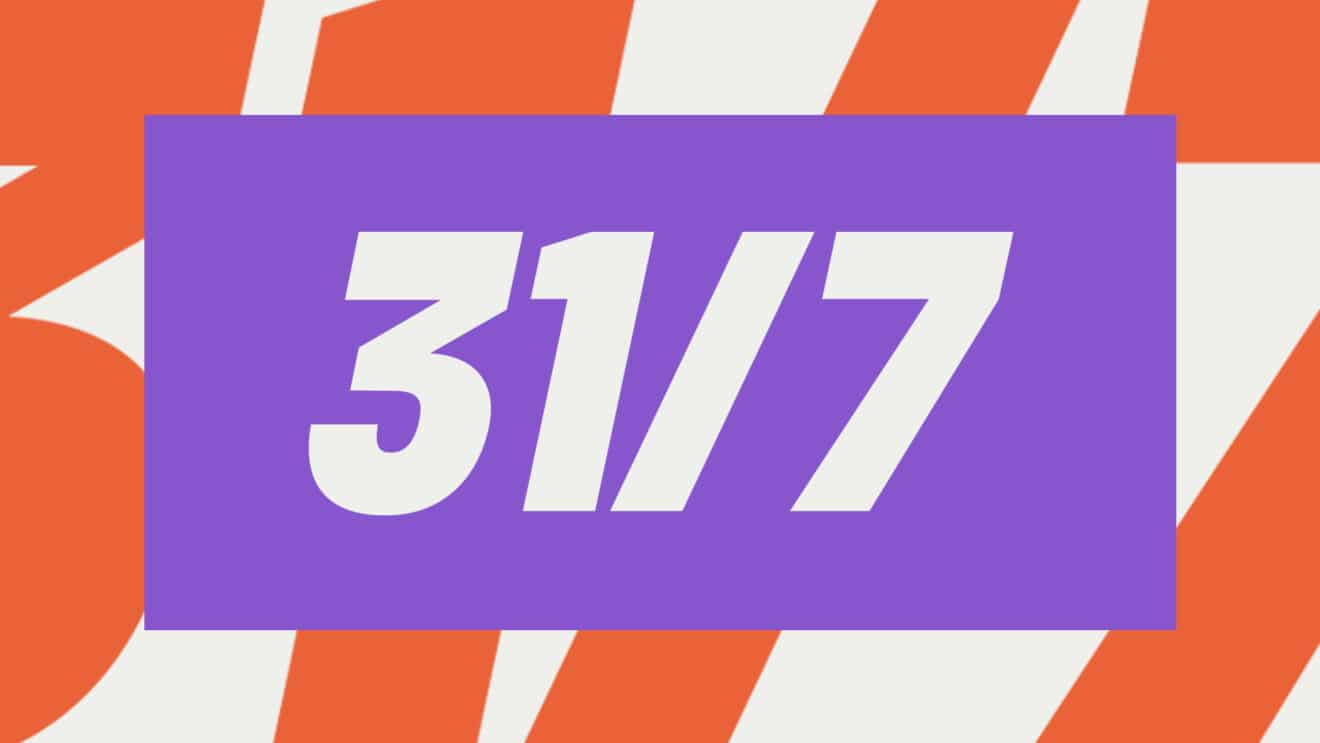 Hello, Flora here, welcome and thank you for reading this 31/7! This week I have been thinking about:

the importance of GCSE Drama
Sir Alex Ferguson being a [redacted]
Ella Toone's nan
…among other things!
I am really happy that you signed up for this newsletter and would love to hear from you. If you have any questions, three-book deal offers, fanfic recommendations etc you can reply to this message or email me at

[email protected]

.


And if you enjoy reading 31/7, please forward it to your mates and get them to sign up too.


Before we begin, a jealous gripe
This week in footballers having nice holidays, it's the turn of Leah Williamson.
Stans have been losing their minds at the snaps she's sharing on Instagram lately.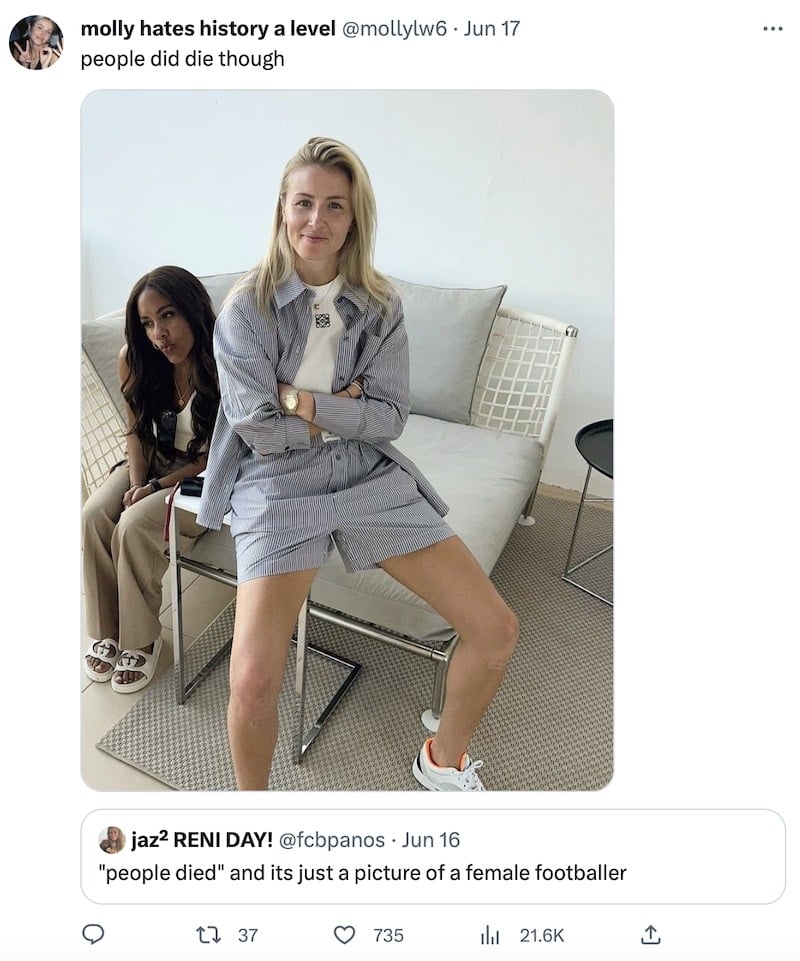 Between recovering from a career-altering injury and writing a children's book, I'm surprised that Leah has time to pick out so many stunning co-ords and pose for all these pics.
Yes, you read that right. Writing a children's book.
I see, she's Jacqueline Wilson now, having read precisely one CBeebies bedtime story.
Macmillan Children's Books is delighted to announce Leah Williamson's first fiction book, part of a previously announced three-book deal with the Euros-winning captain of the Lionesses. The Wonder Team and the Forgotten Footballers will be published on 31 August 2023 in paperback and is co-written with Jordan Glover and fully illustrated throughout by Robin Boyden..... It will offer middle grade readers a fun adventure about the power of resilience and teamwork in which women are empowered to break boundaries and become their most confident selves.
Co-written! OK, hun! And I'm co-driving an articulated lorry, co-engineering a flood defence, co-managing England at the World Cup, co-conducting the National Symphony Orchestra.
What is this? A campfire? Drama school? Sailors sipping rum on a dark and stormy night? I think I understand the mechanics of a ghost-written autobiography — you tell your life story down the phone, or into a dictaphone, then someone who is good with words taps it out, neatens it up, plays with the chronology a bit — but how one goes about collaboratively spinning a yarn is less clear to me.
Writing is lonely! You're not supposed to make pals along the way! I don't want it. Stop selling me random things! Stop using your name to make money! It's weird! I'm jealous!
After weeks of speculation, Alessia Russo has announced that she and bestie Ella Toone will be parting ways as the backheel magician is leaving Manchester United for Arsenal.
There's a fair bit to unpack here:
1) Why did Manchester United not cash in on the striker?
Her contract was due to expire at the end of 2022/23 so the club and Russo have been trying to negotiate a new deal. With the fame and fortunes and sunglass partnerships that her historic goal v Sweden have earned her, it looks like Russo wants MORE cash but she and the club couldn't agree.


Could they find a striker who is just as good but plays for less money? Possibly!
But they could have done that in January, when United turned down two world record bids from Arsenal for the Lioness. Now, with her contract ended, Russo goes FREE. Madness.
Was

the second half of Russo's season worth the hundreds of thousands of pounds that United could have raked in by letting her go earlier? Since January, she's scored three FA Cup goals, three league goals — one of which, in fairness, decided a crucial six-pointer against Arsenal. It's obviously stupid to judge a player's worth by these measures, but you could argue that her contribution against the Gunners secured United's first ever Champions League spot — which, in the end, was won on goal difference. But that raises the next question…




2) Who is going to score for Manchester United in the Champions League?
The goals haven't been poorly spread around the Reds this season, with midfielders Leah Galton, Ella Toone, and Katie Zelem bagging 16 between them. After an impactful first season in red, Lucía García is Russo's natural successor, but then who will step off the bench? They don't have an abundance of Champions League calibre options.
Bearing in mind, Arsenal's forward roster looks like this: Beth Mead, Vivianne Miedema, Stina Blackstenius, Katie McCabe, Gio Quieroz, Caitlin Foord, Lina Hurtig. Oh, and Alessia Russo will be there too 🥵 How the heck is Jonas Eidevall going to pick?
United need to pick up some HQ attacking players over the summer, which would probably be quite straight-forward task had they accepted that transfer chest of close to half a million pounds. Silly!
3) Is Alessia Russo a snake?
I didn't think she was until I read
this tweet
by someone who works in sports marketing....
....which makes me wonder if everything I have come to understand
about the reasons behind the transfer has been PLANTED and may NOT BE TRUE.
I've never considered how carefully sportspeople's images are manicured before.
Personally, I prefer it when players can just be themselves. Take Izzy Brown, for example, a 26-year-old Chelsea academy graduate who recently retired from playing football due to a recurring achilles problem.
His persistent injuries meant he never hit his stride, and so pissed off a lot of fans of the clubs where he showed up on loan as someone of great promise who consistently under-delivered.
His quitting football is sad, really, as he's so young — but it's nice to know that he's making the best use of his retirement. Today, his Twitter feed consists of an emoji-stuffed tribute to his late nan between quote tweets calling out disgruntled supporters of former clubs, dubbing them pricks and clapping back with second-hand cusses. Brilliant.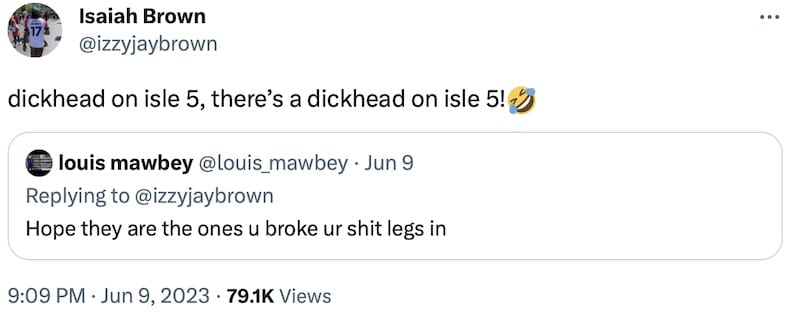 If football is for entertainment, then I say we let people embarrass themselves in the only way they know how?
Take the shackles off Russo's social media accounts, then we all get to enjoy a betrayal unfolding in real time. What's not to like?
Fans are too caught up with the idea that footballers are as attached to the clubs they play for as we are.
For the most part, they're places of work. I have a fondness for the village sports centre I worked in aged 16:
the corridors I moved around in, the regular gym users, the biscuits in the staff kitchen, the random cupboard full of desktop monitors and rubber mats. But I'm not walking around in my blue uniform polo any more, and nobody's calling me a traitor for taking up a job on the desk at my local Bannatyne's.
So no, fans don't have a right to be so vicious. In this case, though,
I'm not that surprised, given that Russo had the voice of someone whose biggest regret was leaving behind a bountiful supply of chocolate hob-nobs as she delivered her
heart-wrenching goodbye speech:
'If someone told that little girl that she'd represent the club one day, create so many memories, and score at Old Trafford - I can't imagine how she'd contain the excitement.'
✅ B

aby-faced girl in a yanited shirt

🥺
❌ The merest whiff of sincerity


So close. If only Russo hadn't skipped GCSE drama, I might not be seeing Manchester United fans on Twitter respond to the transfer news with screenshotted dictionary definitions of 'mercenary'.
3) OK, so if Russo's 'I'm heartbroken to leave United' story is made up, then what is the TRUTH? 🧐
If there's one thing this moment needs, it's a little bit of shit-stirring from Ms Mary Earps.
'Of course it's sad. Alessia and I are good friends off the pitch so obviously it's a hard place to be as her friend but ultimately I just want to support her, she's got to do what's best for her career.
blah blah blah now now give me something REAL
'

I know that it might look like one thing from the outside but you never know what's happening for somebody.

There's a completely different side of the story that maybe you're not going to hear unless you talk to her herself. I can't answer those questions for you.'
YOU HAVE MY ATTENTION.
Spill
👏
the
👏
tea
👏
It sounds like we're going to have to wait for this story to emerge, so in the meantime, I've gone full Colleen Rooney to whet your appetite. With the backing of absolutely no journalistic endeavour, here are the first five potential 'different sides of the story' which forced Russo out of Man Utd that I could think of:
Russo's sponsorship deal with Italian luxury sunglasses brand Oakley offended Marc Skinner, who 'has always seen himself as more of a Raybans man' and told her to leave.
In a hospitality box at Old Trafford, Sir Alex Ferguson offered to pay £500,000 to lick the famous back of Russo's right heel, which made her feel a bit weird so she decided to distance herself from the club.
Ella Toone confessed her feelings for Russo through song, spoiling their bestie-ship, which was the only thing keeping Kent-born Russo in the rainy north of England.
An evil witch fused Marc Skinner's turtle neck to his skin as revenge for neglecting to wear the boutonnière which contained her lost child's soul at his second FA Cup final and would only reverse the curse if Skinner forced the Russo transfer to placate the witch's furious Gooner baby daddy.
Russo decided to move in with Borehamwood-based Instagram stalker Hesham Diap after years of gushing romantic messages finally got through to her.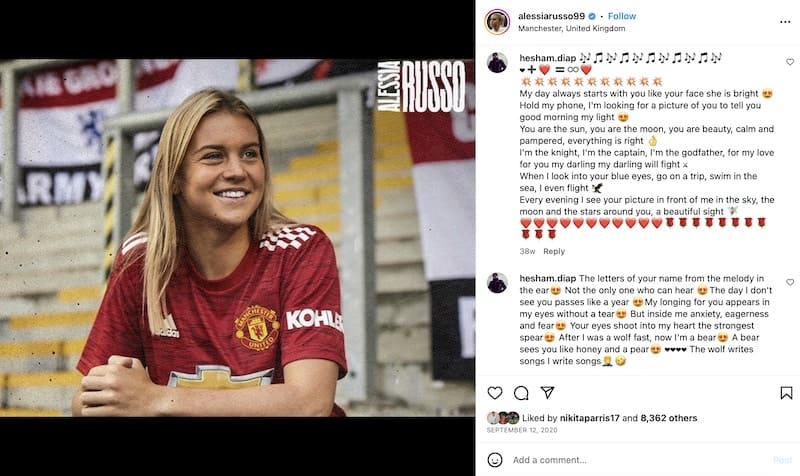 Inspired by Leah Williamson's have-a-go heroics and, having recently discovered the world of
WoSo fanfiction
, I am going to fictionalise one of these events for your enjoyment.
5) Is Ella Toone ok, hun?
Yes! She looks well! And she's showing us how footballers can represent themselves nicely without (probably!) too much interference.
Her
YouTube tribute
to bestie Russo ticked every box. She says: Away from football, I just wanted to say best of luck to my best friend Alessia, moving clubs, I'm really proud of you, hope you smash it, I'm definitely going to miss you and spending time with you every single day but I know you'll be great, and I know we'll be friends forever.'
Media is a popular answer to the question of how footballers spend their days when their playing years come to an end. Today, former WSL hero Gilly Flaherty is finding her feet with a new media career after retiring in January. Former Lioness Lianne Sanderson has been doing it for a while, and she's actually pretty good at it.
But Ella Toone is one step ahead. She's not waiting til her legs give out before training to be a Sky Sports pundit. The Gen-Z hustle starts right now. And why not? Content creation is the future, bebeh, and I'd much rather have insight into her life as a football player now than hear her droning second-hand opinions on Jess Park's late-career position change in a decade's time.
World Cup favourites Germany take on tournament debutants Vietnam in a friendly in Offenbach on Saturday. Should be a nice well-balanced game to challenge the Euro 2022 runners-up.
It's a 4th v 5th six-pointer in the NWSL as OL Reign take on San Diego Wave on Sunday.
Megan Rapinoe, Rose Lavelle, Emily Sonnett, Sofia Huerta, and Alana Cook will all be repping the REIGN at this summer's World Cup after the USWNT announced their ROSTER this week with the help of Joe Biden and John Cena.
Glastonbury this weekend and the chance for me to reunite with the greatest gift football has given me, the Ella to my Alessia, my former Bristol Uni teammate Elena.
Things I'm digging this week
Thanks for reading! Don't forget you can get in touch with me anytime at

[email protected]




— and if you enjoy these emails, it's a great help if you forward them to everyone you know so they can read them too. Cheers!
The Square Ball is not, technically, a football club. But if we were, we'd design really nice football shirts for everyone to wear. And with help from Admiral, that's exactly what we've done.


Following the release of TSB's home and away shirts last year, we're completing this season's set with our third, a proper yellow shirt ready for the sunny side of summer.