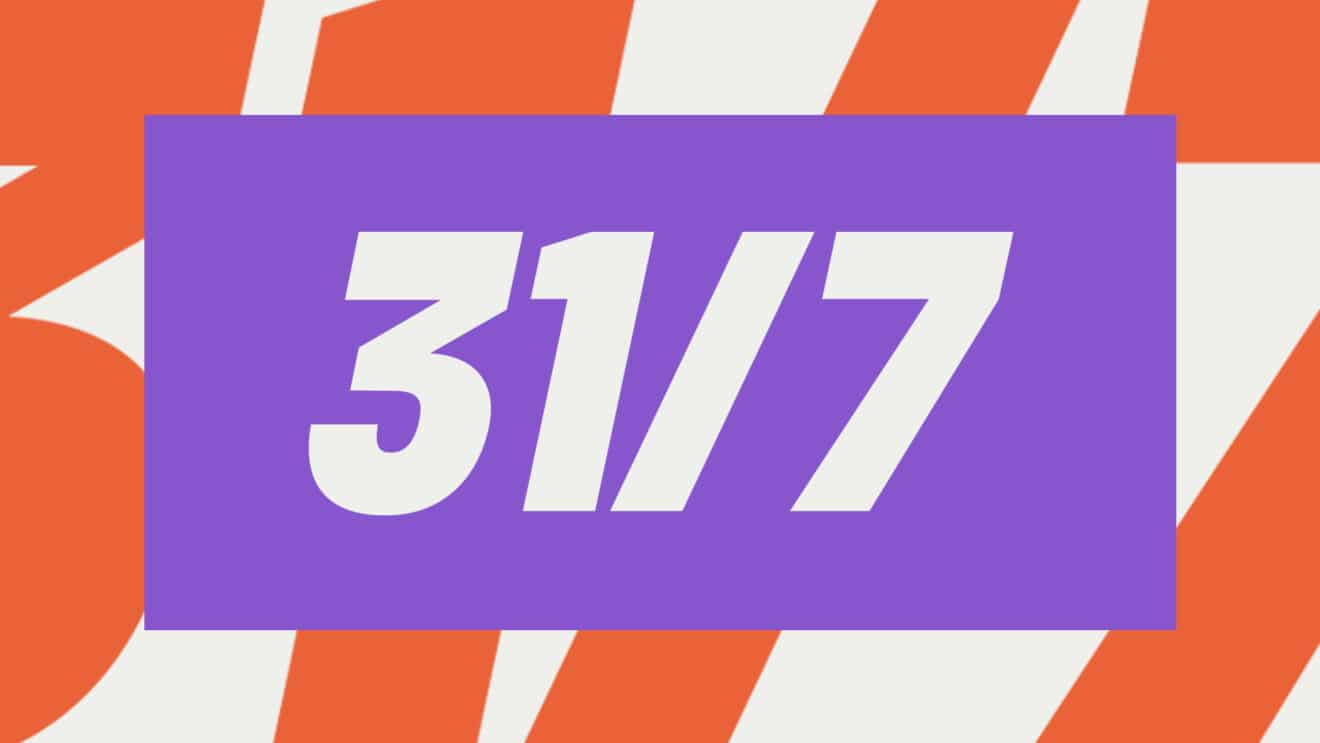 Hello, Flora here. 31/7 is a weekly but there was a big game on Sunday so you're getting the lowdown on the FA Cup final between Chelsea and Manchester United.


I am really happy that you signed up for this newsletter and would love to hear from you. If you have any gossip, questions, constructive criticism etc you can reply to this message or email me at

[email protected]

.


Old veterans vs Young pretenders. That's what the pundits were calling it as four-time winners and current holders Chelsea set up to defend the FA Cup against a Manchester United side that only formed in 2018.


Since winning the Championship in their first season of competing, the Reds have won nothing. With three successive 4th-placed finishes, they've threatened to knock one of the Women's Super League's 'big three' (Chelsea, Arsenal, City) off their perch, but this season it looks like it's finally on. There are two games to play, and they're on track to bag Champions League qualification. They could even take the whole championship — though it remains, at present, in Chelsea's hands.


On Sunday, the finalists put thoughts of WSL glory to one side. Manchester United were the clear underdogs. Having never beaten Chelsea in ten meetings, they were looking for a chance to prove themselves as serious contenders in the English game and gain some pedigree with a piece of silverware.


Meanwhile, Chelsea were simply out to win something (again).
As a Leeds United fan, the FA Cup final was always going to be a troublesome affair, since Chelsea and Manchester United are far and away the two clubs most hated by my tribe.


As I was recently compelled to confess on The Extra Ball , I did briefly flirt with Chelsea fandom as a child, in a time when Didier Drogba was the coolest striker around and no one at my primary school wanted to talk to me about the mighty Whites.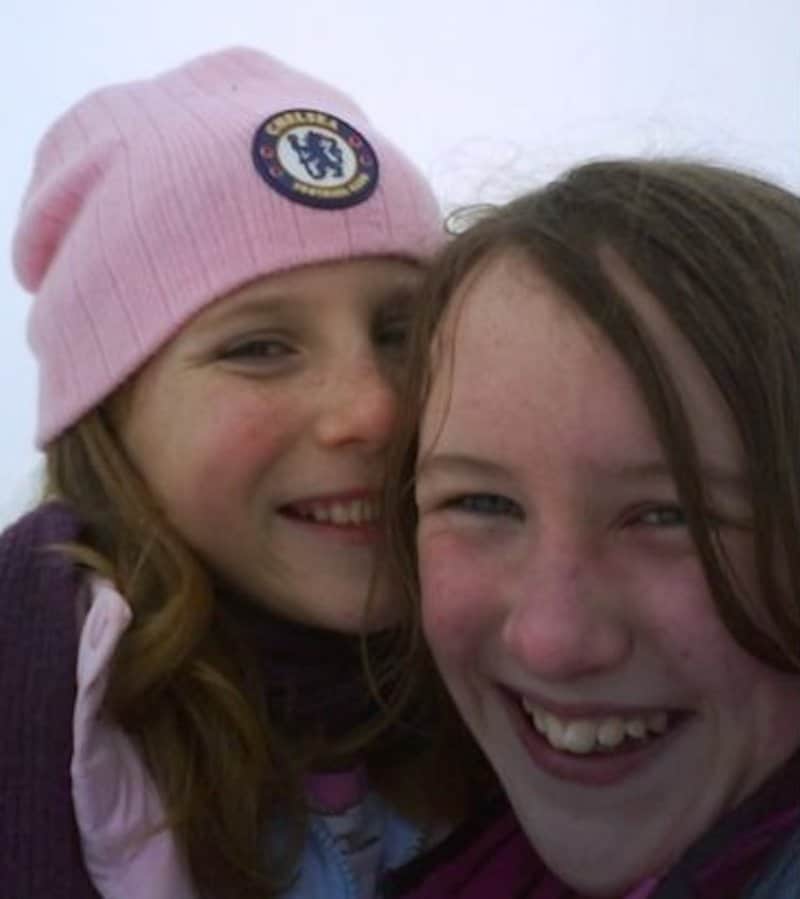 But since growing up, I have retained no affection for the Blues, and Emma Hayes' Chelsea has turned me even further off, leaving me with the uncomfortable sensation of wanting a Manchester United team to win a game of football for the first time in my life.


I think I can justify it. Who doesn't want to see Lioness trio Mary Earps, Alessia Russo and Ella Toone thrive personally and professionally?


Seriously, this video of the Man Utd besties reading each other's lips gives me hope for humanity, and from the way Toone says 'Sydneh' springs an affection for those from the wrong side of the Pennines I never thought possible.
This was only aggravated when I got eyes on the suave attire of Manchester United manager Marc Skinner.


As the players were lining up in the tunnel ahead of kick off, I couldn't help noticing his simple black blazer and trousers with a red long-sleeved tee. He'd shined his shoes. Understated, classy. Fitting for what was probably the biggest moment in his career.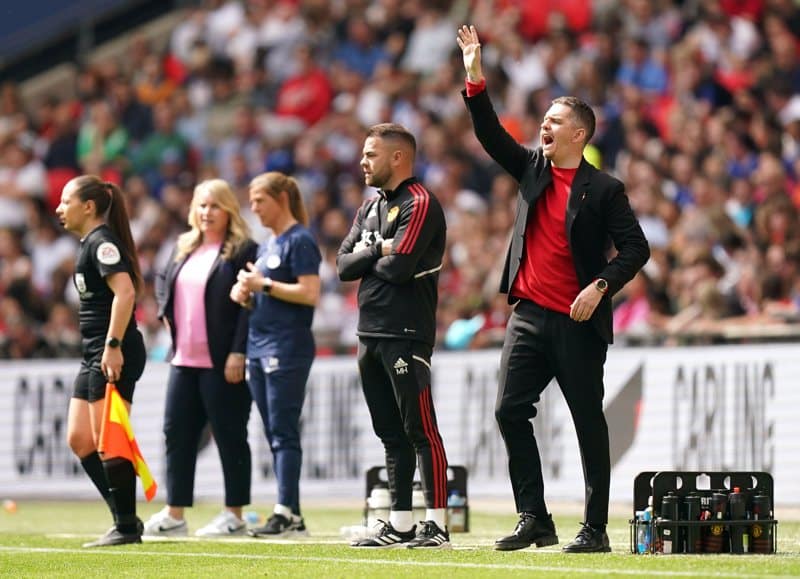 For Emma Hayes, it was just another final. She paired her blazer with an embroidered Chelsea badge with some Nike low dunks.


Ella Toone, in and out of Manchester's female set-up since the age of eight, had had her nails done red for the occasion.


Unfortunately, no one looked as silly as Marc Skinner himself did when he led Birmingham City to a 4-1 defeat to Manchester City in the 2017 FA Cup Final in a three-piece suit, complete with boutonnière.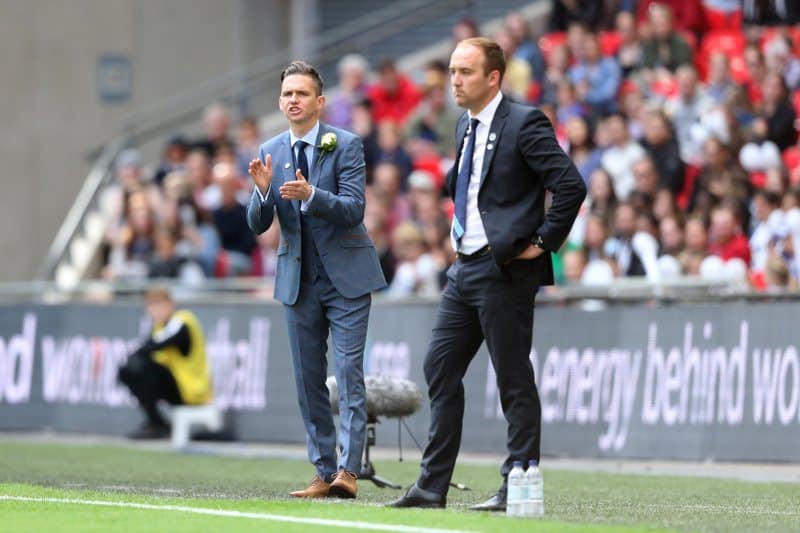 Manchester United did not look like underdogs as the game got underway. Within thirty seconds, the ball was in Chelsea's net.


When Ève Périsset failed to deal with a cross from Ella Toone, there was United's top scorer, Leah Galton, to slot it past Ann Katrin-Berger. Wembley erupted for all of two seconds before a flag went up.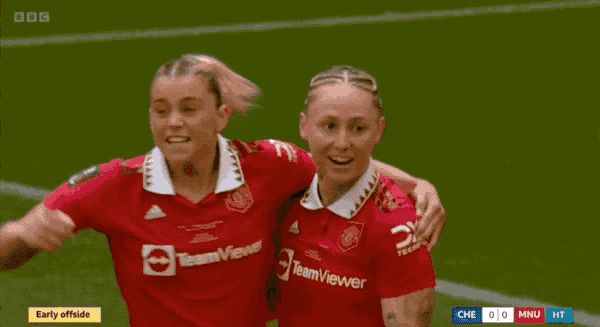 With VAR in use for the first time in a Women's FA Cup game, the camera closed on assistant referee Georgia Ball who looked really nervous as she waited to find out whether VAR were going to say 'WRONG'.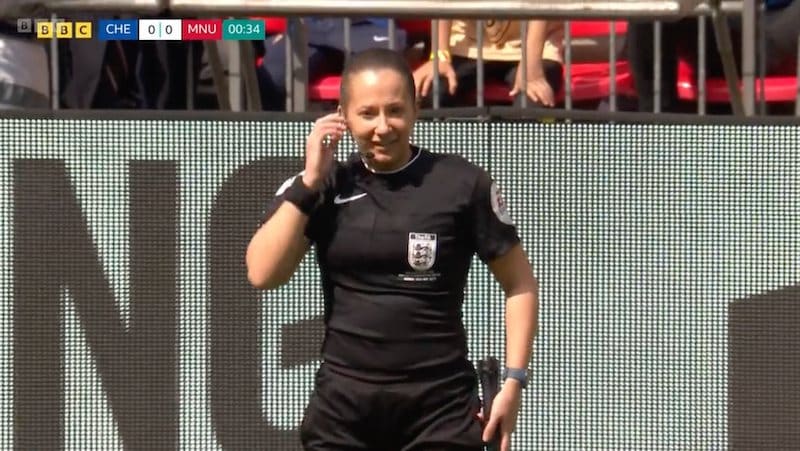 But Georgia, you were spot on. Toone was offside, and not by much. Good call babes.


That early 'success' gave United a spring in their step, and the WSL leaders were well on top for the duration of the first half, with Chelsea confined to just one shot on target.


At the other end, United were creating lots but nothing was going in the net. Ella Toone had a chance but spoiled it by waiting for the perfect place to shoot, and at one point Alessia Russo and Nikita Parris collided in pursuit of the same through ball from Galton. Silly.


At half time, pundit and former Lioness Fara Williams explained that Parris, recently a guest on her podcast, was hurt by her exclusion from consecutive England camps by Sarina Wiegman after being an unused member of the Euro-winning squad last summer.


With the Dutch footballing maestro in attendance at Wembley on Sunday, Parris was performing like she had something to prove. Look how doggedly she fights Niamh Charles for the ball here.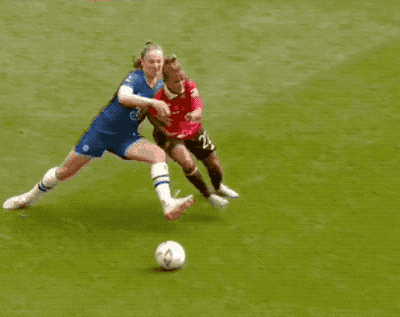 This technique of winning fouls is so pleasingly ridiculous. Putting yourself in the path of a charging body in the name of earning possession for your team. Burdened with forward momentum, Charles is committing a foul, whether she likes it or not!


With one hour gone, the game turns when Emma Hayes brings on Pernille Harder.


This month, the Dane marked her return to the field after six months out with a hamstring injury by scoring back-to-back WSL braces. At Wembley, her introduction had the expected impact, though some aspects of her performance were harder to foresee.


Moments after stepping onto the pitch, Harder is bodied by United centre-half Millie Turner à la Alexandra Popp. With the ball at her feet and Harder en route to hassle her, Turner passes to Mary Earps, plants her feet and throws a shoulder into the oncoming attacker to send her flying to the ground.


"I don't think that's outside the laws of the game," commentator Rachel Brown Finnis claims, and I'm all for it.


I don't know a lot about defending, but I learnt something from interviewing Leeds United Women captain Bekki Bass, who was playing as a centre back before she got injured in January. "If you send somebody up in the air within the first five minutes, they're not coming back," she said. Ouch.


For some time after going down, Harder did not look in any mood to be coming back as she struggled in pain on the floor. There was a moment of confusion as everyone except Turner, who was trying to pretend nothing had happened, wondered whether they should kick the ball out. Eventually the referee stopped play so that Harder could birth her surprise sausage dog baby in peace.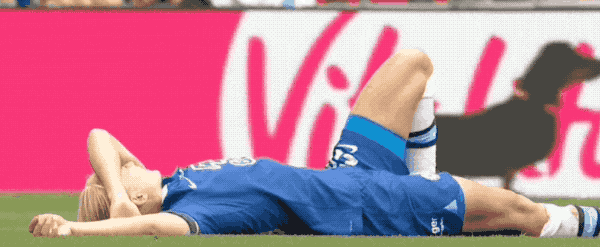 While Harder was on the floor coming to terms with her new reality, Marc Skinner was busy figuring out how to deplete his side's attacking impetus and landed on bringing off Nikita Parris, the game's most relentless battler.


When asked later about the swap, he claimed that he wanted to bring more physicality to the midfield, while freeing up Ella Toone to play out wide. His master strategy was quickly rewarded as Toone's first contribution on the flank was to boot the ball out for a throw-in.


Skinner's tactical failure was not the biggest gaffe of the afternoon, though. That accolade is reserved for whichever BBC production intern was responsible for this: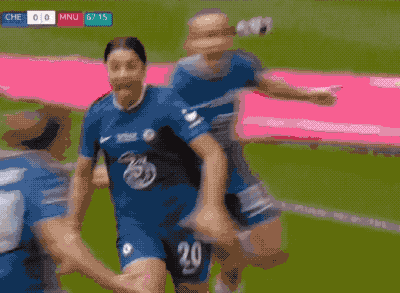 999, yes I'd like to report a crime… It looks like Sam Kerr is about to serve up a trademark backflip, one of the game's most iconic celebrations, and someone has cut away to an understated fist pump by her unacrobatic manager.


Unfortunately for Turner, Harder came back, latching onto a ball from Guro Reiten before weighting a perfect pass for Kerr to slam home a sweaty goal at the far post, with Earps pre-occupied at the near one. Starved of chances all game, Chelsea suddenly made scoring look like a piece of pish.


Man U made tame efforts to convert twenty remaining minutes into an equaliser, setting the stage for Earps, still grieving her clean sheet, to be the hero as she joined the attack for a last-minute corner.


She didn't get near it, but the sight of her jogging upfield with glory in her sights was as good as an FA Cup in my eyes.
They're not going to be there
So Manchester United had to settle for second place, and I am at once disappointed and gleeful to spread unsubstantiated reports of Marc Skinner throwing his runner-up medal onto the Wembley turf. Big oof.


The last I heard, Skinner positively loves losing games of football. This time, he uses his post-match interview to send out a threatening message to his opponents, which reminds me of when you get really angry in an argument and your mouth starts moving faster than your mind.


"We're hungry," Skinner growled. "So they might be winning it now but they're not going to be there in the future, that's what we want to take."


Meanwhile, Emma Hayes is once again lording it over us. Earlier this week, she bit the head off a journalist who dared to mention that Erling Haaland, winner of the Football Writers' Association's Footballer of the Year award, congratulated Sam Kerr on Twitter for winning the women's award.

Hayes is not the first manager to be spiky with the press, and she won't be the last either. But do you think, maybe, she needs to chill out a little bit?


For a really really long time, she has been involved in a sport seen as 'secondary' to the men's game, so I understand her hostility but like, it's nice that Haaland said something nice to Kerr. Can't we just take it at face value?


Likewise, when Hayes takes the mic pitchside after the final whistle, she can't help pointing out how poorly her team performed in the first half. I really respect her desire for high standards, but in the words of men hanging out of van windows everywhere, 'CHEER UP LOVE'.
If Hayes can't enjoy Haaland's encouragement, wait til she hears out about Ella Toone's bae and Erin Cuthbert's Da.
Pernille Harder has IT
Sometimes, all you need to do is get in the way
Pay attention to Sam Kerr
Chelsea can be shit and still win
Erling Haaland is a gent
Don't take off someone who is playing well
Don't be salty
Thanks for reading! Don't forget you can get in touch with me anytime at

[email protected]

— and if you enjoy these emails, it's a great help if you forward them to everyone you know so they can read them too. Cheers!
The Square Ball is not, technically, a football club. But if we were, we'd design really nice football shirts for everyone to wear. And with help from Admiral, that's exactly what we've done.


Following the release of TSB's home and away shirts last year, we're completing this season's set with our third, a proper yellow shirt ready for the sunny side of summer.