How's that then? Six goals, top of the group, and many shades of impressive and exciting that have been all but absent from the Lionesses in recent times.


I had a blast at the Hindmarsh Stadium last night and it's fair to say my excitement is reflected in this bumper edition of 31/7

😃




So if you want to read about any particular aspect of England's magnificent victory over China, then the chances are I've covered it off below.


I'm off on another long train to Melbourne tomorrow, where I'll be having the unexpected pleasure of watching a USA side which, by all accounts, has been ravaged by the tired ideas of a feckless coach.


Oh well. Looks like football's coming home again.
Sarina's gonna make a change
It's gonna feel real good
Wow. It looks like we needed Keira Walsh to go down with a tournament-threatening injury more than a hole in the head. Who knew that a forest fire was the answer to all our prayers? I could chat about Sarina Wiegman's tactical brilliance until the cows come home, but at the end of the day, credit where credit is due — the players gave 110% and I've never been more happy to see a cloud's silver lining.
Do you notice how your brain just goes NOPE when it sees a succession of clichés its read hundreds of times before? It should be easy, right. Familiarity makes clichés instantly comprehensible. You know exactly what I mean, but the meaning is so blindingly apparent that it becomes insipid.
You could argue that this is what has been going wrong with England in the months since they dominated in the Arnold Clark Cup in February. Fans revelled in the way Wiegman brought out the same eleven players to great effect at the Euros last summer. But as we watched on with delight, so too did every team across the globe preparing to face them at this summer's World Cup.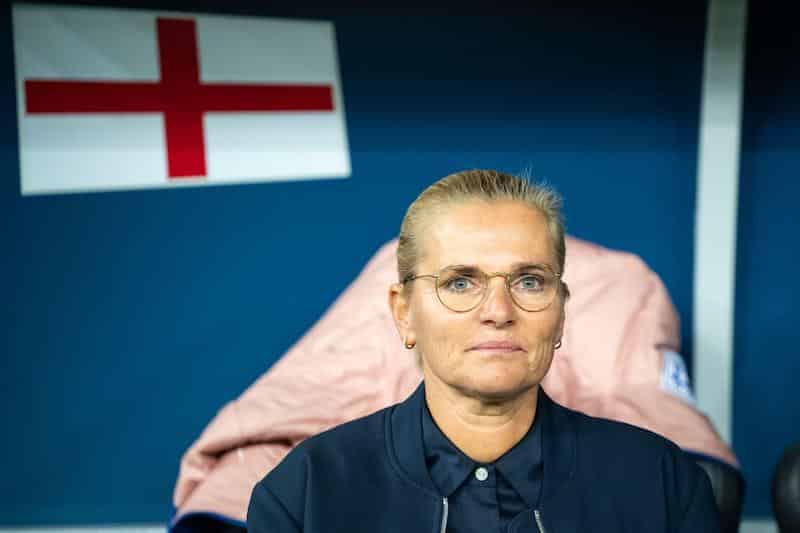 Ellen White's retirement and injuries to Fran Kirby, Leah Williamson, and Beth Mead forced Wiegman to find like-for-like replacements — but this was not an option after the beating heart of her England side went down in the game against Denmark.
Clichés are hard to avoid because they're so easy, so obvious, and demand no imagination. A shortcut, the path of least resistance. When it comes to team selection, is there anything more straightforward than Keira Walsh?
Without fate intervening, it seems highly unlikely that we would be seeing this fresh formation and I thank my plucky Jess Carters for this blessing in the guise of a 4-2-3-1, with Wiegman starting, finally, to put her Lauren where her Toone is.
Do we thank Sarina Wiegman for proving, again, that she is head and shoulders above the majority of her peers in terms of tactical innovation? Or, do we thank our human ancestors, for outpacing evolution, for literally running before they could walk, leaving Keira Walsh's knee susceptible to going bust when England thought they needed it most?
Be unapologetically fuming
Georgia Stanway was right, all along. We only needed to relax while Sarina Wiegman did her thing. Everything that was wrong with the Lionesses before has now been fixed and all that remains is the thrilling wait until August 20th, when England will bring it home once more in style.
I'm not stupid. A few shiny goals aren't enough to put all of my doubts at rest, and any opponent that will let Lauren James and Alex Greenwood go boing boing boing boing like that instead of actually trying is not the kind of challenge that reveals the robustness of Wiegman's Plan B.
But I am only half joking. It's MD+1 and I'm feeling all giddy. I was at ease with the reality that England had no hope of winning the whole thing but now that possibility has crept back onto the horizon, I'm beginning to worry about whether I could actually COPE with England lifting a WORLD CUP TROPHY.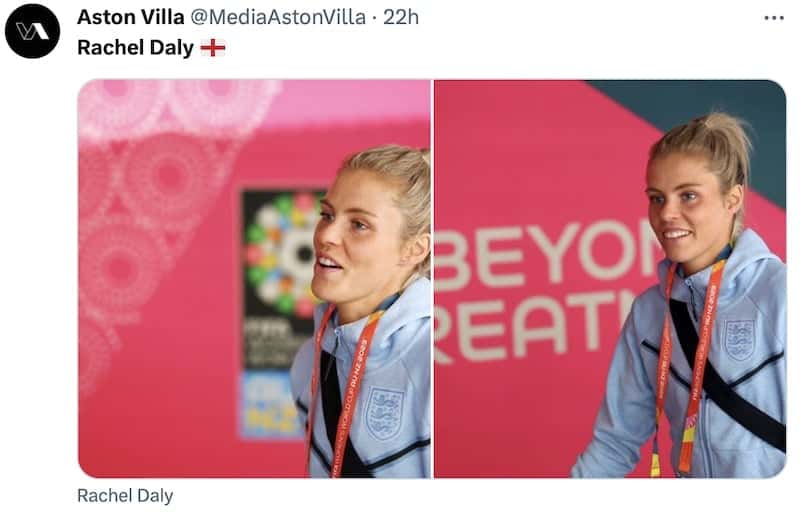 Hope was in the air after the final whistle. Usually in the mixed zone, players trudge past hoping no one will notice them and disrupt their route to a nice warm shower. On Tuesday night, the Lionesses were skipping round excitedly. Rachel Daly was so buzzed that she dropped her water bottle mid-interview, and had no trouble interrupting a journo mid-flow — 'can I just watch that LJ goal again, please?' — peering over his shoulder at the screen displaying highlights of the game.
But there was one player who wasn't full of the joys of a Millie Bright ping.
Mary Earps hates
conceding goals.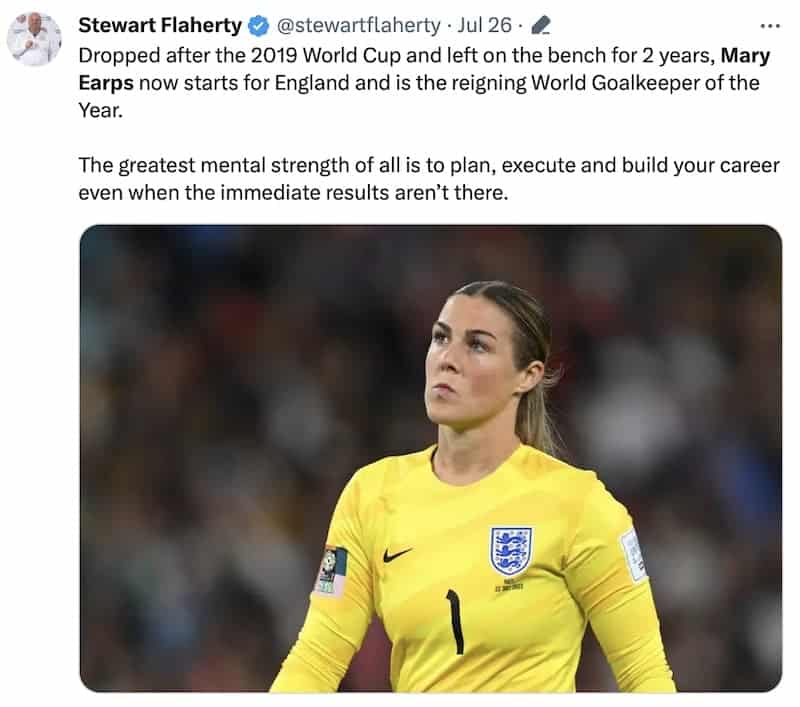 As Wang Shuang was getting ready to take her penalty, Earps was writhing, contorting like a worm on acid. Was this an effort to psych out her opponent, or a manifestation of the terror, the nausea of the ensuing destruction of her clean sheet?
Her after-conceding routine was no less bizarre. She swaggered to her post, picked up her towel, didn't use it, threw it down again, then marched to the top of her penalty box, tugging at her thermals, smoothing down her shirt.
Nothing to see here. Just a normal moment in the life of Mary Earps.
Granted, the penalty was an unjust way for her to surrender a goal, and I am annoyed that England have conceded at this point in the tournament simply because it would have been nice to get through the group with a spotless record.
But England won, overcame a huge obstacle, scored six pretty terrific goals and witnessed the return of the Messiah in the form of a twinkle-toed Londoner.
Yet still, a long while after she deigned to let a ball slip past her goalline, she was sucking her cheeks repeatedly in frustration as she stormed through the final stretch of the mixed zone.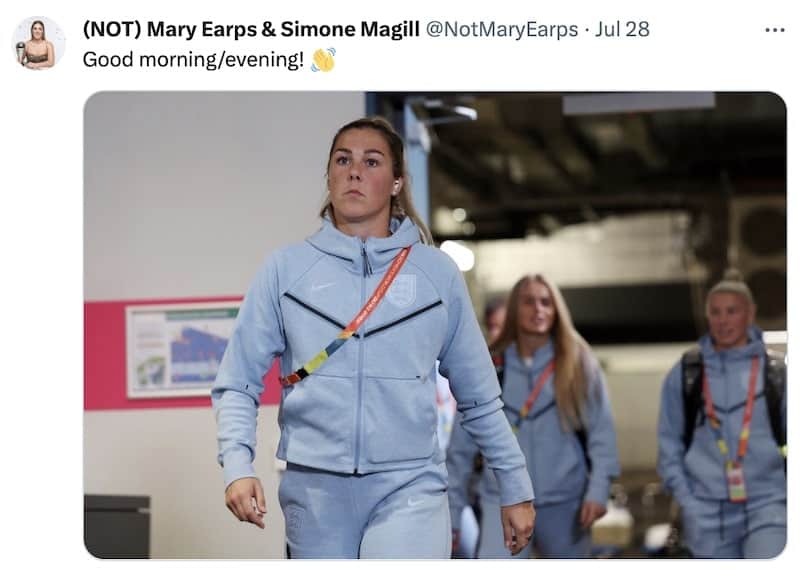 This surprised me. I thought that #Girlbosses were the masters of a positive mental attitude?
Thankfully, the only raging Earps needed to do in that moment was avoid tearing down the hoardings or punching a man with a microphone. When safely ensconced on the team coach, she could plug in her headphones and cool down with a recording of herself listing the entire fixture list for the FIFA Women's World Cup 2023. You can as well.
I'm not joking!
But of course, she'll stay awake long enough to get to the last fixture, mouthing along to her own manifestation: "Final. Match 64. The winner of match 61 versus the match of 62. 20th of August. 8pm UTC+10. Stadium Australia, Sydney."
True hustlers never rest.
I wish nothing but peace and happiness upon Lucy Bronze.
It was her filthy strike against Norway that first made me think 'Ok, I think I can quite enjoy these Lionesses' at the 2019 World Cup, and she's done nothing but be great ever since.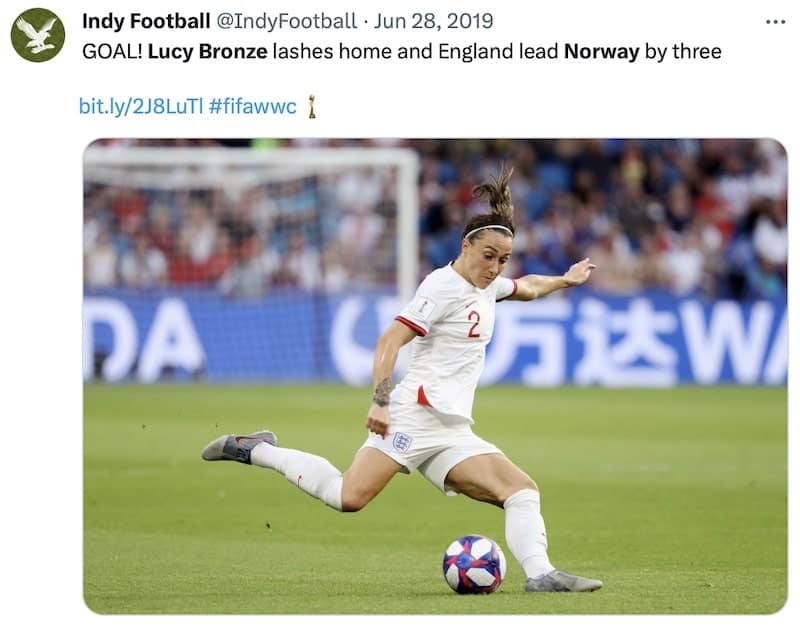 That ski mask in Trafalgar Square? Iconic.
Taking young Lauren James under her wing as a pal and mentee? MVP behaviour.
Though I'm loathe to bring them up again, the teenagers of WoSo Twitter have made me especially protective since their unified response to Lucy running and running and running against Denmark was to slate Wiegman's decision to include someone who was so 'past it'.
Um, HELLO. Have some respect. I don't think you have the right to dunk on Bronze when you were literally at primary school when she was 'before it', if that's even such a thing.
But there was further punishment for Lucy to come against China.
On a night when five different players grabbed a slice of the goalscoring glory, Bronze headed the ball against the post.
Then, Lauren James stole her thunder by emulating the set piece routine which gave us Bronze's epic goal against Norway.
She inadvertently snatched away LJ's second goal by being offside in the most insane way imaginable.
She was kind of in the way at a China corner, which was enough for Wu Haiyan to slap her wrist so emphatically I thought she might swipe it clean off her body. VAR was VAR and a handball by number 2 meant England let in their first goal at the finals (even though it had been Bronze's much-revered mentee LJ who lost the ball in the lead up to the concession of the corner 👀).

It wasn't enough for Bronze to be responsible for China's goal - she had to take a booking for her heinous breast, which put her at risk of suspension from the quarter-final if she gets a yellow against Nigeria.
After the game, Bronze had a further nibble: "I guess she just wanted to give me a yellow card for fun."
I won't bother detailing the excellence of Lauren James' performance because it speaks for itself. If it weren't for the yucky VAR deciding that Bronze was offside, James would have become the first England player to score a hat trick in a World Cup game. In just her second start?? Insane.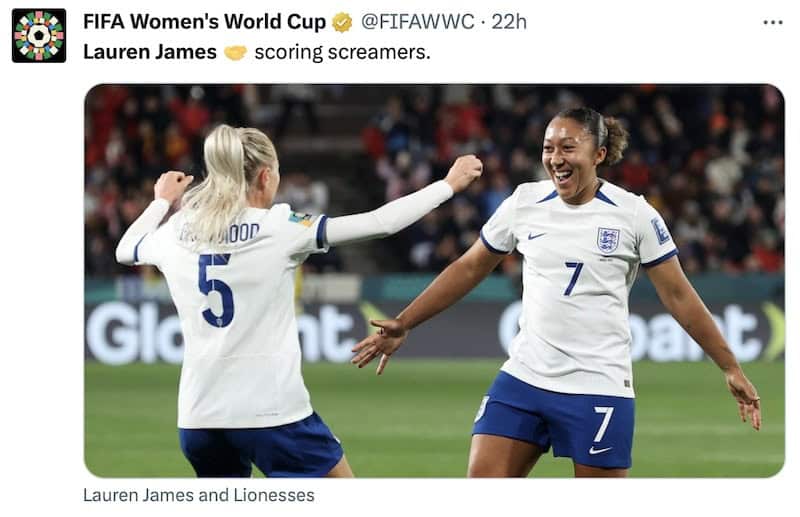 While her trio of sumptuous strikes were especially eye-catching, the assist for Chloe Kelly's goal (yeah, James' third assist of the game) was a masterpiece of its own. This was not a highly thought-out manoeuvre, the result of hours' planning on the training ground. James found the ball at her feet almost by surprise as a block by Russo deflected a China pass into her vicinity.
With one glance upfield, she ambled up to the ball and struck it first time over Kelly's head, dropping it tidily into her path. Spinning back on itself, the ball stuck to the grass rather than bouncing further toward the field boundary. The same spin made China 'keeper Zhu Yu look a right prat and left Kelly with nowt more to do than stroll through and stroke the ball home, meaning James could disguise her exceptionalism by attributing the goal to another player's uselessness.
Lauren James shuns the spotlight so intently that you could almost believe she hates how good she is at football.
I first noticed this when she collected her Player of the Tournament award at the conclusion of the Arnold Clark Cup at Ashton Gate in Bristol. The three-match competition was a breakout moment for the 21-year-old which cemented her place in Sarina Wiegman's squad for the World Cup. Yet this was how she chose to mark the moment that former Lioness legend Fara Williams presented her with the accolade:
Hardly a photo for her Nan's mantelpiece.
In the decisive final game against Belgium, James had provided the assist by which Kelly opened the scoring before getting subbed at half time. But it looks like she headed straight for the showers and was halfway to the team coach when someone pulled her back to say 'uhhh Lauren, we'd like to recognise your talents, if you please!'
Again, at the final whistle against China, LJ looked almost embarrassed to be there. Of the 23-player squad shaking hands with their opponents, she was the only player with her hood up.
In fairness, it was a cold evening. I was cowering behind a snood myself and, as the Lionesses formed their customary debrief circle, Esme Morgan was skipping from toe to toe, silently willing Sarina to just GET ON WITH IT so they could all go inside and warm up.
But frankly, never mind how cold it was, if I'd played like LJ on the international stage, I'd probably be down to my undies, lapping the pitch.
A moment of silence for Millie Bright's pings.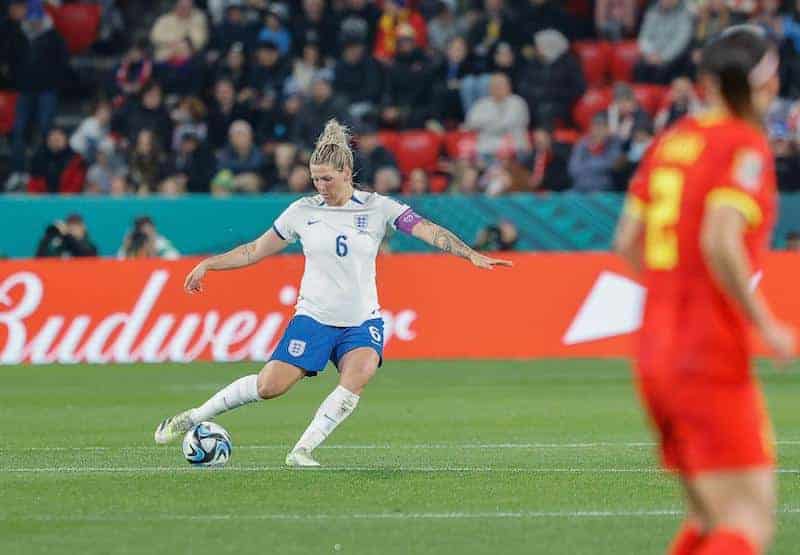 Pretty much every one of them went askew against China.
She's spent a lot of 2023 getting over knee surgery and the Haiti game was Bright's first competitive football since MARCH, so it'll take some time to sharpen up again.
I just hope she can do it ASAP because, while you could have missed them in the China clash, if she knocks out a wonky ping when England are trailing in a knockout tie, they'll be hard to ignore.
The silver lining, though, was the emergence of ping prodigy Alex Greenwood, who was punching balls to the opposite flank

with ease.
What did you make of the game? Has it reignited your hopes? Are you cautiously optimistic? Simply glad to be alive, bearing witness to this wondrous era, this LJ SZN? I'd love to know your thoughts. Feel free to hit reply, send me an email at [email protected], or simply spam the 31/7 Instagram inbox with a succession of exuberant emojis.