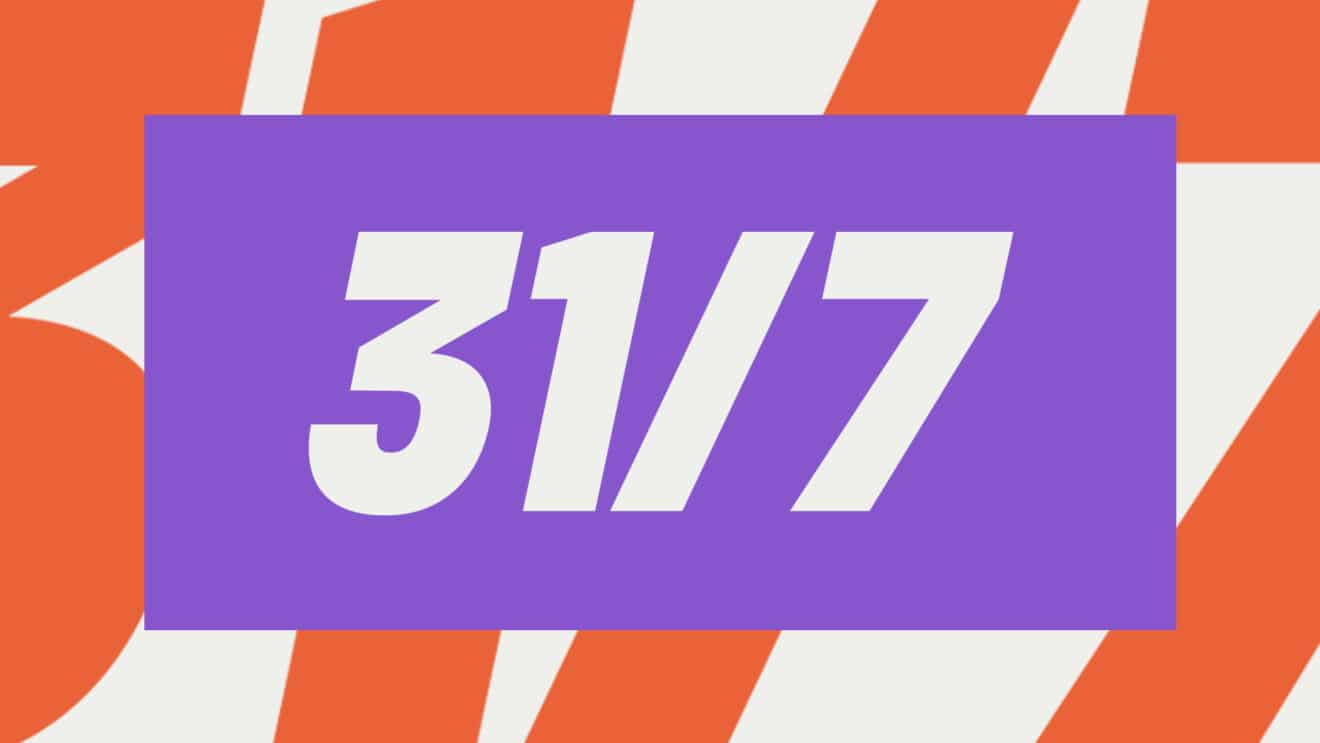 Hello, Flora here, welcome and thank you for reading this 31/7! This week I have been thinking about:

Ukrainian magpie ladies and cash-hungry pigs
how a little sensory excitement can sometimes be the cure
asking Mary Earps to stop
…among other things!
I am really happy that you signed up for this newsletter and would love to hear from you. If you have any gossip, professional advice, Instagram tips etc you can reply to this message or email me at

[email protected]

.


By the way, I'll be writing to you soon from the ACTUAL WORLD CUP, but see below for more on that.


If you enjoy reading 31/7, please forward it to your mates and get them to sign up. You and they can now follow along on Instagram, too, even if I'll mostly be reposting Keira Walsh chomping Colin the Caterpillar once a week: instagram.com/317_317_317_


This week Newcastle United announced that their women's side will become a fully professional team for the 2023/24 season.
It only took one season as semi-pros for them to conquer Division One North this term, and as the only fully professional team competing in the third tier it seems unlikely they'll be hanging around there long, either.
This was the reaction from Stourbridge, who topped the Division One Midlands last season and will be joining Newcastle as newcomers in the Northern Premier: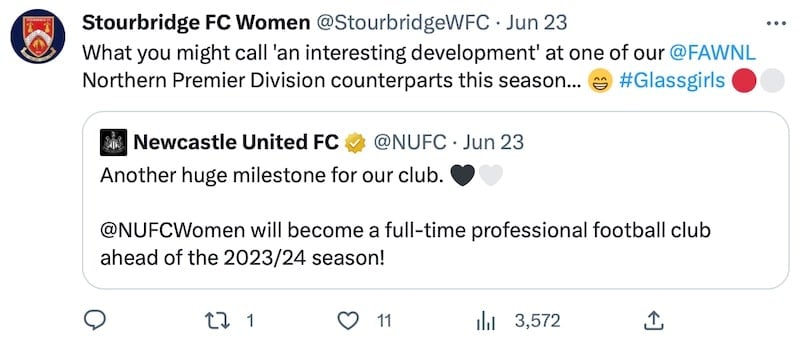 Not sure what to make of this. The cheese emoji. The speech marks. Are they happy for them or green with envy?? Or…… a sly dig at the Saudi owners' shameless hypocrisy?
Leave them alone! Howay the lasses! Roll on 2025, when Newcastle will fulfil their aim of competing in the WSL and all the women's rights naughties of Saudi Arabia will be washed away.
Most of the rest of the quote tweets are gushing testaments by players which all mysteriously use the same wording…
It's pivotal! It's monumental! Girls in the north east can now visualise their dreams!
🙌 Blessings upon our kindly benefactors 🙌


So what does this mean for the Lady Magpies? (yep, their real nickname)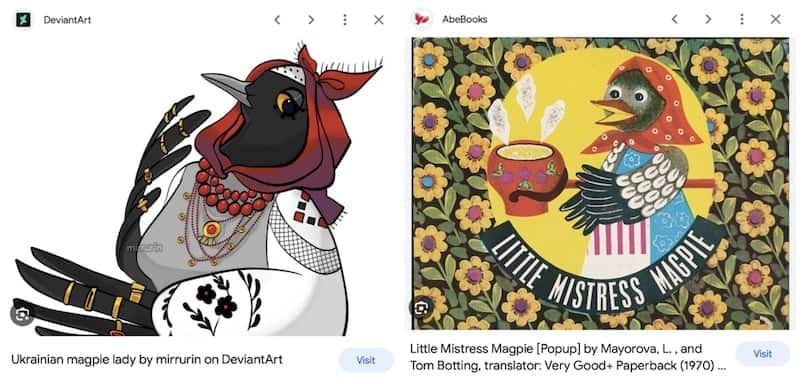 The players will be paid competitive salaries, given access to top training and medical facilities, and play their home games at the 10,000 seater Kingston Park. Pretty neat.
With time and space and freedom you can really figure out your shit.
I'm taking my time playing football at Bristol as an example. Granted, it was all self-run with limited support from the university, and some of our Wednesday nights were deeply unprofessional — but the crucial thing is we all had
loads
of time on our hands because, to paraphrase Jess Bhamra, anyone can read Middlemarch, but who can make a front post run to guide a whipped-in cross past the keeper with the outside of their boot? ***
From where I'm stood, the crucial components of a successful team are:
Technical skill
Fitness
Making a plan and knowing it well
Spirit and mutual understanding that if things go wrong we're all going to fight for each other
…and all of these things take time to nurture.
And now, a moment of respect for the value of a decent skinful. For me, I don't think any feeling will ever beat going out for drinks after sealing a good win. I'll never forget tipping up to pre's and having someone's initial greeting be 'I hear you scored a worldie today' and then there's Ellen Brown in the corner looking absolutely FULL OF IT having saved a pen four hours earlier while everyone is standing about drinking Sainsbury's Dry Cider and / or Squodka.
Then you're dancing and celebrating and thinking about nothing but your love for your teammates and you're going over the details of the game in the smoking area and telling your strike partner how ace they are and how much you enjoyed watching them play out of their skin in today's game. It's nourishing to have the time to acknowledge pride in yourselves and each other.
If Newcastle have any nous about them, they'll schedule in this vital weekly drunken debrief, then factor in an optional fitness training for the day after so that social bonds and stamina can be enhanced in one fell swoop as the lasses debrief on the debrief.
Clearly the Toon won't be necking VKs at 4am but the point I'm making is that as professional football players with no 'day job' to prioritise, they have the freedom to make all the most important preparations.
Recently I spoke with Abbie Brown for The Square Ball summer special (coming soon!) and the image of Leeds United's top scorer slamming down a sandwich while rushing from work to a midweek evening game for the third Wednesday in a row really stuck with me. It's affecting your mentality, your nutrition, as well your wider life and relationships which all impact performance. It makes a helluva difference when all you've got to think about is getting ready for your next game.
Expect Newcastle to piss the Northern Premier next season.
***I have written a few words about this goal, how it happened, what it meant, which is published in
Hear us Roar
,
an anthology of football writing by women. More on this further down!!!
Now, we move from Sportswashing by the Toon to Toone-washing by a fierce sporting rival…
As a lifelong hater of Manchester United, it's been extremely complex to enjoy watching their women's side do well. Truly, I was rooting for them. Ella Toone is fucking funny as fuck and Leah Galton is kind of cool, too. Marc Skinner is a nerd that I love to hate and sometimes I get him mixed up with Mike Skinner and that makes me LAUGH.
And then there was the nARRATIVE. It's funny, I didn't like seeing Manchester City buy their way to the top of the Premier League but when United woke up one day as recently as 2018 and thought 'LET'S INVEST IN THE GIRLS', I was all for it. Now watch them go, spoiling that cosy little top three. Zero to hero in five seasons! 'Tis a noble cause.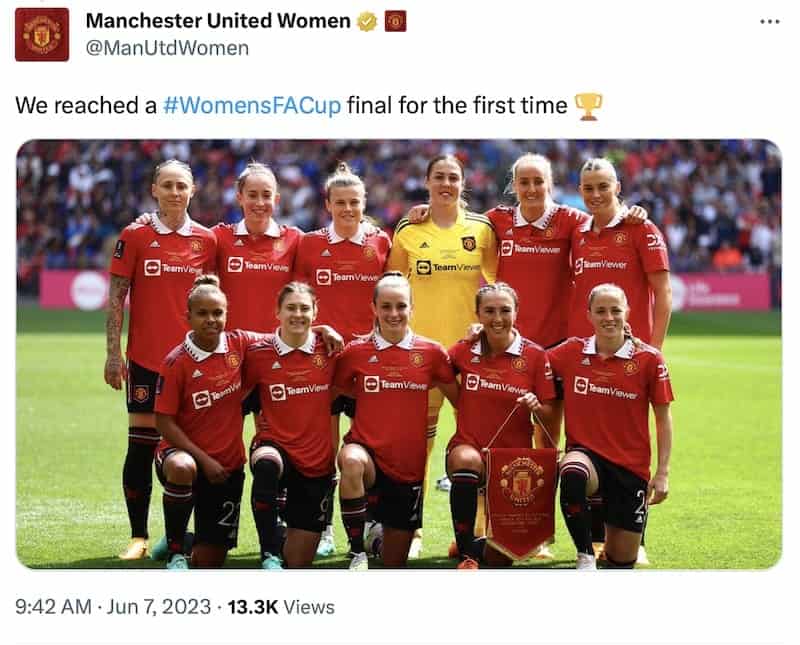 Anyway, oh well, they're undoing all that work now by being dickheads.
Manchester United's head of finance Francesca Whitfield is advocating for Financial Fair Play rules to be brought in at an earlier stage in the development of women's football than they were for men.
FFP was introduced in 2009 to resolve the problem that the ambition of football clubs often causes them to spend more money than they have, creating huge debt which threatens club's survival. The rules aim to prevent this from happening by putting limits on how greedy people can be.
As spending on women's football rises, Whitfield is gunning for regulation: "We need to ensure that we can invest, but we equally need to attract investment and smaller clubs are not able to invest at that level, so how do we encourage them to do so if it's not a fair playing field? They can't possibly ever be competitive with how things are."
You might imagine that she has the likes of Reading on the mind. In May, the only side not attached to a Premier League club were relegated from the Women's Super League after winning just three of their 22 games this season. Now, they've lost their loyal coach of five years, Kelly Chambers, and announced that they're reducing their team to a part-time model as they can't afford to remain fully professional.
It's definitely true that some levelling of the playing field should happen. It's not really fair that all the players who've grafted for Reading are getting shafted because they're not attached to a 'big-name side' with loads of cash. It would be fairer if women's sides were separate, as they are not really controlling their own destiny this way.
Given this, it's surprising that Whitfield is shouting about it. She's a beneficiary of this world. What does she care for the little guy? THESE POOR SMALLER CLUBS! WON'T SOMEONE HELP THEM! WON'T SOMEONE THINK OF THE SMALLER CLUBS.
Well, plot twist, she doesn't…
Let's not forget, Man Utd just let Alessia Russo go on a free, probably because they didn't want to pay her as much money as she was hoping for. Sour grapes much. So this latest plea for a salary cap to promote the sustainability of football is really a bid to protect their own interests. Translation: 'We've lost our star player because she was greedy, so let's make it so that she can't make that money anywhere else, so players can't expect anything from us'.
*** We interrupt this broadcast to point out that Manchester United are the fourth richest club in the world. That means they get enough revenue to spaff as much as they like on player salaries. It's just that they don't want to, if they can possibly avoid it ***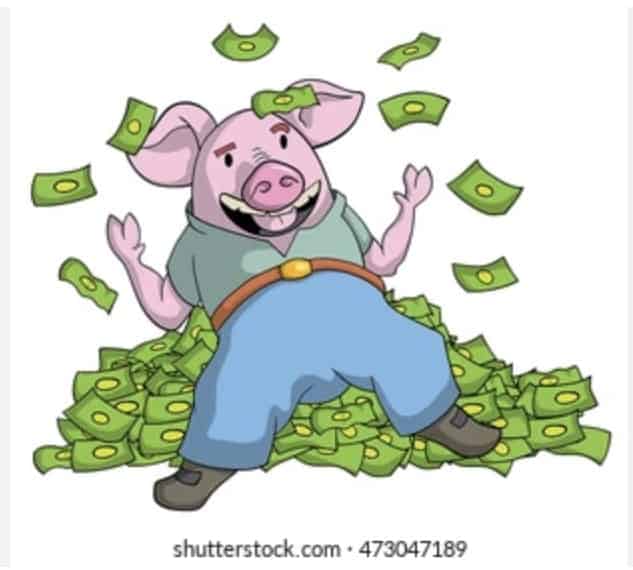 They're basically trying to have their cake and eat it. Whitfield really said, 'it's too expensive for us to win the Champions League by paying Russo what she wants and deserves… what if we made it so that no one else was allowed to pay her what she wants and deserves? Then we could win the Champions League by paying fuck all! Everyone's a winner.'
The cost of women's football is growing at the moment. It's why Reading are in shtuck. If you want to be at the top of the tree you have to gamble a few pennies.
There's a case to be made for financial regulation of some sort to prevent the WSL becoming a grim Premier League 2.0. But if you bring it in too soon then you stem the investment that, frankly, most people that aren't Scumchester United are more than happy to make.
Will football learn its lessons?
Or will we be scrabbling around for something beautiful in this cesspit full of rich greedy bellends forever?
While the rest of the world is getting ANKSHUSS for the World Cup, I'd like to thank the NWSL for providing some light relief.
On Saturday, Michelle Cooper seized up with cramp midway through Kansas City Current's match against Orlando Pride. And what happened next was funny.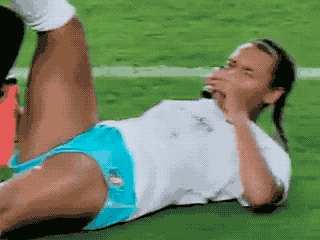 The first time I got cramp, I thought I was dying. I was playing in some County Cup final at Ely City football ground as a teenager. It was very exciting because I had never played at such a 'stadium' before and my parents and girlfriend had turned out to watch.
But I was a kid playing against women who were quite good. Not long from the end, I went down on the floor thinking 'holy fuck what has got my leg'. It felt like a demon was squeezing it really hard, or I'd been injected with slow-spreading poison. This wasn't supposed to happen! I was very scared and I cried and came off.
Shortly after coming off, I was disappointed to find that the feeling went gone away. Hang on, this was a career ending injury, wasn't it? I've been taken off this important game for a good reason, right? Nobody told me I could have simply stretched out my legs and carried on. Let me back on, I've got finals to win, baes to impress!
If only I'd had some sick-making potion to fix me up.
After Cooper went down on Saturday, a medic handed her a tiny jar of something which she knocked back with enthusiasm, grateful for some intervention, a distraction from the pain. The taste of it, though, was so extreme that she was soon clinging to the turf for stability.
HOTSHOT is an innovative cramp treatment which focuses on the neurological base of cramping, as opposed to the muscles themselves. It's a drink made of: Water, lime juice, sugar, salt, pectin, gum arabic, stevia extract, cassia oil, ginger extract, capsicum extract.
Doesn't look too grim on the surface of it?
But it's so potent a mix that it triggers the nerves in your mouth and oesophogus. Cramp happens when your nerves get over-excited and start sending intense, out-of-control signals to your muscles. By stimulating your mouth nerves, it seems to kind of reboot the nervous system and say 'WOAH FELLAS LET'S JUST CHILL OUT A SEC'.
Kind of cool. Bodies are crazy !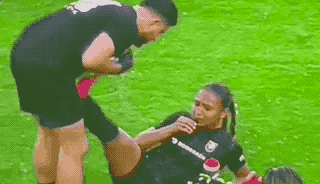 Since the weekend's Hotshot shenanigans caused an internet storm, Portland Thorns forward Janine Beckie came out in defence of what looks to be a truly vile experience.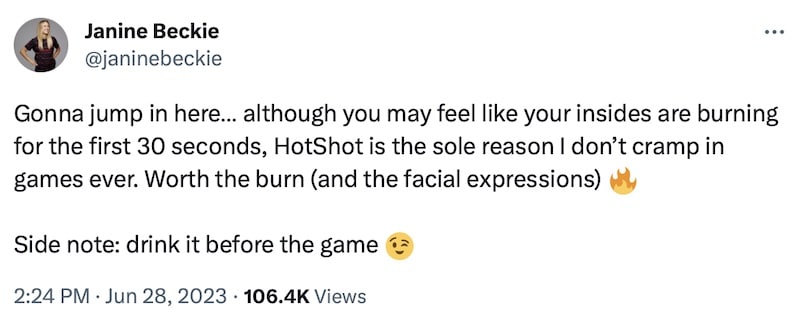 She strongly recommends chasing it with Gatorade.
England number 1 Mary Earps is putting her BSc Information Management and Business Studies to good use by launching her own fashion brand.
And when I say fashion, I mean she's put an Instagram quote on a black t-shirt and she's selling it for £26.50.
Aren't slogan t-shirts the anti-thesis of being unapologetically yourself? By wearing a t-shirt that publicly gives you licence to be yourself, is that not a form of apology?
For me, refusing to apologise for yourself looks like:
Singing for fun
Telling shit jokes cuz they make you happy
Expressing yourself in a way that feels good
Wearing the MAE27 top is like demanding your right to feel good rather than actually feeling it! Put on an outrageous crop top or an ugly sweater that gives you joy if you don't want to apologise!
The other half of MAE27's current offering is a top which reads: 'girls know the offside rule too'.
THE HUSTLE IS TOO STRONG FOR ME, MARY. More table dancing, plz.
The Lionesses get their final home cheer when they play Portugal at Stadium MK at 3.15pm on Saturday.
Plenty of other warm-up friendlies happening this week:

Spain play world cup debutants Panama at 8pm on Thursday before facing Denmark at 5pm on Wednesday
Switzerland also take on tournament newbies in Zambia at 5pm on Friday before playing Morocco at 6pm on Wednesday
Italy v Morocco at 5.15pm on Saturday
Brazil v Chile, 2.30pm on Sunday
Netherlands v Belgium, 7.45pm on Sunday

Apparently 'the cricket' is on
31/7 is going to Australia
I'm spending three days at the

Football Writing Festival

in Sydney

Here I'll be linking up with some of the other writers who have contributed to Hear us Roar

Then I'm sticking around to catch some of the World Cup

I'm a bit scared because I love my friends!

But the great news is that 31/7 is going to be more ALIVE and more FREQUENT during the tournament, so you can stay super up to date and excited by everything that is going on down under

This also means I'll be sharing updates on Instagram ➡️

@317_317_317_

Yay!
Things I'm digging this week
The media making me shit my pants by sharing footage of Alex Greenwood in pain on the floor at St George's Park seconds after a collision and some time before it was painlessly ascertained that the injury wasn't tournament-threatening. Plz, we could have all had a more pleasant afternoon if you all just waited before breaking news that isn't news!!!

OL Reign's squad pics have got

boring

since all the main culprits left for USWNT duties

While we were having a little dance at Glastonbury this weekend my sister audaciously asked me WHICH POSITION I play in football as though I haven't been banging in goals since before she'd even heard of Shy FX

🤬
Thanks for reading! Don't forget you can get in touch with me anytime at

[email protected]




— and if you enjoy these emails, it's a great help if you forward them to everyone you know so they can read them too. Cheers!
The Square Ball is not, technically, a football club. But if we were, we'd design really nice football shirts for everyone to wear. And with help from Admiral, that's exactly what we've done.


Following the release of TSB's home and away shirts last year, we're completing this season's set with our third, a proper yellow shirt ready for the sunny side of summer.