I knew that returning from the World Cup would be a helluva comedown but my GOODNESS some people in football have tried extra hard to help me to forget the beauty of the game this week.


I am sincerely asking anyone who can tell me why there are so many rotten people in this world? Send all best guesses to [email protected].


Meantime, I regret that I have been thinking about :

whether a single person in football cares about anything but their own interests
the true meaning of going 'above and beyond'
how the best intentions can't stop you getting it wrong, sometimes
aggressively throwing a football at the nearest bellend
Spain women head coach Jorge Vilda has been given the heave-ho as fallout from RFEF president Luis Rubiales' dodgy behaviour at the World Cup final continues.
While FIFA and Spanish prosecutors are looking into whether snogging someone without their permission is OK, the RFEF called a 'brief meeting' for new president Pedro Rocha to explain to Vilda the 'structural changes' which did not include him.
No shit. The whole thing needs burning to the ground and starting again. I fail to see how Vilda could look at the events of the last few weeks and understand anything different. And yet….
If your boss stands on stage and tells the world he was upping your salary to £425,000 a year, would you clap? Probably. What if he is a wanker? What if you're the only one who thinks he's a wanker, or it seems that way? What if you'd privately like him gone but you're part of a system which makes his removal feel impossible?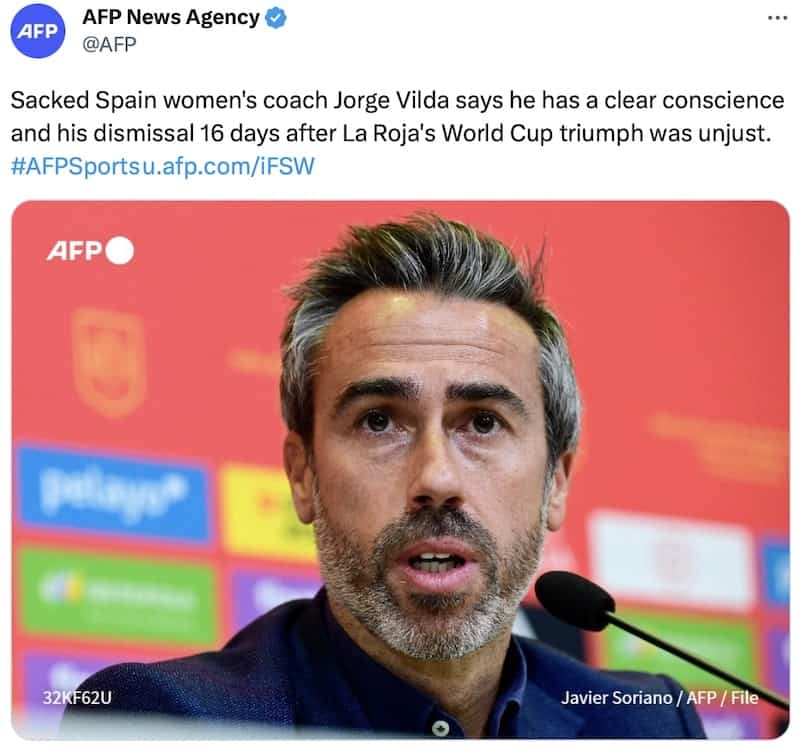 That's the line which Vilda is pushing: "
when 150 people around you applaud, it is very difficult to be the only one who doesn't."
You want a manager who is good with football? I've just coached a team to win the biggest trophy going! You want a manager who cares about women? I've "given 100% over seventeen years" to the women's game! You want a manager who doesn't kiss without consent? It wisnae me!
You can almost see why Vilda thinks his firing is "unjust". But just because he thinks that, doesn't mean that any of the rest of us should.
In a column for the Times, British journalist Matthew Syed seems to have bought into it, claiming that Vilda's sacking is "a violation of natural justice".
Syed said that he had '"not followed the ins and outs of the controversy", then complained that Vilda had been fired for the small crime of applauding Luis Rubiales, as though the months of criticism from several sources that preceded the clap never existed.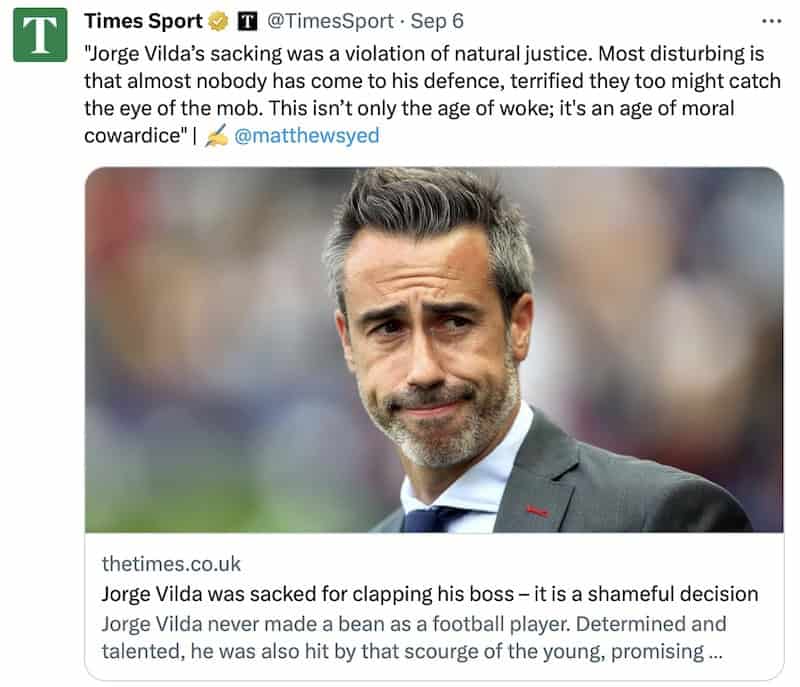 So why is this Syed clown getting involved in business he doesn't understand?
Even coming in cold, though, any decent journalist can spend time researching to put themselves in a reasonable position to cast judgement.
Syed didn't bother doing that because 'journalistic integrity' or 'the greater good' were nowhere near his agenda. His mandate, given either directly or implicitly by the Times editor, was to cause a stir.
Whatever, provocation isn't a new tactic. Media outlets are always baiting people into clicking on their articles, but this particular instance is so grim that it makes me want to throw my laptop out my window or, better still, directly at Matthew Syed's smug bald bonce.
It's at times when the established order starts to dissolve that people's opinions are especially susceptible to change. People who, like Syed, know nothing about the situation will read these articles and internalise them. The Times pedalling uninformed, inflammatory nonsense and shamelessly boasting its lack of actual research is exactly the kind of 'moral cowardice' of which Syed accuses the RFEF.
When Beyoncé has us thinking that women can do it all themselves I'm there saying 'yaaaas' while cautiously remembering how just occasionally, in instances of systemic oppression, women need men to chip in with a little bit of help.
So it was really great to see Spain's men's national team pipe up a fortnight too late with some words which they felt made a statement of solidarity against the vague misdemeanour of "recent events which have harmed the image of Spanish football'.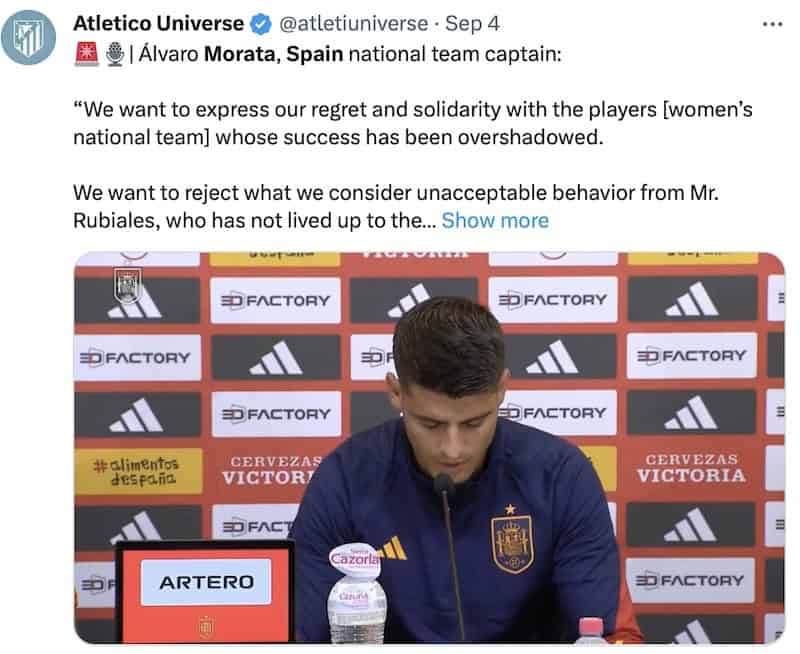 On Monday, Spain captain Álvaro Morata looked like he was about to throw up, refusing to look up from the sheet of paper in front of him as he read out the statement in a press conference a whole 24 hours before the women's national team coach Jorge Vilda got the sack anyway, the PR equivalent of scratching your arse on the half way line for 90 minutes before sliding in at the back post to get a touch on your teammate's 30-yard injury-time winner.
The delivery was lukewarm and it wasn't long before Morata was begging to be released from the burden of duty. Please sir, no more questions about political matters I don't understand! Help, I'm just a football player!
I believe that people
should
be allowed to 'just play football' without being obliged to wrap their head round the myriad issues which complicate what should be quite a straightforward job, showin' up and kickin' balls.
But by asking to 'focus on sporting matters', Spain men exercised a right to do that which, at present, their female counterparts don't share.
The women's side would love to be there with them, just showin' up and kickin' balls, but the behaviour of a handful of bellends has politicised the players who are unified but still largely unsupported in their fight. It's sadly unsurprising. I wasn't expecting the men's team to do more than the
absolute
bare minimum. But when they get to enjoy the privilege of 'now, back to football', it rubs salt in the wound.
Elsewhere in ineffective allies to marginalised football lovers…
This week, England midfielder Jordan Henderson was invited to set the record straight about his controversial move to Saudi Arabian team Al-Ettifaq. Having always portrayed himself as an ally of the LGBT+ community, he has now accepted a big salary to play in a country where gay people are imprisoned, killed, and chemically castrated.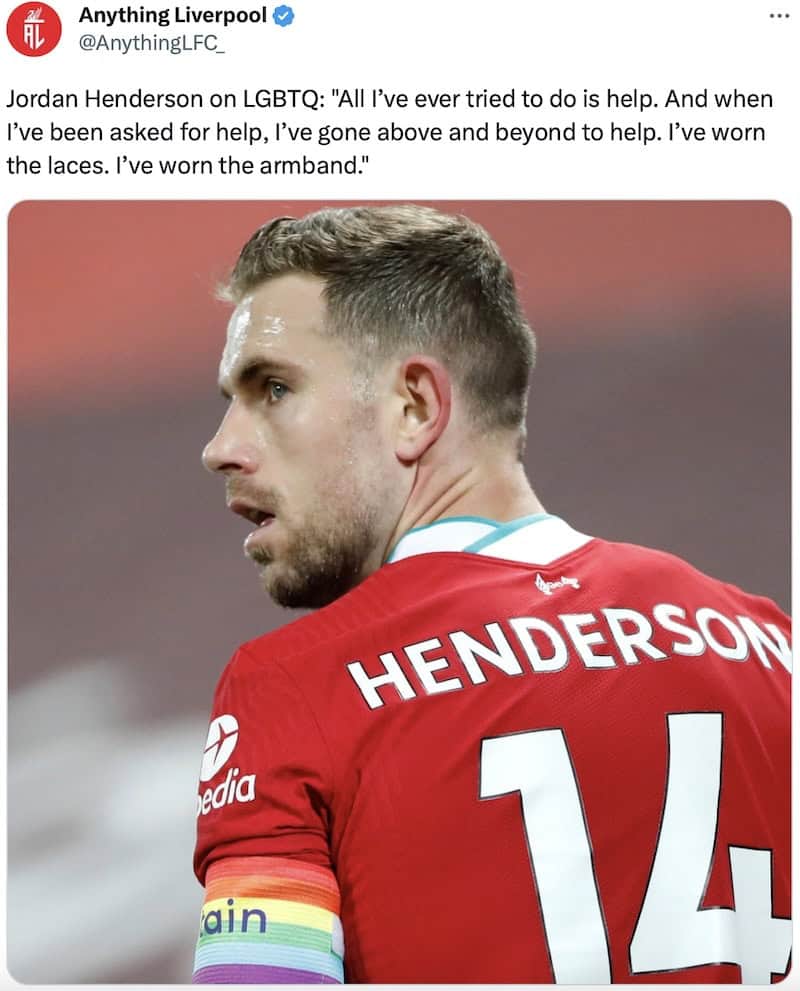 It reeks. And I find his efforts to clean up his image baffling. If I were to let a lot of people down, I would just do it quietly, without pretense. But Henderson opted for a high-profile tell-all interview with the Athletic, so that he could share these narrative-altering facts:
"I've gone above and beyond to help. I've worn the laces. I've worn the armband."
"When I hear stuff like, "You've turned your back on us", that hurts me. I do care. I have family and friends in the LGBTQ+ community."
That these words leave his mouth without a hint of irony or embarrassment tells you that our Hendo does not get it — he actually believes he can simultaneously support the queer community and "respect the religion and culture" which oppresses it at the same time.
It feels like in trying to justify an appealing but complicated opportunity, he got most of the way there and felt 'that'll do', trusting that the vast majority of fans would find the situation sufficiently confounding that they wouldn't come down on him too harshly.
As far as Hendo can see, these issues will be gone soon, anyway, cuz things are on the up for our gay friends over in the Middle East: "Even looking in this country [England], I'm sure same-sex marriage nine, ten years ago wasn't legal — but in time, things change, things evolve, things open up. And I hope that's the case everywhere. That's what I want."
For now, though, it's worth remembering that some of them are being killed, Jordan.
This is nothing new. It happens all the time in football: a player gets offered a lot of money, and forgets part of himself in order to accept it. Usually this looks like betrayals of allegiance — Rothwell-born Alan Smith moving to Manchester United, Arsenal hero Ashley Cole playing for Chelsea — not an LGBT+ ally contributing to the economy of a country which kills people who don't fit into the culture.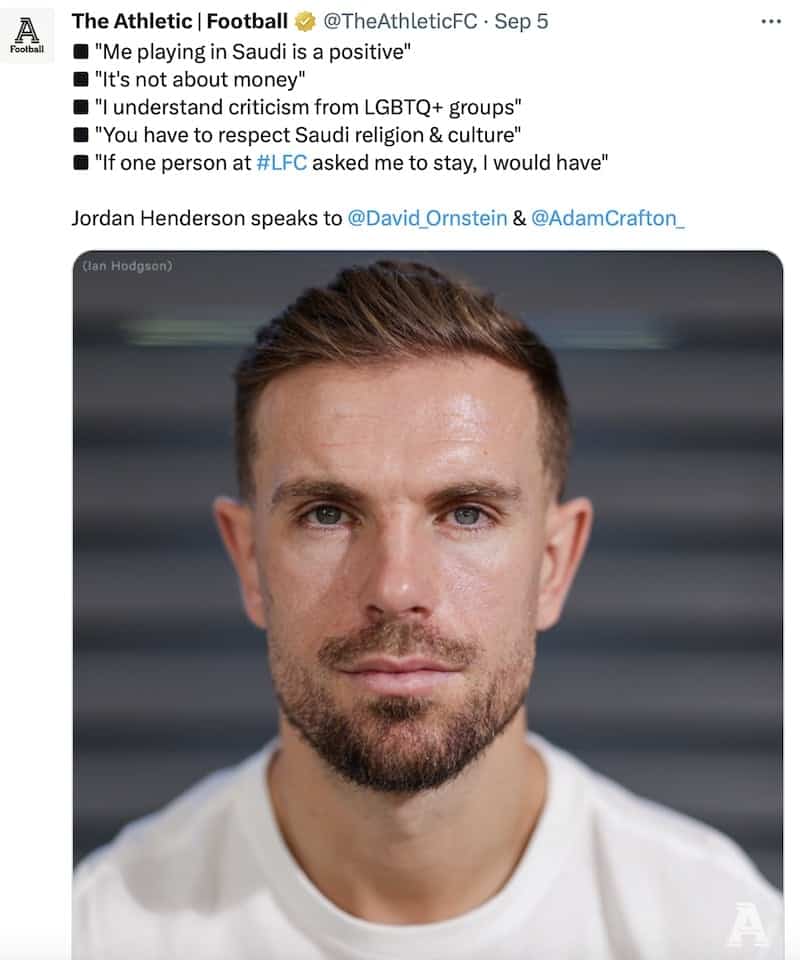 Henderson claims that he has made peace with his choice, but still comes off a bit confused:
"It's hard to know what the reality is and what's not true ... A perfect example would be before Qatar. We had a meeting with the FA about human rights, about the issues around the stadiums. I think it might have been Amnesty who had sent the images and stuff. And then, half an hour later, I go into a press conference or some media and I've commented on that situation. I was like, "Well, it was quite shocking and horrendous" and that was quite hard for us to see.
"But then when I went to Qatar and we had the experience we had at the World Cup, you get to meet the workers there and it was totally different."
What were you expecting? Stepping off the plane and having a sheikh usher you around the key sites of human rights abuses?
Obviously it didn't look bad. You don't see the bad things unless you burrow beneath what the people doing bad want you to see.
Henderson's interview with the Athletic makes me sad because his earnest desire to be good comes through: "I'm not one of these people who goes home, forgets about everything and is just like, 'I'm fine, my family is fine, just crack on.' I do think about things a lot."
But it turns out he's actually just a bit too naive and thick to do the right thing.
Well, at least we have the Women's Championship.
This week, I had a good time piecing together the events of Sheffield United's home defeat to Sunderland from the club's respective match reports. I don't know whether these are written by volunteers or trained journos or if, like we do at Leeds Hyde Park, a phone gets passed along the bench for subs to make match notes. Either way, no one expects the appointed parties to be impartial and it shows.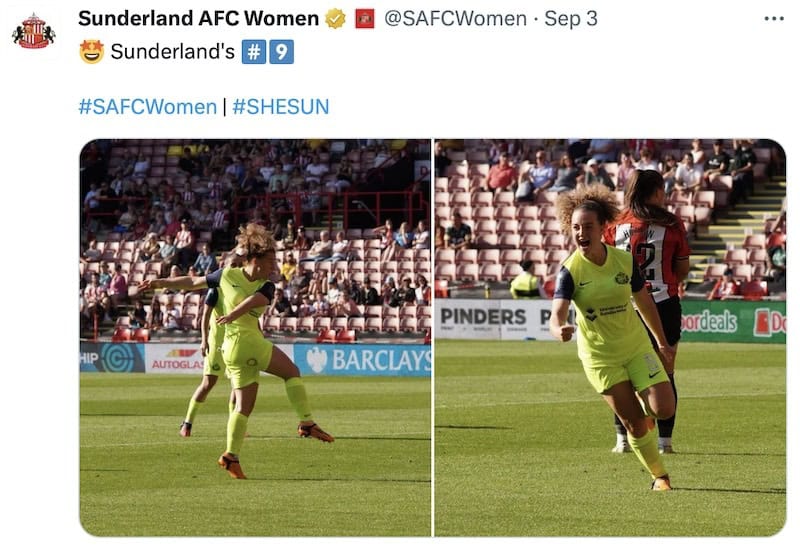 Sunderland took a first half lead, as two United centre backs tried to clear the ball before Mary McAteer sliced it between them and into the bottom corner.
Sunderland's report said that after McAteer's lead it took an 'industrious shift' for the visitors to protect their clean sheet, while 'United did a lot of the pushing but couldn't create the chances', according to Sheffield's version of events
.
The Sheffield report said that 'they struggled to build on that momentum during a second half which saw several injuries and stoppages', which sounds a lot like Sunderland were making deliberate time-wasting efforts to me!
'Lively' Sheffield United substitute Jess Sigsworth seemed to make a difference, 'driving United forward and sending some dangerous balls into the box'.
But it was clear that tension was rising as, according to the Sheffield reporter, 'it did appear' that Sunderland keeper Claudia Moan 'was lucky to escape with just a booking for an altercation'.
At the end of the report, one of the game's biggest incidents is hastily dispatched by Sheffield's reporter: 'United pushed everything forward in 11 minutes of stoppage time, but lost Sigsworth to a straight red for the final moments, and a last-minute free-kick was dealt with as Sunderland held on for the three points.'
While Sunderland laid it all bare: 'Jess Sigsworth was shown a straight red card in the final few minutes after lashing out and throwing the ball at Louise Griffiths.'
Frankly, though, nothing compares to footage of the incident itself.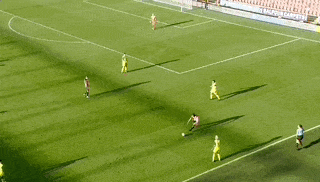 I feel like we've covered off enough mingers in this newsletter but here are a couple more for good measure:

Mason Greenwood is cleared of all abuse charges and back playing football in Getafe and if it weren't clapped enough that hundreds of Spanish men cheered his arrival, celebrity football journalist Fabrizio Romano tweeted out footage of the maybe-rapist looking dead chuffed with himself for literally no other reason than to do numbers or maybe some pay-off from Greenwood's agent.
Manchester United have yet another abuse scandal on their hands as police in Sao Paolo and Greater Manchester are investigating claims that Reds winger Antony was violent to his girlfriend.
Leeds United Women will hunt their fifth consecutive win at home to Middlesbrough, 2pm on Sunday.
Leeds Hyde Park are playing away at Huddersfield Amateurs on Sunday, kick off 2pm.
Flora Women, a football club based in the Estonian capital of Tallinn will play a Women's Champions League qualifying match against SFK 2000 Women on Saturday.
The women's transfer window closes next Thursday. Plenty of potential for drama here. Will Mary Earps still be a Manchester United player this time next week?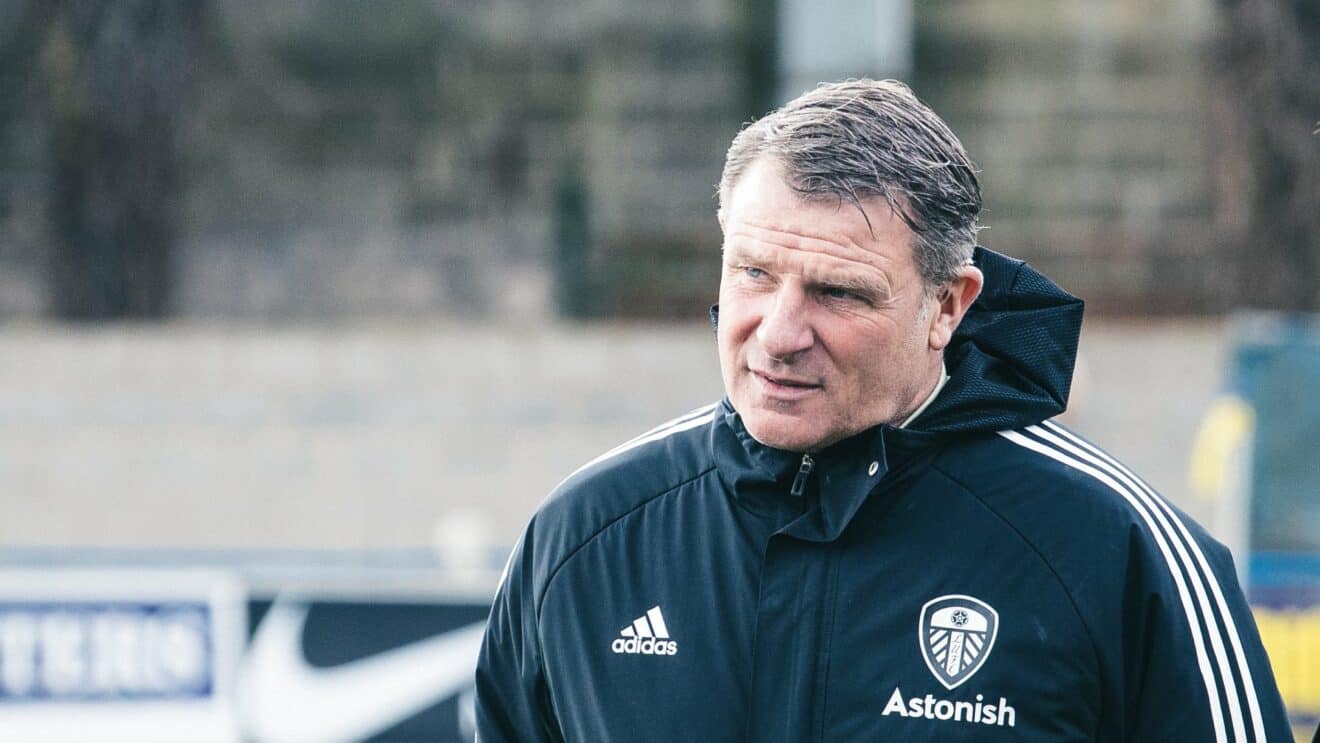 Leeds United Women waiting for a new sound
In August, United's opening day win over Stockport County confirmed their positive trend. But then manager Rick Passmoor's phone rang.