Remember how excruciating England's round of 16 game against Nigeria was? Well this week we've a few reasons to revisit it. I'M SORRY x


The worst thing about that game, I think, is that no matter what's going on in the world, if Sarina Wiegman says it's ok, it's probably ok. And for the most part, she is pretty unflappable. But do you remember her GRIMACE during the Nigeria game EXCRUCIATING. She knew it wasn't going well and, thanks to the camera operator, we all knew it too.


Anyway I'm sorry to report that Sarina is worried again. So this week, I have been thinking about:

whether Sarina Wiegman is getting the rest she deserves
the stunning wardrobe of Manchester United's newest goalkeeper
what it means to step into more of yourself
...among other things!
P.S. I'll be taking a little week off from 31/7 next week, but will be back the week after ready for the new WSL season to start
On Wednesday, 25 days after England lost to Spain in the World Cup final, 21 of the players involved were called up for the Lionesses' next round of games.
After UEFA teams have participated in major tournaments for two consecutive summers, the last thing the likes of England and the Netherlands need is more games but here, the two are going to play each other later this month. Not having participated in the World Cup, Scotland players will be a bit fresher as they cross the border to play England in Sunderland, but I dunno, probably they're all quite keen to just focus on a new season with their respective clubs.
The inaugural UEFA Nations League is coming whether they like it or not. This week, Sarina Wiegman placed herself emphatically in the 'not' camp.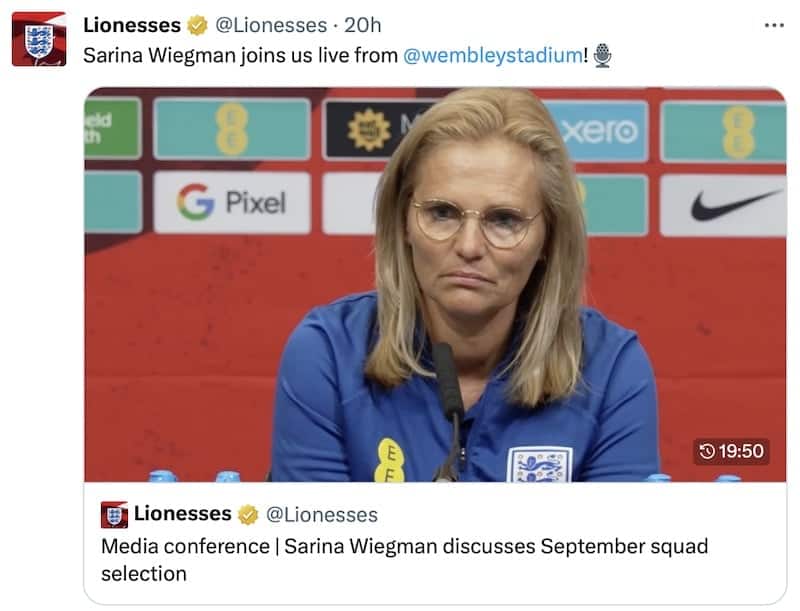 "I am very worried," she said. "I was worried before the World Cup and we knew it was a short turnaround. We really have to get connected with FIFA and UEFA to make that better. The game is growing which is really good but it has to grow together and players need some rest too.
"Some players only had six days off and that's not good for them. The urgency to solve this and make it better is really, really high. It's so intense. Players are not robots."
The World Cup was ace, but it might have been even better had Leah Williamson, Beth Mead and Fran Kirby been around. Those three were all pretty beat up and I don't know much about bodies but I do know that I get kind of worn out when I do something for a really long time without stopping — even if it's something I'm really good at. Between the 2021/22 season and the Euros and the 2022/23 season, when were those three getting a real break?
The squad list Wiegman put out for this month's game tells a similar story — Beth England lost to hip surgery, Keira Walsh missing with a mystery minor injury that may well have been invented to give the poor girl a proper rest. Those two have been replaced by Lucy Staniforth, Jess Park and Maya Le Tissier, the same three players who Wiegman named as 'standby' for the World Cup squad.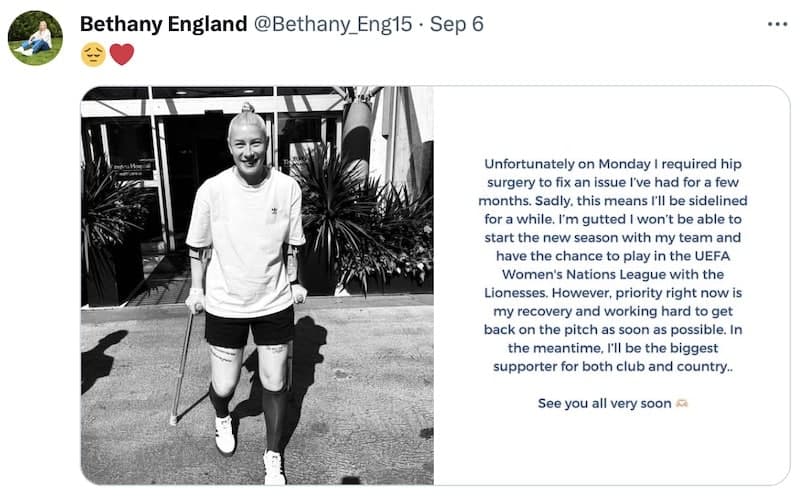 That the group selected for this month's games should be identical to the World Cup squad questions the usefulness of the Nations League. I don't think any of them need the practice, and with nothing having happened between the tournament and this pair of glorified friendlies, what is there for Wiegman to learn in terms of developing her side in the long term?
Meanwhile, Leah Williamson is actually close to ok again. She's been on a treadmill, and so has Laura Wienroither, while Beth Mead is back on the pitch and Vivianne Miedema is kicking footballs into goals like someone who has never heard of the big bad ACL. With Arsenal's injury pool shrinking, summer arrivals Amanda Ilestedt and Alessia Russo are preparing to help the Gunners play their best ever football.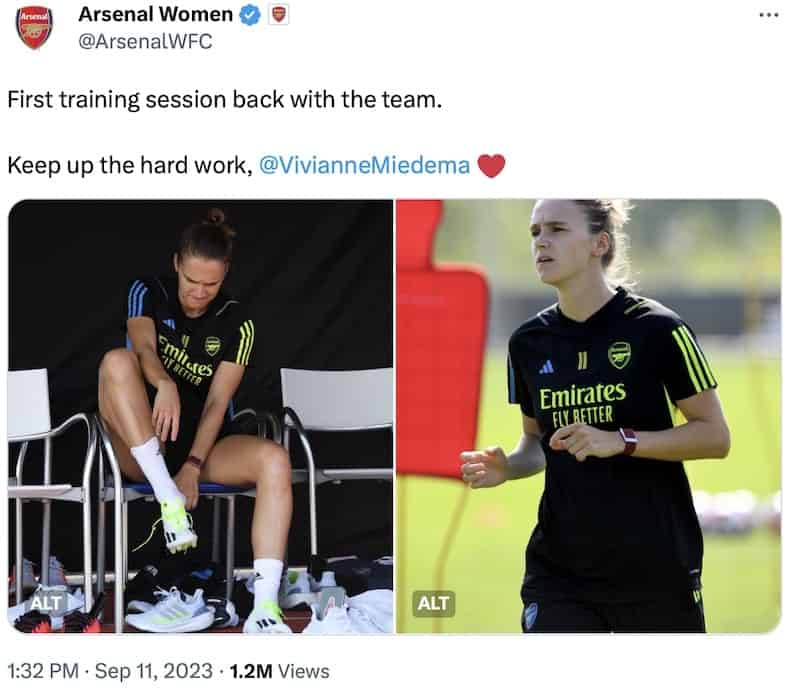 Arsenal didn't look bad last season and overcame some of Europe's best teams with grit and flair. They beat Champions League holders Lyon by a four-goal margin and came from behind to sink Bayern Munich. They didn't fully dispatch Wolfsburg but Jen Beattie knocked the wind out of Alexandra Popp, which is the next best thing. The Champions League had been really fun so after Wolfsburg beat them to a place in the final, Arsenal grafted to make sure they had another run at the competition this season, their fight with Manchester City for the third and final qualification spot going down to the last day of the season.
As champions, Chelsea go directly into the group stage while runners up Manchester United will have to fight one pre-qualifying round. Arsenal were hauled in first to qualify for the qualifying round. In a mini knockout league with three other teams, Arsenal beat Linköping to reach a decider against Paris FC. The winners of Saturday's final would join Manchester United in the next qualifying round, a set of two-legged all-or-nothing ties which decide who goes into the group stage.
It wasn't Arsenal's afternoon. In the second half, keeper Manuel Zinsberger fluffed a long cross-cum-shot to give Paris the lead before Lia Wälti straight-up handed the ball to the opposition from the restart. On a brace, Mathilde Bourdieu had already made Zinsberger look silly, but she put her second through Zinsberger's legs anyway.
But then Jonas Eidevall brought on Alessia Russo, on a solo mission to save her teammates' face and justify moving to Arsenal this summer rather than another of the big clubs who probably would've liked her and were definitely competing in club football's biggest competition. In the 80th minute, she lashed in a wicked shot from a tight angle paving the way for the huge tree of Jen Beattie to head in a late equaliser and force extra time.
Again, Paris took the lead but again, Russo was there to save the day, equalising from range with five minutes on the clock. She's never had a go at the Champions League so there was no way she was going to let the fun end there.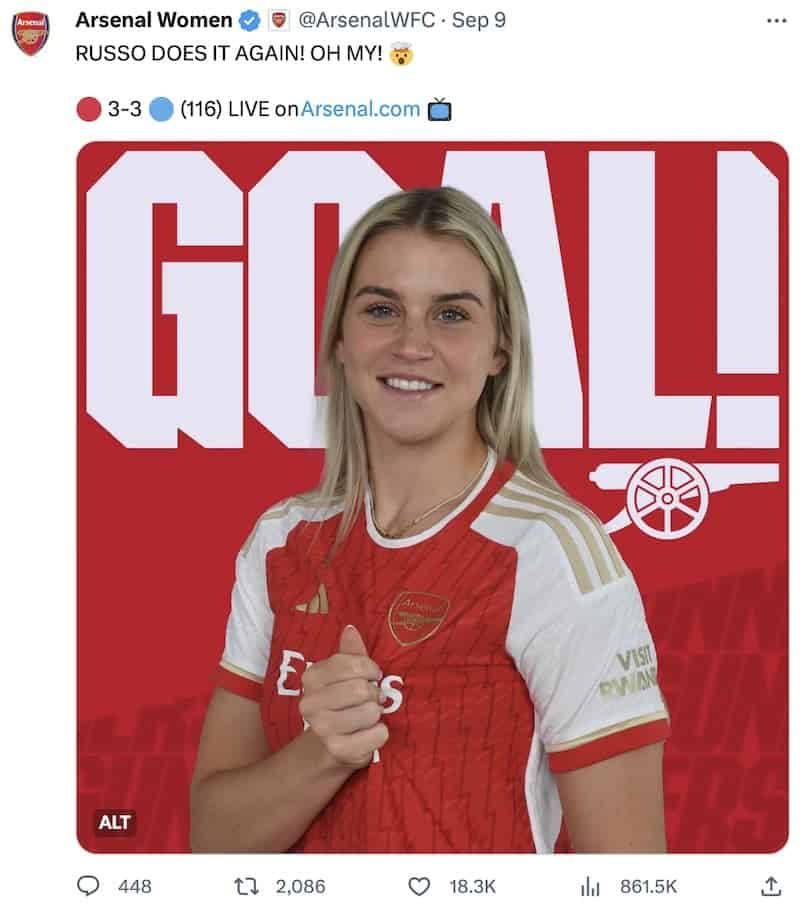 Russo was licking her lips as the tie went to penalties. Paris FC keeper Chiamaka Nnadozie didn't make a single stop for Nigeria in the Lionesses' World Cup round of 16 shootout win. But then Frida Maanum hit a weak waist-height shot and Nnadozie couldn't help but save. A Zinsberger stop put the sides on level terms but then Russo stepped up thinking, 'if I put the ball in the same place where the last two were saved, maybe something different will happen'.
She was wrong. Everything she learnt from Wiegman about pressured situations abandoned her and her participation in the Champions League ended with a saved penalty.
With Arsenal now without a game until the WSL starts on October 1st, at least Russo can have some time to recov- oh wait.
So Arsenal won't have Champions League football this season, but they will have Alessia Russo who, in spite of the spot kick miss, looked pretty sharp against Paris. Even if she turns out to be a dud, the Gunners can't be too cross as they didn't pay a penny for her.
They were up for paying a hefty fee, though, and reportedly offered Manchester United a world record sum in January. Confident that they could persuade Russo to sign a new contract, Man Utd turned down the big sum of money and probably lived to regret it as they failed to agree a fresh deal.
Since Russo moved to London, Man Utd made a mess of the Mason Greenwood thing and have discovered they've got another potential wife-beater on their books. I don't know about you but it doesn't seem like a great place to work so it's no wonder that Mary Earps is reportedly keen to get gone.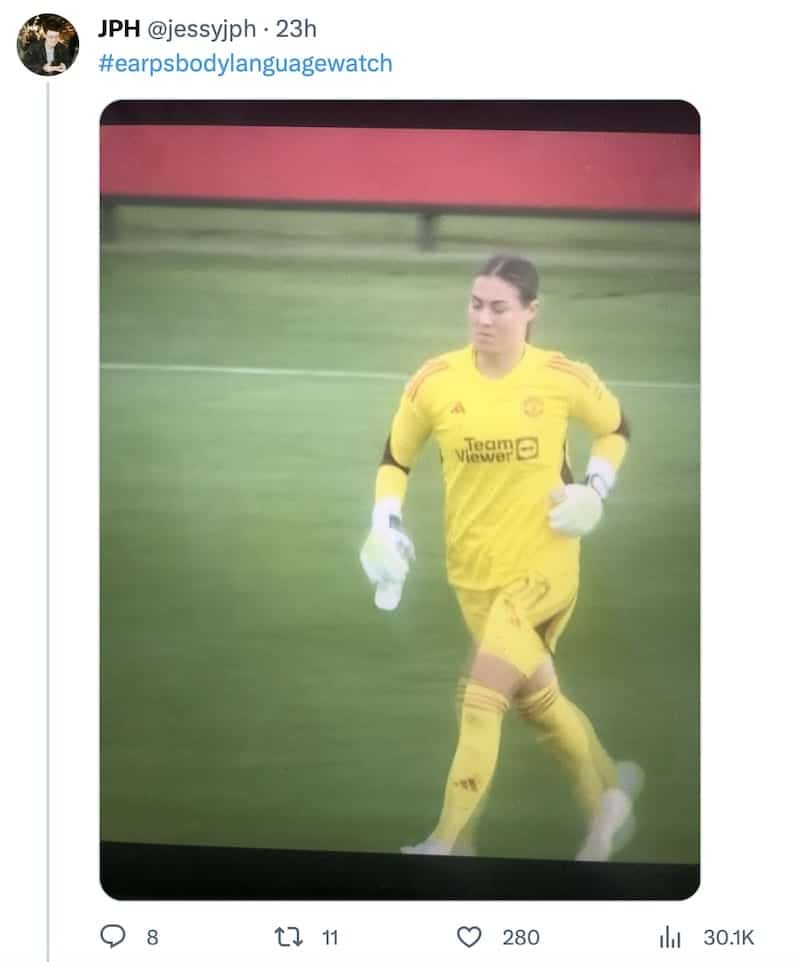 Here, Man Utd get another turn at a situation they've faced before. Earps' contract expires in June so unless Man Utd can get her to agree to another deal before then, the best goalkeeper in the world will walk for free next summer.
But no, in spite of the Russo experience, in spite of Earps' slapped-arse face in the Reds' pre-season friendly against Liverpool, in spite of her probably having her pick of any club in the world who could afford her, United have thought 'yes, we WILL persuade Mary to spend more time at our heathen club'. Goddamit.
Meanwhile, Man Utd have coaxed OL Reign shot-stopper Phallon Tullis-Joyce over from Washington. You may remember her from
the paracord and carabiner belt
she wore to the Reign's home opener at the start of the NWSL season.
From the consistency of her performance in the pre-match catwalk shoots, it would appear that Tullis-Joyce has bona fide swag which will likely go to waste at Leigh Sports Village.
But nothing says being unapologetically yourself like this jellyfish shirt, so I suspect she and Mearps might get on quite well.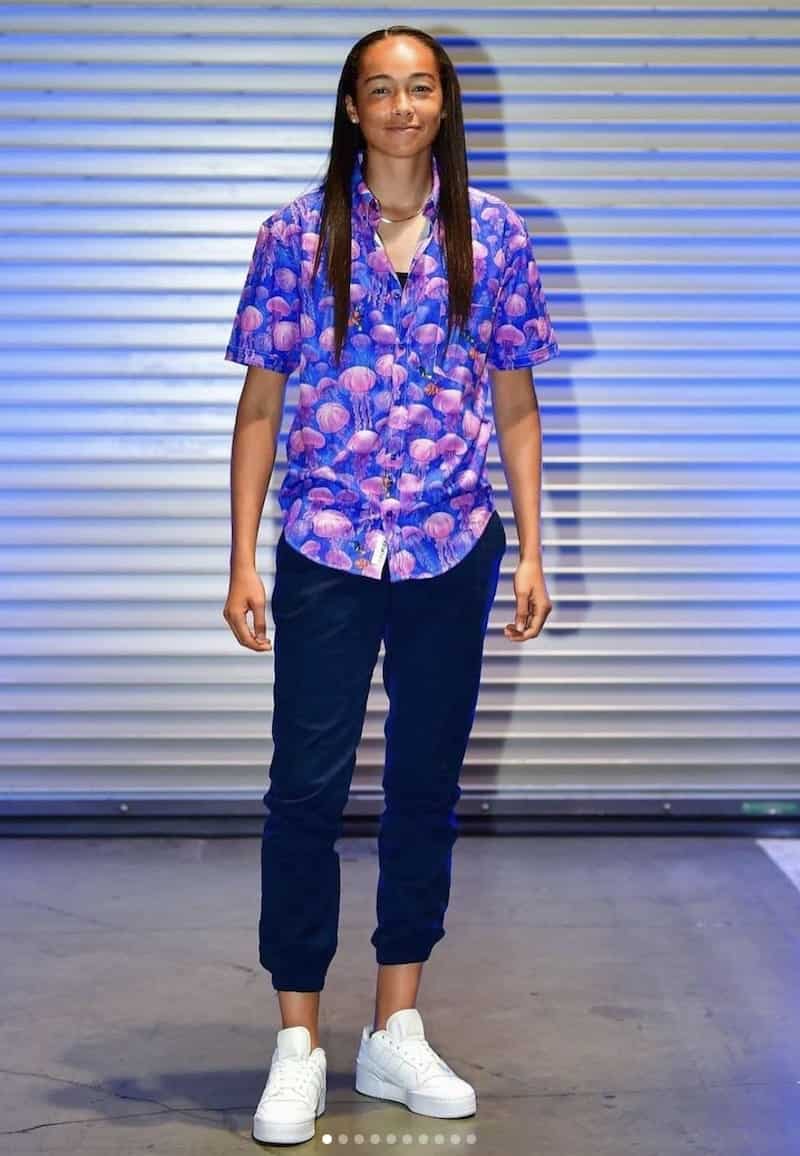 Remember Ashleigh Plumptre?
She hit the bar for Nigeria in England's nip-and-tuck World Cup round of 16 win, then complained about stereotypes of African football in her post-match interview.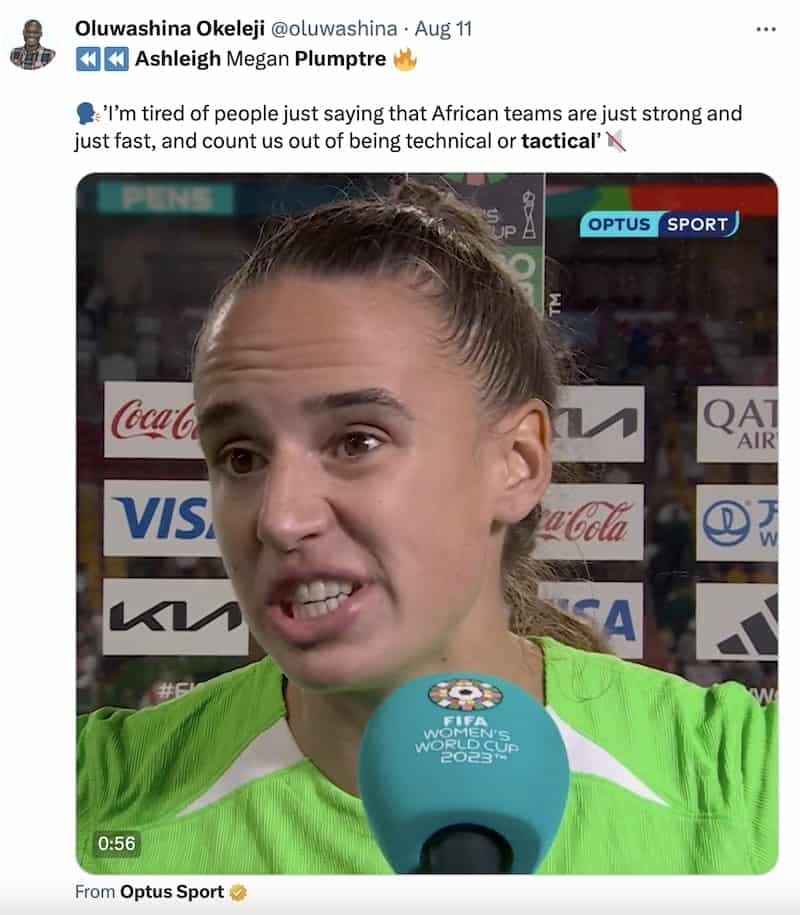 "I'm tired of people just saying that African teams are just strong, and they're just fast, and count us out as being technical or tactical," she said. "We just pushed England to the very end. And I actually think that we had better chances than them."
It's great to see young women standing up for themselves, making their voices heard on things which really matter.
One month on, Plumptre was pleased to announce that this week she has left Leicester City to join Al-Ittihad, who compete in — you guessed it! — THE SAUDI WOMEN'S PREMIER LEAGUE 😍
Male football players have been falling over themselves to earn big bucks in the Middle East, but Plumptre is one of the first big names in women's football to make the switch and I couldn't be happier for her 💖
"My journey of stepping into more of myself continues", she tweeted.
The competition is stiff, but this is surely a strong contender for one of the daftest things I've heard a footballer say — for its intrinsic meaning, or lack thereof, but also for its context.
I don't know what part of herself she will be stepping into when she lands in a state which boasts one of the world's worst human rights records but one thing is for sure — a large proportion of Plumptre's former colleagues and teammates won't be able to follow in her footsteps, since gays stepping over the Saudi Arabian border leave themselves vulnerable to violence.

It's a strange move from Plumptre, who was a standout player in Nigeria's formidable World Cup run this summer. Saudi clubs have lots of resources but none of the knowledge and attention that makes the WSL a great place to play and develop. When her Leicester contract was up earlier this year, there were rumours that Manchester United were in for her.
Now she's packed in the chance to train with Ella Toone every day, and for what?
She said it best herself: "It's more than football <3>

3>
Enjoy the money, I hope it makes you happy.
'tis the season for large arachnids who want to hang out
Arsenal are out of the Champions League 😡
Luis Rubiales painting himself as the victim and Piers Morgan facilitating it
Leeds Hyde Park firsts want to make it three wins from three at home to bottom-placed Hall Green United on Sunday, kick off 2pm at Elida Gibbs Park
Leeds United Women travel to Durham Cestria for a 2pm kick off on Sunday
The FAWNL, the Championship and the Scottish Premier League are all in full swing this Sunday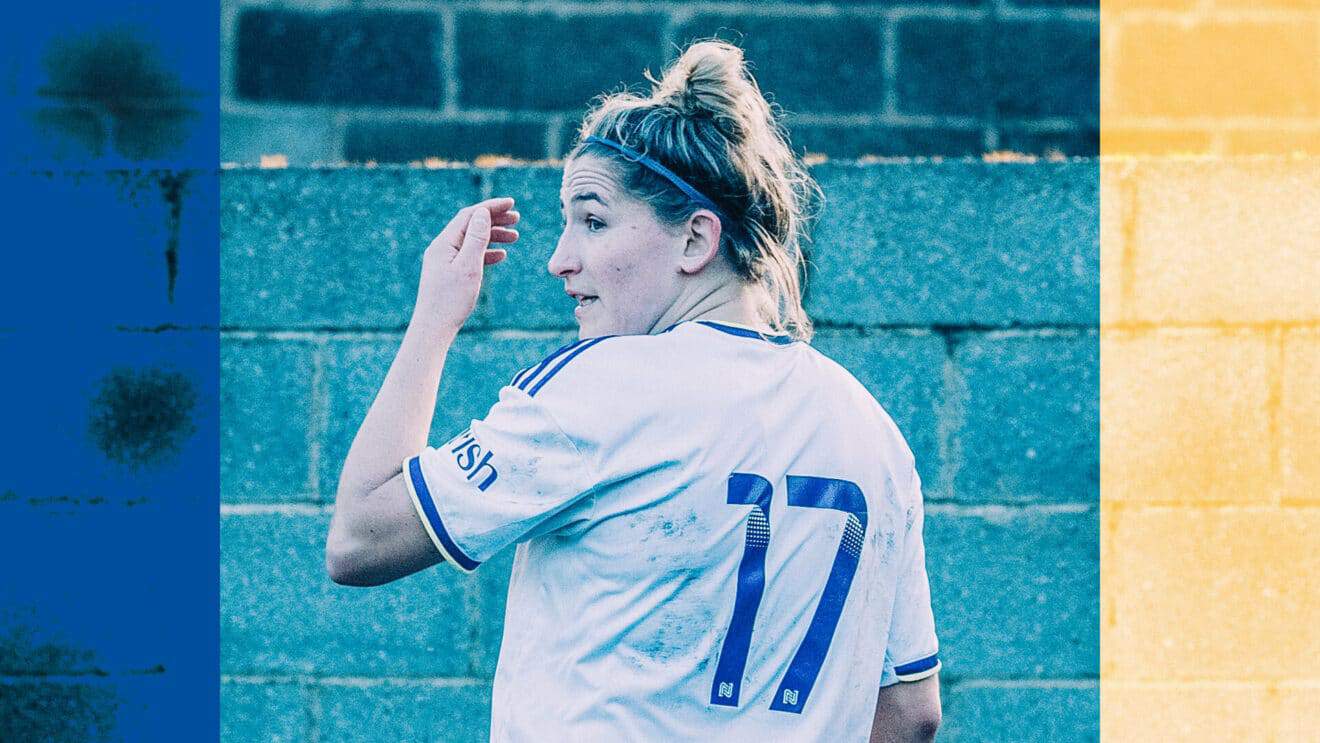 Right from the start
With more changes than expected this season, Leeds United Women are taking the adjustments in their stride.