England are in a World Cup final and everything about that semi-final was close to perfection.


Ella Toone announced her glorious return to my affections with a STUNNING top corner strike. I was getting worried for little Ella because she hasn't been playing all that well, but you could see her joy on Wednesday. Could it happen to a better gal? Probably not.


Lauren Hemp quite literally fucked shit up at the Stadium Australia, playing better than basically any football player who has ever lived as she made Ellie Carpenter look a right muppet, refused to give the Matildas the ball back, weighted a pass so perfect that I can't stop thinking about it, gave Alessia Russo her moment of glory and the rest of us the capacity to enjoy the remainder of the game knowing that Australia were absolutely not coming back into it. Legendary behaviour!!!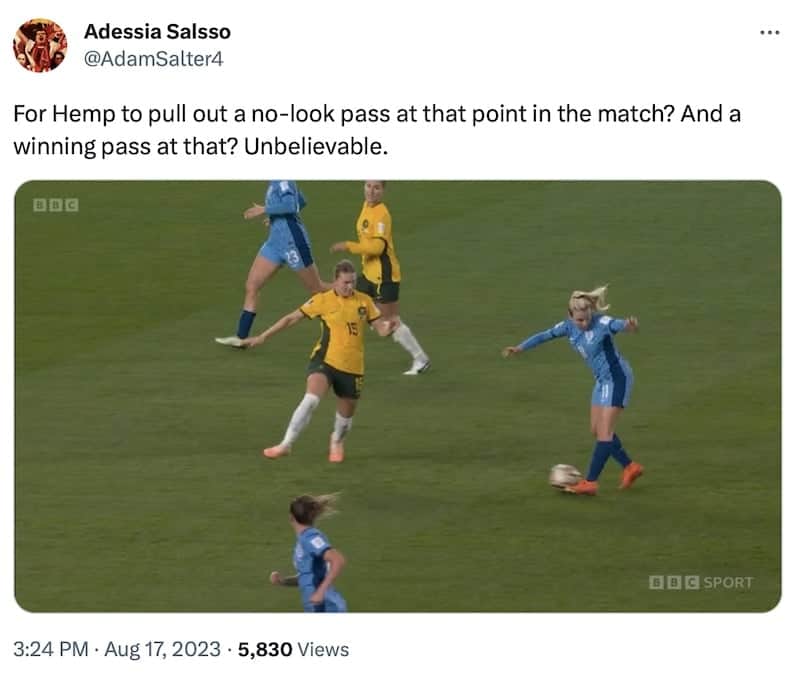 Alessia Russo was a sharp-shooting queen who looks fit to demolish any half-chance that falls her way, I've finally, officially stopped crying about Ellen White's retirement, and Ellen White herself was in tears because it's bloody coming home.


The problem is that I've only been able to give vent to these feelings at my laptop in a pub surrounded by Australians, reflecting on a night where every person on the expectant train there, seated hopefully and anxious in the seats around me, and on the sombre trudge home were all Australian. It's hard to have a good time when everyone else is desperately sad. Could you guys stop crying for, like, ONE MINUTE so I can celebrate the Lionesses' magnificent victory? PLEASE?


England's semi-final victory was no less triumphant as last summer's 4-0 demolition of Sweden, and yet I didn't have even half as much fun. The feeling of 'not quite enough joy' made me wonder about fandom, so in this newsletter I'm having a little think about where it comes from, and what makes it feel so good.


So good, so good, so good etc. etc. etc.


If anyone needs me, I'll be putting in my best efforts to hold it together ahead of Sunday's history-making showdown. Good luck trying to do the same.


In the early days of codified football, men and women walked to their nearest, flattest, greenest space to watch the people of their village play against the next village. Or something like that.
There was no radio, no television. Newspapers didn't report on sports until some decades later and you couldn't get the scores on Ceefax. The only way to know what happened was word of mouth. You just had to be there.
Technology and the internet has facilitated the broader reach of sport, but some games and teams got there quicker than others.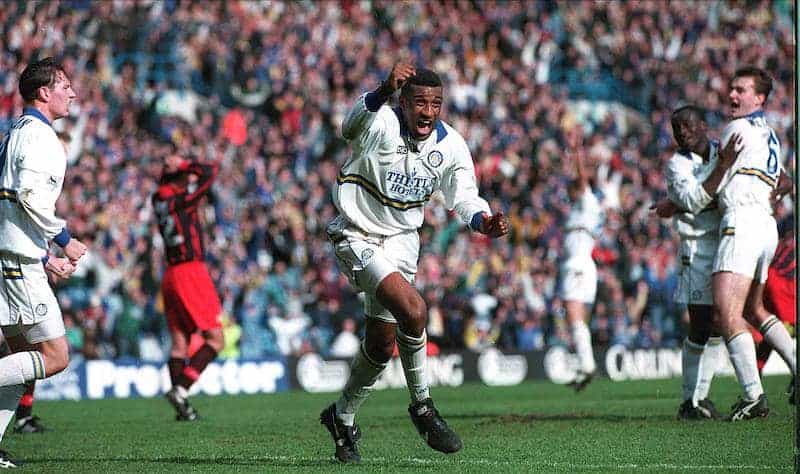 In Australia, I've heard football fans in their 40s describe childhoods spent sitting in front of a TV set in the early hours of the morning, watching Premiership highlights beamed all the way across the world, growing an affection for a team based in a town they'll never visit.
Decades later, the FA granted access to women's football by broadcasting every single Women's Super League game of the 2019/20 season live for free for the first time. Suddenly, Vivianne Miedema was in my living room. She was tiny, and pixelated, but the low-grade camerawork and lens quality of the FA Player didn't diminish her flair.
As England happily frittered minutes at the end of the match on Wednesday, a young Tillies fan asked her mum why Lauren Hemp was on the floor. She told her that Hemp was being 'a lazy sausage'.
Well, mum, we're all lazy sausages at heart, and our shared love for a little lie down is one reason why it was such a big deal when Sky Sports paid several million pounds for the rights to the WSL in 2021. If you're in people's living rooms, you're in their homes and hearts.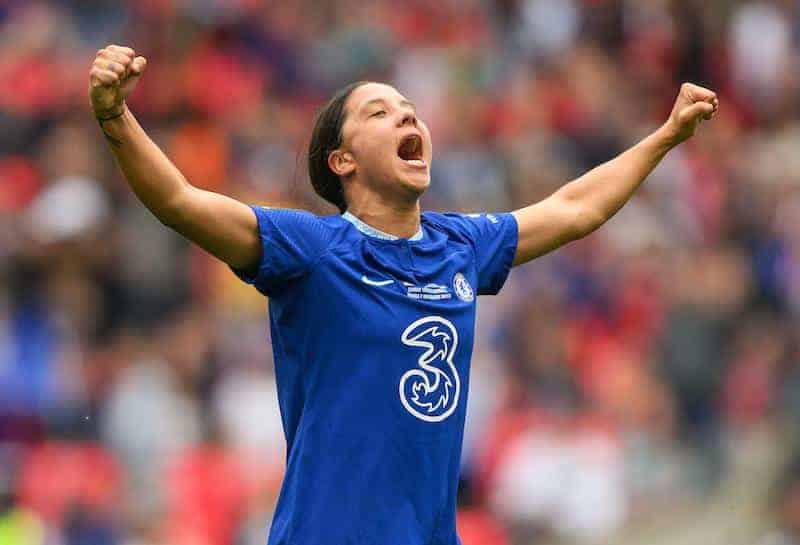 When given the choice in the upcoming season, that girl may prefer eating TimTams on the sofa while she watches Sam Kerr bang goals in for Chelsea than heading down to Macedonia Park, where Kerr's career began at the home of Perth Glory FC.
As the population of Leeds United fans in Australia shows, this aggressive audience grab has been going on for years. Aussie Whites' tales of long-nurtured love for a team tens of thousands of miles away are full of fantasy and romance, but conceal a sadder truth — these boys grew up loving a West Yorkshire side at the cost of their neglected local A-League soccer team.
Amid the global dominance of the Premier League and the Women's Super League, Australians were chuffed that it should be Cortnee Vine of Sydney FC who scored the winning penalty in the Matilda's quarter-final against France. It seemed symbolically to say 'yes, we can do this ourselves'. Vine was born here, she was made here, and now she's beating Europe at their own game.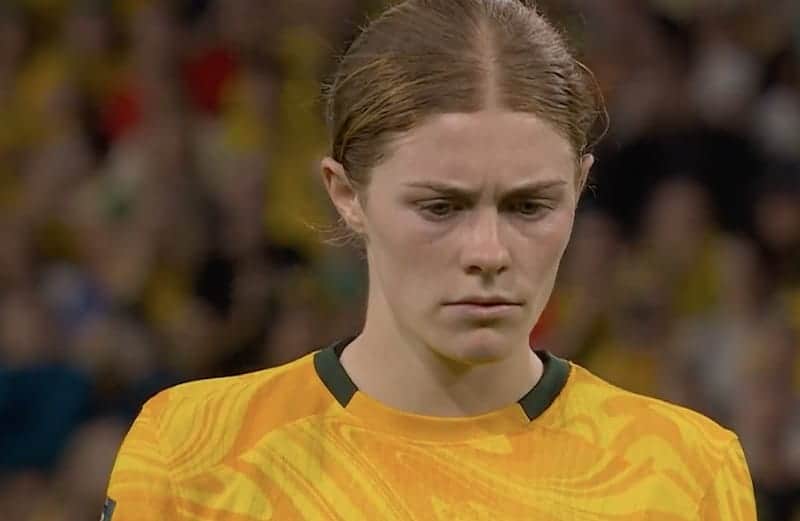 At Stadium Australia, I saw a child holding a sign which said 'I eat weak brits for breakfast' (a pun on 'weetbix', the cereal which preceded the British Weetabix), while her more sophisticated compatriots cunningly boasted that 'it's coming Homebush' (the Sydney suburb where Stadium Australia is located). There was a tangible pride not only in the prospect of Australia winning something, but also the idea that the English might be conquered in the sport that they themselves invented.
"There's still one more trophy to win," Lucy Bronze said the day after England lifted the European Championship trophy. "
There's still a little star missing from our crest on the England shirt
." Just as England was never enough for Captain James Cook, the glory of 31/7 was still one step away from the ultimate sporting dominance.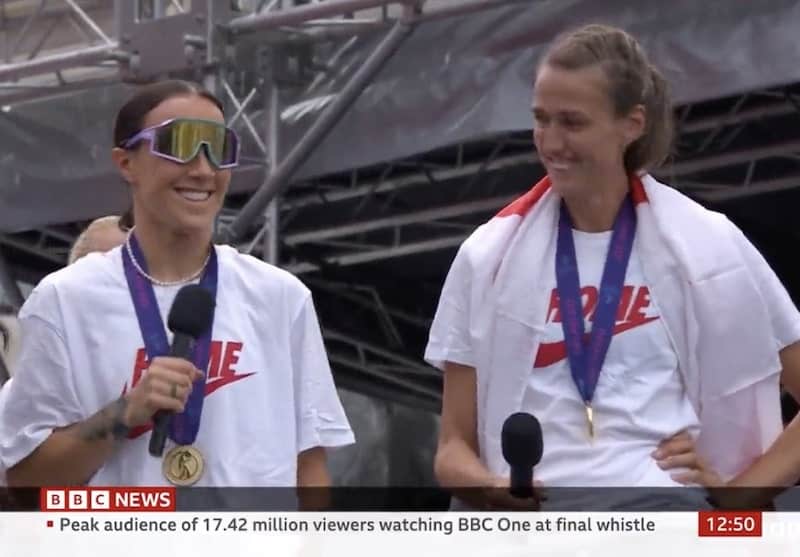 Through sport, we see the nationalist impulse not only to be good, but to be the best, home and away. In international competition, there is no 'we take the point and move on' or 'fell short, but what a performance'.
On the basis of their performances at the World Cup so far, no one could dispute that England are a good football team. But that's not enough. In the eyes of a great number of people watching the final come Sunday, England will only 'achieve' if they can prove that they are better than Spain.
In the hit 1998 World Cup banger
Vindaloo,
Fat Les don't flaunt how England are going to bag loads of goals, they specifically boast: 'We're going to score
one more than you
'.
Major sporting events are complicated for those who consciously resist this nationalist urge. A grim symbol reserved almost exclusively for racists' windows for the rest of the year, lots of people will happily wrap themselves in a St George's flag as soon World Cup fever hits.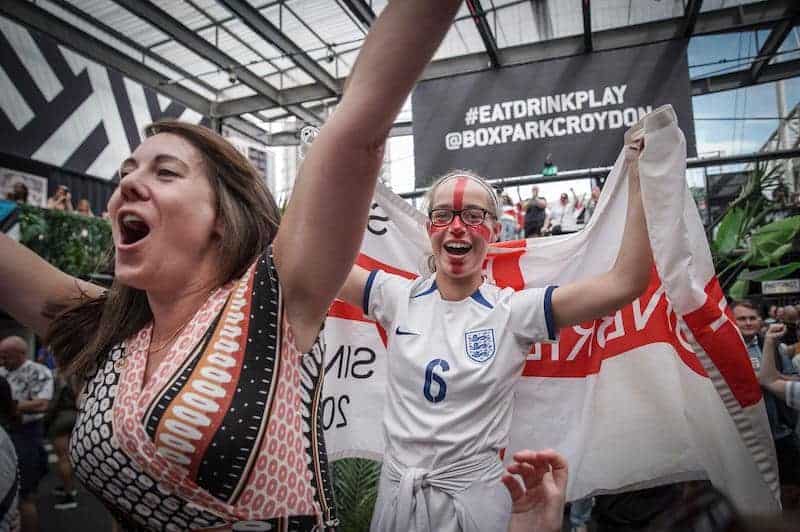 At a considerable distance from UKIP and gammons and Priti Patel, I've been able to probe my identity, my connection to my homeland, a little more clearly and compassionately. Shelving xenophobia, is national pride ok? Do I love Sarina Wiegman's team because I love England? Do I love being English? Am I inherently connected to the rich conglomeration of historical events and customs which comprise this vague concept which I'm told is 'my country'?
I've not felt English during my time down under. Barring my accent, my language, behaviour and attitudes toward life are barely distinguishable from locals'.
As I was heading for the bogs after the final whistle at Stadium Australia, a couple of Aussies hollered at me: "We'll get ya next time!" Accustomed to blending in, I was startled by my sudden visibility, having elected to wear this shirt which in no uncertain way told of my difference. Wrong-footed, I gathered myself to muster a retort unwittingly yet conspicuously British in sentiment, politely telling them that "I look forward to it".
When I came out of
the toilets, I locked eyes with a couple in England shirts who were stood by the entrance. Still buzzing in this new reality in which the Lionesses are about to play in a World Cup bloody final, I instinctively grinned and tapped my badge. They smiled back and I felt some connection. But when we started to speak, their accents were local. When their daughter, also in an England shirt, joined us, her dad complained that she had 'switched jerseys'.
I felt a bit sad and yearned for home.
Humans love to do things in groups. We love watching live music, we love dancing, we love communal eating, we love singing, we love throwing our drinks in the air when Sam Kerr scores a goal. The bigger the group, the better the feeling.
31/7 was great because England won something for the first time in my life, but it was particularly special because I was watching with people I love among a huge crowd who all wanted the same thing as us.
Stripped of this ingredient, the Lionesses' win against Australia hit very differently. On Wednesday, I was as a lone England fan in a block of green and gold, forced to waft my celebration toward a cluster of blue and white shirts over the aisle each time England scored. While I was delighted to see Ella Toone hit the top corner from 100 yards' distance, I would have felt more joy thousands of miles away from Tooneh's right boot, jumping and shouting with my friends and teammates. Having a little party on your feet while everyone around you is sinking further into their chair is not actually that fun.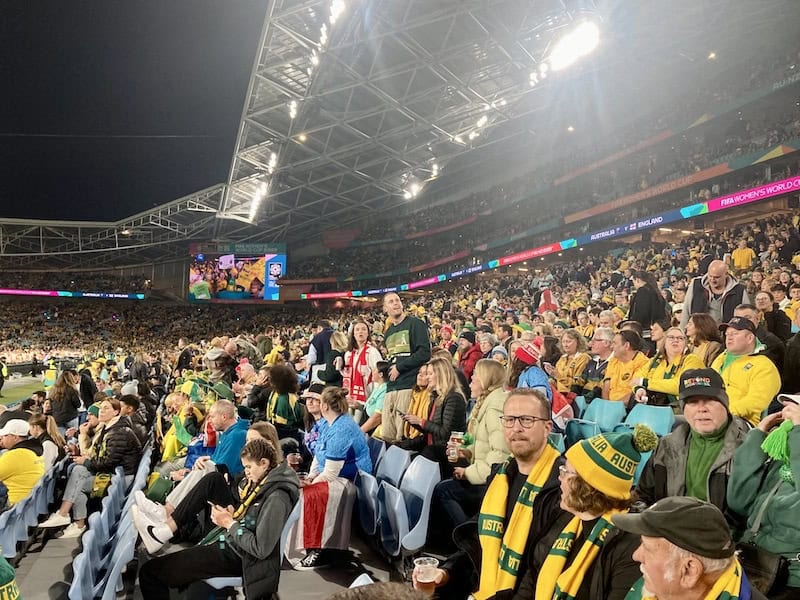 For this reason, Sam Kerr's goal was the most memorable of the match. It was the moment that the nation craved — their heroine returning from injury to give Australia's hopes a boost with a stunning piece of showmanship.
Of course I didn't want the Matildas to equalise. In my mind, England had one foot in the final when Kerr scored her screamer. Yet when it hit the net, I couldn't help smiling, surrounded by so many fans enraptured by their striker, the moment, each other. It gave me a surrogate sense of fellowship, a warmth that no England goal could bring me there and then.
If fellowship was enough to sustain me, I would've willed Kerr to do it again. But I couldn't. For all the joy, the conflict remained.
Today, Australian society is obsessed with where you are and where you come from. Every World Cup match starts with a 'welcome to country' by one of the land's traditional owners. Beyond the tournament, every ceremony, meeting and performance acknowledges the indigenous people whose land was stolen. You can't buy a bunch of grapes without learning whose country you're buying groceries on, courtesy of a sign in the supermarket window.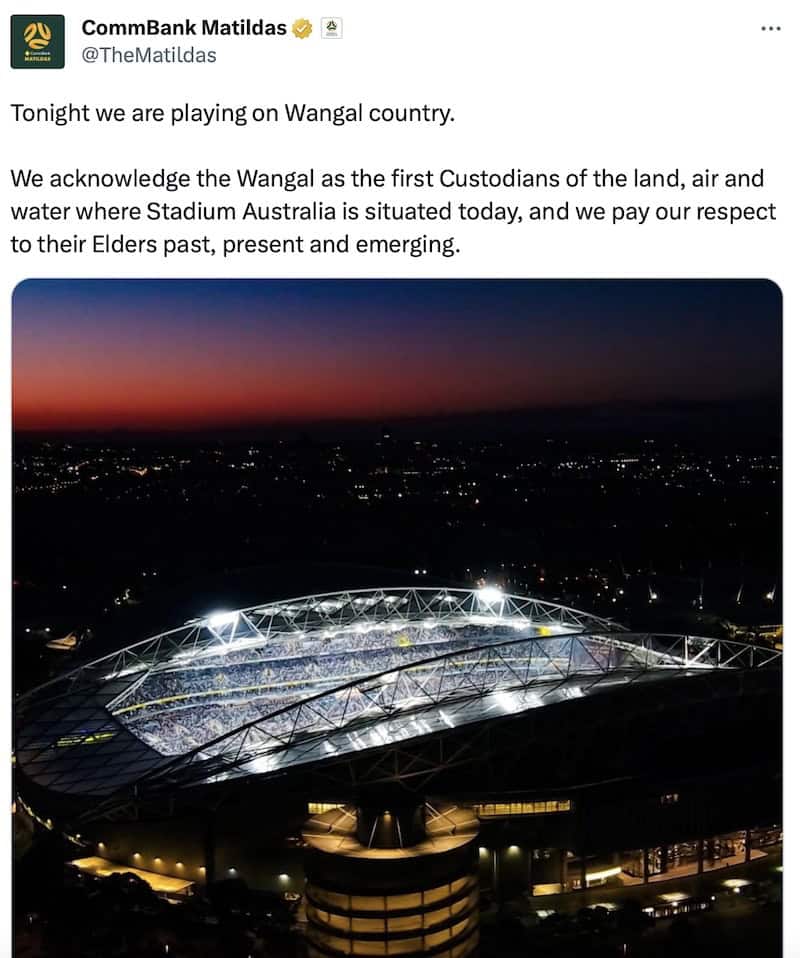 Aboriginal communities view kinship differently to traditional western family systems. There is not a social hierarchy, but an organisation of people whose blood relation is irrelevant. Rather, kinship is about belonging and connection to the land you share.
My enjoyment of Kerr's momentous goal was devoid of kinship — one of my neighbouring revellers made it clear. The man in the seat in front of me had been a total dick all game — a strop, a sore loser, a loud shouty man who patently paid no heed to women's sport before this wave of national hysteria, a passenger to the Matildas' success. I suppose he'd held a grudge against me since Toone made me smile. As soon as Kerr's strike hit the net, I got a face full of Great Northern Super Crisp.
But he didn't throw a pint of beer over me. He threw a schooner. Bloody schooners.

Fine, maybe beer does get warm if you leave it at the mercy of the Australian climate too long, but have you thought about drinking it faster, or necking it warm? Would that be so bad?


In summary, I don't have a fucking clue exactly why I want England to win the World Cup as much as I do.
I don't know how long I'd have to spend in Australia before my feelings change, or understand how culture and country intersect, but I do know that I miss pints, real pints, measures of beer which are more than 425ml. And we all like vindaloo.
I have a confession to make. On the morning of England's semi-final against Australia, I was listening to Kylie Minogue, deciding which of her bangers would make my World Cup playlist.


It features songs by artists from every country who have been knocked out of the tournament so far, and I took great pleasure in adding In your eyes after England eliminated the Matildas.


I'm interested to know any and all thoughts on why you support whatever team you support — club or country. The level of dedication and excitement about something so arbitrary makes no sense, yet feels so right at the same time. What is that about? Feel free to throw your opinion into the mix by emailing me at [email protected]. Who knows? You might succeed at confusing me even further!