I'm writing to you from Darling Square Library, where a man nearby is snoring, book in his lap, shoes off, head back. It's a mood.
After five weeks of sleeping on sofas, travelling around, talking to strangers, probably not eating enough while maxing out on every feeling on the emotional spectrum thanks to football, I am a bit tired.
And with such little time left in Sydney, I am trying to make the most of the final moments of this incredible experience. Rest can wait until the long plane home, where I hope I'll be having sweet sweet dreams of England's World Cup triumph.
I just wanted to drop into your inboxes with a little bit of context ahead of tomorrow's final. We all know England are completely lush and brilliant, but what about their opponents? You've probably heard that something fishy been going on there.
So have a read and judge for yourself whether you think the Spanish football federation deserve the honour of a World Cup trophy.
I'm off to get some kip before a BIG day.
Who should the neutrals support at this World Cup final?
A lot of wags and jokers are suggesting that a final match up between Spain and England, two historic colonisers, is one which no one can win - especially after this tournament has been characterised by so many magic moments of the order being not so much upset as totally flipped on its head.
But for the most part, any women's football fan who is not Spanish is rooting for England — and, troublingly, some Spaniards themselves have been put in a position where hoping their national side will win is not a comfortable stance.
But Jorge Vilda and the Royal Spanish Football Federation (RFEF) have complicated things.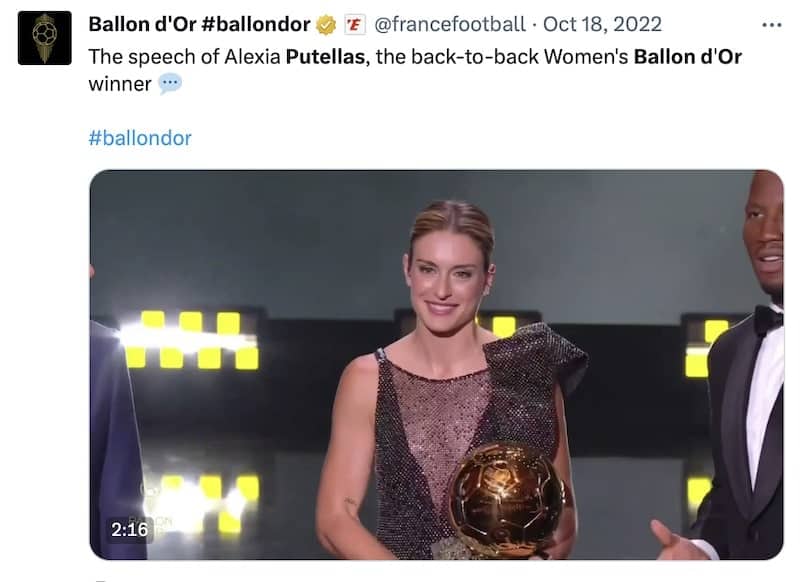 Spain currently boasts some of the world's most talented football players, including Alexia Putellas, who is certified as
the
globe's number one as the winner of back-to-back Ballon d'Ors Féminins.
In that respect, their participation in tomorrow's final shouldn't be surprising. But the team are achieving at a level far lower than the potential of its constituent parts.
The so-called Golden Generation — including the likes of Putellas, Patricia Guijarro, Aitana Bonmatí, & Mariona Caldentey — have played under manager Vilda for some years.
In 2009, Vilda took up the posts of Under 17s head coach and Under 19s assistant coach. But he didn't do very well. Look at the number of honours achieved by Spain's youth teams during his tenure versus how many they won after he left.
His unimpressive record did not stop the RFEF appointing Vilda as head coach of Spain's senior women's side in 2015. The trend continued.
At Euro 2017, the World Cup 2019, and at Euro 2022, Spain progressed from each group stage but fell at the first knockout hurdle — not an output that reflects the brilliance of the players at his disposal.
When complaints made privately by the senior leadership team comprising Putellas, Guijarro, and Irene Paredes were completely ignored, players decided to take more extreme action.
Last September, 15 players put their name to an open letter asking the RFEF not to summon them for national duties until the issues had been resolved.
"By requesting not to be called up, we penalize our professional career, our economy, and of course continuing to build something important in women's football. Because getting to where we are right now has taken years of effort from many people. And there are still so many things to be improved," it read.
Still, the Federation did nothing. As a crucial career moment got nearer, most of the 15 players ended their boycott, and three of them have been invited back into the fold by Vilda for the World Cup: Ona Batlle, Mariona Caldentey, and Aitana Bonmatí.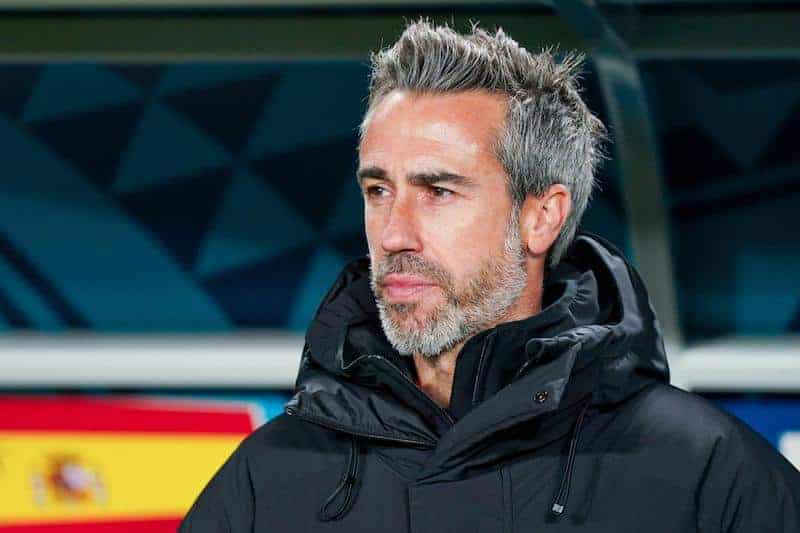 These three have been denounced as 'scabs' on social media, but who can say they wouldn't have done the same? You don't get many chances to become world champions and, for Barcelona midfielder Bonmatí, a stellar performance in Sunday's final will put her firmly in the frame to steal Putella's Ballon D'Or this year. Having grafted to reach the position she's in, why should she give that up just because there are some awful men in charge?
Meanwhile, Mapi Leon, Patri Guijarro and Claudia Pina will be watching on bitterly from home in Spain, having stuck to their guns and refused to make themselves available for selection for the World Cup. Vilda's success at this tournament is turning into a vindication of his methods which will likely earn him a fresh contract from the RFEF, making it unlikely that this resolute trio will have another shot at representing their country.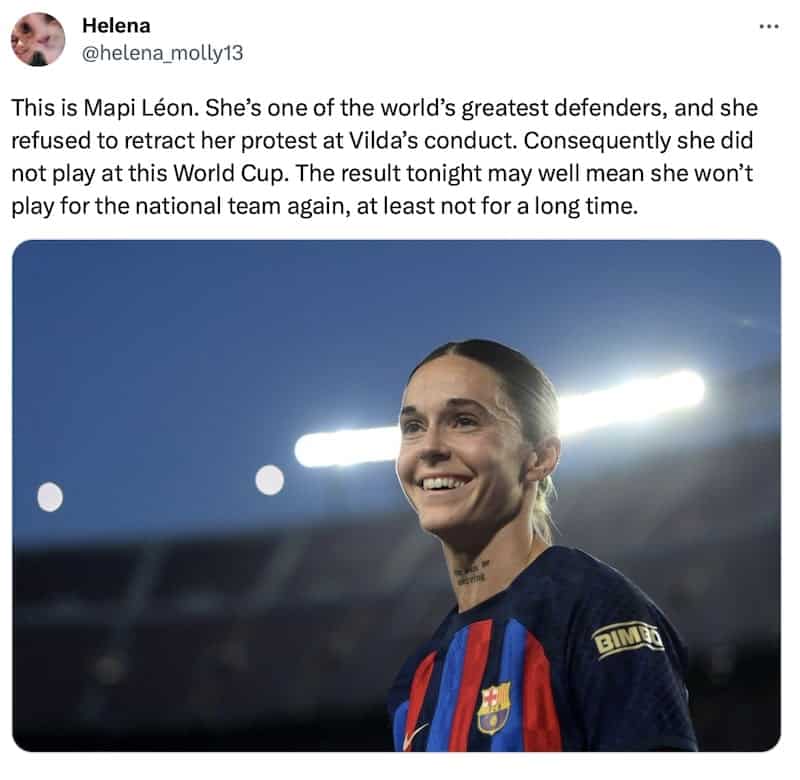 "The national team's run has become something of a cause célèbre for Spain's chud community, which has found in the team's success, and the humiliation of the 15 boycotters it represents, a fun new outlet for their misogyny.




"To a very real extent, some of the biggest Spanish supporters of women's soccer over the years are now dreading the prospect of a Spanish victory, while many of those who've denigrated the women's game are thrilled by the prospect of Spain lifting the trophy, weaponizing their victories into some bizarre testament to sexism."
It seems, then, that there has never been a better time for England to bring it home.
Alongside Jorge Vilda, Spain put up one of their three team captains, Irene Paredes, to face the press on Saturday evening.
Without trying too hard to impose a narrative, I have to say that Paredes did not have the look of a person experiencing what is likely to be the pinnacle of her career. I wouldn't expect her to bounce in buzzing — it would be unprofessional, and fail to honour the gravity of the moment. But that didn't stop Vilda looking a right smug bastard, casting his eyes over the room, smiling for the cameras as he waited for Paredes' questions to finish so he could have his moment in the spotlight.
Later, when Millie Bright and Sarina Wiegman faced questions, the FA's Head of Comms positioned himself a seat away from them. Here, Paredes was pincered between Vilda and the Spanish media lead.
Maybe this told when, eventually, someone took the plunge bravely and diplomatically to ask: 'For those people who are watching this final, knowing nothing about your team, what would you like them to know about your team?'
It was an open goal for Paredes to drive home a veiled critique of their situation, but she didn't take it: 'For all of these people who don't know us, I'm glad it's the first time they see us, I hope they like us. I'd tell them to support us and to give us the opportunity — so that we can do very beautiful and important things, that they continue supporting women's football.'
With Vilda up, one journalist went for the jugular: 'Given the unrest among the players over the last few months, what is the formula for managing players in crisis?'
Then, later, when asked if he'll say sorry to some of the world's best players (Pina, Guijerro, Leon) who aren't participating, he refused, insisting: 'What we want to do tomorrow is to be the best in the world and we'll do this by winning the final.'
I didn't realise just how tense the room was until the Spanish contingent left it. Fortunately, the press didn't have to wait long for the space to be cleansed of bad vibes.
'It's cold in here,' Millie Bright said with a shiver as she sat down, drawing a sympathetic smile from her coach.
Given the enormity of its impact, you could believe that the Lionesses' journey as a brilliant football team began when they won the Euros on 31/7 last summer.
But the foundations were laid some years before then. In both the 2015 and 2019 World Cups, England came agonisingly close to reaching a World Cup final. A freak own goal by Laura Bassett, a bizarre offside call, and Steph Houghton's missed penalty conspired to ensure that the wait would go on to 2023.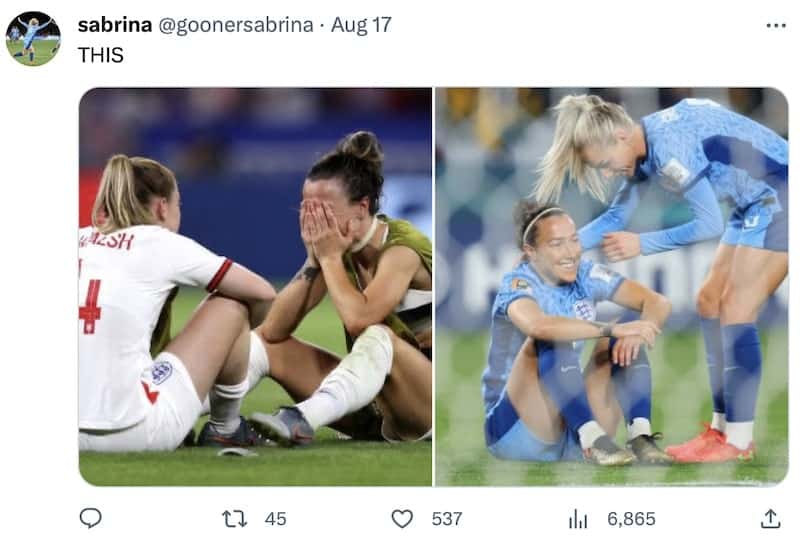 Lucy Bronze was there to see all of it. Speaking after England reached their first ever World Cup final, she said:
"In 2015 it was heart-breaking because of how it happened. I don't think a team has suffered a defeat in the last minute because of a fluky own goal.




"And for me, 2019 was a heartache because it had been my best year in the game. Everything seemed to be going my way and then the semi-final hit me like a tonne of stones.




"I said to Jess Carter and Beth England: 'You must think England just get to finals. You haven't been there in Canada, France or in Holland for the 2017 Euros. Defeat after defeat in semi-finals.'




"To have finally made it is a dream come true."
I love Lucy Bronze. She scored the epic goal that first inspired my interest in women's football. Each time she speaks in interviews, she oozes with class. And sitting on Row A when England played Denmark earlier this tournament, I could see up close just how far and fast she runs every single game. She's a grafter, an idol, a little dweeb from Berwick-upon-Tweed who grew up to live her dream.
It's fitting that on Sunday she will overtake Jill Scott to become England's most prolific World Cup player as she extends her number of tournament starts to twenty. At 31 years old, this might not be her last World Cup, but if it is, I hope she gets the ending she deserves.
Specatular bird of the day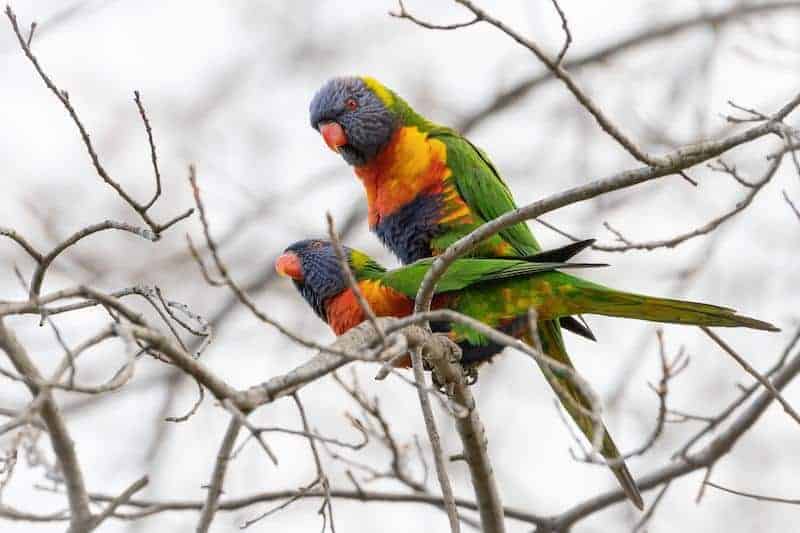 I love these little guys. Not long after I arrived in Sydney, my new friend Kit, a bird enthusiast, promised that I would see an array of parrot-y things and cockatoos, and 'definitely loads of rainbow lorikeets'.
It wasn't until I visited Brisbane for England's opening game that I saw one — I think. Taking in some morning sun on the roof of my hostel, a flash of colour passed overhead at speed, a vibrant blur that I couldn't confidently identify.
Luckily they were everywhere in Melbourne, and finding a cooing pair sitting on a low hanging branch, I saw their plumage up close.
Birds, in all the colours of the rainbow? What could be more spectacular? They even have a spectacular name in latin, the Trichoglossus moluccanus.