Were you ready for it to come home again? I was. I'm sorry.
Sunday was strange. I woke up full of anticipation for the biggest game of football I had and may ever watch, some stuff happened, then I went to bed horribly late, my head still working hard to process lots of different things.
The World Cup is over and England came close but did not win. Twenty four hours later it's hard to tell which of these things makes me saddest.
Thank you so much for reading this newsletter over the last few weeks, for giving some purpose to what has been an immense pleasure — watching and thinking and writing about football every day.
There's more to come, so stay tuned.
The players and staff of England stood completely still as they waited for the World Cup to be awarded to someone else. No one was laughing or chatting or hugging, or reassuring each other. They were like statues, frozen in a moment which dragged on and on, watching Spain's celebrations and willing it all to be over.
On Wednesday evening, swarms of recently disappointed Australia fans found themselves in a time warp of their own, all trying to access Olympic Park station where nothing was coming or going.
A signal failure somewhere down the line badly disrupted many people's journeys home, but it would have mattered less if the Matildas had beaten England to claim a place in the final. As it was, everyone wanted to escape the scene of hurt as quickly as possible.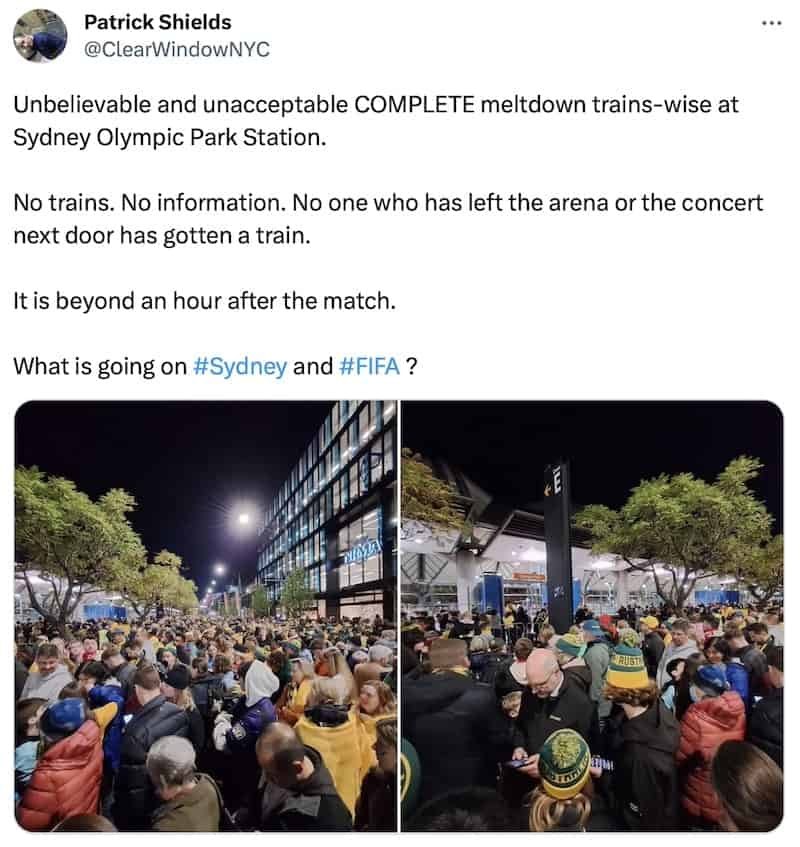 "I know we're not having a good time tonight," said the station announcer. Hours earlier, her voice had been full of cheer as she embraced the honour of welcoming thousands and thousands of compatriots to her country's most historic sporting event.
How quickly things change. You savour every moment of anticipation, then dispose of a loss as quickly as you can.
Over the last week, I watched Australia stand still while the tournament went on without them. Their defeat to England was a schooling, a grim splash of reality which sucked the magic out of a competition that made so many people believe. On more than one occasion, I wished I had not opened my mouth as my accent exposed me to genuine hostility from injured Tillies devotees. What was I supposed to say?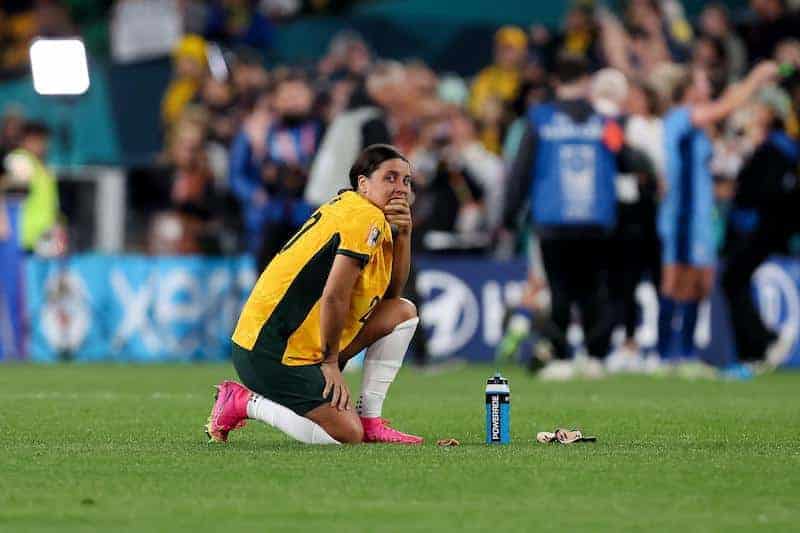 When you lose, you don't want to hear it. No one wants to be the person who has to lift everyone's spirits when something goes wrong. Consequently, after the final, everyone shared the same burning question — what did Sarina Wiegman say in the huddle after the Lionesses fell short of their dream?
Throughout this tournament, Wiegman has fortified her coaching credentials by turning difficult situations into positive moments, accepting the materials in front of her and contorting them into shapes no one else could imagine to ensure her team progress. The losses of Keira Walsh and Lauren James looked set to derail England completely, so Wiegman's delivery of effective solutions suddenly had people talking about 'one of the best coaches in the world?'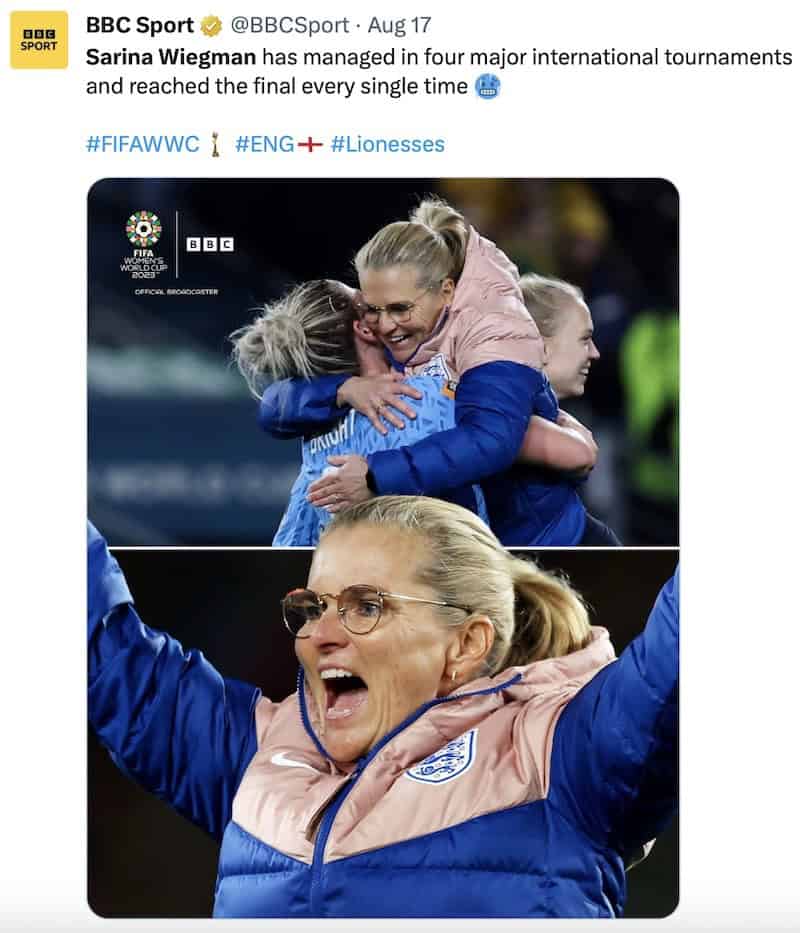 If defeat is the biggest problem a sports person can have, surely Wiegman had yet another magic solution up her sleeve, something to say to her players that would make it all feel better.
With the World Cup coming so soon after their iconic 31/7 moment, the prospect that the European champions' momentum would see them through the next natural step was hard to resist — before a friendly defeat to World Cup co-hosts Australia and injuries to Fran Kirby, Leah Williamson, and Beth Mead tempered expectations.
But throughout the tournament, England met and passed tests at almost every juncture, resisting Nigeria's advances with 10 players, coming from behind to beat Colombia, withstanding the expectation of a nation and the screams of tens and thousands of home fans — not to mention disrupting their long-held way of doing things and learning how to play in a new shape mid-tournament.
The Lionesses' habit of wriggling clear of adversity restored the tantalising belief that nothing was out of their grasp, that there was no setback from which they couldn't recover, no obstacle that couldn't be overcome with this divine combination of Wiegman, with answers for everything, and her players, bred to stay resolute amid the toughest of challenges.
On Sunday, both failed. Nothing was going. Everything shut down. England were trapped as Spain refused to let England be England. The Lionesses were losing a long time before the final whistle, before Olga Carmona's goal, even.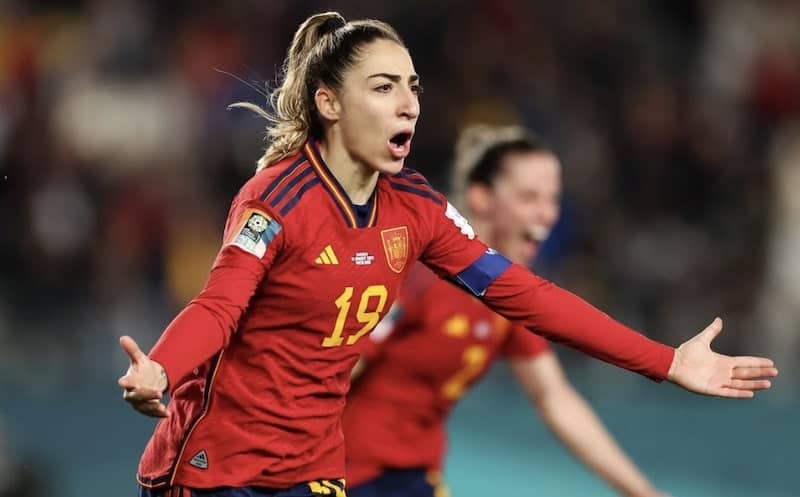 No one was less prepared for it than Lucy Bronze. None of her teammates knew England losing quite like she does, but just as she did for the fans, Wiegman's genius had raised Bronze's hopes too. Under the mediocrity of Mark Sampson and the incompetence of Phil Neville, losing made sense. After Wiegman fixed the hurt of consecutive World Cup semi-final defeats, her failure to make things work against Spain held no logic for Bronze.
The long, speculative adventure into the midfield that Bronze made in the lead up to the winning goal was a roll of the dice, a desperate reach for something, anything different from this. If Wiegman couldn't adequately equip them to become the champions, Bronze would take on the world herself.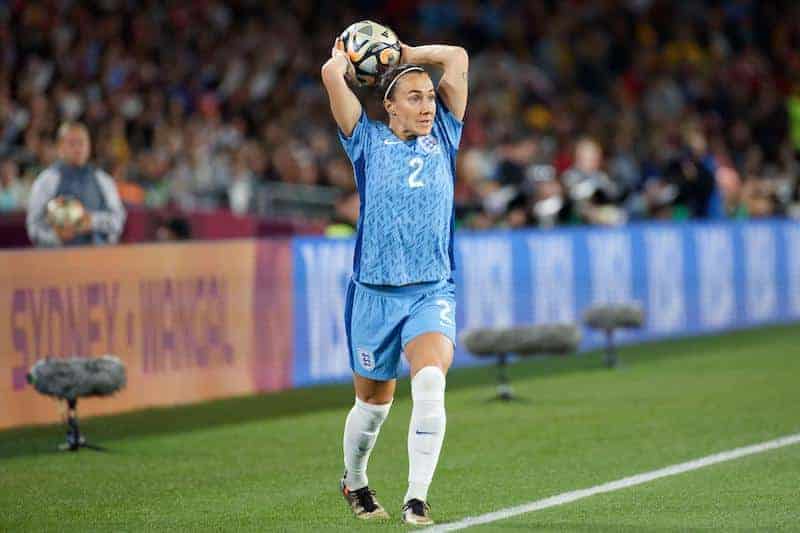 It didn't work. The Lionesses had lost control. But while most of the players looked ready to accept it, standing around with their hands on their hips, Bronze resisted, fighting harder in a wild and disordered way that had nothing to do with what she's learnt through Wiegman's education in composure.
If she couldn't control the football, she would throw everything at controlling what was happening around it. She was in the referee's ear, she was gesturing wildly for Alex Greenwood's shorts, she was shooting from 30 yards, she was insisting that Jorge Vilda did not encroach upon the pitch.
It was painful to watch, like the last panicked efforts of a hunted mouse, hugging the skirting boards, scurrying from one dead end to another and back again, knowing the cat will catch her in the end.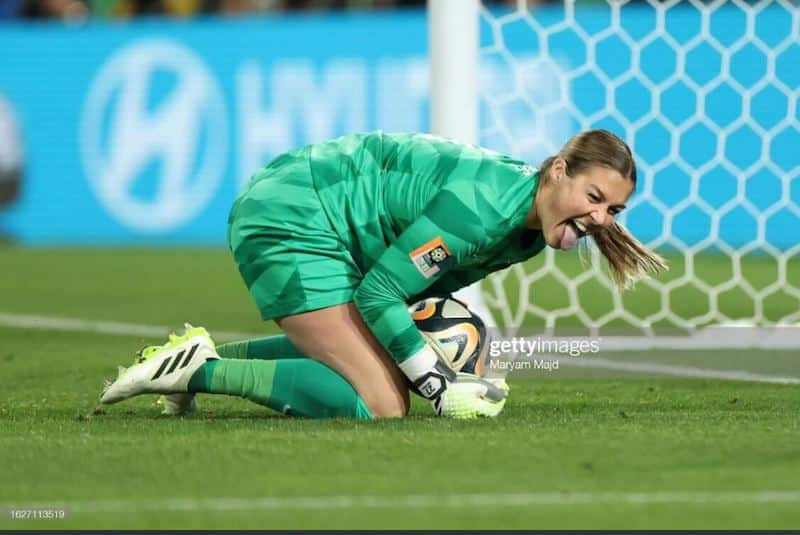 Jenni Hermoso's penalty should have been the slipper over the head, but Mary Earps was too busy being brilliant to think of putting us out of our misery. The agony might have been over weeks ago, if she'd only let a couple more goals in. Perhaps it should have been. Was the Lionesses' path to the final too good to be true?
At this tournament, England have benefited from the fast-diminishing disparity in the global development of women's football, as Germany and Brazil were taken out of contention by the likes of surprise packages Jamaica and Morocco. But just how far off matching England were Colombia or Nigeria? In four years' time, the progress of these improving nations will be no shock and could be at the Lionesses' expense. Is this the last tournament at which England could set off with a significant head start?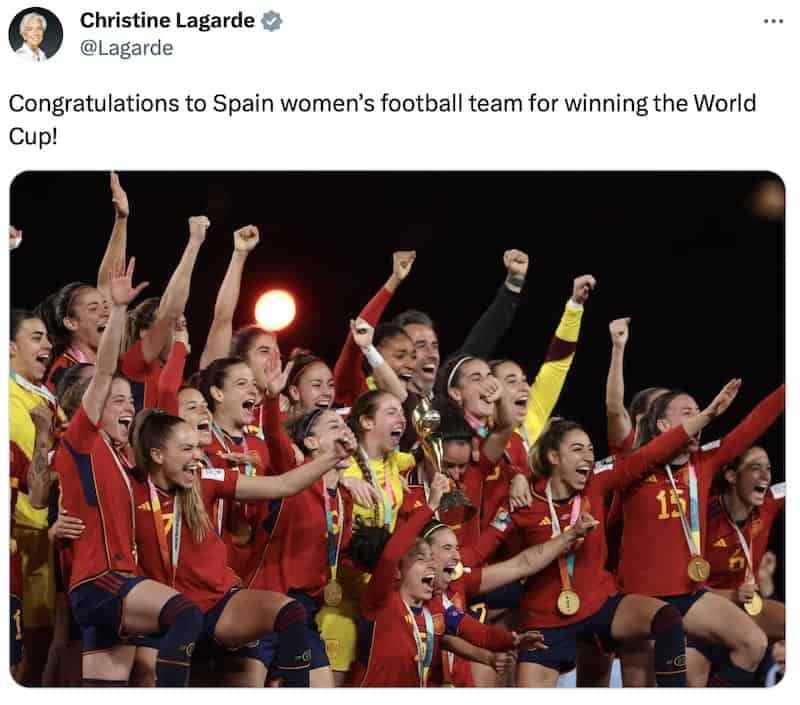 It might be a relief that England's best chance of bringing home a World Cup since 1966 ended fairly and squarely. Sport has a habit of being cruel, but Spain didn't take anything that wasn't rightfully theirs.
Still, I couldn't help feeling like I'd been robbed of something. I wanted elation or tragedy, and was offered neither. For the feeling of injustice fans were left with, Maradonna's Hand of God and Chris Waddle's penalty miss are enshrined in England World Cup folklore. But there was no romance in Lucy Bronze's despair, in giving everything but simply not being good enough.
'Do you want me to say it again?' Sarina Wiegman asked the journalist who squandered the last question of her post-match press conference on something that had already been asked.
Down in the mixed zone, her players weren't telling anyone what Wiegman had said in her post-match huddle. It had been 'too loud', Beth England said, while Georgia Stanway was 'too sad to listen'.
And so for the third time that evening, Wiegman was forced to say the same bland truisms that had been as little comfort to herself as her players, stunned by defeat.
"It's hard to take now," she recalled.
"We did everything, we gave everything, we overcame lots of challenges and today we did everything we could to win.
"It feels very bad of course, we're very disappointed.
"But we are still very proud of the team."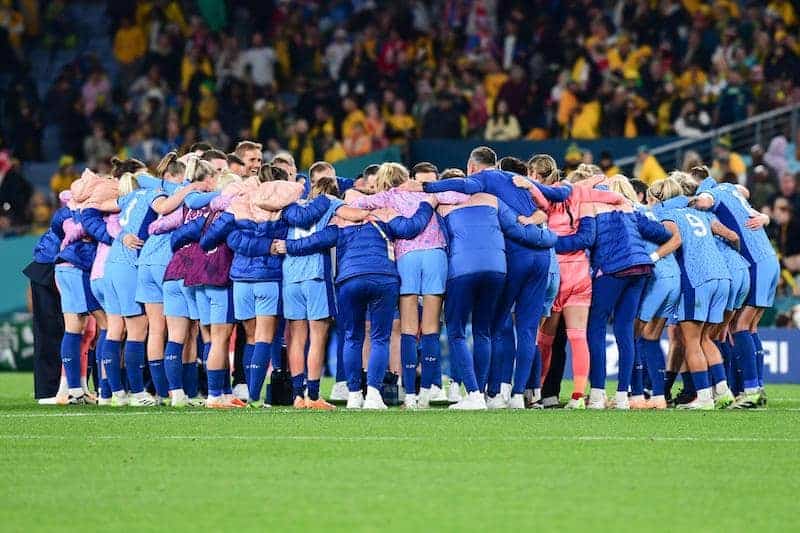 I really thought that a few hours of writing about the final would make me feel better. But losing is losing and there are no nuggets of joy to extract from this very flat ending to a brilliant tournament. YET. I know I'll feel differently after a few days of graciously gETTING OVER MYSELF.


Fortunately I've got a fair number of hours sitting in an airline chair doing sweet fuck all coming up, in which to reflect on everything I've seen and felt.


I'd love to know what you think. Was it enjoyable? Did you expect it? Was watching Lucy Bronze fall apart the most gut-wrenching thing you've ever seen? Could you bear it? Will you ever love again? Hit reply or direct your anguish toward [email protected].