Hello everyone and welcome to another Tuesday edition of 31/7,
I went and took part in the Women's Super League this weekend at the Joie Stadium in Manchester, where ref gave me the very important job of making sure that Alex Greenwood didn't waste any more time.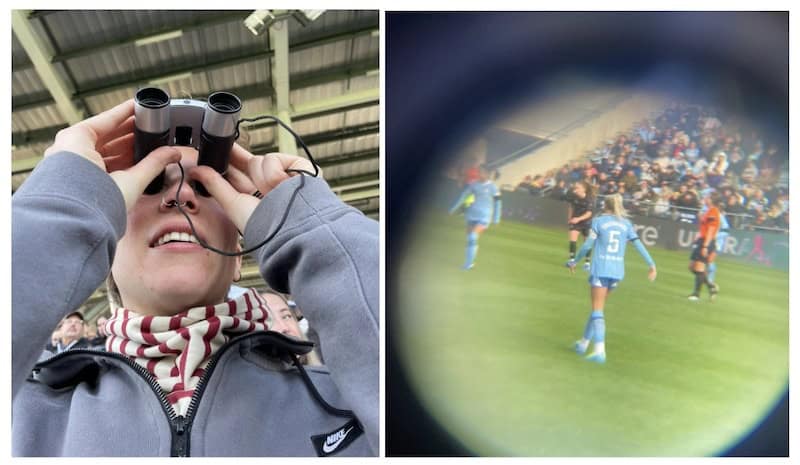 I'm pleased to report that she didn't. It's been a good few days for women in refereeing and women who have finished being poorly, as I will explain in today's newsletter, while soccer fans from a port city in the Pacific Northwest had a rougher time of it this weekend. I've also been thinking about:

The gorgeousness of a Yorkshire accent
Pythagoras' theorem
How many different animals I could make out of a foil pastry case
What it truly means to slay
So I hope you enjoy yourselves and I look forward to catching up with you in a few days.
Beth Mead has had a pretty horrid year, really. It was always going to be difficult coming down from the high of being a standout performer in the England team that won the country's first major trophy in 60 years on home soil (still not over it). Then, just as she was peaking, she ruptured her ACL, which ruled her out of a fun summer with pals down under and another chance to bring it home. Then her partner Vivianne Miedema ruptured her ACL, too. By the time she lost her mum to ovarian cancer in January, all semblance of normality had been swept from under her, the poor little lamb.
So hearing the cheery Whitby lass announce that the Arsenal fan base were
"suhhh cluuuuhs"
to breaking 35,000 ticket sales for the Gunners' WSL match against Aston Villa last week was a huge and lovely relief.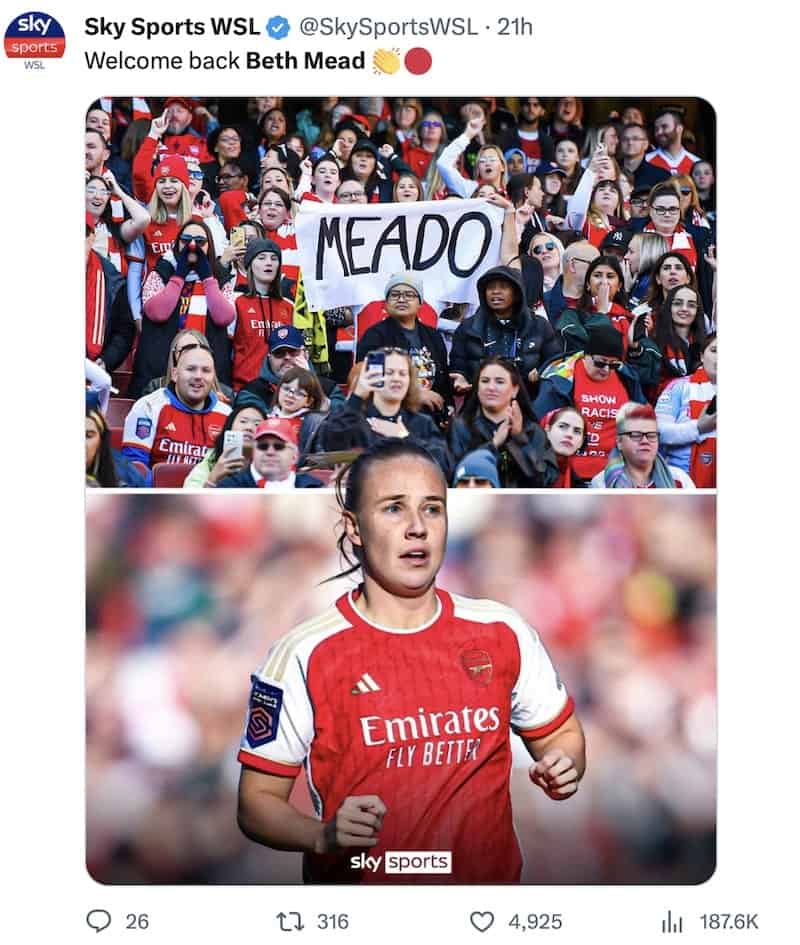 It's surprising that more people weren't put off by what happened at the Emirates a fortnight ago when, trying to move on from their premature exit from the Champions League forgotten with a renewed focus on their first Women's Super League title in four years, Arsenal's curtain-raiser at one of the country's largest football grounds ended in a 1-0 defeat to Liverpool.
But no, plenty of fans were prepared to put themselves through it all again on Sunday — and it looked, for a while, as though the 35,829 supporters who showed up were going to be disappointed. Aston Villa defender Maz Pacheco was permitted to do whatever she damn pleased at a corner in the 25th minute, and at that moment, what she fancied doing was using her head to hammer the ball into the back of the net.
It was an embarrassing and shit way to go behind, and it still felt embarrassing and shit in the 88th minute, with Arsenal still trailing 1-0.
The Gunners were approaching their third successive WSL game without a win.
Last year's champions Chelsea won all but three of their games, so the their target quota for slip-ups was rapidly disappearing.
Bu then Beth Mead took to the field for the first time in 330 days to the sound of screaming and clapping and cheering of the sort that would likely have me in tears on the spot, and t
he sight of one Arsenal legend returning to what she does best was enough to inspire another Arsenal legend to produce a signature manoeuvre. Yes, within four minutes of Mead stepping onto the field, Katie McCabe had scored a banger.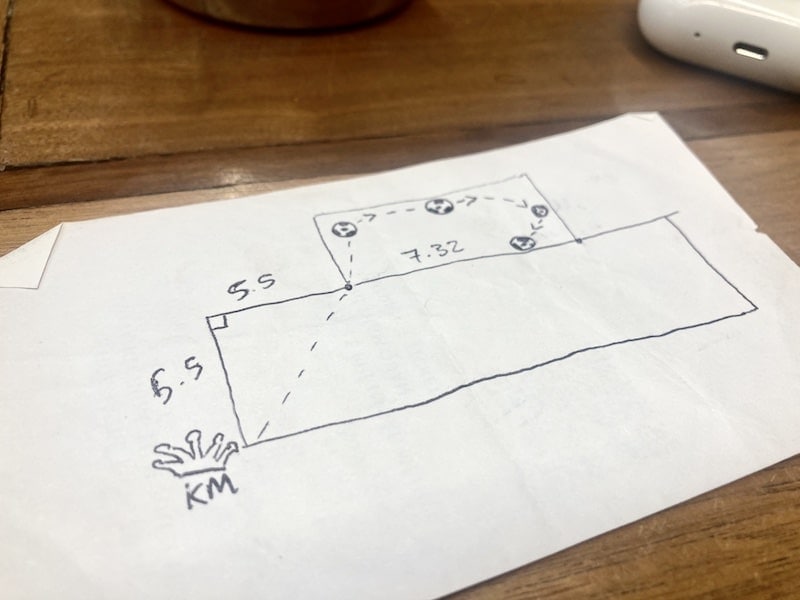 FIFA have never formally classified what makes a goal a banger but I'm sure this one counts.
Using this back-of-a-receipt diagram I learnt that McCabe's shot came in at a 45 degree angle, which feels pretty tight to me.
W
hat I can't do with the help of my little drawing is work out how much of the space available to McCabe was taken up by Villa 'keeper Daphne van Domselaar but I would like to hypothesise, from the footage I've seen, that it was Quite a Lot.
This is how we know it was a real banger. Anyone who can have me wishing I were a physicist after a youth spent recoiling from newton meters must have scored a pretty good goal.
A physicist can put into numbers and shapes the precise flight of her ball. A poet will tell you it looks like a snake, a shooting star, a majorette's ribbon. Really, though — you should watch it because it was better than all of these things — with a first-time effort, McCabe sends the ball on a magical mystery tour of the goal,
caressing the roof of the net, bouncing off the side, then giggling back over the goalline, handing itself into Villa defender Lucy Parker, who boots it off course in anger. And that's before I get into the 40-yard lung-busting overlapping run McCabe went on to set this one up. UGH.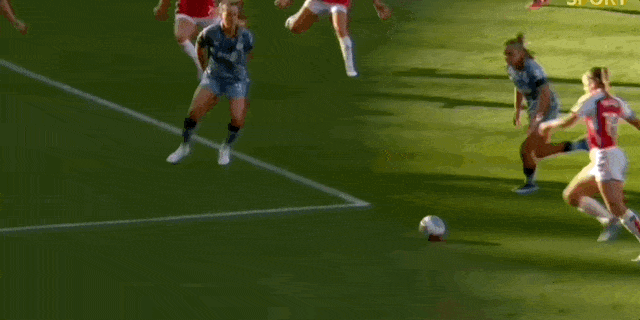 The teams were back on level terms and Arsenal, rabid with momentum, had nine minutes of injury time left to grab a winner.
If I hadn't experienced the feeling of scoring a goal in a calendar year, I'd be frothing at the mouth. Yet when Mead receives the ball on the edge of the box, she doesn't see her name in lights and welly it top bins. She knows her power, and she quickly found out that none of it has gone away over the last 12 months. When she steps forward with the ball, three Villa players close in on her. All Mead has to do then is roll it out to Alessia Russo beside her, and one of the league's deadliest strikers has a free hit at net. Of course it goes in.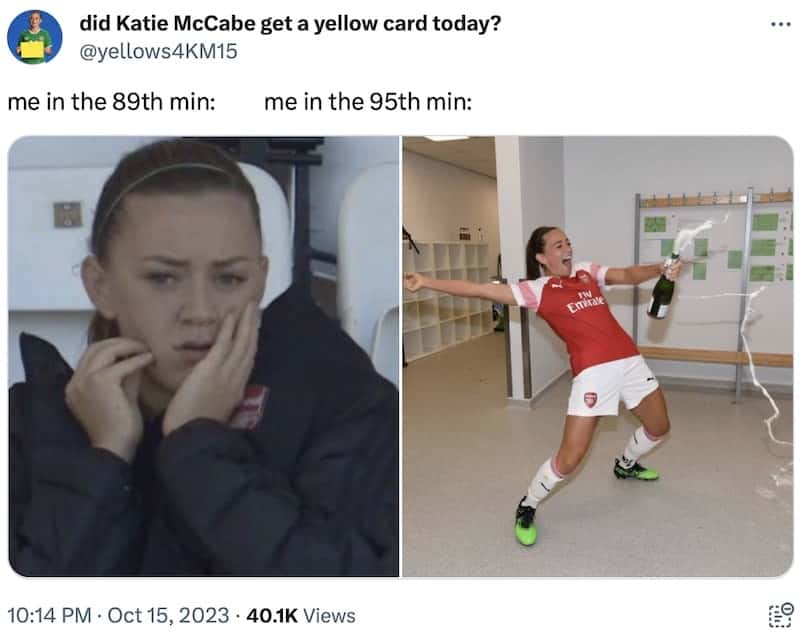 Without Mead, Arsenal couldn't recover Liverpool's 1-0 lead, or score against Aston Villa. Now she was back and so was their mojo.
Yes, it's been a tough year for our Beffy — but by the looks of her Instagram, it hasn't
all
been bad. You don't get many holidays as a young, fit, professional football player, so Beth has capitalised on the erasure of one of those traits by jet-setting all over from Dubai to Miami, with Vivianne Miedema in tow. They've even been drinking porn star martinis. She's watched Wimbledon with Billie Jean King and Formula One with Scary Spice and Cara Delevigne, acknowledged as a hero wherever she goes. The BBC called her the Sports Personality of the Year, Windsor dubbed her a Member of the British Empire, and the Scarborough Borough Council have even given her freedom of the Scarbados Strip.
But getting back to being great at football, saving the day in front of tens of thousands and fans?
"Today was like Christmas for me," she said.
On Sunday, San Diego Wave took home their first ever trophy as they won the National Women's Soccer League Shield in their second season of competing.
They and Angel City only joined in the fun last year as the NWSL expanded from a 10-team to a 12-team competition. Even in their inaugural season, the Wave were one win and one draw away from the top spot . But this time, coach Casey Stoney — former England defender and manager of Manchester United — got it over the line.
In the final round of games, the Wave snatched first place from Portland Thorns, who took nothing away from a 5-1 demolition at the hands of Angel City.
The Thorns will probably be a bit gutted about this but fortunately these bottle-jobs get a shot at redemption. As the second-placed team, they get a bye into the semi-final of the play-offs, when they'll face the winners of third v sixth, while the Wave will play the winners of fourth v fifth for a place in the grand final. But that all sounds very complicated. Hopefully this diagram is more helpful than the one I drew: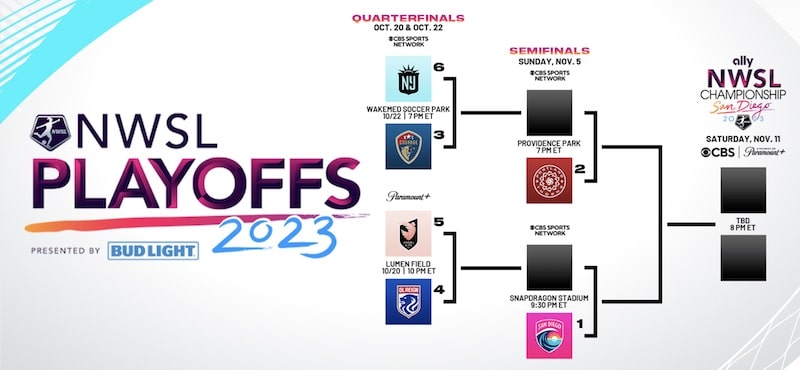 The big boy final will happen in San Diego, at the home of the Shield winners. As discussed in last week's newsletter, I don't really understand the logic behind not being a champion until you've beaten teams you may already have beaten in 'regular' season in specified champion-deciding matches. But hey, I've learned all I need to know about how much respect you get for simply being a successful soccer side during 'regular' season by the extravagance of the Shield you win for finishing top.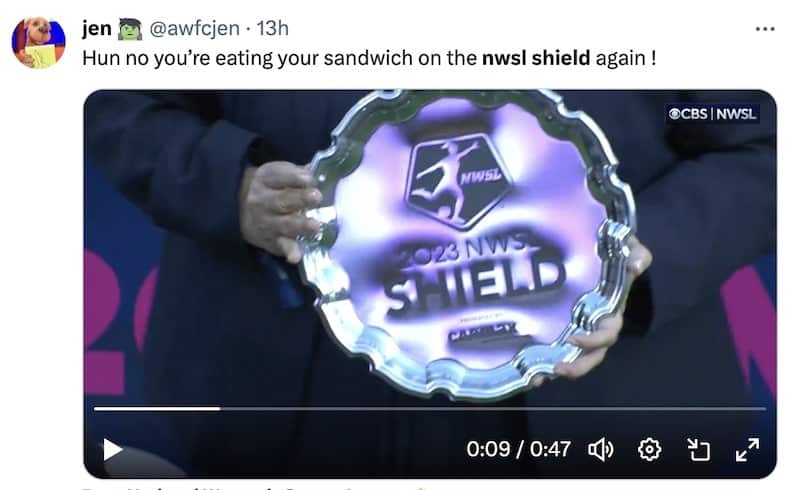 From this still, it's hard to convey just how flimsy this priceless trophy is.
There wasn't so much of a traditional 'lift' lest a stiff breeze pull it clean out of her hands but, as Alex Morgan flaps it around excitedly, I worry that it could just bend in half.
Fortunately, soccer fans seem to have an affection for what looks to me like what you throw in the bin after you polish off a Mr Kipling's bakewell tart.
@
Iagoonerbeach:
"It's literally just a serving tray with a logo."
@JeffKassouf: "Ten years later the
NWSL is still handing out that appetizer plate for winning a regular season."
@GalPalSports: "The great thing about the
NWSL shield is it can also be used to serve 6-8 beer bottles."
French referee Stéphanie Frappart made history at the weekend as she became the first woman to referee a men's international fixture at Wembley. I couldn't tell you what happened during the game, but I can confidently report, from this image sent to me by my good pal and former teammate Elena, that the bitch bossed it: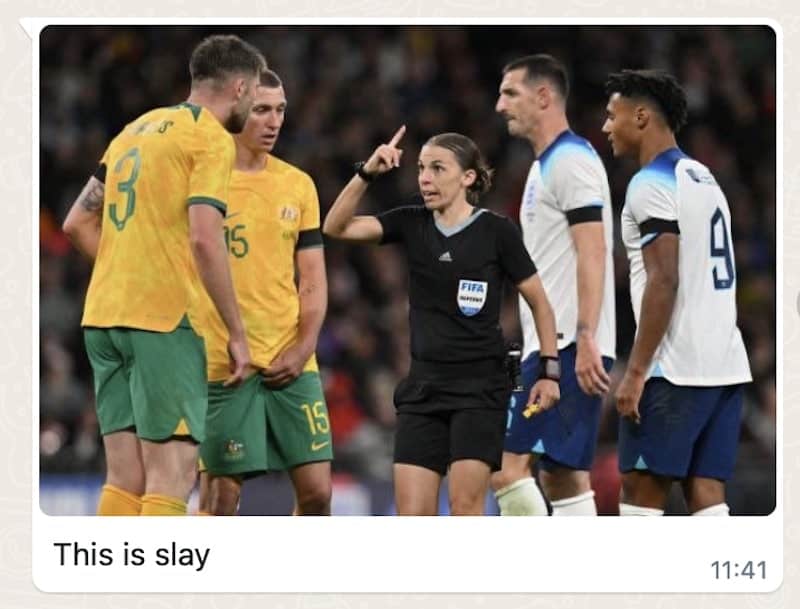 The word 'slay' is almost powerless through its ubiquity these days, but seriously, there's not another word I would use for Frappart's achievement, because in that little black suit she's doing all the best parts of these definitions and none of the worst bits:

kill (a person or animal) in a violent way.

greatly impress or amuse (someone).

be extremely impressive, stylish, or successful.
I don't know who won the game or how many times Frappart reached into her pocket for a card. It could have been an absolute stinker of a performance and I'd still be sitting here saying 'yes big Steph'.


Seriously. Refereeing? So hard. Being a woman? So, so hard. I was not around for the childhood of this 39-year-old but I can be sure that Stéphanie was seldom presented with the idea that she had any right to authority. Was lil Steph deterred by anyone's bullshit stereotypes? I'd love to ask her. But since taking charge of her first game of football at the age of 13, she has let her whistle do the talking:

2014 - first female ref to officiate in Ligue 2
April 2019 - first female ref to officiate in Ligue 1
July 2019 - takes charge of the women's world cup final
2020 - first female ref to officiate a men's Champions League game
May 2022 - takes charge of the men's Coupe de France final
December 2022 - referees at the men's world cup
2023 and beyond - more slay
So here's to you Stéphanie Frappart, you legend.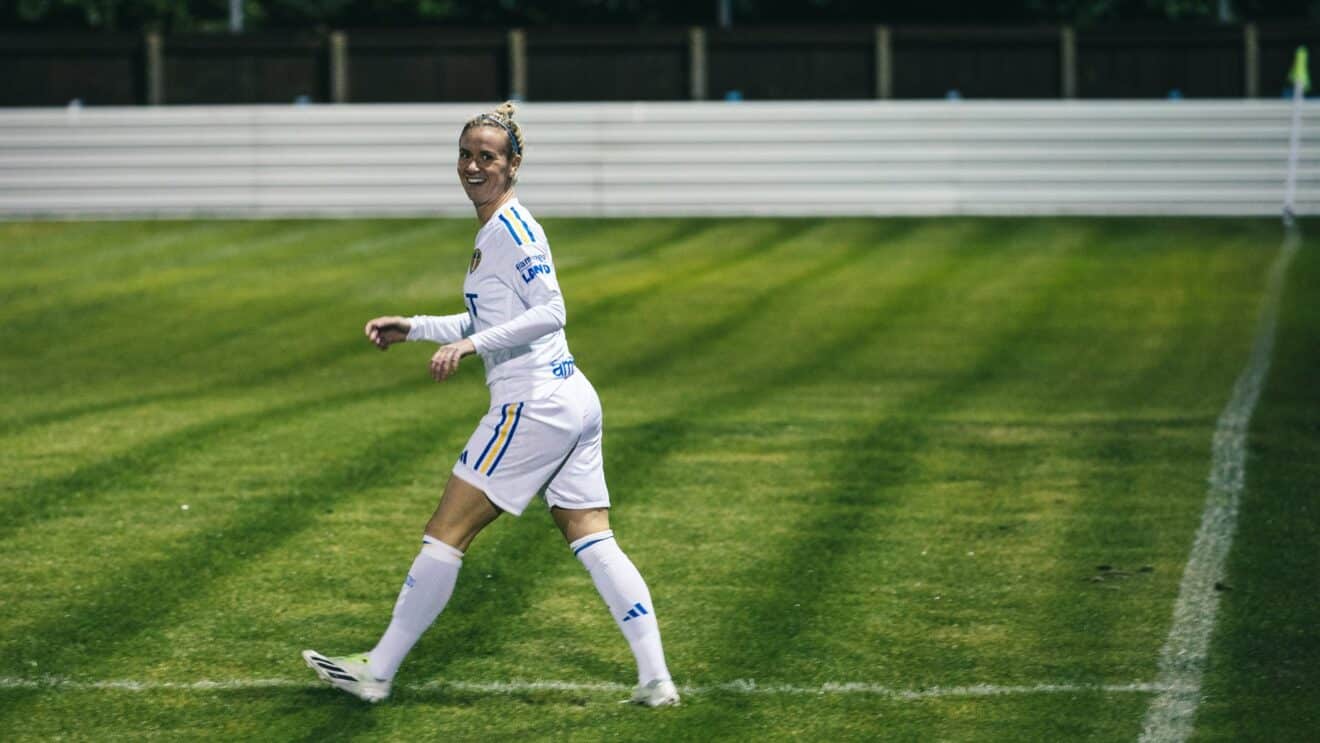 Are we slapping?
Olivia Smart is a pest, a wind-up, a really good football player. That'll do it.