It's great that you're here, reading this edition of 31/7. It's honestly a wonder I even finished it because I got so lost in the life of NWSL attacker Sydney Leroux. The good news is, you've also got the opportunity to become gripped by the tiniest details of a random celebrity because I'll be introducing her further down. I will also be thinking about:

What can and cannot happen
Social media posts which age like milk
When the Gods of Hustle are going to bless me
The Mary Earps succession plan
Have a wonderful weekend and I'll see you Tuesday.


Manchester United will not be competing in the Champions League this season.


In a two-legged second qualifying round tie, Paris St Germain scored four goals to the Reds' two, leaving losing manager Marc Skinner with Yet Another Thing to Complain About.


This time, he had the backing of Ella Toone's Very Sweet Boyfriend Joe Bunney who, in a series of three tweets that were each accompanied by a face palm emoji, variously described the referee's decision to rule out a Leah Galton goal when Yanited were 3-1 down as "horrific", "outrageous" and a "disgrace".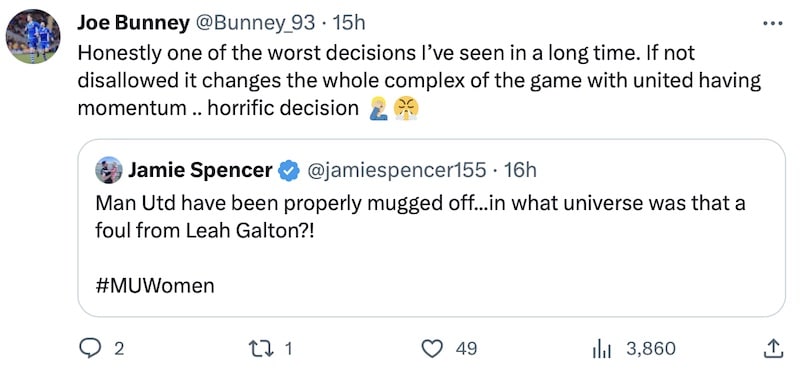 It was a lovely header, a proper salmon-leaper, exactly the kind of goal you just love to see — when captain Katie Zelem pinged it into the six-yard box from range, Galton was the highest bidder, beating the hands of PSG keeper

Katarzyna Kiedrzynek to flick it into the net.




But the officials said she pushed a defender on her way up there and ruled the bugger out. Ella Toone made it agonising by hitting the woodwork, but then that was that. United's season-defining third-place finish was wasted in two 90 minute games.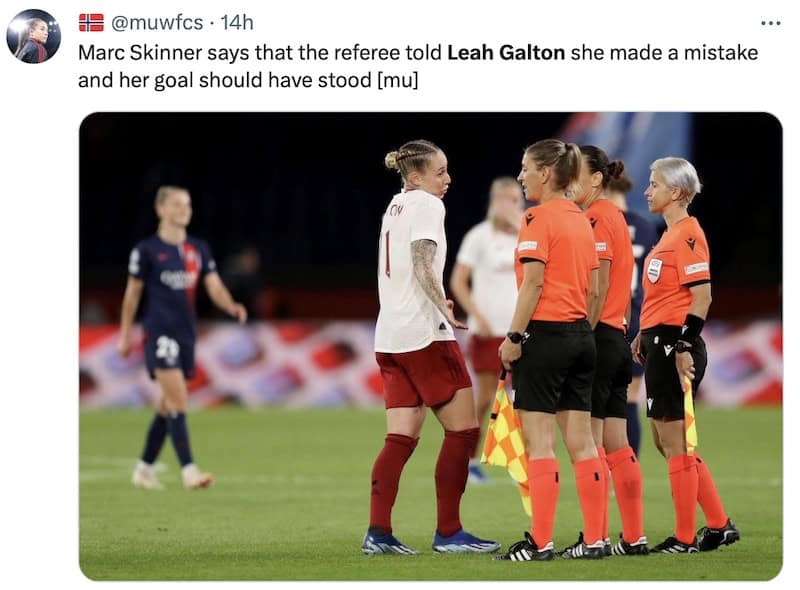 Vindicated by an apology from the ref, Skinner quickly moved on from the validity of the result to the integrity of the competition at large.


From what I can gather, he seems to be cross that a Big and Important team such as Manchester United can draw another Big and Important team such as Paris St Germain in the pre-qualifying rounds. This means that only one of the two Big and Important teams can get through, while some of the teams that literally not a single person in the world cares about get to have a go in the Champions League group stage.


"We deserve to be at this level," he said. "There are teams going through to this competition that are not good enough. Our standard is better than that standard, and it's crazy that we have to play PSG at this qualifying round, crazy.


"The word is: crazy. You saw how hard we had to work last year to get into a qualifying round? It's crazy right?
"Wolfsburg have gone out tonight, they were in the final last year, mad, that can't happen right?"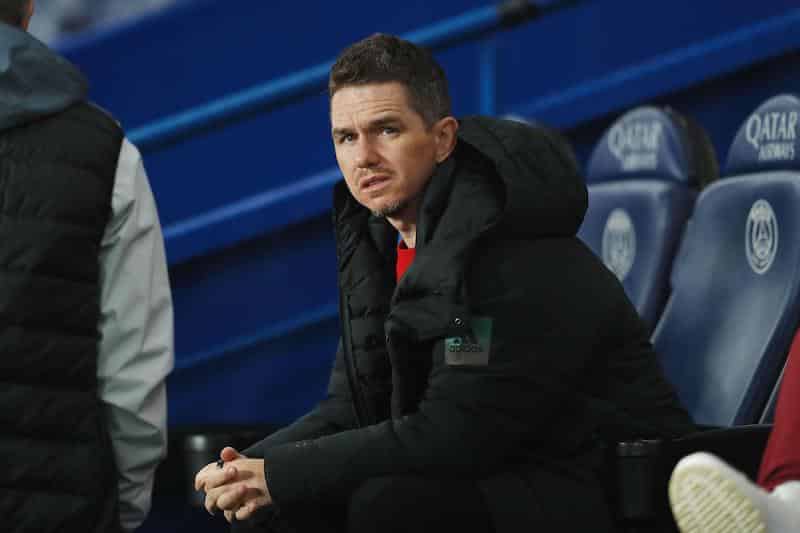 This week, Paris FC made headlines for dispatching last year's finalists Wolfsburg weeks after dumping Arsenal out of the competition.
These lot only came third in D
ivision 1 Féminine, and I've hardly even heard of them, they're nowhere near as famous as their St Germain neighbourinos.
THAT CAN'T HAPPEN.... RIGHT??! I am politely inviting anyone who can be bothered to tell Skinner how sporting competition works.
Success is temporary. You don't get to be GOOD forever because you won a few games last year. Grow up.
Knockout tournaments suck, sometimes you get a rough draw and you have to face a hefty opponent early on. But it is the Champions League, after all, so say it loud for the people at the back, YOU CAN'T BE CROWNED THE BEST TEAM IN EUROPE IF YOU CAN'T BEAT ALL OF THE EUROPEAN TEAMS YOU FACE.
Anyway, if Skinner could stop his sulking and crying for one second and spare a thought for the rest of us, who are now left with just one English football team to root for in the Champions League. And it's Chelsea 🙃
I'll just leave this here: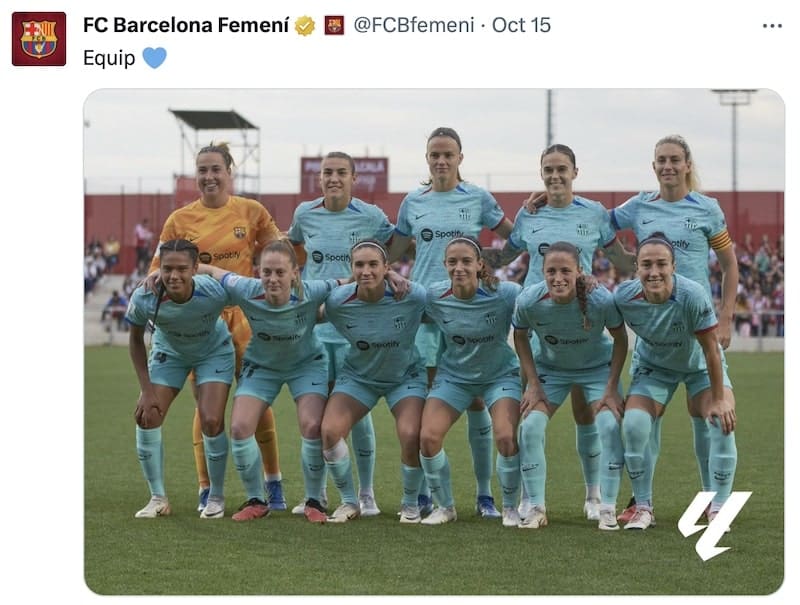 On Sunday, Angel City forward Sydney Leroux scored one of the five goals which sank the Portland Thorns' dreams of winning the National Women's Super League Shield and sealed City's own place in the Play-Offs.
You might
remember Leroux from her popping off extensively
about the way that she and some of her teammates appeared on FIFA. "You are going to scare my children," she tweeted, complaining about having her entire body scanned only for her digital replica to have over-inflated breasts.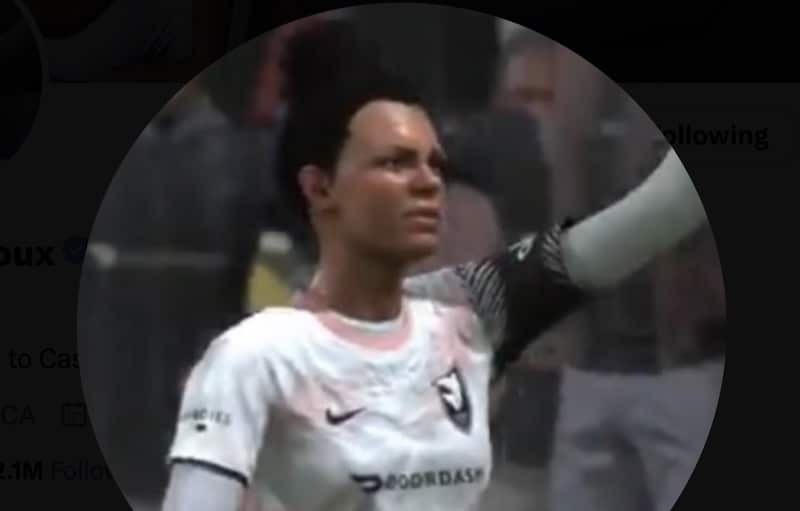 If he thought his computer-generated mother was frightening, eight-year-old Cassius was not prepared for the shock of seeing mommy killin' it by scoring a banger that belongs in the⚡️ Decision Day ⚡️ history books.


Portland Thorns showed up to ⚡️Decision Day ⚡️ knowing that if they won, first place would be theirs. In eighth place, Angel City trailed sixth by one point — so it was within their reach, but they were relying on other results, as well as playing well against the hitherto 'best' team in the division.


The Thorns social media admin tweeted a picture of the team walking out to the showdown with the caption '

saved the best for last (regular season match) 😏' which made them look silly when, at half time, City had a 2-0 lead.




By the time Savannah McCaskill slotted in a third in the 47th minute, the match wasn't over, by any means, but City were sufficiently cruising for Leroux to have a little bit of fun.


If she'd really thought about it, Thorns 'keeper Bella Bixby might have caught Scarlett Camberos' cross, but she probably didn't expect what Leroux did with the spill.


Facing away from the goal when the ball drops from the sky, of course Leroux does what every normal football player with nothing to lose does and attempts a bicycle kick. What is less normal is that the ball ends up in the back of the net — and from a real tight angle.


'ARE YOU KIDDING ME SYDNEY LEROUX?' the CBS commentator screams.


In footage Sydney subsequently shares on social media, Cassius is suitably flabbergasted by her audacity.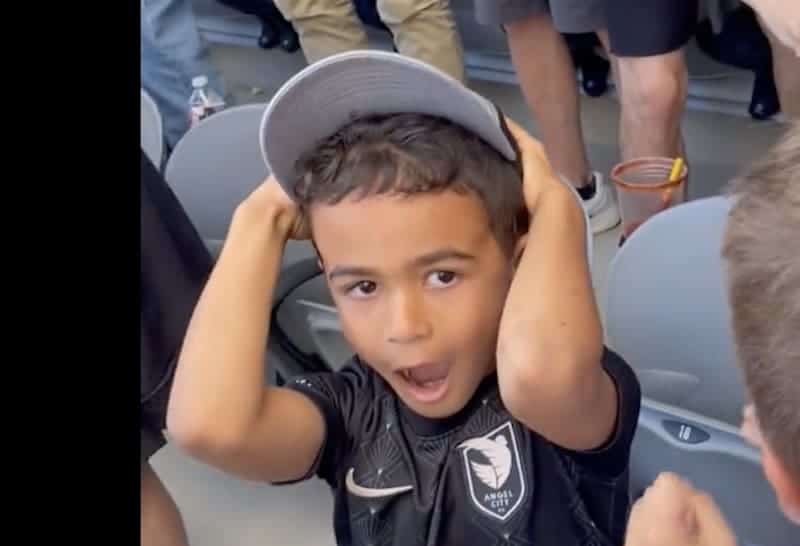 It's not the first time Cassius has played a starring role in the collective consciousness of the NWSL. The lad is quite used to showing the world how he feels about certain things, as I discovered on a quick browse of Sydney's Instagram profile.


It features a lot of Generic Celebrity Family posts. It's the whole gang dressed entirely in denim! It's the whole gang dressed up for Hallowe'en! It's children running around the pitch in jerseys which have 'Mommy' on the back! Harmless enough.


There are also some posts which reveal the Sort of Parenting that Mildly Offends Me. Look, there are her children preparing to race on blue and pink bikes. There's her daughter, Roux, shaking her hips in a tutu then grumping '

every time she gets dragged to her brother's soccer'. And here's Mama Sydney

cutting holes in their pyjamas then blaming it on Elf on the Shelf.




Then, obviously, they're all laughing on the sofa together to help mommy sell some popsicles with no added colours or icky colour dyes!!!
It's amazing, really, that Leroux had time to get good at bicycle kicks when she's been so busy raising the Cutest Kids Ever™️.
But thankfully the Gods of Hustle were smiling down on Sydney. She's really got it made. Daughter Roux wants to be a princess, while her older brother Cassius wants to be a soccer player. Imagine her relief when she introduced toddler Cassius to a soccer ball and he didn't immediately

baulk, promising a lifetime of content creation and soccer practice rolled seamlessly into one.


This week, the Gods of Hustle blessed Leroux again, as her goal against the Thorns brought about the opportunity to share a year-old video of her teaching Cassius bicycle kicks in their back garden... out of the drafts and INTO THE LIGHT!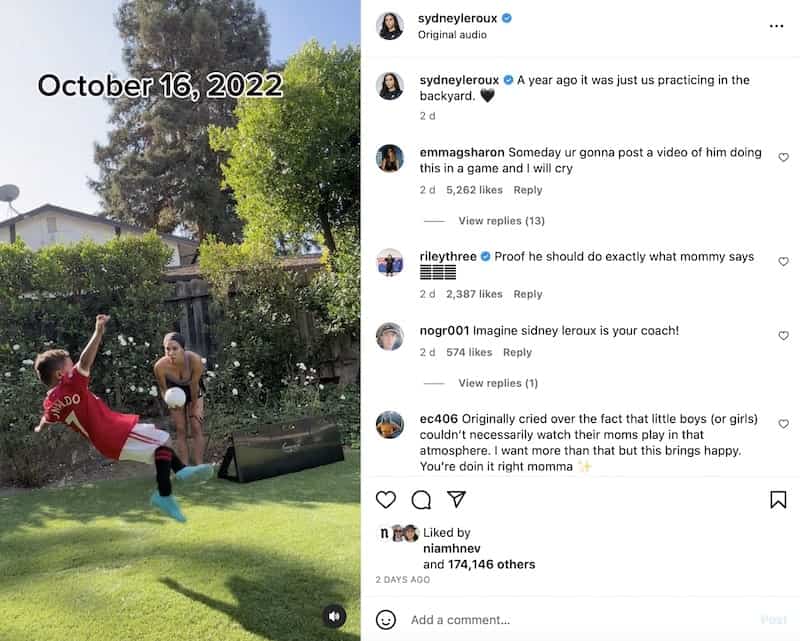 That's Cassius there, getting teed up by a strong female role model in his Cristiano Ronaldo shirt.
On Tuesday, Sarina Wegmann announced her squad for back-to-back Nations League ties against Belgium.


The good news is Keira Walsh is back after missing the September internationals with an itty bitty calf problem. She's not stepped onto the pitch for England since she lost the World Cup final so I hope that's not too harrowing.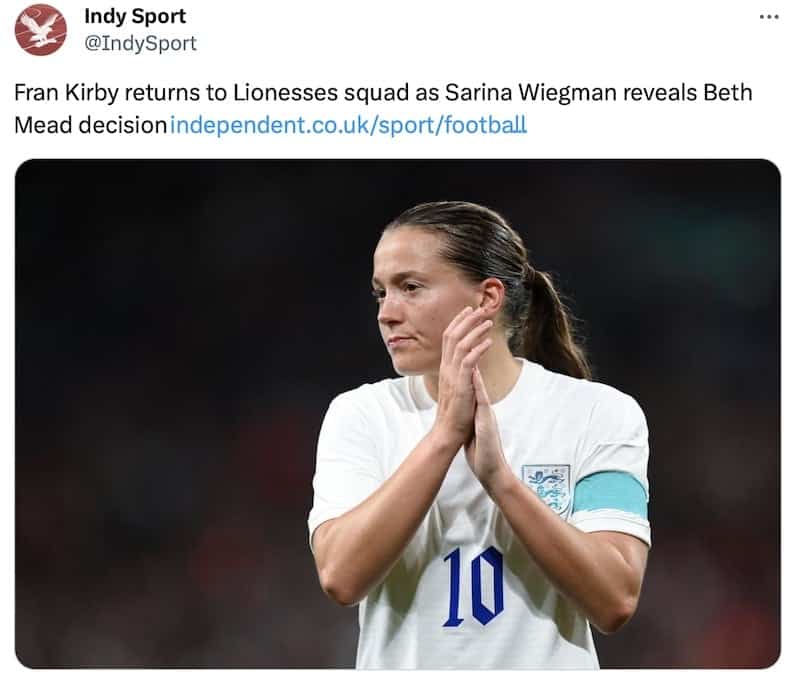 Fran Kirby also returns after a well long break, and what a fucking sight for sore eyes is that. You do wonder what could have been, whether she was the key that the Lionesses needed to unlock some tasty creative juices against Spain back in August.


Beffy, in the words of Ne-Yo, come closerrrrrrrrr, comeeee closerrrrrrr.
Fair enough, Sarina, I can see why fourteen minutes of Women's Super League action wasn't quite enough to show you that Meado deserved the hallowed nod.
But hang on a minute - two players you have picked haven't set foot on the pitch this season?

Neither Chelsea's Hannah Hampton or Man City's Ellie Roebuck have seen a moment of action this term. Fine, we're only a few games in, but Khiara Keating has got off to a flyer in City's number 1 shirt and

Zećira Mušović might not have been flawless but 33-year-old German international Ann Katrin-Berger will much sooner get a whack at it than little Hannah Hampton, who gave up the pole position at Aston Villa for the pleasure of warming Emma Hayes' bench.




This is one side effect of the women's game increasingly resembling the men's game, where the big time teams hog all the resources and talented players waste away on the bench. It's great for the clubs, who know that disasters can be absorbed and favoured players replaced with quality stand-ins — but h

ow are Hampton and Roebuck going to get themselves into a position where they could feasibly fill Mary Earps' gloves in the future if they're not regularly facing the big shots under the pressure of game situations?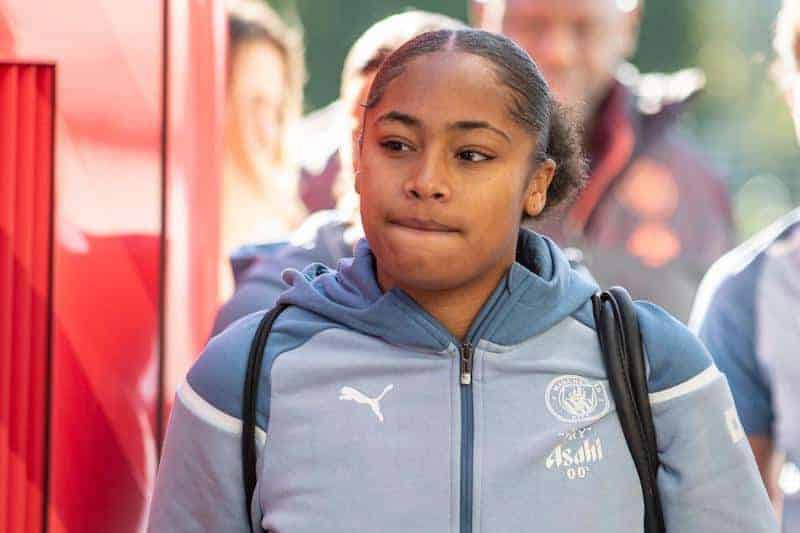 "Pardon?" - Man City 'keeper Khiara Keating with the politest and sweetest response to Sarina Wiegman's invitation for the 19-year-old to participate in the upcoming England camp, her first senior call-up.
My Leeds Hyde Park teammates and I are taking on Republica Internationale on Sunday at 2pm, and they're lovely so it's going to be football exactly as it should be: Fun.
I never thought I would be writing this but Leicester City will fight a top-of-the-table clash against Manchester City on Saturday, kick off at 5.15pm.
The woes just keep coming for Bristol City, who host an Arsenal side rejuvenated by victory at Ashton Gate on Sunday, 6.45pm.
Leeds United Women will fight sixth-tier Chester for a place in the first round proper of the FA Cup on Sunday, kick off 2pm at Garforth Town.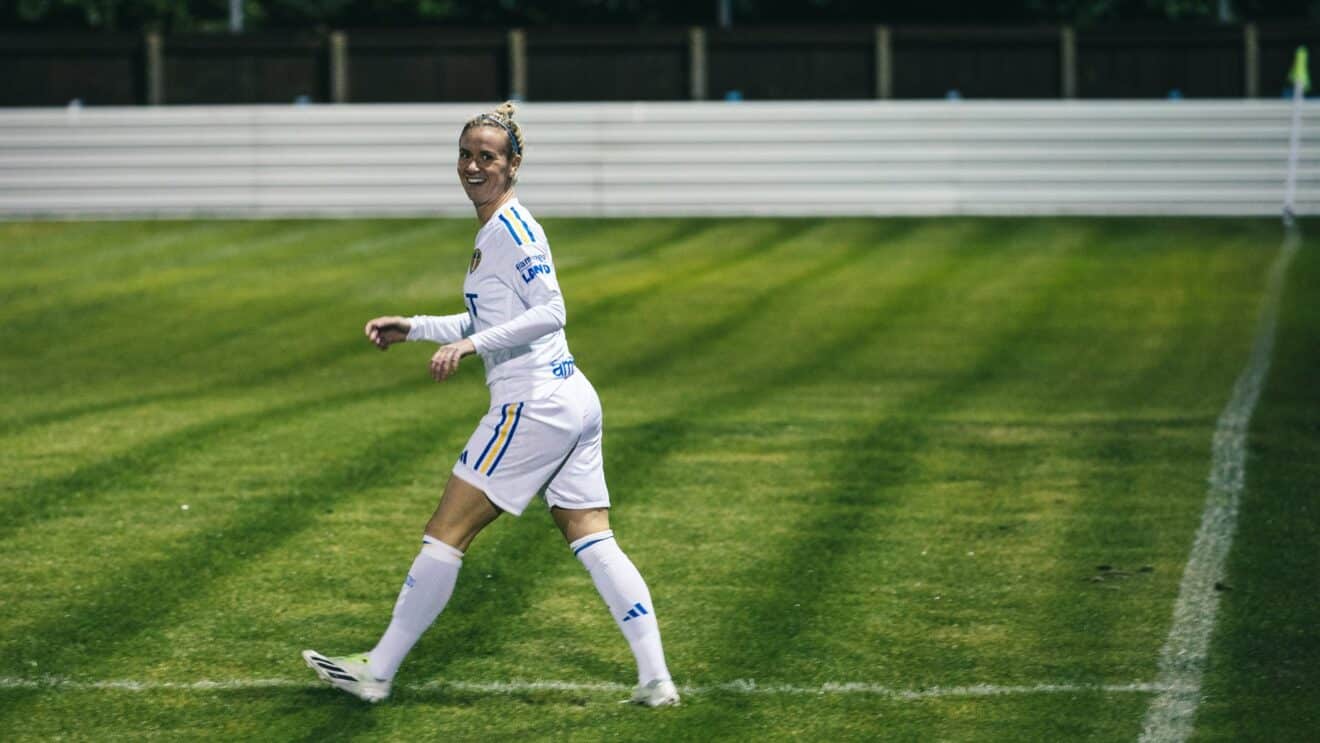 Are we slapping?
Olivia Smart is a pest, a wind-up, a really good football player. That'll do it.