It's a wet Tuesday in October, and the clocks go back on Sunday, which means that there's nothing for it but to grab a blanket and snuggle up with what is probably the Most Scandalous 31/7 Edition To Date.


I'm serious. For darkness and drama, the tale I'm about to recount will top whatever your boyfriend is planning to dress up as for Hallowe'en and is sure to leave you gasping.


So please enjoy it and tell me exactly what you think by hitting reply or messaging me at [email protected].


You might remember NJ/NY Gotham from having
a player called Midge Purce
and the
corny plastic torch lighting ceremony
which kicks off all their home games. But this season, neither of these characteristics held back the New Jersey outfit, who scraped into the National Women's Soccer League play-offs by beating Orlando Pride to sixth place on goal difference only.
At the bottom of the play-offs pile, Gotham faced what was on paper the 'toughest draw' in the play-off quarter-finals as 6th played 3rd and 4th played 5th for a chance to play 1st and 2nd in the semis. But on Sunday night, Gotham easily saw off third-placed North Carolina Courage, who were without top goalscorer Kerolin after the Brazilian tore her ACL in the final game of regular season.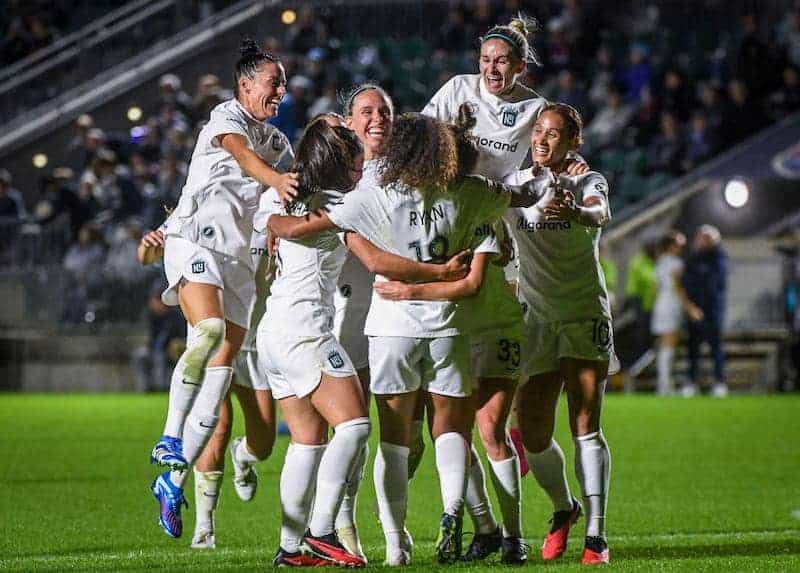 The win extends the club career of Gotham defender Ali Krieger, who is due to retire whenever Gotham's 2023 season ends — be it after the semi-final against Portland Thorns, or in a final against one of the other semi-finalists OL Reign and San Diego Wave.
Krieger's status as an NWSL regular and her 100+ USA caps was enough of a reason for her Gotham teammates to SCREAM when Amorós celebrated her career extension on Sunday — but this is women's football, where often there's more than just your average on-field narratives at play.
Rewind to October 11th when, four days before Krieger's potential career finale at Gotham's last game of regular season,
People magazine
reported that Krieger's wife, ex-goalkeeper Ashlyn Harris, had filed for divorce in September after four years of marriage to her former USWNT teammate.
Harris and Krieger were one of women's soccer's most high profile couples and, as such, the story quickly blew up among fans online. Particular attention was paid to the timing of Harris' divorce, coming as it did just before what should have been a nice moment in Krieger's life, bowing out of a profession for which she has attracted respect and praise for many years.
When I was 17 my girlfriend and I were due to finish our A Levels on the same day. As soon as I came out of the Psychology exam we had both sat, I excitedly texted her so that we could celebrate the End of a Real Hard Graft together. We met and she promptly dumped me. Excuse me? I go through twelve years of education and this is my reward, my moment of champagne and freedom traded in for heartbreak on the kerb behind the Earl of Derby?
I was raging then but, hey, maybe it was a kindness. We all gotta do what we all gotta do and I probably couldn't have fit all those case studies into my head if I had been fretting about losing my first love.
Whether none of this occurred to Harris or whether she created maximum distraction and shitstorm ahead of Krieger's retirement finale out of pure spite is for her to know and for us to viciously speculate about.
When coming to your decision, I'll invite you to examine the body language of our Lord and Saviour Megan Rapinoe when confronted with Harris' new girlfriend at the OL Reign fixture designated to celebrate Rapinoe's own retirement.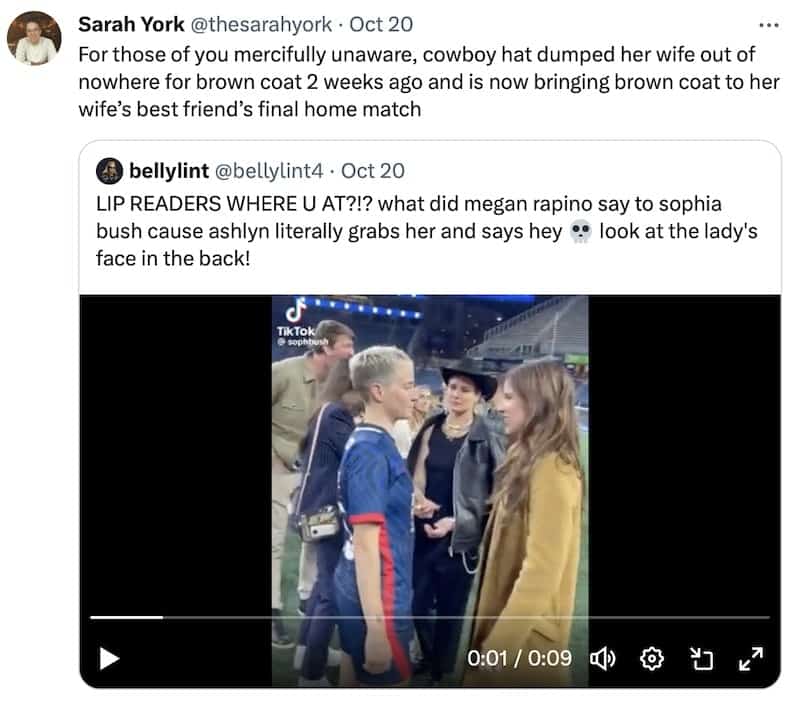 No, sorry, yes, you
did
read that right. Harris is dating Sophia Bush, who is apparently famous for playing Brooke in One Tree Hill, but will henceforth be infamous for creating one of the biggest dramas the NWSL has ever seen.
Did Bush and Harris start dating before Harris ended her relationship with Krieger? Once again, that's for them to know and for us to froth at the mouth over.
I know I've blasted off in recent newsletters about the injustice of the NWSL Championship being decided by play-offs, but now I'd like to express gratitude, for the extension of the season has granted us further chapters of this juicy saga.
Despite Harris' best efforts to throw the mother of her children off her stroke, Krieger and Gotham came through Decision Day and elongated her career by sealing a place in the NSWL play-offs.
Before Gotham faced North Carolina Courage last weekend, Krieger shared photos of her in training on her Instagram with the caption 'Preparing for playoffs while in my Beyoncé Lemonade era.'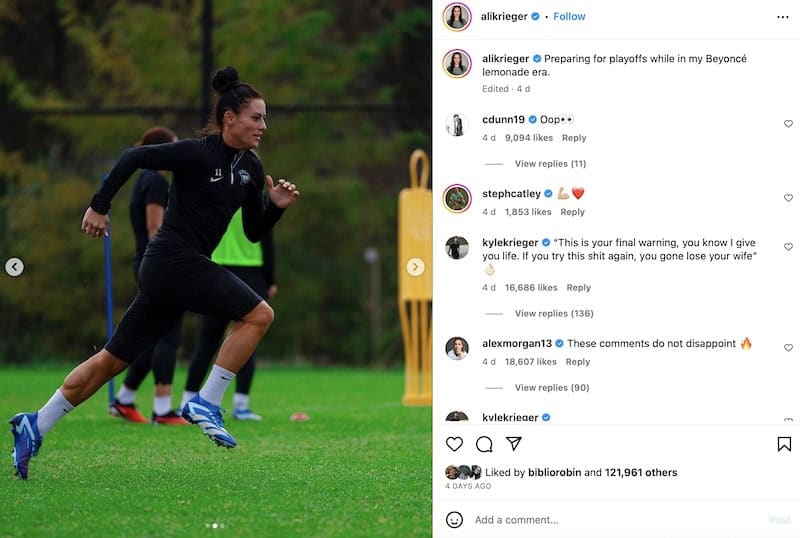 If you didn't know, Beyoncé's sixth album
Lemonade
is all about her husband Jay-Z being a cheating bastard so from this very public pop culture reference we can confidently infer that Harris, too, is a cheating bastard.
I'm 800 words deep into this tale and I'm yet to describe a minute of footballing action, but hey, as one Instagram user aptly observed "this is gay history" and I'll be damned if I'm not putting that hard-fought A Level history to good use.
In the past, I've read that following women's football has less appeal because it lacks such Big Narrative Favourites from the world of the men's game as Neil Warnock is Back Again Har Har, José Mourinho Just Being a Wanker, and Cristiano Ronaldo is at A New Club but is still Maybe a Rapist.
With the passing of time, these storylines and characters and rivalries will emerge and mature in the women's game too — but in the meantime, let's hear it for the lesbians, mainlining off-field drama of the sort Mourinho could only dream of.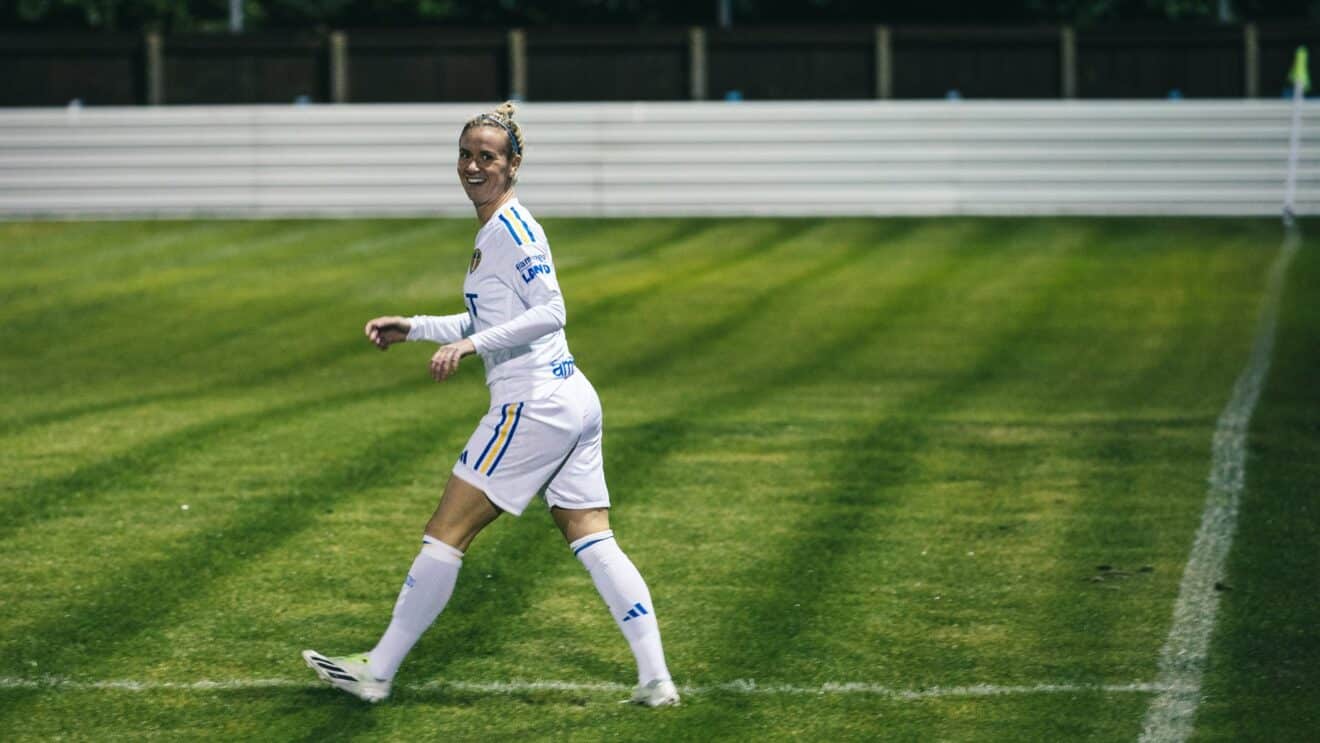 Are we slapping?
Olivia Smart is a pest, a wind-up, a really good football player. That'll do it.