It's a Tuesday, it's wet, it's dark at 4pm, it's the international break so there's a bit LESS going on than usual. Yes, that's a clue about today's newsletter.


I've been thinking about Ella Toone and her place in the world for some time, and seeing her being a silly billy on the BBC inspired me to share my thoughts with you today.


Have fun, take care, tell your besties you love them
Ella Toone didn't choose to be an icon. She was only being herself.
One historic chipped goal and unique post-match interview later, she gets papped eating pasties and everyone within a 40 mile radius of her hometown Tyldesley owns a hat bearing her famous words, 'ABSOLUTELY BUZZIN' ME HEAD OFF'.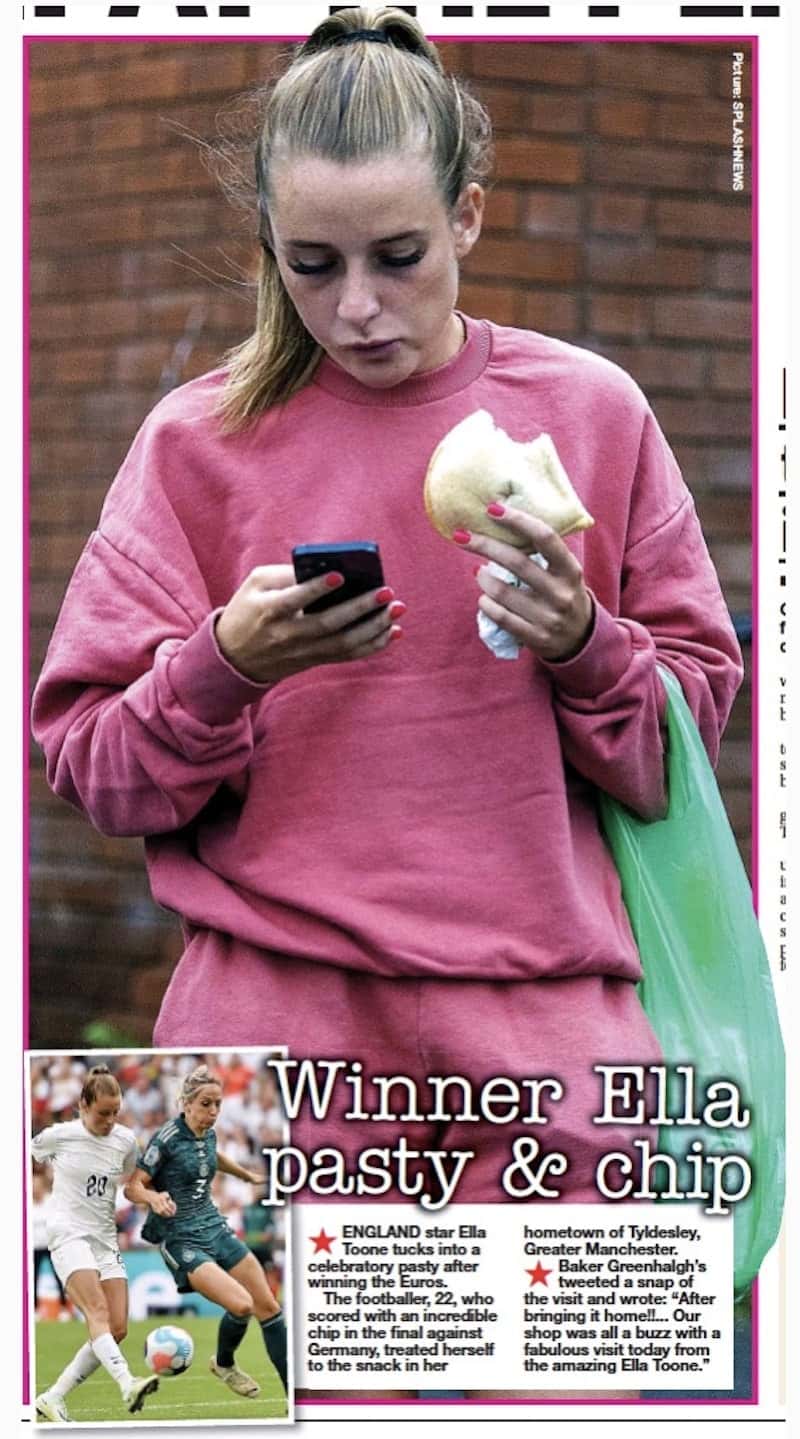 I don't think we should hang it in the Louvre, but this image definitely belongs in a museum, somewhere.
Why? Everyone looks at the picture of Chloe Kelly with her top whipped off à la Brandi Chastain and thinks 'wow, that was the moment everything changed'. Sure, 31/7 was mega, but the cultural revolution didn't truly begin until a paparazzo picked up Tooneh picking up a Potato and Meat from Greenhalgh's bakers a few days later.
I found the footage on YouTube. After 10 years on the internet, it has just over 3,600 views.
This is less than half of the number of hits Ella Toone has on a YouTube Short she uploaded of bestie Alessia Russo trying to guess whether or not her eyes are open or closed when she is wearing a pair of sunglasses.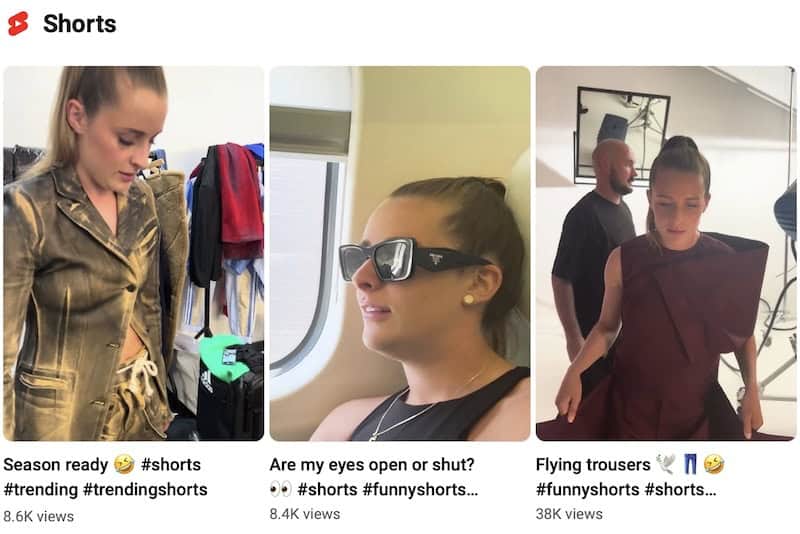 OK, yes, the internet is bigger now, but the numbers are true. We live in a world where loads of people are interested in the
minutiae of players' lives — a decade back, few paid attention to an England legend's greatest career achievements.
Ella Toone knows this. Her greatest contribution to the women's game may not be that spectacular chip, it may yet be her cementing the significance of women's football players in the collective cultural consciousness.
Two years ago, I argued in
a tongue-in-cheek opinion piece for Planet Football
that Jill Scott should earn a place in the Team GB squad on the merit of her banter alone. Without diminishing Scott's footballing ability, I was only half joking. It was fitting that the moment for which Scott is most remembered in the Lionesses' Euro 2022 final was a highly-shareable expression of her unfiltered self. I'm not suggesting that Scott's expletive outburst inspires mini Lionesses everywhere — but football needs to be sold as a space where you can be a cool person, not just a Michael Owen machine.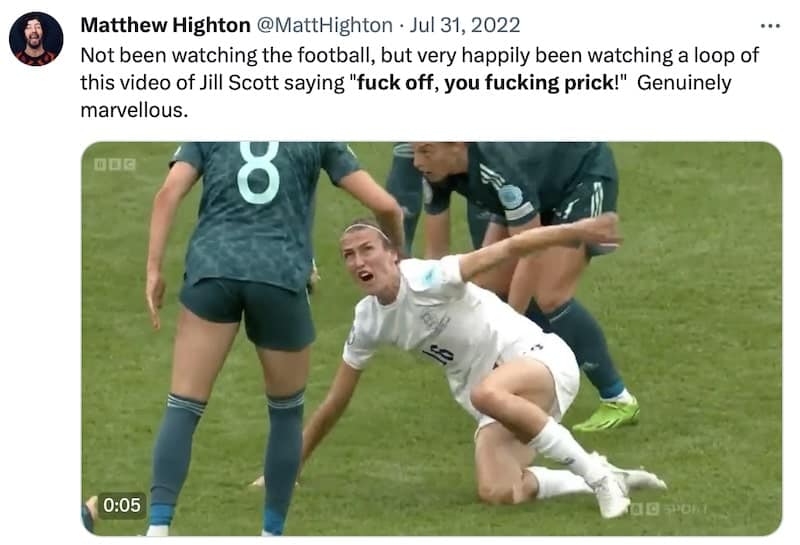 Upon Scott's retirement, Toone was poised to fill her boots, with bags of personality, no shame to speak of, and an understanding of TikTok far beyond the grasp of the Scott and Yankey generation.
Toone didn't hang around. Six months after 31/7, there was enough interest in Toone to justify her uploading a five minute video of talking with her nan on speakerphone. Back in t'day, men's players would lay the foundations for the wasteland of life after 35 by studying hard for a media and communications degree in the hopes that Sky Sports might pick them. Today, Toone's made herself a job for life with a camera phone and a YouTube account.
Have I loved every minute of it? Yes. I'm getting a look at Toone's life and it seems great. Of course I want to know what she packed in her suitcase for the World Cup. Don't you? I want to know so much that I'll nod and smile as she sells me Charlotte Tilbury's Magic Day Cream.
If people love Ella they might just love Charlotte Tilbury, too. So for Ella to keep raking in the ad revenue, she needs to keep being Ella, and for Ella to keep being Ella she needs to perfect her character.
I have been trying to get better at podcasting and my colleague Dan, who is good at it, explained that successful shows build characters of their hosts. For instance, in The Square Ball podcast, Michael is 'the tight-fisted Yorkshireman who will go out of his way not to be ripped off' and Rob is 'the young lad who is always a whisker away from redundancy'. The characters are based in truth, with elements exaggerated to help audiences feel as though they 'know' the people they're listening to.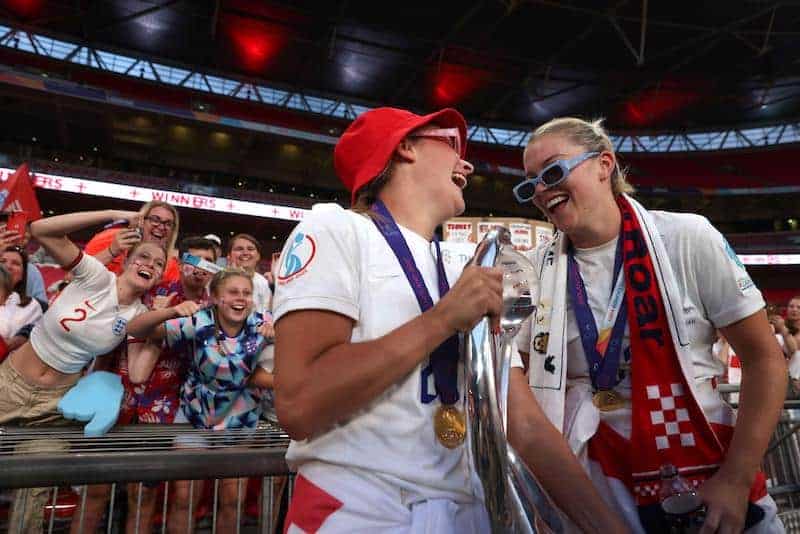 BBC Sport presenter Liam MacDevitt asked, "I need you to send a message to some of your favourite people and say I'm going on Celebrity Mastermind — 'What's my specialist subject going to be?'"
An open goal. "No idea," said Toone who, famously, knows nothing about anything. Then, ding, she remembers, she's someone who knows nothing about anything except her best friend Alessia Russo.
"Alessia Russo!" she cries.
"What's her birthday?" MacDevitt counters, and then she's in trouble because she can't remember it, apparently. She can't be "the Ditsy Northern Lass who is best friends with Alessia Russo" if she can't recall Russo's birthday… right?
Toone tries to recover the situation, explaining that she and Russo had 'argued' about it when they were away together, which is something that best friends definitely do.
"It's February 16th or 18th" — she seems confident. But she's absolutely wrong. 'Less', her best friend of more than a decade, was born on February 8th.

Thankfully some of Toone's fans ate it up like a

Greenhalgh's Meat and Potato:




| | | |
| --- | --- | --- |
| | | @Sem_s07: Well @AlessiaRusso99, good you left her 😂 |
| | | |
| --- | --- | --- |
| | | @PJRackley: 😂 😂 My Mates Always Forget My Birthday Still and That's After 22yrs Of Friendship 😂 |
Meanwhile, I'm left feeling like I don't know what to believe. But I won't be surprised when she lets onto her subscribers that she's partnering with Filofax.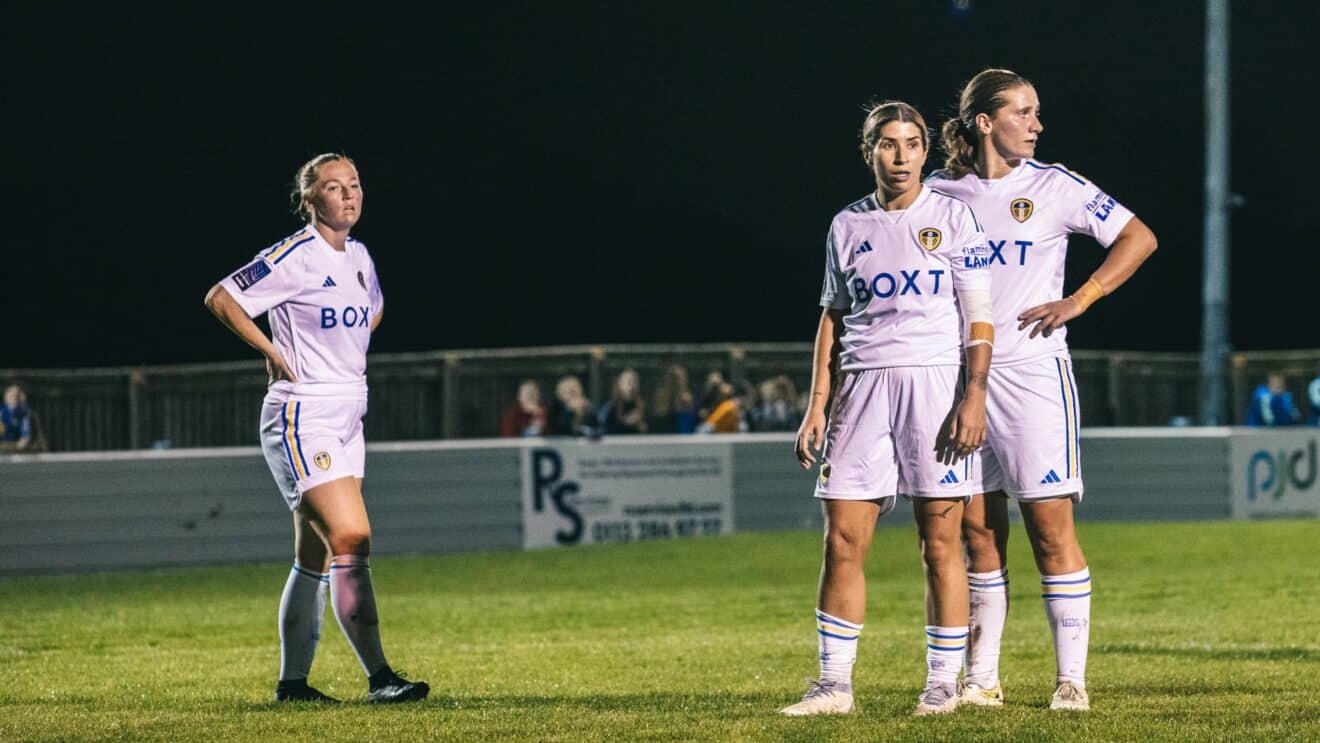 A cup is worth a comeback
At 4-0 down, I might be tempted to just stop trying, but you'll rarely see a team more up for giving the unlikely comeback a go.