There was a LOT going on in the world of women's football this weekend. So much so that I couldn't even fit in the bullying accusations, the youngster's fall from grace, or probably the most shocking thing to happen to English football since Keira Walsh went down against Denmark.


I'm actually so sad and fuming about the news that Emma Hayes will be leaving Chelsea to manage the UNITED STATES. How can she in good conscience revive the dead-in-the-ground hopes of the USWNT like that?? It's all TOPSY TURVY. Though, I'm kind of delighted that her reign of WSL terror is soon to be over. So really my emotions are about as mixed as Sandy MacIver was after she proudly pulled on the shirt of a National Team that will Have Her this weekend.


Anyway, I'll ramble on about Hayes in a future newsletter. This week, I've been thinking about:

how a good bestie is worth the world
whether Ella Toone ever has a bad day
playing in the sea with my friends
the big brown box which could change everything for Aston Villa
Hope you have the best week ever
🚨THIS IS NOT ALI KRIEGER'S LAST GAME 🚨


Well, the same tall Spanish man had occasion to shout it AGAIN at the weekend after the team he manages, Gotham FC, reached the NWSL Championship final with a win over Portland Thorns.


The play-off victory extends the career of Ali Krieger, who has the sympathy of every person in the women's football world after her goalkeeping snake-wife Ashlyn Harris snatched the limelight by very publicly filing for divorce just as Krieger was gearing up for an epic retirement finale.


Krieger has gone from having her retirement clouded by heartbreak to the chance of marking it with a trophy lift in just a couple of weeks. For those who like to see a wronged party thrive , it's great news. For people who want more chapters of a lesbian drama, it's Christmas. And for anyone who wants to vicariously rub some success in the nose of a useless ex, it's the best thing that's ever happened.


The best part is that in her last season before she retired, cheating meanie Ashlyn Harris conceded 20 goals in eight games in net for Gotham, who tanked and finished the NWSL in last place.


Now just look how they are flourishing with her bad energy removed etc etc etc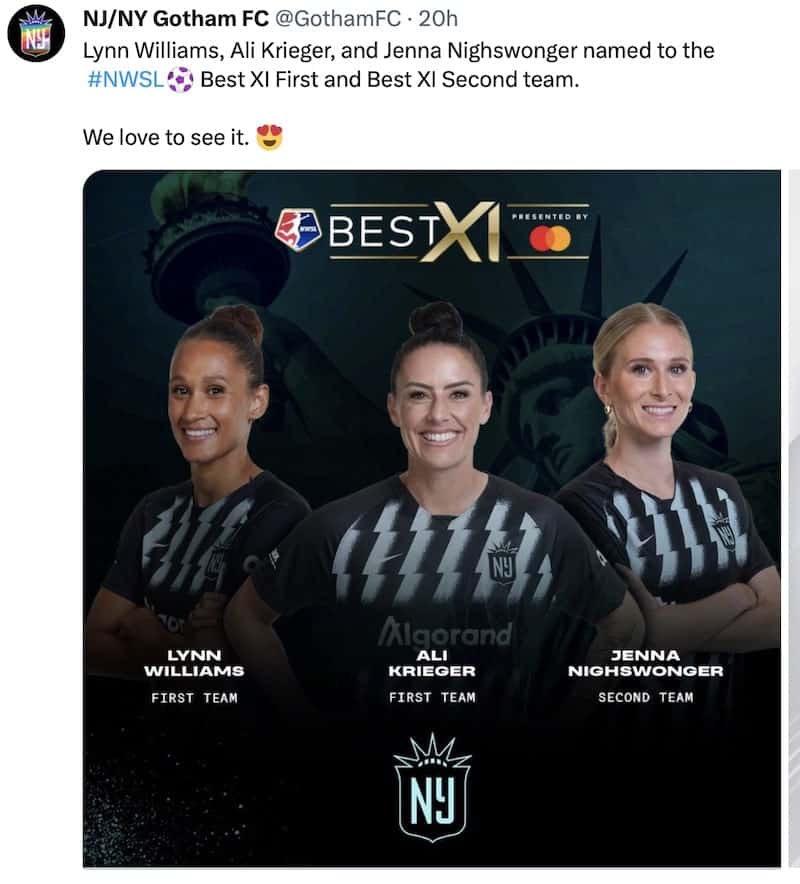 Krieger has even been named as one of the best eleven players across the entire division! Honestly! Thank God Harris dumped you because you DO 👏🏼 NOT 👏🏼 NEED 👏🏼 HER.


In these situations, there's one thing that you definitely do need and that is YOUR BEST PALS. Sorry, did I say the best part is that Harris is shit at football and Gotham need her even less than Krieger? What I meant to say is that the best part is Krieger will have one of her all time besties on the pitch with her as she makes her final appearance.


On the other side of the play-offs draw, OL Reign were fighting to extend the career of fellow retiree Megan Rapinoe. The Reign were pitted against NWSL Shield winners (ie the team that finished the league in first position) San Diego Wave and sealed their place in the Championship final with a tidy 1-0 win.


Ali Krieger and Megan Rapinoe have won two World Cups together, but neither have won a NWSL title — now in their final games as professional football players, they'll fight each other for the chance to get one.


Reign forward Rose Lavelle called it "poetic", Reign manager Laura Harvey called it "a fairytale", but the pair always backed themselves to get there. Check out this text exchange from September: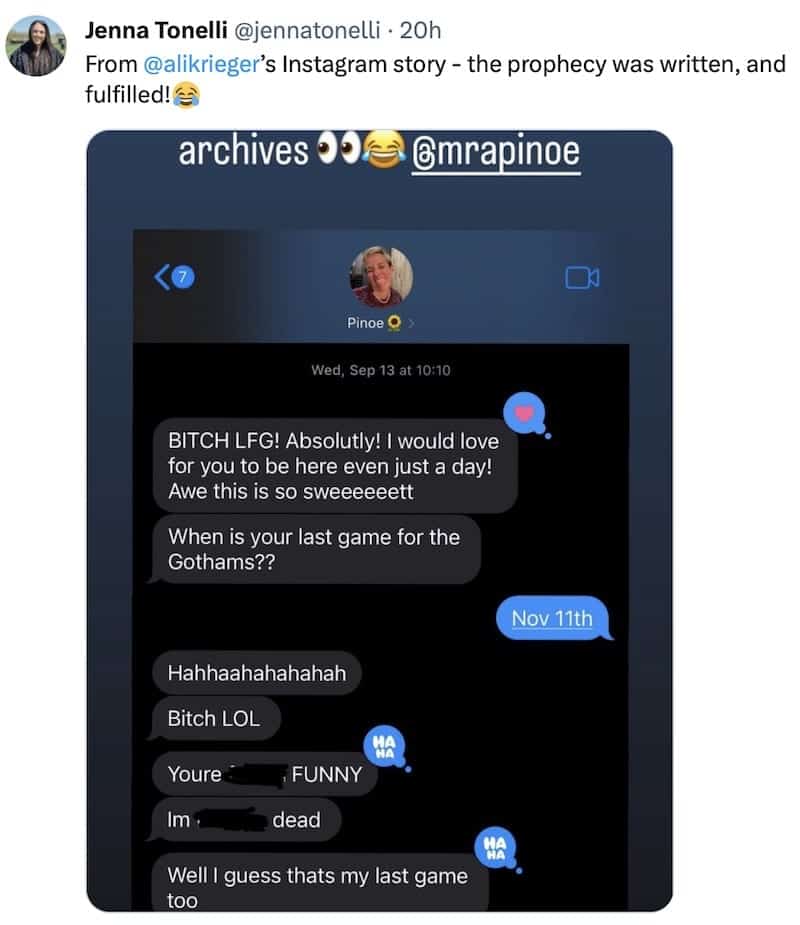 OL Reign play Gotham FC for the NWSL's Big Boy prize this Sunday. The bad news is it kicks off at 1am, but the good news is you can stream it live for free on Dazn's Women's Football YouTube channel. I don't know which one of these cuties will get the trophy but they'll probably both be chuffed with themselves regardless.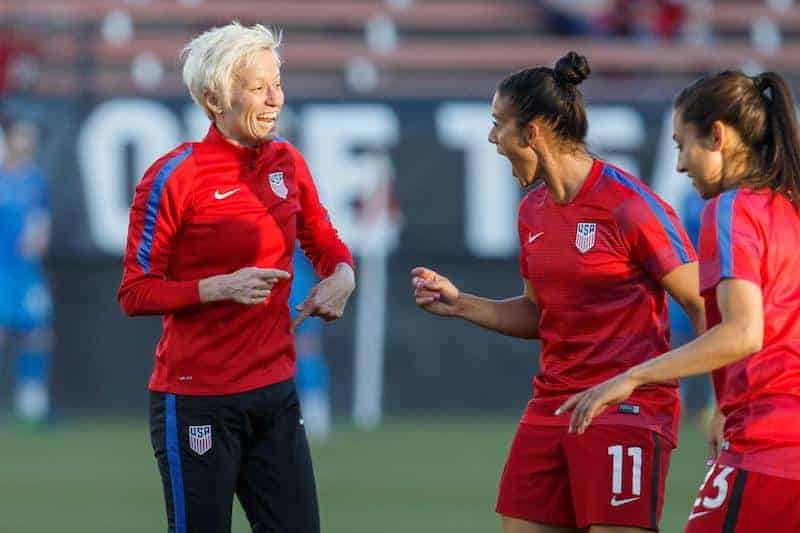 🚨 Ella Toone is back among the goals🚨


...and not a moment too soon. The Tyldesley hun was approaching the one year anniversary of her most recent Manchester United goal and, boy, she would have been feeling it.


After scoring that iconic chip on 31/7, Tooneh made a great start to Man Utd's 2022/23 campaign, getting four goals and seven assists in her first ten games back in red but, since January, it all dropped off.


The World Cup must have been tricky. Toone's progress from sub to starter was confused, losing her place to rising star Lauren James before being dragged back in to fill her naughty shoes.


Fortunately, you sense that Ella is the kind who could find a laugh in a morgue, so selection anxiety didn't stop her from having the nicest time ever down under. One of the best bits of Lioness #content to come out of the tournament was Ella's rapid correction when asked for her highlight of the trip so far:


"Playing in the sea with my friends," she said. Before remembering that actually the correct, professional answer was making her World Cup debut in their opening game against Haiti.


She was having a good time, anyway, but scoring a banger against Australia must have felt good, too. It's a shame that Sam Kerr subsequently stole her banger's thunder by scoring an even more ginormous banger, but when Tooneh put England 1-0 up in the semi-final at Stadium Australia, nothing could suppress her joy.

Seriously. It couldn't happen to a sweeter person. So Toone was back scoring goals, big goals, for her country no less. Surely the hoodoo was broken?


Mm. Toone didn't enjoy the same post-tourny uplift that marked her return to the WSL at the start of last season. Between making herself a European champion, competing for Man Utd, bidding to become a World champion, swimming in the sea with her friends and becoming a YouTube and media sensation, Ella hasn't had a lot of time for rest and recuperation so I don't blame her for being a couple of shades off her sparkling best.


Goals are funny. They actually are the be all and end all of football, and yet it's cruel to assess a player's worth solely on how many they are and aren't scoring. After a while, it's easy to get in your head about it. What if I'm not cut out for this? What if I never score a goal again? What if it's time for me to sack it all in and become a full-time darts player, kangaroo whisperer — dare I say, swimmer?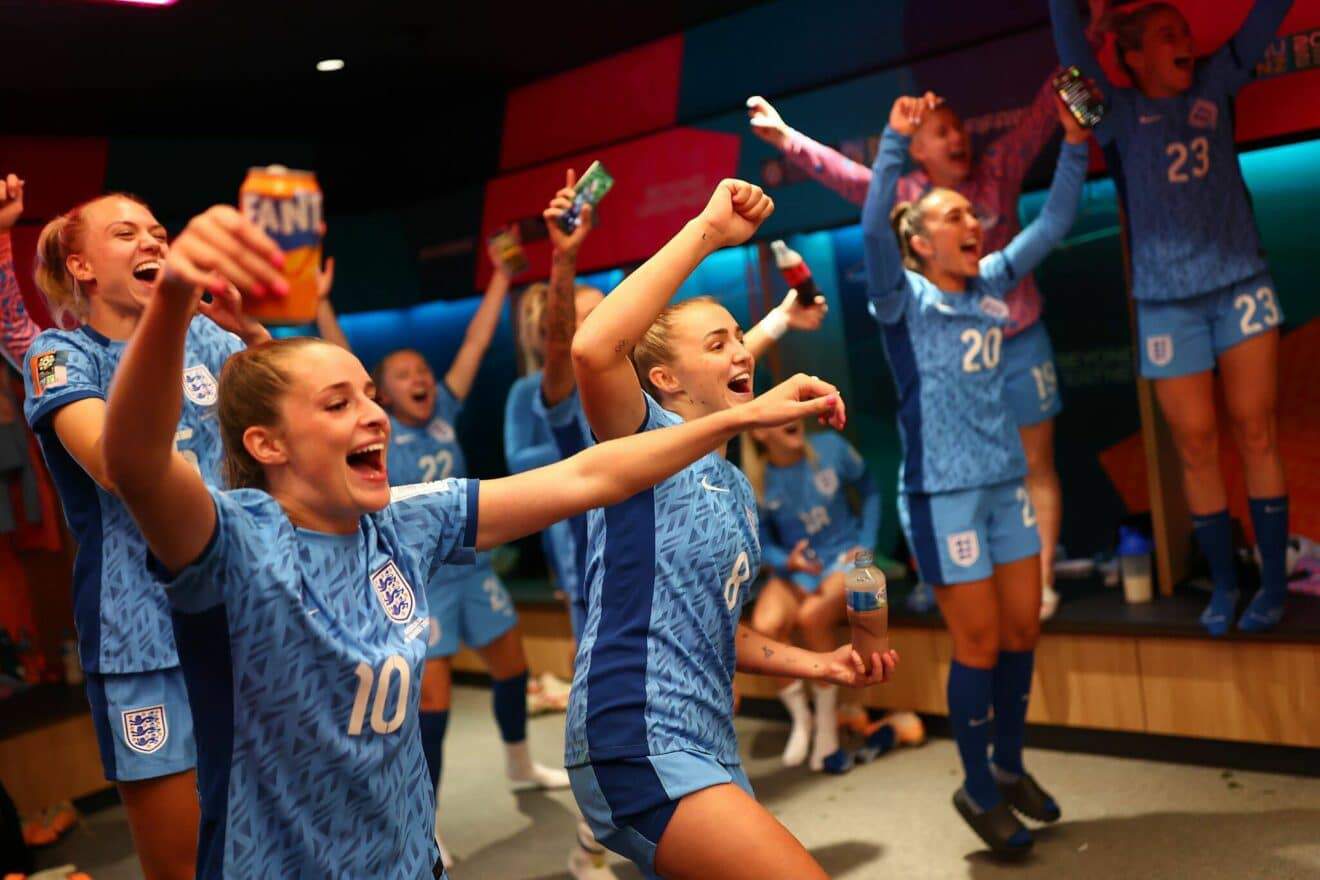 Michael Phelps can relax, because this weekend Ella Toone was back to scoring bangers. Three hundred and fifty one days after her last Manchester United goal, Toone came to the Reds' rescue as they trailed Brighton 1-0. From the way that she hit the top corner from the edge of the box, you'd never have known she was a player low on confidence or goals — which goes to show it's always worth letting one fly, even if recent evidence suggests it's a no-hoper.


Unfortunately, just as Sam Kerr stole the show at Stadium Australia, Manchester United denied Ella all the glory by conceding ANOTHER to Brighton so that RACHEL WILLIAMS could be the injury-time equaliser hero 🙄


After the game, Man Utd manager Marc Skinner tried to play down the end of her goal drought:

"There is no problem. Everyone makes out that she hasn't scored in this long but class is permanent."




He's right about class, but he's wrong to say that the lack of goals wasn't a problem, as Ella had no shame in pointing out.

"It's been difficult for me," she said. "I have learned that it is not always about scoring or assisting. It's about how hard you work for the team."


"But tonight I am very happy to get myself on the scoresheet.


"Hopefully I can continue to do that."
🚨 Bristol City are not getting relegated as it stands 🚨


The Robins have their first win of the season. Thanks to Rachel Furness being boss and Matildas hero and West Ham 'keeper Mackenzie Arnold being less boss than usual, Bristol came from behind to beat the Irrrrrrons 3-2 and lift themselves off the bottom of the table.


There's now only one team in the league that is yet to get a point — and no one expected it to be Aston Villa. Villa were ace last season and brought in some ace signings over the summer, notably rising goalkeeping star Daphne van Domselaar and England hopeful Ebony Salmon. They already had the most prolific striker in the league. By this time last year, Rachel Daly alone had scored as many goals as the entire Villa this time around. So what have they done to Big Rach and why have they been so shit?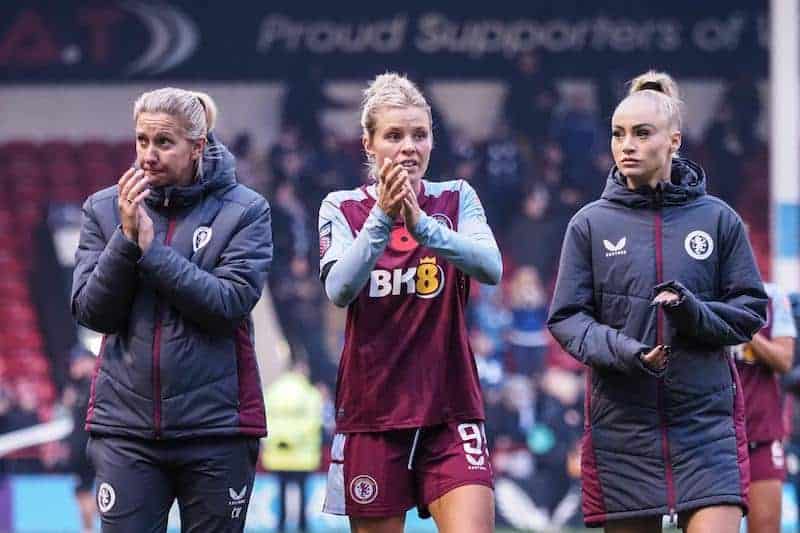 After Villa suffered a humiliating 6-0 defeat to Chelsea on Saturday, manager Carla Ward's best guess was putting it down to 'certain momentum swings', tactfully attributing no blame to herself or her players, instead blaming the mystical factor of 'the way things are'.


I mean, I dunno, what are you supposed to say? It sounds like Ward is giving it her best crack, and when your best isn't good enough, that feels real bad. "It's tough, of course it is," she said. "I'm a human being, I'm a parent, I'm somebody who cares a lot about everybody. It hurts, it really hurts."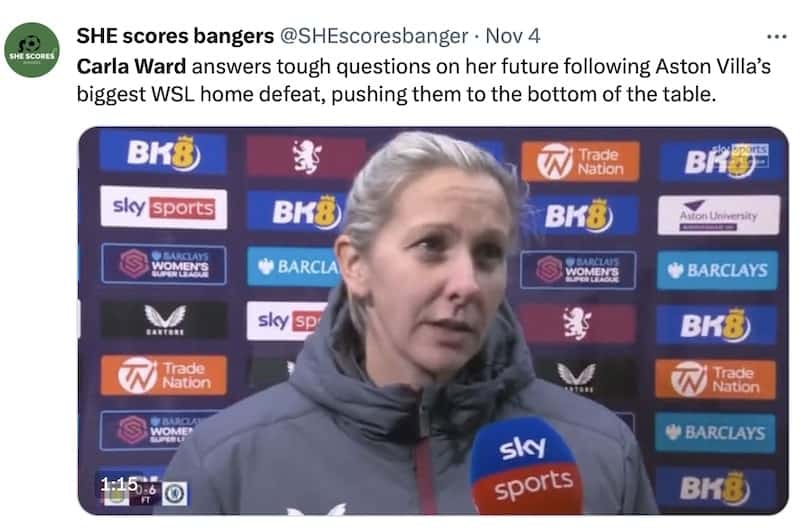 She must have being watching a lot of Ella Toone videos because, when asked to speculate about her own future, Ward's response was classy as hell:


"I'm under no illusion it's a results business. These players will tell you I give them absolutely everything, they give me everything. I will continue to give everything to every body for every minute that I'm here."


Well Carla, the solution might not be such an all-consuming endeavour. If I had just one suggestion for you, it'd be this: take Rachel Daly out of shooting practice and whip that big brown box out of the cupboard. After an embarrassing loss, Villa have their best possible chance of picking up their first points of the season against fellow basement dwellers Bristol City on Sunday — if ever there was a time to frighten some sense back into her teammates, it's now.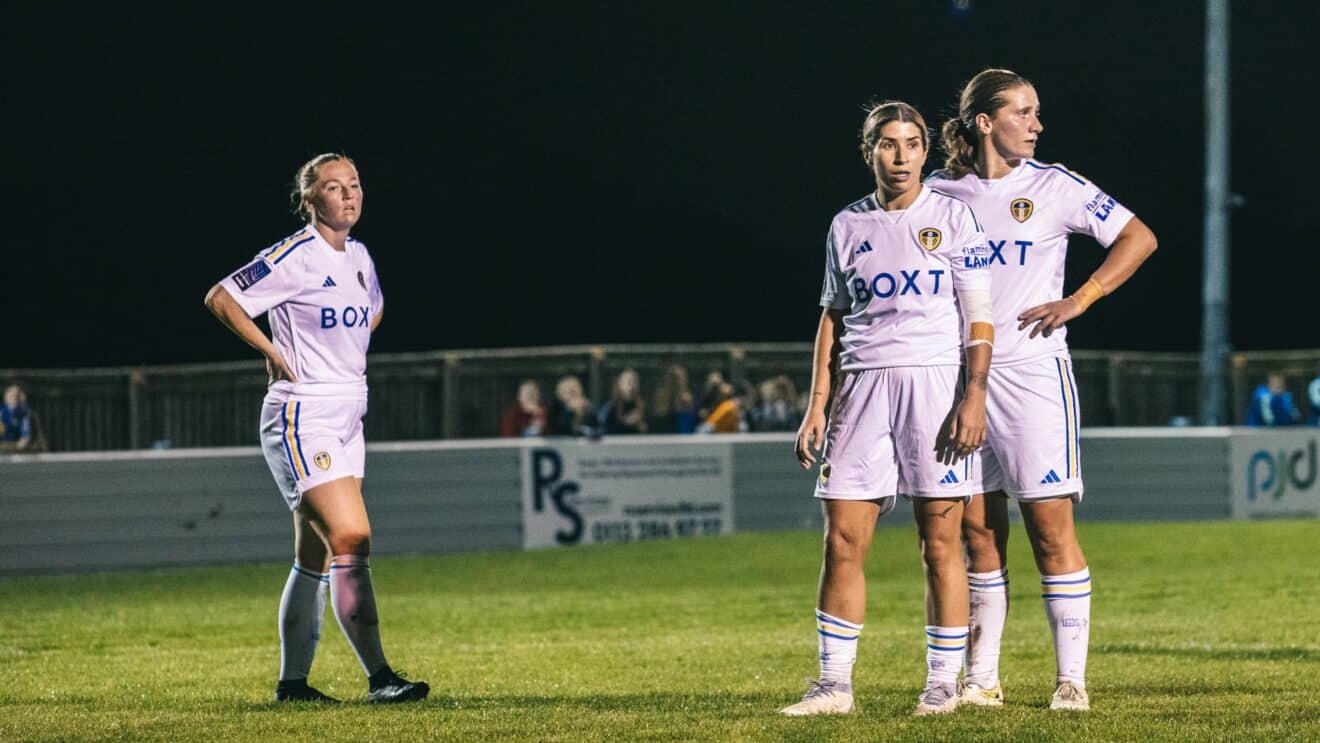 A cup is worth a comeback
At 4-0 down, I might be tempted to just stop trying, but you'll rarely see a team more up for giving the unlikely comeback a go.