It's me again, it's Tuesday, it's October, it's an edition of 31/7 that you probably weren't expecting. Well, look, I have a really good time writing this once a week and no one seemed to mind that much when I bothered you far more frequently during the World Cup so… in a move that is no way legally binding or even close to a 'PROMISE' I'm tentatively presenting myself on a Tuesday and saying that there just might be a few more Tuesday editions to come…
I'm going to crack on with a review of the opening weekend of the Women's Super League shortly, but before I do may I invite you to pass on this email onto any pals who might be interested? Go on, a friend who likes a laugh. You must have one of those.


Enjoy autumn, enjoy this week, I'll catch up with you in a few days...


Thank goodness for Lauren Hemp, doing normal Lauren Hemp things, scoring from the edge of the box with a strike that doesn't knock my socks off but is quite appealing all the same. I didn't want spectacular. I just wanted some evidence against my quiet, uncomfortable suspicion that every single one of the Lionesses is plagued by some irreversible curse.
Why is Chloe Kelly missing a penalty? No thank you, actually. Once upon a time, that delicate steppy leg thing single-handedly blasted my World Cup anxiety into deep space as the final kick of England's agonising Round of 16 tie against Nigeria. On Sunday, all her dressage pony antics could achieve was
not
scoring a goal.
From the outside, it looked like experience winning the day. West Ham captain and 'keeper Mackenzie Arnold got quite used to facing penalties this summer. At the World Cup, Kelly only got to take one, while Arnold took part in the longest shootout in tournament history as Australia and France stared each other down for the opportunity to get roundly beaten by England in the semi-final.
Goalkeepers are generally famed for being a sick and twisted bunch, but Arnold's conduct against France could have her down as the most sick and twisted of the lot. With the score 3-3, she stepped up to take number five for the Aussies and thwacked it pretty hard against the post, extending what is widely considered the most miserable experience of human existence. A further ELEVEN penalties followed.
Speaking to the Evening Standard last week, Arnold described the conflicted reaction of her teammates: "It's funny because when I look at the pictures now, I can see all the girls are all head in hands. But when I turned around they were all like 'it's good, we're fine'."
Selfish, really, making her teammates lie like that all in the name of a little practice ahead of the fresh WSL season. It wasn't even worth it, in the end. Macca threw herself in the path of Kelly's potentially 69mph shot just to have Jill Roord side-foot the ball into her bottom corner five minutes later.
Obsessed with the way Roord, on her debut for City, runs onto the ball to double their lead here.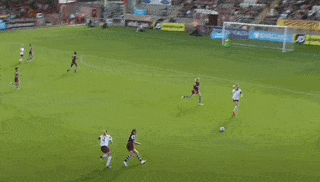 See, I had the impression that the two Manchester teams were not that friendly and rather keen to distance themselves from each other. Yet, here they were, on the opening day of the season, dressed in nearly the same kits. This was especially confusing as the division's inexplicably cream and crimson Manchester outfits were each facing one of the division's two rightful claret and blue sides.
Up in Birmingham, Rachel Daly looked like being the hero AGAIN in front of a record Villa Park crowd as she put 10-player Aston Villa ahead against the more red reds. It takes a real bastard to beat the world's best goalkeeper at her near post while shooting off-balance, but Daly seemed to enjoy it. She celebrated by pretending to swing a golf club, which had me wondering — has anyone ever celebrated scoring a goal by pretending to score a goal? It feels like the sort of thing that someone who loves scoring a goal should do.
Unfortunately, Lucía García didn't get the chance to try it. Given free reign by Villa's ugliest possible effort at defending a corner, García exploded with energy as she hammered in an equaliser but Millie Turner was there with a friendly headlock to remind her no, there's a winner to chase.
On her Aston Villa debut, young Dutch 'keeper Daphne van Domselaar wowed by denying Katie Zelem on the stretch but then stood stock still as Rachel Williams headed in the Reds' winner in injury time.
Spoiling the narrative we were all rooting for by beating Villa on the opening day didn't come easy, though, as goalscorer García revealed on live tv: "I'm so f***ing tired. It was a tough, tough match, we fought and we must rest for Friday when we have a match so we need to be ready."
The BBC's Jo Currie was quick to remedy the matter: "Apologies for any slip of the language there."
Arsenal were looking a little bit tired on Sunday. I'd be a bit embarrassed, frankly, having Alessia Russo PICK YOU, getting one of the country's foremost fashion designers to personally clothe you, inviting more than 50,000 people to turn up to watch you with great optimism, and then losing 1-0 to quite a sad goal that could have been stopped if people had been paying a bit more attention.
It's Arsenal's moment, you sense. The last time they didn't compete in Europe they won the Women's Super League, so perhaps shuffling out of the Champions League with a dreary defeat to Paris FC wasn't such a bad thing at all. And with tens of thousands of people cheering for you to win the WSL, the polite response would be to simply... do it?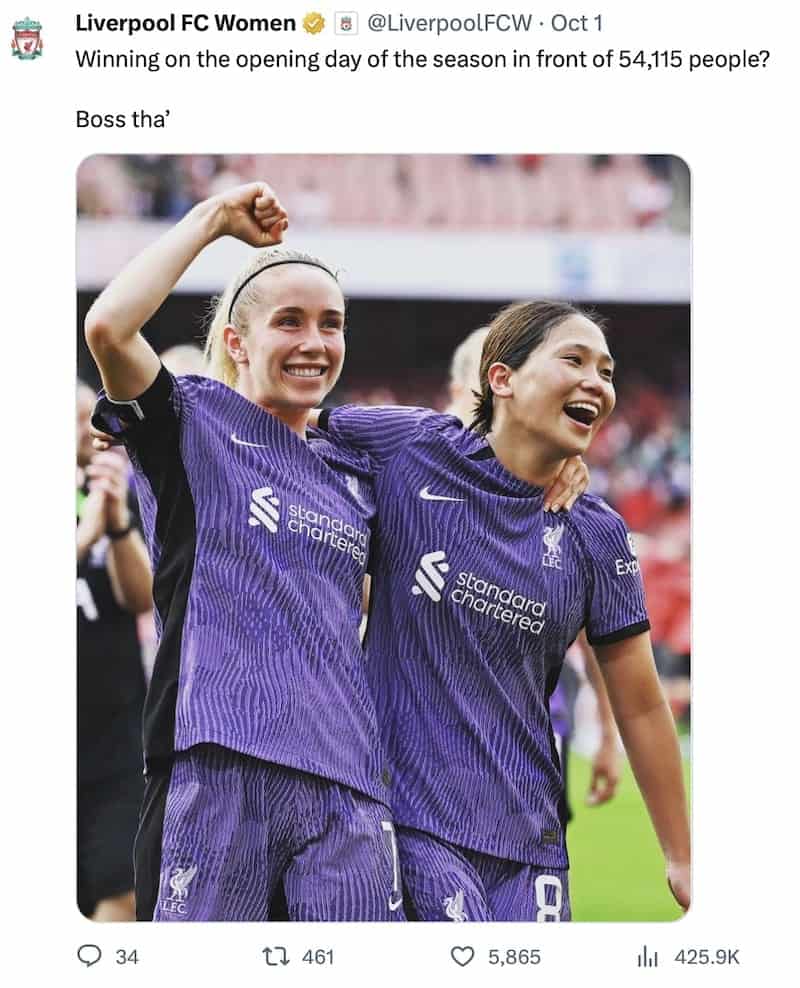 But it looked well beyond Arsenal on Sunday.
And hey, I'm not saying that women's football is won and lost by what people wear but if I were Stella McCartney, I'd be a bit upset, doing all these extra special wavy psychedelic designs only for them to be shown up by Liverpool 's lilac kit thrown together by *checks notes* Some Guy at Nike.
Meanwhile I was reuniting with my former University of Bristol teammate Elena to watch reigning champs Chelsea play Tottenham Hotspur. There aren't as many foregone conclusions as there once were in the WSL but Chelsea are good at winning and last season Spurs were very bad at it until Bethany England turned up — and she won't be around for a while since someone recently took a scalpel to her hip.
Elena and I shared disinterest in Chelsea's success for reasons which are self-evident; namely that Chelsea are a deeply hateable football club, and also, like, it would be fun for someone else to win the WSL this year innit.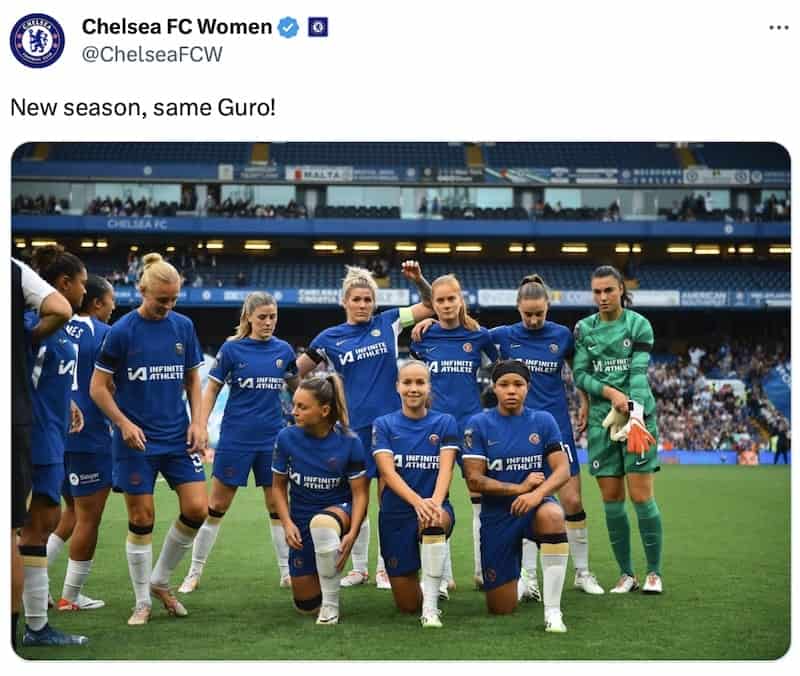 That being said, these neutrals would have been quite content for Chelsea to have the absolute run of Spurs in the first half, seated as we were by one of the corner flags up by Becky Spencer's goal. New Spurs coach Robert Vilahamn denied us a HD goalfest, having whipped Spurs into half-decent shape since taking over in July, but Spencer obliged, throwing these understimulated dogs an insipid bone as she leapt enthusiastically halfway toward the ball as Mia Fishel headed in the opener. An American Chelsea fan who signed for Chelsea this summer, Fishel couldn't believe her luck. Bagging for her fave team happens all the time in her dreams, but it never feels
this
easy.
Lauren James meanwhile was strolling around with all the leisure of someone who always knew football would be easy. Nothing happens in a hurry on Planet Lauren. Patience worked for Guro Reiten, too, who was still celebrating putting the ball over the line when she made LJ's pre-assist. Spurs veteran Ashleigh Neville had done her best impression of a goal line clearance and the ref totally fell for it. If I had literally placed the football over the goalline and it had gone unacknowledged, there'd be a song
and
a dance, but Reiten had the good sense not to kick off about it, calmly handing the ball back to Niamh Charles who set up James to score Chelsea's second.
For the second time that afternoon, Fishel couldn't believe her luck. As though it weren't a good enough debut already, wearing the jersey of her favourite football team and scoring a goal, here she was doing a little dance with the world's coolest football player.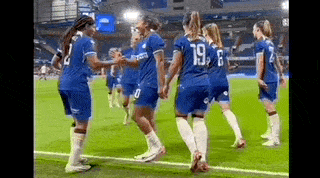 Zećira Mušović attracted lots of positive attention at the World Cup, single-handedly keeping the USA out of the running with a stellar clean sheet in the round of 16 game which got Sweden through to the next stage and the World Champions DUMPED.
Mušović spilled a few shots against Spurs, which in itself is no crime, but her method of dealing with one of them allowed Martha Thomas to do what the whole of the United States couldn't — score a goal against her.
She'd done the hard work — getting in the way of Grace Clinton's shot. All she had to do now was throw her body onto the unclaimed ball. Choosing elegance over braun, Mušović did her best impression of this wading bird meme as she tried to use her foot to roll the ball up towards her hands.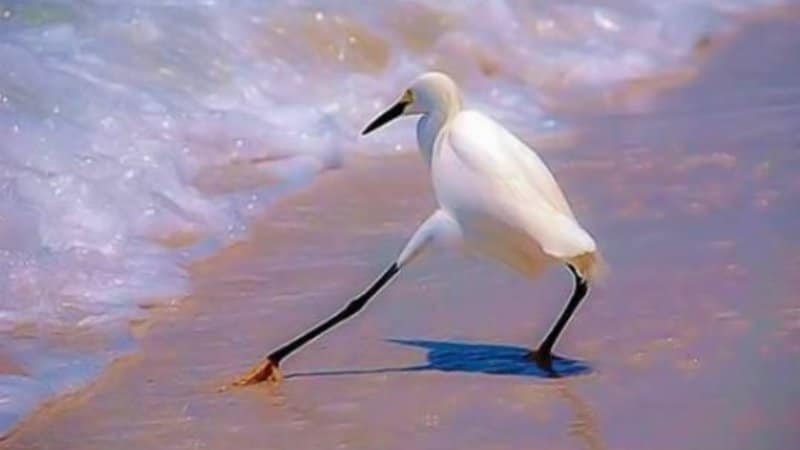 Strikers see keepers' hands and think 'nope, time to back off', but that delicate leg manoeuvre was fair game and Thomas knew it, toe-punting the ball into the net with very little thought or finesse.
The reduction of the deficit made life a bit more interesting for about ten minutes as Spurs looked primed to equalise, but Chelsea were done making ick-inducing errors and the impetus slowly fizzled, leaving the reigning champions to claim an opening day win.
Did you catch any of the Women's Super League this weekend? Was any of it more despicable than what I saw Mušović do? Were either of those Bristol City goals any good? Perhaps you did something EVEN more fun and exciting with your weekend than watch strangers run around after a bag of air. I'd love to know what that could be. Email me at [email protected] or just hit reply to share any and all thoughts and feelings xx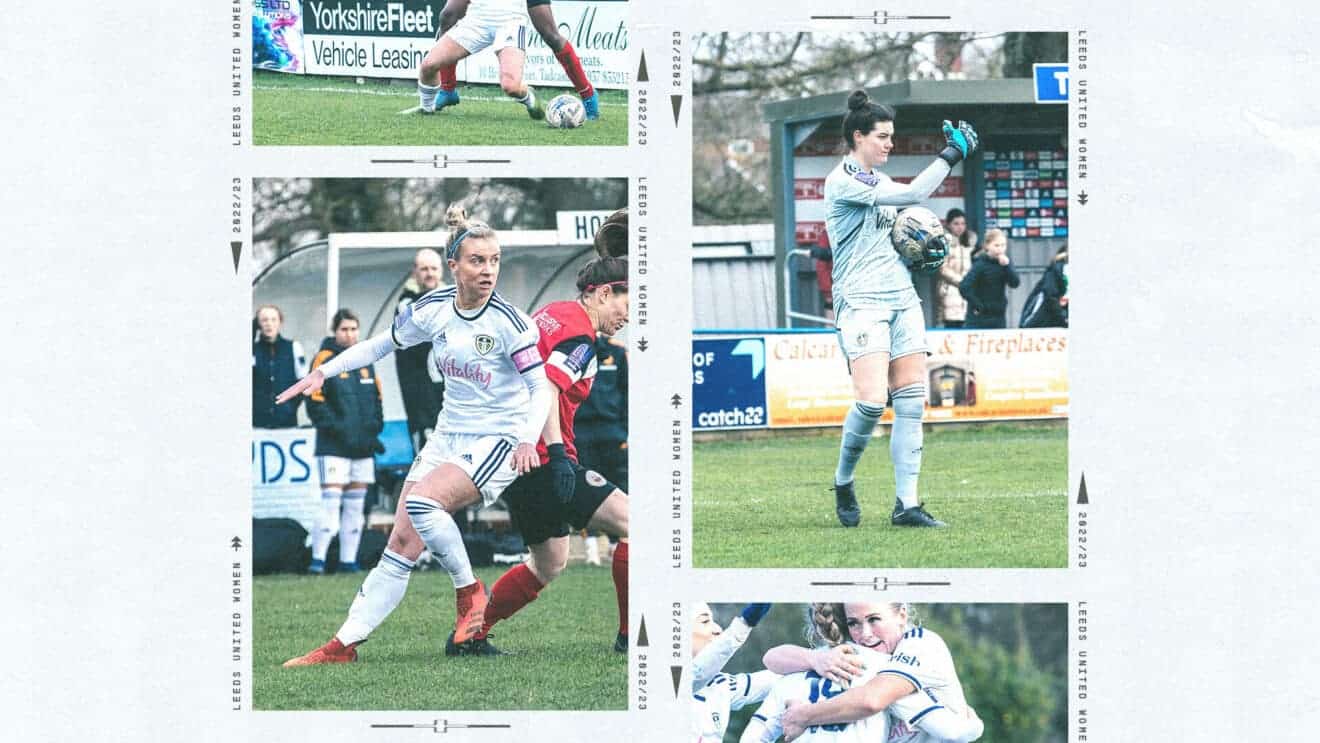 The right moment
If I were playing in a team against Leeds United I would simply stop letting them put Jess Rousseau into one-v-ones with the goalkeeper.