Great news! There was some top drawer drama in the Women's Super League this weekend. It reminded me of my GCSE biology teacher, so I've spent the last couple of days reminding myself of the function of a semi-permeable membrane between meditations on the justice of Alex Greenwood's dismissal.


I hope you enjoy reading it and as ever, please forward me on to your friends / lovers / most hated secondary school teachers.


Women's Super League teams are loving their big flags at the moment. At Stamford Bridge on the opening day of the season, my arms hurt watching a formation of stage hands making huge blue squares with Chelsea badges waft threateningly as Emma Hayes' players walked out to face Spurs.
At the Joie Stadium, meanwhile, these enormous banners don't bear the team emblem, but the names of the starting players — '9 Kelly', '5 Greenwood', '8 Fowler'. It was likely that a moment of magic by one of these individual superstars, each renowned by City fans and neutrals alike for feats performed beyond Manchester, would decide what was set to be a tightly-contested game against Chelsea, with both teams vying for the top prize.
For a while, it looked like it would be 9 Kelly, England's most super superstar, as one of the nation's most iconic players popped up with an opening goal that was far more super and special than the scrappy tap-in by which the super sub sealed the Lionesses' Euro triumph last summer.
She was facing the sidelines when she received the ball 20 yards out. Chelsea midfielder
Erin Cuthbert didn't bother getting too tight to her, and was only halfway to making a block when Kelly let one fly with hardly a moment's notice. Just like that, the ball hit top bins and title holders Chelsea were trailing 1-0 just seven minutes into the game. It's one of the best goals we've seen so far in the WSL and, in that moment, had the potential to be among the most important, were City able to hold onto their lead.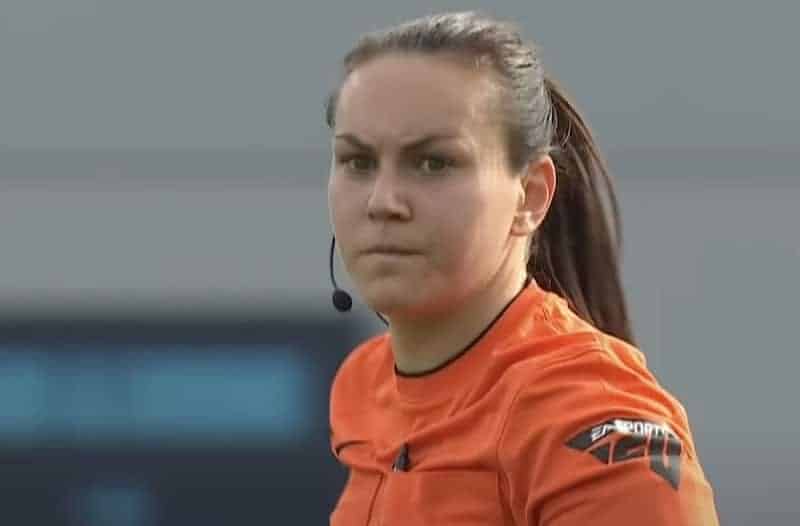 Enter referee Emily Heaslip, making her bid for the starring role. Maybe someone shat in her cornflakes, maybe she woke up on the wrong side of the bed, maybe she was simply doing as she had been instructed — but the 30-year-old Suffolk woman in black gave a contentious performance that will go down in WSL history, brandishing no fewer than ten yellow cards and two red cards before security had to escort her off the pitch at the end of the game.
Is this the stuff of dreams for an official? Just as Wayne Rooney wannabes grow up bicycle-kicking their way through the night, do young refs really crave a moment where they can be the main character in a game of football?
I never really gave refs that much thought when I was younger. They didn't have much of an impact before, this crew of old geezers paid twenty odd quid for a couple of hours planted in the centre circle, their arse-scratching daydreams interrupted only by the occasional final say on whose throw it is. It is only now, playing Sunday League right at the bottom of the pyramid, where few players are skilled enough to gain any kind of advantage without throwing around the weight of their body, that I can appreciate the delicate and important art of refereeing.
One particular chump in black brought it all into focus for me last season, when my Leeds Hyde Park teammates and I lined up against the team who were challenging us for the title.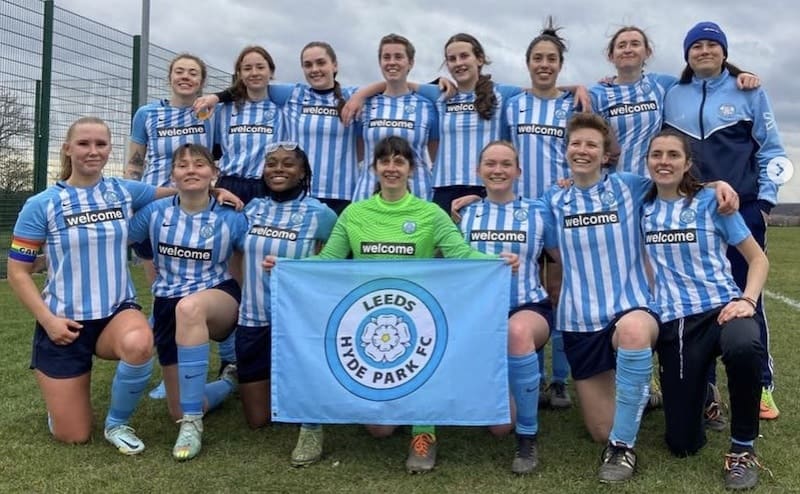 In a detail that is both relevant to the story and also just personally glorious for me to recount, I had given us a 1-0 lead with a relatively stunning solo goal which had really put up the backs of our opponents who then quietly collectively decided to bring this bitch down.
To add insult to their injury, I was doing what I would term an exceptional job of marking one of their defenders at a corner, getting my body in the way of her runs as she fought for space. The referee ignored indignant pussy cries from the bench, where habited the inevitable Angry Overstepping Football Man, so I thought 'ace, let's crack on', doing the same thing when our opponents won another corner. The indignant cries got louder, but the ref still did nothing. It was only at the third corner, when I whipped out the same marking manoeuvre, that the ensuing cries got too much for the ref, who showed me a yellow card and gave our opponents a penalty. They equalised through the penalty and we went on to lose the game.
Bollocks or what? Existing in a world where the rule was one thing one minute and another the next is stressful and annoying. If he'd just said 'don't do that', I would've stopped doing it instead of conceding what could've turned out to be a season-defining spot-kick (
could have —
these little mind-game mingers subsequently brought an inflatable trophy to our home pitch only for us to beat them and steal the title — but that's a tale for another day.)
Sometimes you misbehave and you get what's coming for you. Fine. I can accept a little reprimand if I know I've transgressed. But when you get told off for something you didn't realise was wrong? I'm not into it.
When I was in year 9 a new boy called Ethan joined my form group. On his first day at our school, our biology teacher Mrs Bastable tested us on some vital flower knowledge and invited us to mark our own answers. For reasons known only to Ethan, he marked his correct answers with giant ticks that filled half of the page of his exercise book. Obviously this is kind of dumb but, hey, there aren't many ways to get your kicks aged 14. Life is short, osmosis is tedious, we're all out here trying to express ourselves.

Just as with Heaslip, I have since wondered what bad thing had happened to Mrs Bastable that morning to prompt her, on discovery of Ethan's big ticks, to send him out of the classroom, shouting at the new boy in front of all of his potential prospective pals.
The memory of this random child getting into trouble tells me that communication is essential to effective discipline. If she'd said, 'would you mind ticking a little less extravagantly, son?', and then he'd carried on with his silly ways, I would've cheered him out of the room. But the lad had only just got his head round where the toilets are — how was he to know that overzealous self-assessment was a sending-out offence?
Law-makers and law-breakers
On Sunday, Manchester City's Alex Greenwood also found herself in a world without clear laws and paid a big price for stepping over a boundary she couldn't see.
On a yellow after fouling Jessie Fleming, Greenwood made the grave error of allowing 26 seconds to pass between the award of a free kick and its delivery.
No one likes a time-waster. Football games should be hard-fought and fairly contested right til the bitter end, not choked to death by the side in the lead. That's why the International Football Association Board, the body that makes the rules of football, have decided to crack down on people trying to run the clock down. They're tightening up on dissent too, since so much mouthing off at grassroots level is stopping people thinking that refereeing looks fun and signing up to be one.
Look at the steel with which Heaslip shuts down Jill Roord's protests here: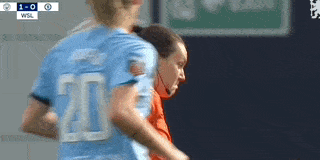 On paper, I don't think anyone can argue against these developments.
The problem is that rules don't live on paper and, as we saw on Sunday, putting them into practice can get messy. Both referee Heaslip and Greenwood will have been sat down and told about IFAB's fresh directive. Both of them have been involved in football for decades, and adjusting to ever-so-slightly different rules isn't easy. But when that failure to digest new instructions overnight presented itself at the Joie Stadium, Heaslip didn't give Greenwood an inch.
Despite clearly looking for somewhere to kick the ball, despite Heaslip herself actually blocking off an option, despite it still being the first half, despite Greenwood not knowing she was doing anything wrong, Heaslip counted up the seconds, acknowledged it as an offence and handed out the corresponding punishment. Heaslip applied the new rules. But being unfamiliar with them, Greenwood probably deserved a little leeway. If reducing time-wasting is the order of the day, really, a simple 'hurry up' would have been a fairer way to get the game going again.
It's not only justice that suffers from this increase in card-wielding, though. Waving around reds and yellow threatens the entertainment value of the game. Fast football does not equal good quality football. If you rush to take a free kick for fear of a booking, you'll likely make a bad decision, or spoon it off the field altogether.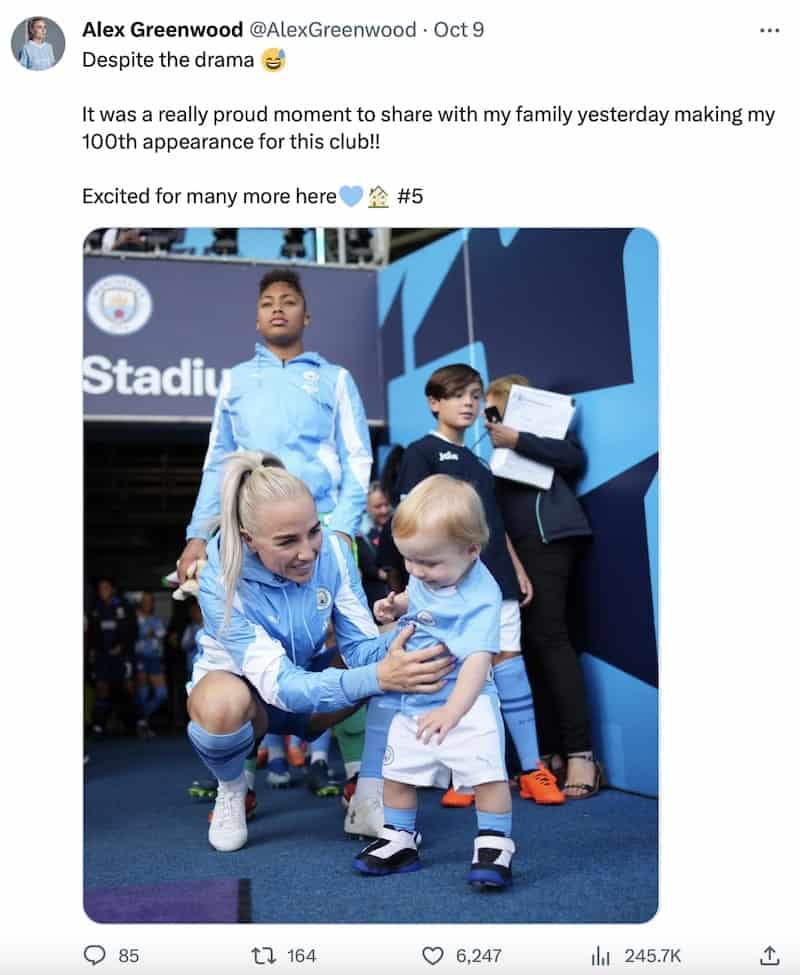 Threatening to stop players from participating might be a strong motivator, but actually taking players out of the game is no fun. City v Chelsea should have been box office, but Heaslip removed Lauren Hemp and Alex Greenwood — two of the game's biggest players — while the rest played with the kind of fear that prevents big tackles and expressive football.
Hemp and Greenwood are suspended, too, meaning they won't be on the pitch when I go to watch City take on Bristol on Sunday. This is a bit disappointing for me but some wee ones have spent their whole summer revering these lovely Lionesses and their absence might dissuade their parents from taking them altogether.
The WSL needs big players to survive — refs need to make sure they don't all end up locked away in the dressing room.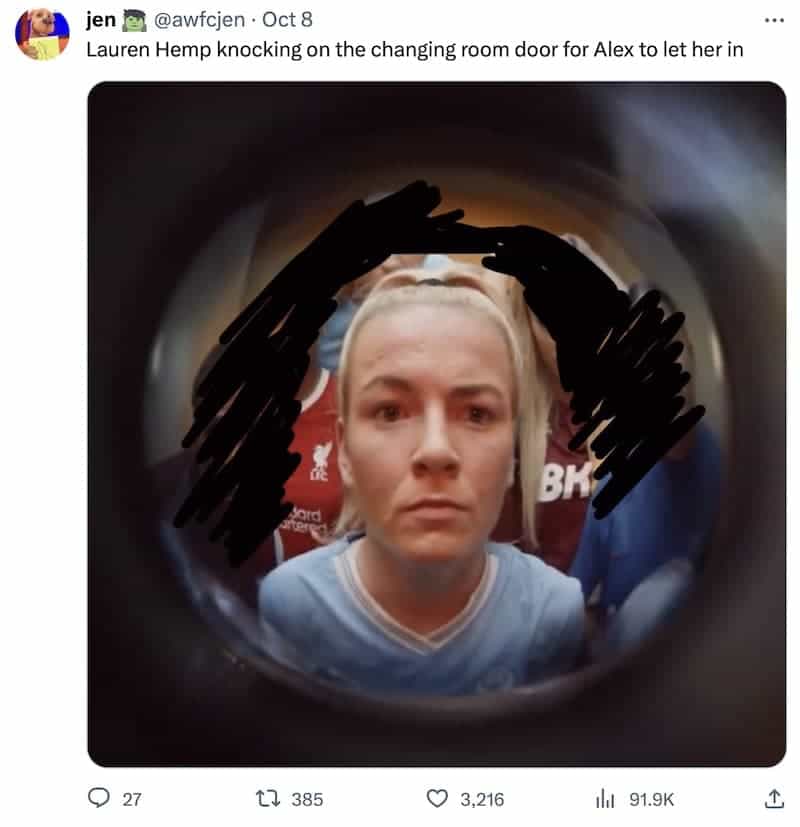 This turn

by 21-year-old USWNT forward Trinity Rodman 🤤

Cartoonist David Squire's take on David Beckham's hypocrisy
This Speakers Corner Quartet x Kae Tempest collaboration

There's been chat for ages about Arsenal moving permanently out of their usual home of Meadow Park in Borehamwood, but nay-sayers have claimed that the huge audiences the Emirates has attracted wouldn't be sustainable week in, week out. Well, it was only a fortnight ago that the Gunners broke the division record with over 54k and more than 30,000 tickets have been sold for Arsenal's game against Aston Villa at the Emirates this weekend.
A year on from Beth Mead's appearance at an awards ceremony as Vivianne Miedema's 'guest', photographers are failing to identify legendary football players again. This time, it's even more comical. Love Island star and WAG Amber-Rose Gill generously brought along Jen Beattie — yep, the one who shut down the WSL's new Brazil toy Geyse on Friday — as her GUEST to the Pride of Britain awards at the weekend.
Cold ain't it?
Nike put Mary Earps' long-awaited replica jersey on sale in SECRET and it sold out in a matter of hours, which is terrible news for anyone hoping to go as a salmon for Halloween.
Off to watch Bristol City get battered by Manchester City with some of my Leeds Hyde Park teammates on Sunday
Will Liverpool continue their perfect start to the WSL season in a Merseyside derby at Anfield? KO 4.30pm on Sunday.
Next Wednesday, Man Utd will play the second, away leg of their Champions League qualification tie against PSG. It stands at 1-1 currently and I'm begging Ella Toone to get an English club in the competition by scoring her first goal for the Reds in 21 appearances 😳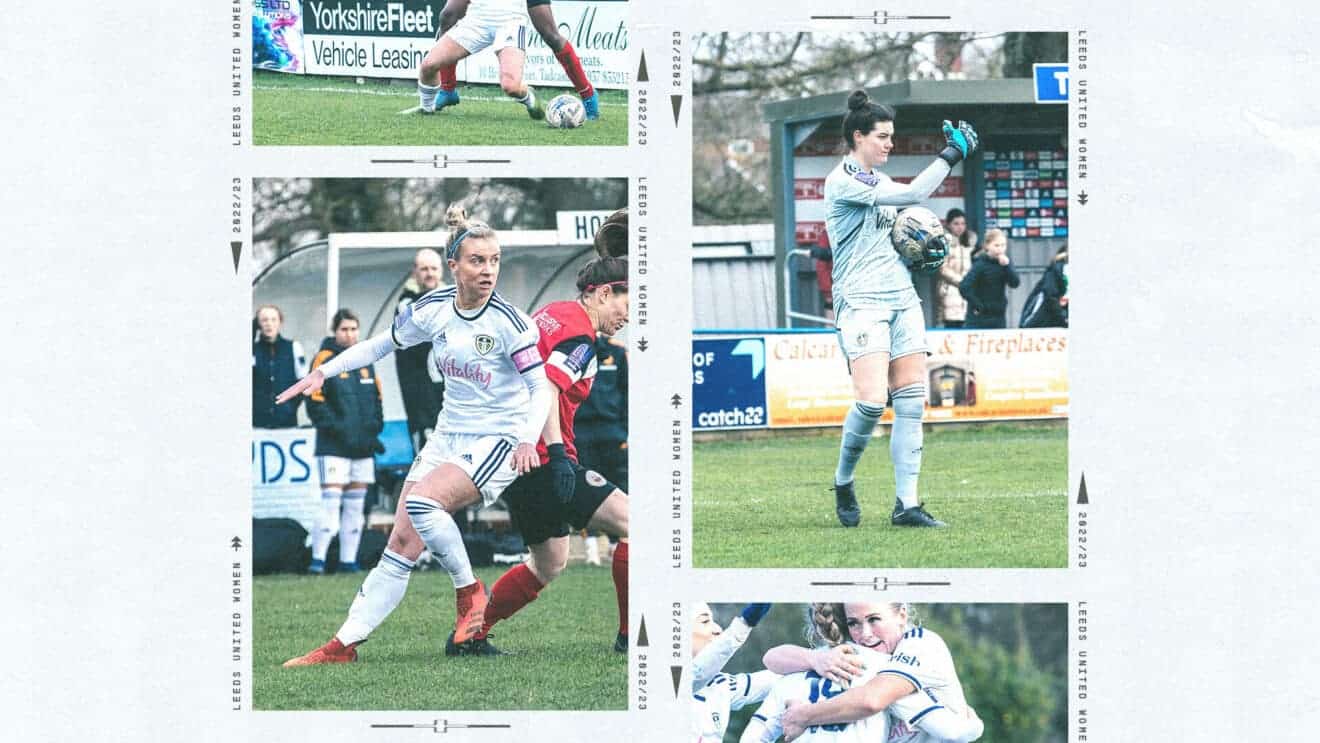 The Fun of the Fair
They've got orange smoke. They've got Fatboy Slim, small children waving flags, and a big one in a tiger costume. Might as well have a nice time in this impossible league!