"I know that joy after winning only lasts five minutes," Marcelo Bielsa once said, "then there is a huge void and a loneliness that is hard to describe."
This was never more true than in the wake of Argentina's gold medal at the 2004 Olympics. Their triumph came a month after losing to Brazil in the final of the Copa America, when Argentina took a 2-1 lead in the 87th minute but conceded an equaliser in the 93rd and lost on penalties. Two years earlier, they had qualified for the World Cup at a canter, losing just one of eighteen matches, finishing twelve points clear of second. In South Korea, they froze, failing to qualify from the group stage for the first time in forty years. Bielsa was in tears after their exit, barely able to speak, but was vindicated by his players' performances at the Olympics.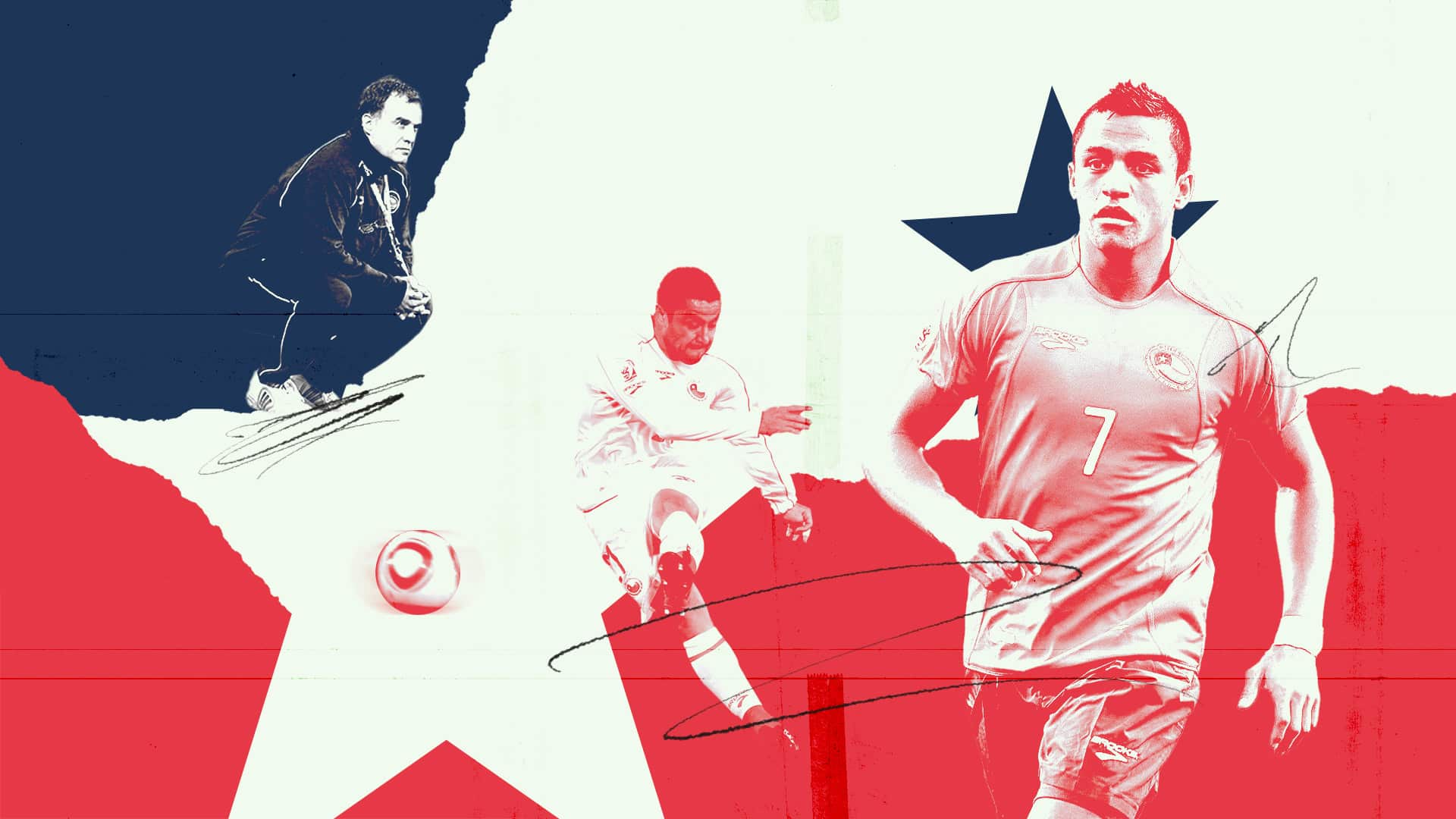 "Grave disease makes him have no energy."
Propelled by the goals of a young Carlos Tevez, Argentina won all six of their matches in Greece without conceding a goal, becoming the first Latin American side to win the Olympic title since 1928 and earning Argentina's first gold in any event since 1952. They were playing better than ever under Bielsa. But less than three weeks later he quit, exhausted. Acknowledging this wouldn't make an enticing headline, he recommended an alternative to reporters at a press conference: "Grave disease makes him have no energy."
Bielsa had bigger things on his mind. He wanted to know how to fill that "huge void" after victory. He wanted to know how to be happy. The first place he looked for an answer was in a convent, sharing the daily routine of the nuns. "I was happy for a moment indeed," he said. "But I lasted three months there because I had started to talk to myself, and I felt that I was going crazy locked in there."
The three years after leaving his role with Argentina were the longest in his managerial career without a job. Offers came and went until he found an opportunity reflecting his own personal pursuit. Chile were recovering from a 6-1 defeat to Brazil in the 2007 Copa America. Unlike many of their neighbours on the continent, Chile had never had a footballing identity or defined style of play. Ill-discipline was rife. On the eve of the thrashing by Brazil, a number of players had been pictured out drinking. There were stories of players turning up to breakfast still drunk, having a food fight and damaging hotel property. The team's struggles transmitted to the supporters, whose lack of faith was best summed up by a slogan reserved for more positive performances: 'jugamos como nunca, perdimos como siempre'. We played as never before, we lost as always.
Deeper than the embarrassment caused by the national team, Chileans were still hurting from the physical and mental scars of Augusto Pinochet's dictatorship. Football was intrinsically linked with those years of oppression. In September 1973, Pinochet seized power in a military coup. Chile's national stadium in Santiago was used as a centre for detention, torture and execution. Up to 40,000 prisoners were held over a period of a few months. FIFA still insisted a World Cup qualifier against the Soviet Union was held at the ground. Felipe Aguero, a prisoner, remembered FIFA officials coming to inspect the stadium, "We wanted to yell out and say, 'Hey, we are here, look at us.' But they seemed only interested in the condition of the grass." The prisoners were spectators alongside guards as Chile scored unopposed into an empty net after the Soviet Union refused to play. Chile qualified automatically for the 1974 tournament, where they maintained a record of not winning a game at a World Cup that lasted nearly half a century.
When Bielsa was appointed manager in 2007, Chilean society was starting to change. The socialist Michelle Bachelet was beginning her presidency, the country's first female head of state, but a mentality of oppression remained. "The Chilean never protests, never complains and rarely makes demands," said the writer Andres Parra. "When Chileans have tried to rise up they've been brutally repressed." Their characters were mirrored by the introverted Bielsa, who has never fitted the stereotype of the more gregarious Argentines, but his demand for the very highest standards was something new to Chileans.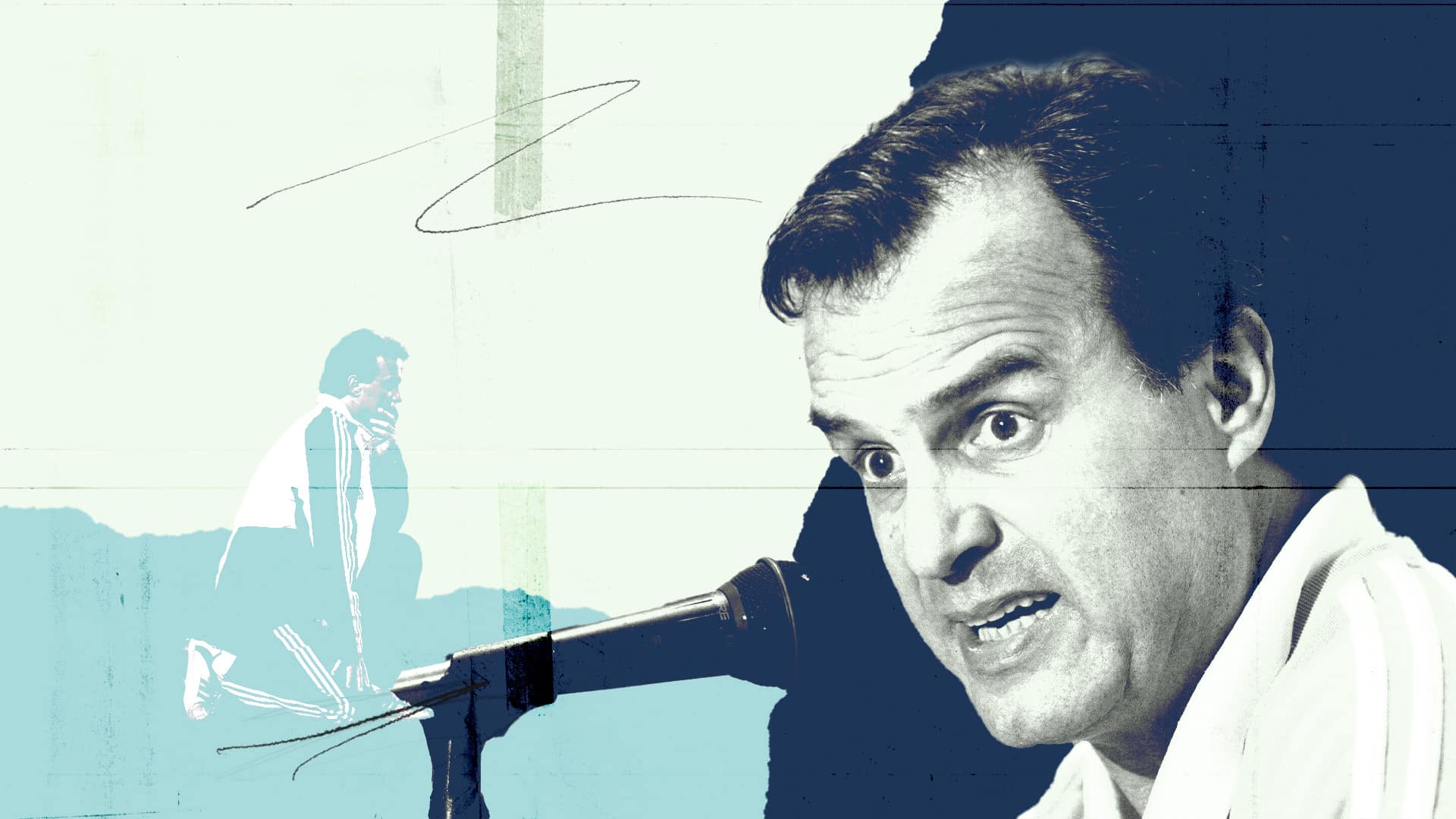 "I would never forgive myself if I lived somewhere I couldn't see these mountains every day."
After his family decided to remain in Argentina, where his daughter was embarking on an international field hockey career, Bielsa chose to live at Chile's Pinto Duran training complex in Macul, in the south-east of Santiago. "Look at those mountains," he told a surprised Harold Mayne-Nicholls, head of the Chilean FA. "I would never forgive myself if I lived somewhere I couldn't see these mountains every day." Bielsa lived in a six-metre squared space with a TV, toilet and a crucifix hanging over his bed that eventually fell down during an earthquake. The facilities for the players were equally modest. They slept in single beds and a hot shower was a treat. Bielsa's plans for modernising the complex were demanding, focusing on every last detail, right down to the font on the signage, which Bielsa chose after first spotting it in Santiago zoo. Eventually the players were enjoying a spa, air-conditioning, an improved gym and plasma TVs.
To fund the improvements to the training ground, Bielsa was travelling around the country giving over 100 lectures and presentations. If the talk was at a school, he gave it free of charge. If it was for a large corporation, he cost a lot. The money went into a special bank account at the Chilean FA. Bielsa always knew exactly how much money was in the account. There is a clip from one of his talks at the Universidad Autonoma de Chile. Bielsa is as relaxed as you will ever see him, smiling and joking, his arms draped over the table as he leans towards the audience, looking into their eyes rather than his usual press conference glare at the floor. "A friend of mine, Jorge Valdano, an amazing guy, once told me, 'If in doubt between two things, do the one that costs the most work,'" Bielsa says. "But it's not like that. You don't have to do that, because doing that doesn't bring us closer to happiness. That is the genuine goal we have as humans."
To calm the anxiety of tomorrow's game, I leave this video. ????

In Chile, Bielsa gave some talks.
This time, it was at the Universidad Autonoma de Chile.
You can see him, in a very good mood ????. But also leaving some thoughts. #lufc #Bielsa pic.twitter.com/k37M994PPj

— Juani Jimena (@JimenaJuani) February 28, 2020
The location of the training ground allowed Bielsa to get to know what quickly became his people. In Chile, 'sencillo' describes an ordinary, working person with an ordinary, simple life. Born into a wealthy family of politicians and lawyers in Argentina, Bielsa was fascinated with the daily life and struggles the sencillos faced, visiting the poorest neighbourhoods in Santiago, speaking to patients in hospitals and cycling around the Villa El Salitre area that surrounds the training ground, asking locals if they needed help in any way. "Marcelo used to come back to the Chilean training camp, where he was living, in a bad mood, devastated about what he had seen in those neighbourhoods," Bielsa's personal assistant Gabriel Aravena told Don Julio. "'I feel bad,' he always told me while going sadly to his room. He seemed in pain. He wanted to know everything about poverty and how poor people actually live. It saddened him that there were people with nothing in life, you know, people living like that."
Bielsa regularly championed and rewarded the sencillos, acknowledging their efforts in supporting his team. Whenever Chile won, he gave staff at the training ground 100 or 200 dollars from his own wallet. When President Bachelet came to congratulate the squad on qualifying for the 2010 World Cup, Bielsa arrived slightly late, flanked by two men, saying: "I would like you to meet two people who have done more than anyone to get us to the World Cup. This man is our baker and every day he delivers fresh bread to us. This man brings us fruit and vegetables. We could not have qualified without them." After Mario Riquelme, the owner of a local fruit and veg store, refused to take his money, Bielsa threw what he had left in his wallet onto the counter and cycled away. Arriving at the training ground, he found Riquelme had sprinted after him, money in hand. Riquelme's persistence impressed Bielsa, and he invited him into the facility to show him around. Bielsa was away in Mexico when he was recognised as the best coach in Chile in 2009, so he asked Riquelme to collect the award instead.
Bielsa turned to his second passion after football, cinema, to help him understand the effect of life under the dictatorship. Luis Vera, director of a film called Fiestapatria, about an extended family reunited on Chile's Independence Day, received a call from Bielsa saying he had watched it three times and wanted to meet right away. Later in his career, while managing Athletic Bilbao, Bielsa was a guest at the San Sebastian film festival. Arriving in his customary tracksuit, he was there to champion another Chilean director, Fernando Guzzoni. Guzzoni won Best New Director for his film Carne de Perro (Dog Flesh), exploring the journey of a torturer during the dictatorship wanting to escape his past. The film was described by the Hollywood Reporter as being 'unwatchably unpleasant' in moments.
The warmth Bielsa showed to the sencillos was not extended to his players. For his squad to enjoy the luxuries of the training ground Bielsa was working to pay for, and to bring joy to Chileans on the pitch, they had to make sacrifices by meeting his physical demands. Defender Pablo Contreras was given a ten-match ban after being involved in the drunken debacle surrounding the 6-1 defeat to Brazil but was offered a route back into the squad by Bielsa, if he could keep up. "Marcelo seriously intimidated us with his words and his gestures," Contreras said. "Seriously, I swear we were scared of him and I was one of the older ones. One of us said to [Luis] Bonini (the conditioning coach), 'Prof, we are tired.' The work was really intense. Our hamstrings were tired, our abductors burned. Bonini said, 'Okay, tell that to Marcelo.' Marcelo came over to us. 'The professor tells me you are tired.' He turned to Gonzalo Jara. 'Gonzalo, are you tired?' Gonzalo said he was fine. Then he asked me, 'Pablo, are you tired?' I was the oldest. I was melting away. 'No Marcelo, I am perfectly fine.' Bonini had been listening to all this and afterwards came over and said, 'You are all chickens, you bastards. When the man comes near you, suddenly you are all paralysed.'"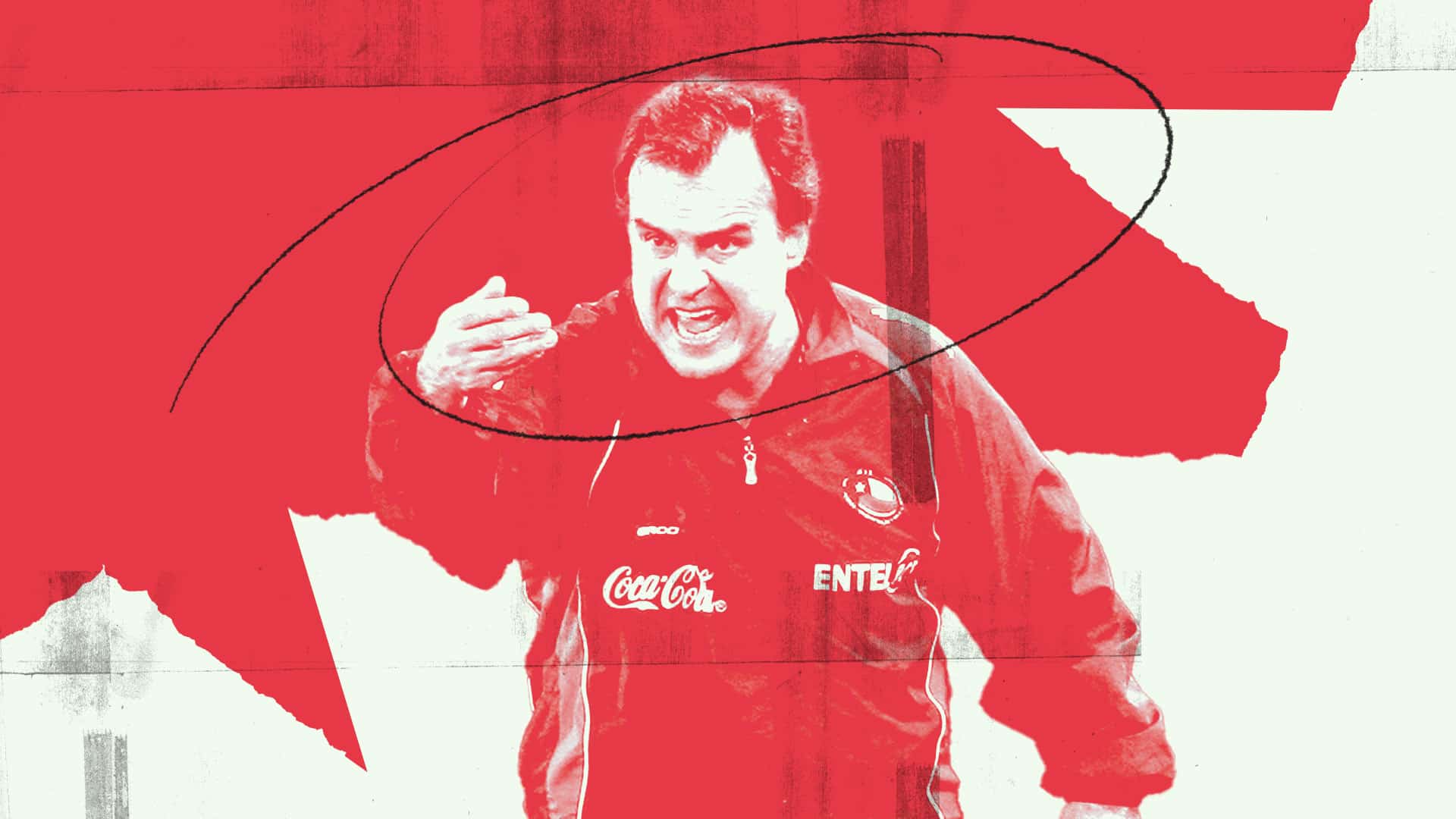 Mauricio Isla made himself unavailable because he didn't like being shouted at
While senior pros were struggling to adapt to Bielsa's demands, he was moulding the raw materials of the exciting young players that finished third at the 2007 Under-20 World Cup. But the youngsters had inherited the sensibilities that made his methods such a shock to the older players. Former Udinese and Juventus defender Mauricio Isla was given the first of his 124 caps by Bielsa before he had made his senior debut at club level, but briefly made himself unavailable for the national team because he didn't like being shouted at from the touchline so much. Despite being considered the new star of Chile's midfield, Arturo Vidal clashed with fitness coach Bonini for not paying enough attention in training and was left out of the squad entirely for World Cup qualifiers against Bolivia and Venezuela after rejecting a call-up to the 2008 Toulon Tournament, going on holiday instead. Upon his return, Vidal was on the periphery of the side until he apologised to his teammates at the behest of Bielsa and captain Claudio Bravo.
Such a drastic change of culture took time to translate into results on the pitch. Chile won just two of their first seven fixtures under Bielsa, losing 3-0 to Paraguay in Santiago in their last game of 2007. The chief sportswriter of one of Chile's biggest papers, El Mercurio, was calling for Bielsa to leave. Changing the mentality of the players and inspiring them to believe in a new identity was going to take time. Results started improving in 2008, when Bielsa coached the Under-23s at the prestigious Toulon Tournament. Chile finished as runners up to Italy, and the likes of Gary Medel, Gonzalo Jara and Carlos Carmona were graduating and establishing themselves in the senior squad.
With two matches of 2008 remaining, Chile hosted Bielsa's native Argentina in the national stadium. The two countries share an intense rivalry. They are neighbours, but very different people, according to the stereotype of the outward, confident Argentines and more timid Chileans. As Chile fan Luis Penailillo told me, "When Argentinians come to Chile on holiday, they get the best places on the beach, they get the best chicks, they show off more. We hate that. We hate their attitude. We will never have fights or wars with them, we have a good relationship with them, but that kind of feeling [of rivalry] is very deep in a person. It's hard to describe."
The Bielsa Revolution was confirmed when Fabian Orellana, a 22-year-old who had been brought up in a democratic Chile, scored the only goal of the game to beat Argentina for the first time in a competitive match. The win sparked a change in mentality, not just for the players, but for the fans, who finally started to feel they were competing with their rivals as equals rather than underdogs. In press conferences, players started talking up their chances of beating teams like Argentina and Brazil, confident they were better than their opponents.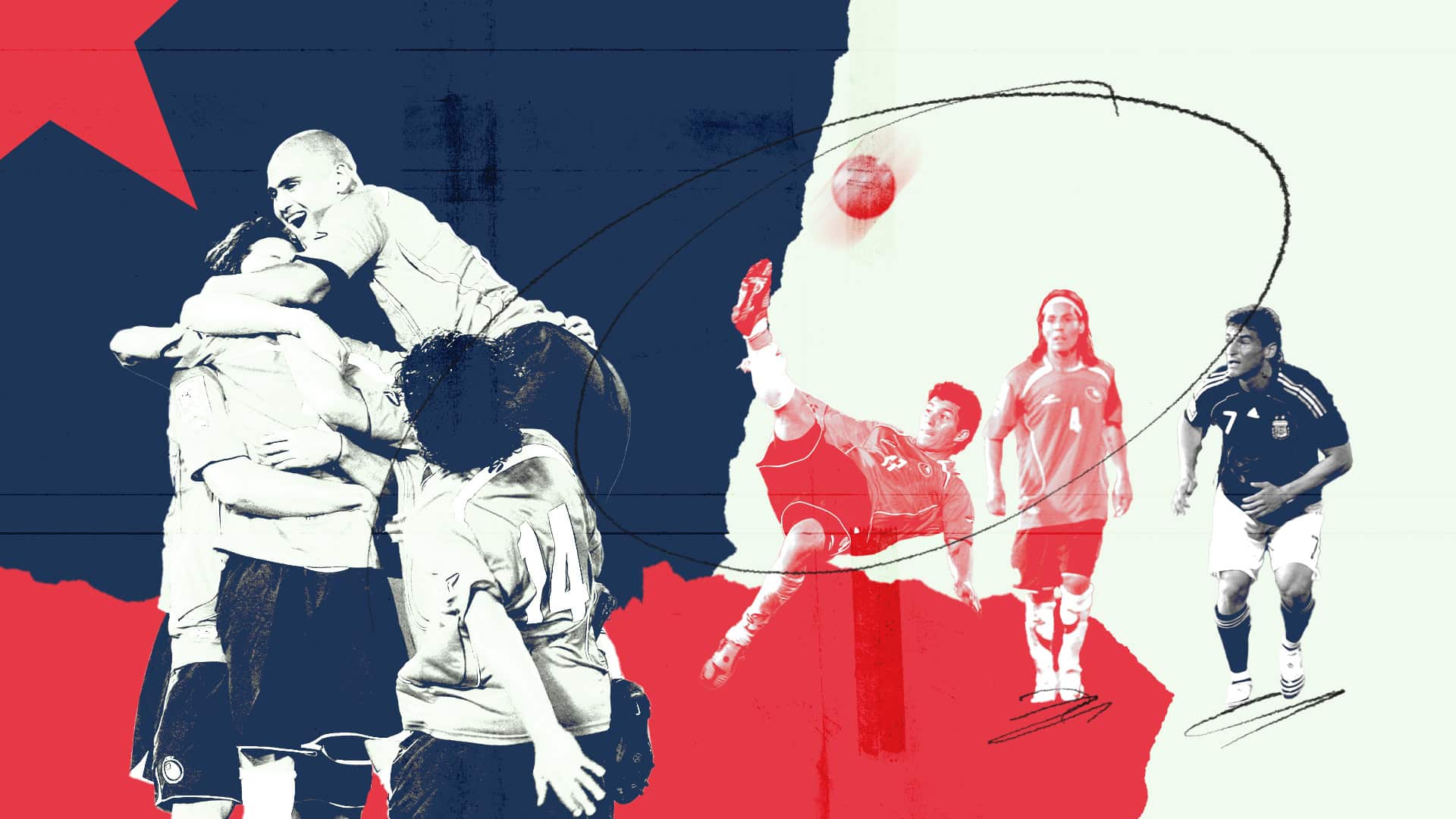 "It felt like there were millions of Chileans celebrating"
"That was massive," says Penailillo. "When we beat them that night it was like, man — that happiness inside everyone. I'm very passionate, but I'm not one that's yelling all the time. But for that game it was like, 'What?!' There is a small park in the centre of Santiago. We went there and it felt like there were millions of Chileans celebrating.
"That also reinforced what we've been talking about; being able to win, change history, modify our thinking in terms of, 'We're winners.' Saying that openly, that's never been heard in Chile. Bielsa created a winning mentality in that generation that transmitted to the people, especially the younger generations, which is important."
Qualifying for the World Cup in second place, just a point behind leaders Brazil, Chile won their first matches at the tournament since they were hosts in 1962, beating Honduras and Switzerland to reach the knockout stages. Bielsa could not halt Brazil's hex over his side, losing 3-0 in the round of 16, their eighth consecutive defeat against the Selecao. In a dour tournament best encapsulated by the image of Nigel de Jong leaving his studs in the chest of Spain's midfield in the final, Chile won neutrals' hearts thanks to their style and swagger, including Johan Cruyff. Cruyff told De Telegraaf that when was starring in the Netherlands' Total Football team of the 1970s, "It was always our quality to offer fans something extra. We may never have won the ultimate prize, but the whole world talked about us. Chile has taken over that role from us."
But Chile as a nation was once again changing. The political shift taking place at the time of Bielsa's appointment was now swinging in the opposite direction. Billionaire Sebastian Pinera became Chile's first democratically elected right wing president since 1958. Upon the national team's return home from the World Cup, the squad was met by Pinera. Bielsa made headlines by appearing to try his best not to shake hands with the president and walking straight past the sub-secretary for sport, Gabriel Ruiz-Tagle. When Pinera was presented with a Chile shirt by the squad, Bielsa was standing at the back of the room looking at the floor.
The political changes were reflected at the Chilean FA. Bielsa was close with Howard Mayne-Nicholls, the man who had placed his faith in the manager and backed his demands for improving the professionalism of the Chile set-up. They have been seen walking along the River Aire together since Bielsa has taken over at Leeds United. With elections coming, Bielsa warned that he would resign if Mayne-Nicholls lost his presidency to his rival Jorge Segovia. Mayne-Nicholls had the interests of Chile's smaller clubs at heart, working to ensure they received a fair share of TV revenue. Segovia, on the other hand, was supported by Chile's bigger clubs, who had two votes each in the election. Mayne-Nicholls controversially lost by 28 votes to 22, and there were allegations of government interference from one member of parliament, who said, "This has Pinera's fingerprints all over it." Segovia was prevented from taking over as president as his ownership of the club Union Espanola presented a conflict of interest. Instead, Sergio Jadue was voted president after a second election, and promptly named Segovia as his vice-president.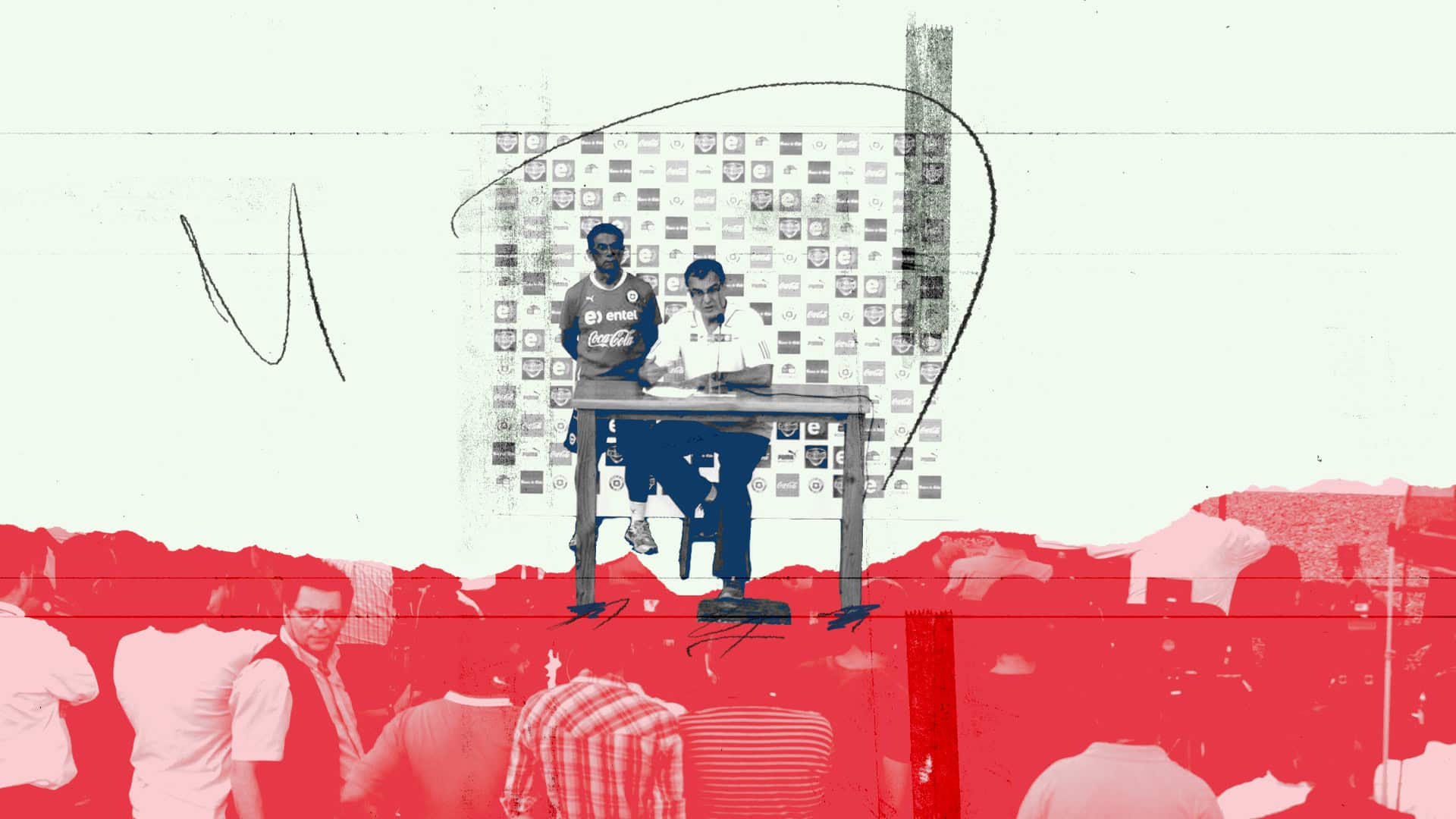 I know perfectly well that it is me who loses in leaving.
Bielsa stuck to his word, resigning in February 2011. He ended his final press conference as Chile manager by thanking his players, his co-workers and the staff at the training ground. "Finally, I consider my last three and a half years in Chile a gift of life," he said. "I have learned to love life by being here. I am grateful to have lived in this country. I know perfectly well that it is me who loses in leaving. I've tried to stay, but I couldn't make it work. To football fans, and if I may, to all Chileans in general, I want to say thank you very much."
Bielsa gets very emotional in his last words as coach of Chile. #Bielsa #lufc #LeedsUnited #Chile pic.twitter.com/wAwO58GFXI

— Juani Jimena (@JimenaJuani) September 6, 2019
Under the management of Bielsa disciple Jorge Sampaoli, Chile's team of Alexis Sanchez, Arturo Vidal and Mauricio Isla won the country's first ever Copa America in 2015. A year later, they retained their title under new boss Juan Antonio Pizzi. The legacy left by Bielsa on the pitch speaks for itself, but the reason Chileans still refer to themselves as 'the widows of Bielsa' is much more profound.
A few months after Bielsa resigned, the emboldened Chilean youth took to the streets in a sustained protest against growing inequalities. They were backed up by high school students, teachers and professors in 'an unprecedented wave of activism'. "He delivered a message to the Chilean team, Chilean football, Chilean society even," Armando Silva, co-author of the book De Bielsa a Sampaoli, told The Independent. "We can play as equals, we can take on the more historically powerful teams and cause them problems or at least try to, instead of living in constant fear of being thrashed." He added: "The current generation had never seen the national team play that way. My theory is that for a lot of people, the appearance of Bielsa signified a change in their mentality towards life, not just towards football. To be the protagonists of their own lives."
Towards the end of his time as Chile manager, Bielsa met with the Argentine tennis player Gaston Gaudio. Gaudio won the French Open in 2004 but failed to reach those heights again, plagued by clinical depression. He once said he faces two opponents in every tennis match, "Myself first, and then against the other one." Bielsa told Gaudio he had worked out five secrets to happiness in life. According to Gaudio, Bielsa said the first is being a giver, especially with people you do not know. The second is "believing in something" to an almost religious extent. The third is falling in love, although this feeling only lasts a year before becoming "a shared friendship"; the ideal might be to fall in love with a new woman every year, although Bielsa made sure Gaudio knew this was not his lifestyle. The fourth is being successful in your career, albeit this is another fleeting sensation, "because I spent more moments of bitterness". The fifth and final key to happiness is "a path still to be travelled". On that last point, Bielsa said, "I'm still looking for it." ◉
(Every magazine online, every podcast ad-free. Click here to find out how to support us with TSB+)