Sheffield United may feel like a painful ninety minutes in retrospect, but at points during it, it felt like a joy with our usual beautiful offensive play. Marcelo Bielsa is all about the purity of the process towards success, not success at any cost. And I believe we're going to do it because I have total faith in his philosophy.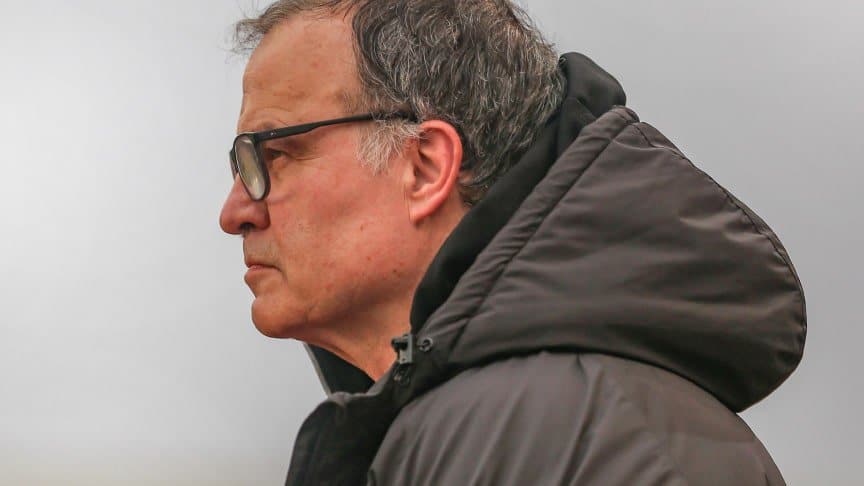 It's eight games until we possibly retake our rightful place in the Premier League. Some of us remember it, many of you will watch it on TV, most of us can't stand it. It's an overpriced, overfed, over-hyped, arrogant, self-obsessed, tradition-hating, late-capitalist horror show. We want to be there though, naturally we do. And I most want it because Marcelo Bielsa's gentlemanly stance will be in beautiful defiance of modern football and I can't wait to see how the media circus around the EPL deals with him.
We like to think that our fanbase will be the biggest shock for the quiet world of the Premier League, and we will certainly be a surprised. We've got a team to support, we don't like being told to do it like everyone else, and there are a lot of us. They won't like it. But the biggest surprise for the sensation merchants on MOTD and Sky will be Bielsa. He doesn't play the media game and he doesn't do hype. He believes in considered thoughts, long theses, and compassion. He can't be cut down to an easy soundbite and his philosophy of football is just part of a bigger philosophy of empathy, equality and understanding. I love him for that. The producers of 606 won't.
Bielsa will be in beautiful defiance of modern football and I can't wait
We've just seen another example of Bielsa's refusal of the acceptable power dynamic between football and media hype in his post-Sheffield United interview. With great charm, he refused to answer questions on his own views of whether we'd played well because here was another person in front of him with an opinion interviewing him, and he wanted that person's opinion too. It's completely reasonable. Why should Bielsa be the king in an unequal power dynamic? He's not a precious god. There might be a camera there, but if there's a person in front of him who's implying an opinion, they should express it. It's not the done thing, but Marcelo doesn't do the done thing. Jose Mourinho's smile may have implied arrogance, but I think Bielsa's smile was a kind one. He wanted to break down the boundaries and change the dynamic between manager and media. No hype, no melodrama, no controversy. Just calm facts and opinions, expressed with kindness.
The attempt to create a controversy around him with Spygate was consistently diffused by his own talk, which was never angry or snappish. He explained his work meticulously and he said it quietly and calmly. The best the papers could do was to reduce his press conference to 'Hey, I spy on everyone — it's crazy!', even though that made no sense in the context of what else he'd said, which was a mea culpa for working too hard and being anxious.
The real headline should have been, 'I'm a product of 250 years of industrialised society, worried about my 21st Century self-imposed work ethic and its impact on my mental health and that of those around me, and it makes me regretful and conflicted.' But I don't think TalkSport could have got a phone-in going off the back of that.
The EPL doesn't do thoughts, they take too long
We'll constantly be on the back pages and the TV sofas next season if we go up, but they'll never be able to pin Marcelo down. His famous commitment to the nobility of the resources used isn't reducible to the 'style vs victory' simplicity that Robbie Savage always throws at Spurs or Arsenal fans on the radio. It's a creed for living; that goodness, commitment and kindness to your fellow human, and indeed the beauty of the whole world, should be rewarded. That could be by winning football matches, and we know for Marcelo that football as game and culture is truly beautiful. It could equally be the feeling that a week of committed work has truly earned that day-off walk in the countryside. Bielsa knows exactly what we all need, and that it's not just about what happens on Saturday afternoon.
As he's said, unlike the lottery winner or the tyrant who steals their expensive gifts, the pure of heart gets their just rewards, and we see that running through the beatific smiles of our superstars like Kalvin Phillips and Ezgjan Alioski. Thanks to Bielsa's revolution, they believe in the process, day by day, of creating beauty on the field and in the stands. How do they explain that to Alan Shearer? People like Mauricio Pochettino might have learnt from Bielsa, but they're still just football managers. Marcelo is a way of life.
Most of all, Marcelo Bielsa behaves decently. He doesn't do sneering or backbiting. He doesn't criticise the referee. He doesn't ignore the opposition manager (well, maybe he does with Frank Lampard, but he's just some guy hanging out in the dugout). He doesn't call himself a special one. He doesn't like talking to the media, but he treats them with respect, and anyway, any dislike appears to be more that they ask him really basic questions about who's fit or not instead of plying him with philosophical teasers.
I love it when he gets asked a more general footballing question about The Grealish Incident, VAR or the lives of the fans. It gives him an opportunity to ponder and hold the room. His linking of the assault on Grealish with wider disenchantment in British society was one of the most remarkable and relevant things a football manager has said in a press conference for many years. No other manager speaks like that, and EPL media culture isn't set up for it at all. A thoughtful idea like that needs a thoughtful and long discussion, especially when the length of the discussion is doubled by going through a translator who has his own thoughts on the modern condition. The EPL doesn't do thoughts, they take too long. The EPL doesn't care what happens outside the stadium, that doesn't make anyone money.
Bielsa may be full of gentlemanliness, but he isn't boring. He's a revolutionary. When we last went up, our previous revolutionary Howard Wilkinson was a fully-compliant dour media machine. He had a shtick going on, and in a less media saturated time for football, he was one of the more quotable. He didn't get excited, but he knew how to do an interview, and he liked to get attention because he knew how good he was and he knew he wasn't getting the credit. It's not fair to compare that age to now, but I like the contrast with Bielsa, who likes to allude and hide from attention. He could be thinking anything because he's thinking everything. And he does it all for us in the stands, and he does it for the players, and he does it for the good of beauty and graft. What it does for him personally, we'll never know. And Match of The Day will never find out, and they'll hate that.
Will we go up? I hope so. And I believe so, because Marcelo Bielsa is magical, and the Premier League and this divided country needs to see and hear more of him, and see some humanity and understanding on their TVs every day. He'll blow the cogs of the EPL machine. ◉
(This article was published in TSB 2018/19 issue 09 and is free to read as part of TSB Goes Latin.)
(Every magazine online, every podcast ad-free. Click here to find out how to support us with TSB+)