Marcela Bielsa doesn't care. He doesn't care that managers tend to sit in the dugout, not in front of it. He isn't bothered that giving 75 minute press conferences about your approach to scouting isn't the done thing. And, judging by recent evidence, he doesn't give two hoots for societal norms either.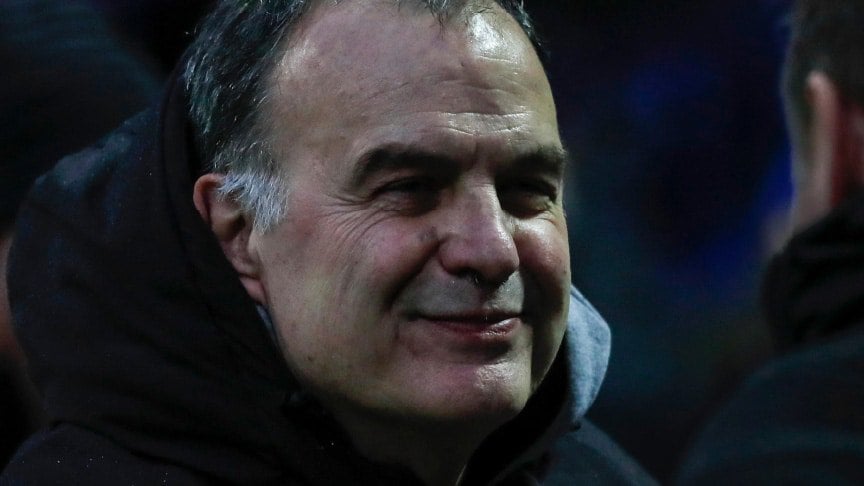 I'm talking, of course, about that hug after the Rotherham game. The one where Bielsa, after seeing his side come from a goal down, makes a beeline for coach Pablo Quiroga and hugs the absolute shit out of him. For eight whole seconds. Not the kind of hug you give your smelly auntie Sue at Christmas, either. We're talking full body contact, cheek to cheek, both palms firmly across unsuspecting Pablo's back. Quiroga tries to tap out, not once, not twice but three times, thinking that each pat will signal the end of the embrace. He's wrong. It goes on and on and on…
As with everything Bielsa does, the reaction was quick and beautiful. Twitter reacted with the surprise only reserved for if he'd declared, via a chuckling Salim Lamrani, that he'd been keeping a golden egg under his blue bucket this whole time. Emotionally repressed blokes offered to swap a kidney or their girlfriend in return for their own long Bielsa goodbye, and female fans yearned to swipe right on a bloke like him. When I got eyes on it, I checked my router was working, thinking a bad connection was causing the video to buffer.
When I realised the connection was fine, I googled 'average hug length' and found an academic paper from 2011 that said it was three seconds long. Three seconds?! You could have made a cup of tea and come back to see the end of this one. You could argue that this was a more flagrant violation of the unspoken moral code that governs the way people in football act towards one another than Spygate was. Imagine how upset Lamps must have been when he saw it.
Not that it's first of Bielsa displays of affection that we've seen. You'll no doubt remember his heart-warming thirty-yard jog over to Paddy Bamford, arms aloft as if keeping his first born out of a raging, swirling river, after the striker scored a rocket volley during training. That brought a tear to many a fan's eye, because you knew that other less-assured managers (read: Garry Monk) would have stood stoney faced at the halfway line, like a mannequin in a House of Fraser closing down sale. Bielsa, by contrast, went full, I-don't-care-who's-watching bear hug. Afterwards, he called his reaction an emotional 'excess', but my nan always said you can't have too much of a good thing, and I now realise she was talking about our Marcelo.
It's not just a Leeds thing either. Benjamin Mendy, Manchester City's enigmatic but permanently crocked left-back, was regularly on the receiving end of Bielsa's go-go gadget arms while at Marseille. One time, as YouTube can attest, the coach is standing in the middle of a group of Om players, looking serious. A joke is cracked and Bielsa moves towards Mendy, with eyes that look like they're about to seek a dark and bloody retribution. Then, with arms as wide as the East Stand is high, Bielsa takes a vice-like grip of his defender and brings him close. The Frenchman smiles, returns the gesture with gusto, grins spreading across the group's faces.
Look closely and you'll notice that all the best coaches do this touchy feely tactic. Jurgen Klopp dishes out hugs like it's going out of fashion, famously giving one to every Liverpool staff member, tea ladies too, on the first day of pre-season last year. Gareth Southgate is partial to an on-pitch cuddle, and you can't watch an episode of that Man City documentary without Pep bounding towards his players, arms outstretched like Mr Tickle (from Mister Men, not the bloke from Big Brother).
These man management mavericks know that, amid the siege mentality of professional football, in the eternal race to stay go or go up, an embrace can create the fleeting feelings of connection and trust that could be the difference at the end of forty games. It's the fastest way to show that a manager cares, far better than words, more personal than a pat or a handshake and cheaper than a bonus. Bielsa has been on the scene long enough to get that.
When Benjamin Mendy saw the video of Bielsa and Bamford's clinch, he tweeted, in his inimitable style, that he 'missed that Bielsa hug'. That tells me that, even when you've got a coach like Pep, a little part of you always yearns for Marcelo. And it also tells me that when we see Bielsa give one of his closest comrades an inordinately long hug, he's not doing it for himself. He's employing a management trick as old as time. He's giving his pal Pablo something to call upon when times are tough. And for that reason, I say: hug away Marcelo, hug away. ◉
(This article was published in TSB 2018/19 issue 07, before the 2021 allegations against Benjamin Mendy. It is free to read as part of TSB Goes Latin.)
(Every magazine online, every podcast ad-free. Click here to find out how to support us with TSB+)