About four hours from Luciano Becchio's home town, Córdoba, down the Au 9 motorway, after passing through towns called Ballesteros, Morrison and Olivia, is the city of Rosario, the birthplace of Marcelo Bielsa. Carry on along the same road another three hours or so, past the Otamendi nature reserve, and you will reach Buenos Aires, the home of Boca Juniors, the club where where it all started for Luciano.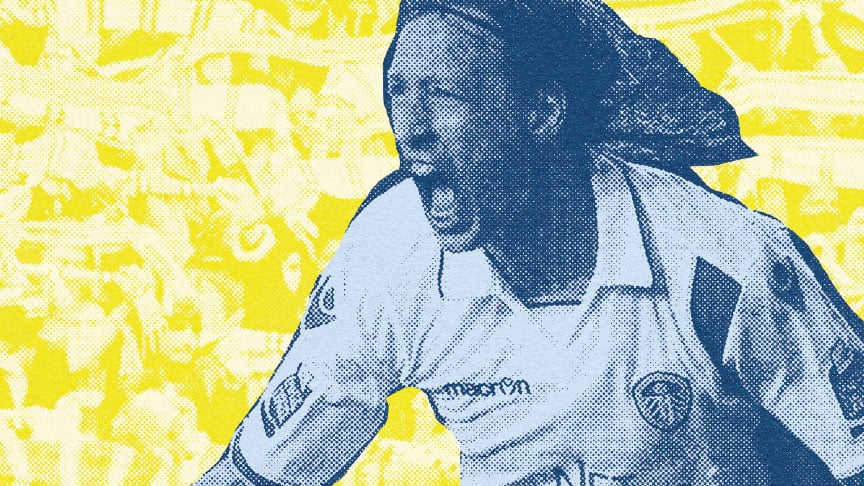 Becchio, although he is yet to met him, is fond of Bielsa. Like many, he says Bielsa, "is one of the best coaches in the world." When asked about the difficulties of joining English football, something many people have tried and failed to do, Becchio counters that, "the knowledge of Bielsa makes him capable of fitting into any league he chooses in world football." Straight away Becchio tells me how he wants, "to be able to meet Marcelo in person." So you're coming to Leeds? I ask giddily. "Yes, I have thought about coming over [from his home in the Balearic Islands] to watch a few games."
Trying to contain my excitement, I ask Luciano to tell me the differences in his experiences of football in England and those in his native country. "The grass [in Argentina] is definitely longer and drier, in England it's shorter and wetter," he says. This allows for a quick style of play to flourish in England; whereas, according to Luciano, the Argentinian game is played "at a much slower pace with less rhythm." He smiles. "I prefer it in England."
When Becchio was at Leeds, the playing style under Simon Grayson made it feel like we were either going to win 6-4 or lose 6-4. "The playing style of Bielsa can fit perfectly into the Championship," says Becchio. "There are so many great players there, all of whom play at a high level." Before asking Becchio for his thoughts about this season, I quickly ask about his top moment at Leeds. Without hesitation he tells me, "I have many favourite moments at Leeds, but I'd say my best one was my debut [vs Chester City]."
"If I'd stayed, I would definitely have been happy"
That was the start for Becchio. But in February 2012, Leeds appointed Neil Warnock as manager, hoping he'd get us to the Premier League. With seven promotions under his belt at that point, it was perhaps a logical but not necessarily a popular decision. In a blunt characterisation of his relationship with Warnock, Luciano says, "Normal. It was never good but it was never bad." A quieter response compared to the previously chipper replies to my questions.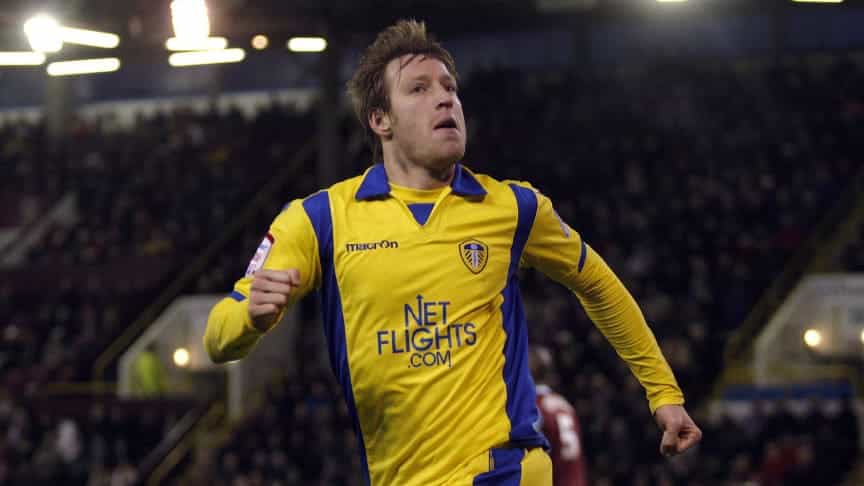 Less than a year after Warnock arrived — we know what happened. I ask whether there was one particular moment that influenced the decision to leave, a decision that broke the hearts of so many. Becchio's response was equally as revealing as it was, perhaps, a smokescreen: "I'd rather not answer that question," he says. Then he winks. With his next answer, on his relationship with Grayson, he wafts away a little bit of the smoke. "It was really great [his time with Grayson], much better than my relationship with Warnock…"
Who would have guessed? Three years later, in 2015, rumours were rife about Becchio returning to Leeds. At the time he was playing for Belgrano in Argentina, and he insists he wasn't called by anyone representing the club, "I would have loved to come back to Leeds," he says, "but Cellino didn't want me."
"I could always tell where Snodgrass was going to put the ball"
Deciding to lighten the mood after realising the Warnock conversation wasn't going anywhere fun, we begin to reminisce about his goalscoring, and I ask for his favourite teammate out of all the great players in the famous squad that achieved promotion in 2010.
"Snodgrass," he says. There is no sense of hesitation. "I knew him so well. I could always tell exactly where he was going to put the ball. He is a great player and a great person, too. I do wish him all the best."
Becchio then goes back, and decides to up more about his time in the north.
"I wanted to stay. What happened in Norwich wasn't positive, but that's what happens in football. If I'd stayed, what I can say is I would definitely have been happy. I want to put it on record that [despite the transfer request] I was always happy at Leeds.
"I wanted to stay but we never reached an agreement regarding my new contract. I'm always checking up on Leeds, watching the games on the internet whenever I can."
Becchio then confesses his love for FIFA (the game, not the corrupt organisation) before telling me, "I would love the put the white shirt back on again." There's that smile again, too.
We move back to Bielsa. I explain that in England, much has been made about the pressing style of play, how we demolished teams early on in the season and how much has been made of Bielsaball teams 'burning out' towards the latter stages of the campaign, leading to an air of hesitancy when suggesting that Leeds could go all the way.
"It's normal that a manager has ups and downs," says Becchio. "His reputation in Argentina is very good, he has had a strong career and it's normal for a coach of his standard to have a long career path like he has had."
Luciano then says something to make us all smile.
"This season, as a minimum, the play-offs. The squad has both experienced players and young players with a lot of quality and all of them work very hard." I ask him who has stood out from his point of view. "I like Samu Sáiz, a lot. He makes the team around him play well, he knows where the goal is and is always capable of making that pass to finish off the attacking move." I stop for a moment to sit back and dream of a Becchio/Sáiz attack ending in an Argentinian/Spanish double-Leeds salute in front of the Kop [obviously, this was written before mid-December — TSB].
Finally, Luciano gives me a message to pass on.
"I want to say thank you to the fans for the support and the treatment they have always given to me. They made me reach my maximum level. I will always be grateful to the club and the fans for everything. They have impacted me and that will stay with me for the rest of my life. I love Leeds!" ◉
(This article was published in TSB 2018/19 issue 06 and is free to read as part of TSB Goes Latin.)
(Every magazine online, every podcast ad-free. Click here to find out how to support us with TSB+)