Remember summer 2018? Heady, mysterious days. Klich and Vieira played centre-back. Squads were split, and reconjoined. Yosuke Ideguchi communicated via laptop, his very own Larry Middleman. Those who returned chubby were whipped into shape quick-smart, or shipped out the door even quicker. We didn't learn much, all of this being behind closed doors, with only clips of bibs doing shuttle-runs, or bobbing, dumbbells grasped, to give us any clue. We had the friendlies, yes, but Klich and Vieira played centre back.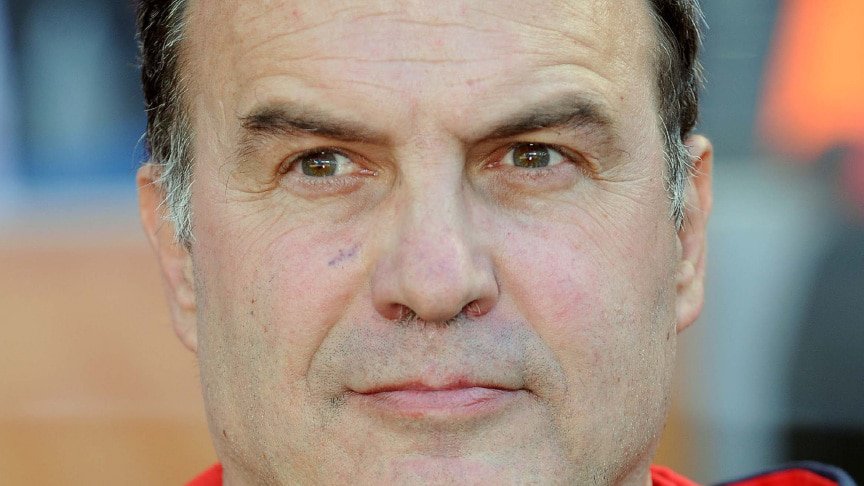 One thing we did learn was that Marcelo Bielsa doesn't do one-on-one interviews. He'll answer whatever you want, as fully as you want (often, for certain 'journalists', much more comprehensively) but only within the press room. You'll sit down, and listen, and ask him questions one-by-one.
It therefore came as some surprise to hear that he will be interviewed, for the first time in over twenty years, in Take Us Home, the forthcoming documentary chronicling the 2018/19 campaign.
The same week we heard that news an old television interview, filmed between Bielsa's stints at Club América and Vélez Sarsfield, was translated and uploaded by Bielsa enthusiast Juani Jimena.
Here, through the static, tinged with VHS-green, we see a much younger man: less calcified, more malleable. Also more confident. There's a clear aspiration, a vision of unconquered land — something of the prospector about him, the evangelical zealot. He smiles more. He seems more at ease with himself and the world around him.
You get the sense he's tried his damn best to rein in all these characteristics as the years have passed, and as the finals have slipped away.
That transformation, however nascent, is underway here. We have moved on from the untethered, unfiltered Marcelo, grasping the shirt of Newell's and screaming, lost in rapture. He has tasted failure, and failure has changed success. "If I ever succeed again, I will not celebrate as much as I did when I was successful before. Because now I learned that this changes very fast."
Angus, cancel the choppers.
This is the kind of programme we don't really get anymore, or if we do it's a podcast hosted by thirty-somethings, not a midnight Mexican TV special. The host is half-Newsnight, half Abe-Simpson-yelling-at-cloud. Imagine Paxman complaining, they don't play ruggers like we did, before professionalisation. A panel of bucktoothed pseuds, at least one of whom is probably banging his teenage student, ask their questions with all the pompous air of a parliamentary select committee.
You do sense that Bielsa misses the back-and-forth. He tries it, occasionally, with jobbing hacks in press conferences, mostly unsuccessfully. Here he's in his element, coming back with sharp retorts ("Sure, but it's easy to say that the coaches became important because of the players"), having a conversation, not just sermonising.
Early in the interview Bielsa says, on the subject of 'talent' vs 'muscle': "I think they compliment each other and they need each other. Eleven talented players will surely need the help of a sacrificed version [player]. And eleven sacrificed will be orphans of creativity. They will miss the talented."
Ah, Gjanni Alioski, feral orphan of creativity: a lab-bred collection of sinew and endeavour, who knows all the tricks but never when to use them. And Samuel Saiz, who surely needs his help.
That Saiz was binned off, and Gjanni remains, should tell you everything about where the faultlines and thresholds lie.
Someone else was binned off this summer. Everyone has an opinion on Pontus Jansson. Back in the 1990s Marcelo Bielsa, reaching forward through time, gave us this:
"There are players who claim prominence. Those players must then, on the field, have attitudes that justify the role they aspire to. If the player aspires to be independent he must have, on the field, appropriate attitudes to deserve that independence.
"When you see Raúl play, let's not take away his independence. Because he needs independence and he deserves it. The same with Ronaldo. But there are players who demand the assistance of the coach. The coach's wisdom is to assist those who claim assistance — to give resources that they cannot generate on their own — and free those who deserve independence … My aspiration is to have players that I do not have to invade. But when I see that there is a player who deserves to be invaded…"
The words string together quickly now.
"…there are also many players who ask for freedom, but they do not deserve it."
I'm sure it's happened dozens of times since. Players who deserve to be invaded, stubbornly resisting. Can you really blame Bielsa, so defined by his work, his way of working, for giving up on that particular territory?
Jansson was my favourite player back when he was the free spirit inside a spluttering, faulty machine. You won't find anyone more ready to defend his pirouettes on the edge of the box than me. He doesn't follow instructions, and that used to be amazing. But now, in the almost complete, almost perfect machine, do we really want a dissident cog that's pulling in random directions?
If this interview shows us the passage of time, everything that's changed, it also shows what has stayed the same. What will always be. Our host inquires: "Bielsa, is he perfect or perfectable?"
Bielsa replies: "Imperfect." ◉
(This article was published in TSB 2019/20 issue 01 and is free to read as part of TSB Goes Latin.)
(Every magazine online, every podcast ad-free. Click here to find out how to support us with TSB+)