If Leeds United are going to keep doing what we ask by scoring early and keeping clean sheets then there will be second halves like this one when games and minds meander, but that's not such a bad way to spend a Wednesday evening. The closing stages were livened up anyway by Pat Bamford's introduction from the bench, and the discovery that QPR manager Gareth Ainsworth is the singer in a band, which was both news to me and the least surprising thing ever, because of course he is:
Ainsworth's reaction to Leeds going ahead had been to toss his hair back, thrust his hands down past the lapels of his leather jacket into his tight jeans pockets, chew fiercely, and look around him as if trying to find a bass player he could blame. He was more animated later when his team were ignoring what looked like pretty simple instructions – two hands over here being waved to over there, right into the fucking mixer – and when Asmir Begovic was being sent off at the start of stoppage time.
Although he took the red card, Begovic was really just a bystander to Pat Bamford's drama, and in a way, aren't we all really just bystanders to Pat Bamford's drama? The end of the match was livened up by having Leeds United's mainest character back in the middle of things. People tend to remember his last couple of years for his time on the sidelines, but you can't deny Bamford has made the most of the bits between the injuries. The last minute equaliser against Brentford when he pulled his hamstring again celebrating. The attempt to play against Wolves when his plantar fascia snapped and he was sobbing on the bench. The miss against Leicester City, the penalty drama against Newcastle. Scoring in pre-season and declaring himself fully back by cupping his ear to the goading Nottingham Forest fans, and that comeback lasting less than a week until he got kicked in the head while pulling his hamstring in Edinburgh.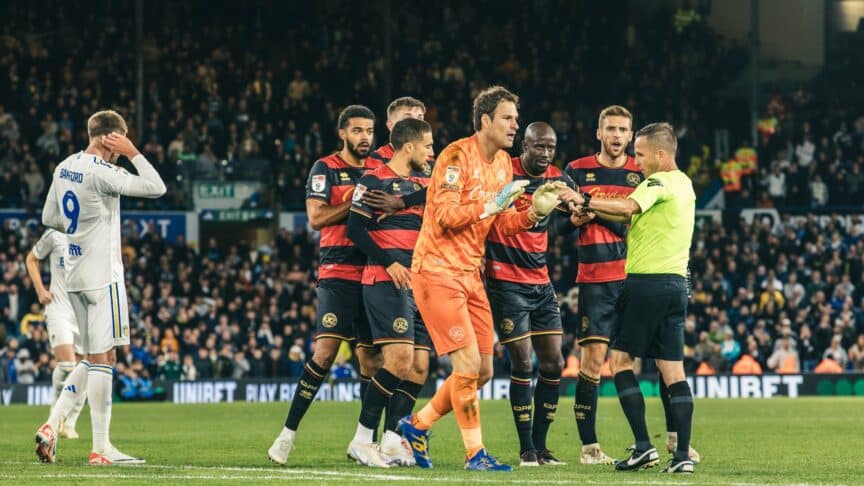 The QPR game was only Bamford's second substitute appearance of the season and he was straight back at it like a one man Hollyoaks. Put through on the edge of QPR's area, he saw Begovic flying at him, took evasive action, fell over, and on what has been a great week already for refereeing, that was enough for David Webb to award a free-kick and send Begovic off. The red card seemed to be in spite of Bamford's pleading for justice – he was following the ref around and chirruping away, and from his post-match confession to Ainsworth that there had been no contact, I'm guessing this was his attempt to save Begovic, and his own soul. Even after the card was shown Bamford was locked in talks with the goalie until Ayling dragged him away, and I assume Pat was trying to make sure that, even though the sending off was his fault, Begovic wasn't going to leave the pitch thinking he was a bad guy when actually he's a nice guy who just keeps getting caught up in bad things. Meanwhile, on iFollow, QPR's commentator was calling him "Bamford the Cheat", and I only wish that after Bamford made the theatrically correct decision to take the free-kick himself he'd stuck it in the top corner instead of blasting it into the wall.
Anyone who thought this game got a little boring after half-time should thank Bamford for all this. It even meant we got some quality post-match tweeting from Mateusz Klich, revelling in his freedom to provide a running commentary on his old teammates from afar. Another rare treat in these days of five subs was that QPR had used them all and had to put their centre-forward Lyndon Dykes in goal; they had a shirt ready for him, but he took the gloves from Begovic, so this was something else to think about: do they have the same size hands? Did they check? Don't clubs carry spares to fit an outfielder, just in case? The rest of stoppage time was as lively as things had got all night. When Pascal Struijk, with just over ten minutes left, had put a chance from a corner over the bar from two yards instead of into an empty net, I'd assumed a QPR equaliser was coming, and they nearly got one with two minutes left when a big hoof and flick into our area ended with a shot into Illan Meslier's chest. The red card then forced QPR blessedly out of and away from the mixer, letting the crowd forget their cares and shout 'shoot!' at every Leeds player within a hundred yards of the stand-in keeper.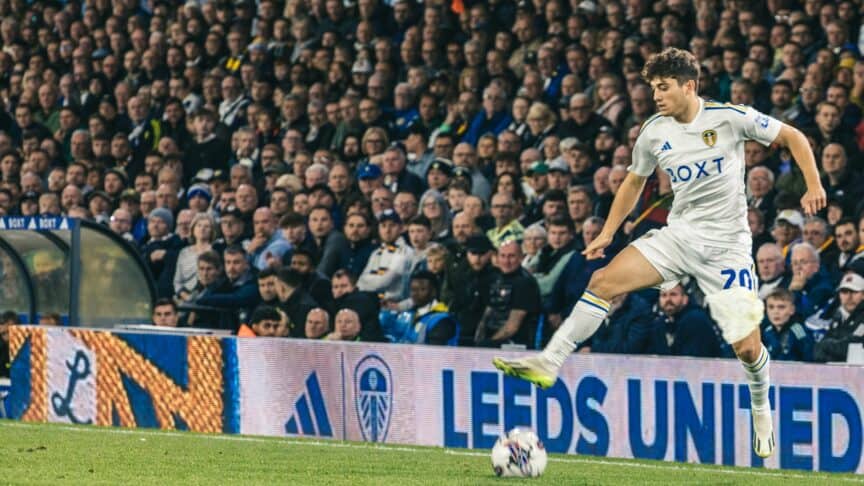 Maybe Leeds should have finished QPR off earlier. Rangers were pretty awful. It took them almost until half-time to have a dangerous moment, sending Sinclair Armstrong racing past Sam Byram so quickly he had nobody to cross to, but tried anyway, putting the ball out for a throw-in on the other side of the pitch. I think it says something about QPR's tactical sophistication that they tried the same again two minutes later, as if they'd only just realised this was something that might work. 'Hey, wait, our winger is faster than their full-back?! What if we…?' Other than that, I'd been looking forward to seeing if Illias Chair could be the no.10 Leeds need, snap-uppable in January, but Archie Gray had him so thoroughly in his pocket there were times Chair's legs gave way in his presence, and that could make merely training with Leeds quite demoralising for him. He tried a shot in the second half that bounced in front of Meslier but didn't bother him much, and Ainsworth kicked his brown loafers into the technical area turf and jiggled a phantom tambourine against his leg. His idea at a goal down seemed to be making the game slow and horrible while hoping to nick something, and it worked to the extent that Leeds were warming up both Liam Cooper and Charlie Cresswell in the closing stages, but only brought on the younger model at the very end.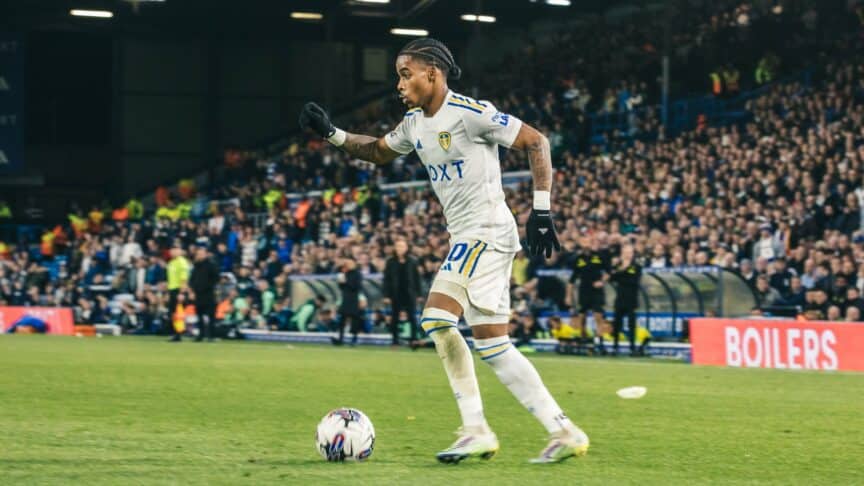 From United's point of view, they did enough, plus bits. Enough was a lovely goal that began with QPR taking the ball out of play (it looked to me) while trying to play out. Byram played on anyway, Georginio Rutter skipped inside a couple of defenders and put the ball across Crysencio Summerville's path into the penalty area. A good first touch, a few calm thoughts and a cool slot later and Leeds had a match-winning lead. The plus bits added up to frustrating because Leeds were playing well enough to score more, but didn't. Daniel Farke made four changes from the Southampton defeat, and let's get this out of the way first, one of them brought Luke Ayling in at right-back and while he made a decent number of tackles and blocks you could tell how he felt his night was going when he miscued a back-post volley and didn't even smile about it, let alone laugh. This was before a foul throw was given against when he banged the ball off his own head. If he wasn't having a bad time he'd be having no time, lately. But the other three intros – Gray, Joe Rodon and Jaidon Anthony – combined to add much more zip to United. Rodon moved the ball around quickly when he got it, and Anthony, if he couldn't see a way to dribble down his wing, wouldn't turn back to pass to his full-back, but back and inside and over trying to get things going on the other wing. Quite often he did see a way to dribble down his wing and was dangerous. Gray was just class, better with his chest than half the other players with their feet. Ethan Ampadu seemed happy, keeping things ticking in the presence of greatness. Gray-tness. Whatever.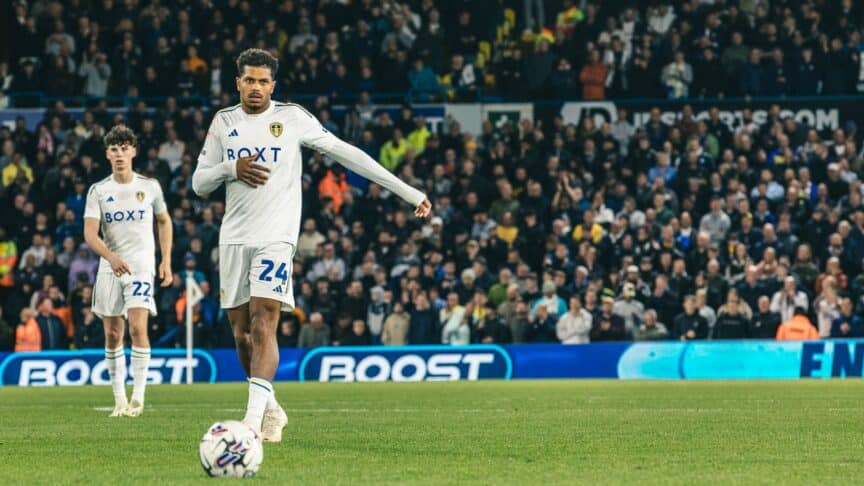 Joel Piroe had another quiet game and as at St Mary's seemed to be struggling with things to do with the ball like controlling it and kicking it. Like Bamford, he needs to be kept away from set-pieces. But Rutter – who was good trying to make things happen against Southampton on Saturday – had another good game, almost getting another assist by lobbing a confusing through ball into Bamford's path, putting him through where his shot at the near post was on target and saved. The ball had bounced to Rutter in the centre circle and with not much on he'd somehow twisted his body and lifted this pass over the top, at first apparently aimlessly but then, when it dropped, revealing perfection. But then when trying to run the clock down in the corner in stoppage time the ball bounced off his spindly legs and out of play so he stays firmly in his enigma era as, overall, do Leeds. ⬢