I could observe the streets, the grey sky and the river at the end of the city. I was on the balcony of my apartment drinking some mate. The seventh floor, so I had a good view; all the buildings in Rosario are just little houses or skyscrapers.
Suddenly I started thinking, 'what the hell am I doing here?'
It was easy. I fell in love with Newell's Old Boys because the barman of the pub I went to during my university years was a proper 'leproso'. At that time my knowledge of Argentinian football was very basic. 'Boca, River… that team in red called Independiente, isn't it? Ah, and San Lorenzo, the Pope's team!'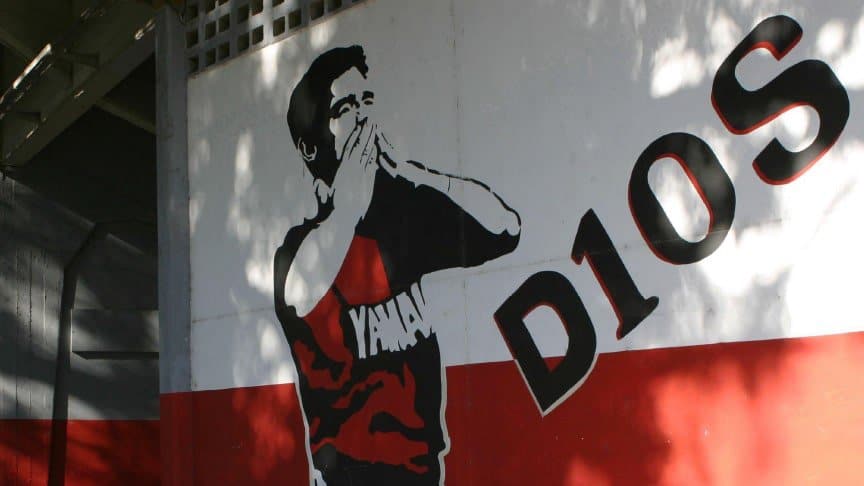 Rosario wasn't on my map, just because Messi and Bielsa were from there. And now, look at me. I am working at Newell's Old Boys. Bloody hell. I am living in Rosario and I suffer leprosy. Notwithstanding I speak Spanish, sometimes I don't understand the 'rosarinos', they have a different culture from Barcelona. I'm here, this city is mad. Football is mad, specially in Argentina. But more intense in Rosario. Yes, I say to myself. There is no city as insane for football as Rosario. It's mental. I can't believe I've been watching games in the popular stand with the 'barra brava'. Yeah, I still don't know what am I doing here.
This is how it works: your blood is red and your heart is black
Do you think Boca versus River is the craziest game in the world? Okay, just let me give you the context. You are in the 'Subte', Buenos Aires' underground. There are fifteen people in there, going to somewhere. You start looking around and you can imagine the team they support. Let's say: five Boca fans, three River Plate, one Ferro Carril Oeste fan, two 'devils' from Independiente, a Vélez Sarsfield hincha, one San Lorenzo and a Lanús fan. So, there are seven different teams supported on that train, and all from the same city! And you know how passionate the Argentinian fans are. Then take this passion for football and put it in a city where there are only two teams. This is a Molotov cocktail. Welcome to Rosario, where the fans of Newell's Old Boys call themselves with pride the 'lepers', and they would love to die of leprosy. They accept that they are already sick. This is how it works: your blood is red and your heart is black. 'I fucking love it,' I babble.
Rosario is a constellation of actions, facts and consequences. I recommend not to try to understand it, it will be better for your mental health. It is a city forged by several circumstances and people, with the Paraná river bestowing the personality and history of Rosario. This is the city where Ernesto 'Che' Guevara was born. The great artist Roberto Fontanarrosa was based in the town because, "it is the best place for an artist. Gorgeous women and good football. You have it all."
Certainly, two of the greatest players in history were born here, and their style is genuinely from Rosario. Probably you have heard about Lionel Andrés Messi, but some of you won't have heard about 'El Trinche' Carlovich. Don't type his name on YouTube if you are looking for some of his best skills, because there are no videos. The only existing things are the stories about him. You can ask on the street about Carlovich, and everybody will assure you that he was the best, even better than Maradona. But only a few were fortunate to have seen him playing for Central Córdoba de Rosario. I invite you to investigate his character and life, it is a worthy story. It is something that can only happen in Rosario. Tomás Felipe Carlovich is the only person in town that can attend games in both stadiums from Rosario, because everyone respects him and they know he just goes there with the pure and simple aim to watch football.
He is still going ahead, being himself and following his path
'El Banderazo' means 'the big flag' and represents the main act of pure love for Newell's, just two days before the 'Clásico'. It is celebrated always on Thursday, when people go to the stadium just to support the players. But it is not a training session: it is just an act of honest love for the team. The stadium doors are open to the fans, you just go in and celebrate this crazy passion with your people. In my opinion, it represents the last dinner before the big battle, you know? The fans show off their passion for the colours and bring all the flags and pyro to the tribunes. Besides, there is space to scoff at the rival by pointing out their flags, stolen by Newell's barra brava. It is savage, believe me.
In Argentina, the clubs have huge respect for their legends. So we can understand how proud Newell's fans are to have named their stadium as Estadio Marcelo A. Bielsa. At least, there is space for more tributes to those people. The popular stand is called 'Tribuna Diego A. Maradona' (you can guess why) and the oldest stand is named 'Platea Tata Martino'. Not bad at all! But let me tell you that the club pays tribute to its most loyal fan, 'Vieja Amelia', a woman who was a pioneer in Argentinian football among the fans, organising and attending all trips and away games as possible. This stadium is 'El Coloso', the giant from 'Parque Independencia' and the pride of any Newell's fan. Well, we are talking about our home. And it is named 'Marcelo Bielsa'.
At his age, we are expecting from Marcelo that he can surprise us again. We are idealising something different and waiting for a distinct epilogue. A new story to talk about, new goals and more anecdotes. And he does it, he is still going ahead, being himself and following his path. Maybe it is not the easiest one, or the fastest, but it can be considered as the proper one. As César Luís Menotti once said, "the one that crosses the garden avoiding the angle of 90° steps on the flowers and arrives faster. But, if you respect it, the other way takes longer but doesn't damage the flower." ◉
(This article was published in TSB 2018/19 issue 10 and is free to read as part of TSB Goes Latin.)
(Every magazine online, every podcast ad-free. Click here to find out how to support us with TSB+)