We knew our coach from Buenos Aires had reached the outskirts of Rosario when we were greeted by the sight of Marcelo Bielsa, painted on the side of a building, adorned with the immortal words: 'Newell's Carajo!'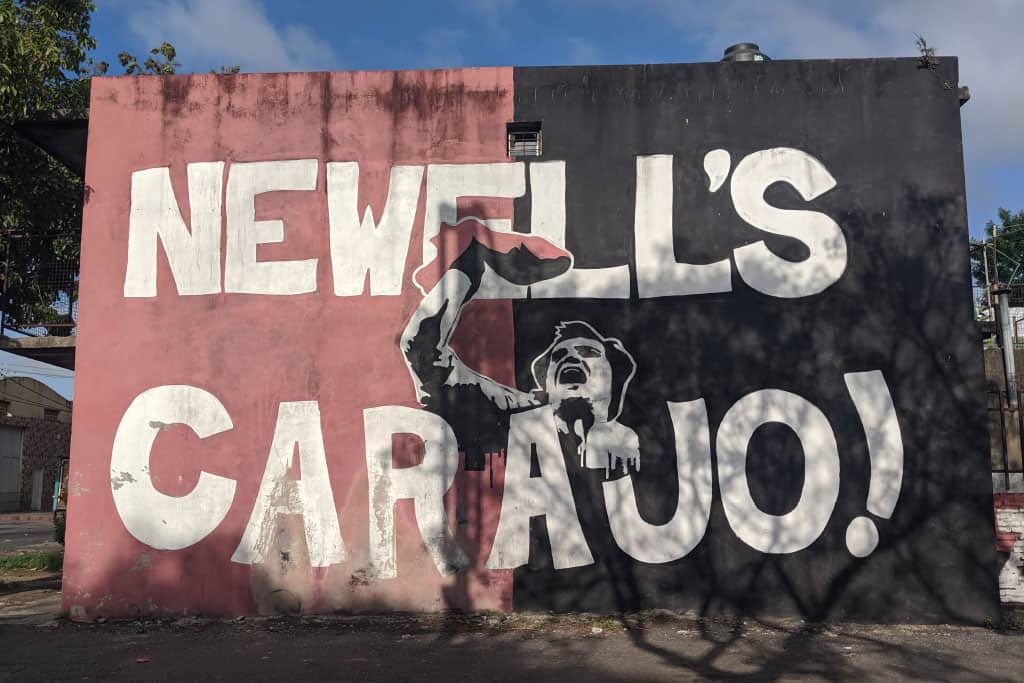 Bielsa is everywhere in Rosario: on walls around the city; in the park of independence, where the stadium named in his honour lies; in the first question my friends and I are asked whenever local residents hear our English accents: "Inglés? What do you think of Marcelo Bielsa?"
In the case of our tour guide, Victoria, who showed us around on our first night in the city, Bielsa was even at her graduation, as she studied with his daughter. "He doesn't like to smile much," she laughed, recalling how those in attendance flocked to have their picture taken with one of the city's most reluctantly influential sons.
But it isn't just ar' Marcelo that permeates Rosario. It is the Bielsa family as a whole.
The city prides itself on its history of revolution and rebellion. Che Guevara was born and raised here. Virginia Bolten founded Argentina's first feminist newspaper, La Voz de la Mujer, here. Radical politics has prospered so much here that even some pastries are known by anarchist-inspired names. It was in this walk of life, Victoria told us, that the Bielsa name first rose to prominence in Rosario.
The story dates to February 1921, when tensions were high in the city amid protests and strikes against the city's municipality. The mayor, Fernando Schlesinger, had tried cutting costs by lowering salaries, falling behind in the payment of other wages and simply laying off many temporary workers. Support for the strikes gradually grew to the point where there was beginning to be a shortage of meat and bread as slaughterhouse workers and bakers refused to work, while streetcars could only run on restricted timetables due to a lack of staff.
The final straw came when Schlesinger announced that Carnival would not take place, before leaving the city on his own holiday. A general strike was agreed on February 5th, and two days later a group of around twenty anarchists, consisting of medical students, electricians, bakers, labourers and painters, among others, stormed the local government building and proclaimed themselves the new authority.
Taxes were immediately suspended and new regulations were imposed to improve workers' rights. The Argentine flag, which originates in Rosario, was lowered and a red flag was raised in its place. The city was under anarchist rule for all of eight hours before the building was surrounded by armed firefighters and the participants in the short-lived authority were arrested.
Enter jurist Rafael Bielsa, grandfather of Marcelo, who successfully defended the anarchists in court, securing their release. In the meantime, the uprising had made its point and received public support as it became apparent a new local government was required. Claudio Newell, a long-time opponent of Schlesinger, was elected mayor and appointed Rafael Bielsa as secretary of the municipality.
As his name suggests, Claudio Newell was the founder of Newell's Old Boys, meaning the Bielsa family was linked to the club some seventy years before Marcelo was lifted upon the shoulders of supporters while screaming 'Carajo!' after guiding them to the Argentine title.
Claudio was the son of Englishman Isaac Newell, who first moved to Argentina from Kent at the age of sixteen, and is widely recognised as one of the pioneers of football in the country. Legend has it that, upon returning to Rosario after a trip back to England, Isaac brought with him Argentina's first leather football and the codified laws of the game. (It's also noted that he returned from a later visit to England with Dash, 'a beautiful dog who was famous in the neighbourhood for his size, presence and bravery'.)
It's difficult not to see similarities with Marcelo Bielsa when reading a description of Isaac Newell as possessing 'much intelligence and dedication to work. A man who put football in our hearts and taught the country how they should play this sport. A formidable educator, of popular and winning ideology.'
Raised in a city of revolution shaped partly by the work of an Englishman, it could be argued Marcelo Bielsa has come to England to return the favour. Leeds United is and always will be a big club, but perhaps now we're part of something even bigger. ◉
(This article was published in TSB 2019/20 issue 05 and is free to read as part of TSB Goes Latin.)
(Every magazine online, every podcast ad-free. Click here to find out how to support us with TSB+)