Give the gift of TSB!
Here you can send someone a voucher for the price of one year's membership of TSB+.
This will generate a virtual gift card, with a code that can be applied when someone buys a TSB+ membership.
Please read the information below about how to use these Gift Cards.
You can send either a TSB+ Yearly membership, or choose TSB+ Mag to add delivery of eight regular issues of the TSB magazine (this includes a £10 discount on the regular magazine subscription price).
Click here to see details of what is included with TSB+.
The gift card will be sent by email, either to you, or to the person you're buying it for.
You can choose to send it now, or on a date in the future.
If you choose a date, it will be sent at around the same time on that day as the day you ordered it — i.e., if you order it at 10am today and ask for it to be sent next Wednesday, it will be sent around 10am next Wednesday.
More info: After receiving this gift card, the recipient will need to buy and set up the membership for themselves. If you prefer, you can also buy a gift TSB+ membership by adding a membership to your basket from this page, and at checkout ticking the box marked 'Give this subscription as a gift to someone else'. This will allow you to set up and pay for the subscription, and the recipient will receive login details by email.
To use the gift card: There are a couple of steps to use this Gift Card to pay for a TSB+ membership.
Because the first month of a TSB+ membership is free, you do not apply the Gift Card at the checkout when you sign up. No money is taken at this point.
After you have started the free trial of TSB+, you need to login to your account dashboard, and go to the 'Subscriptions' section — you can follow this link: thesquareball.net/my-account/subscriptions
On that page, find the new subscription. There is a setting for 'Pay with Gift Cards balance', and you need to set this to 'on' like in the image below.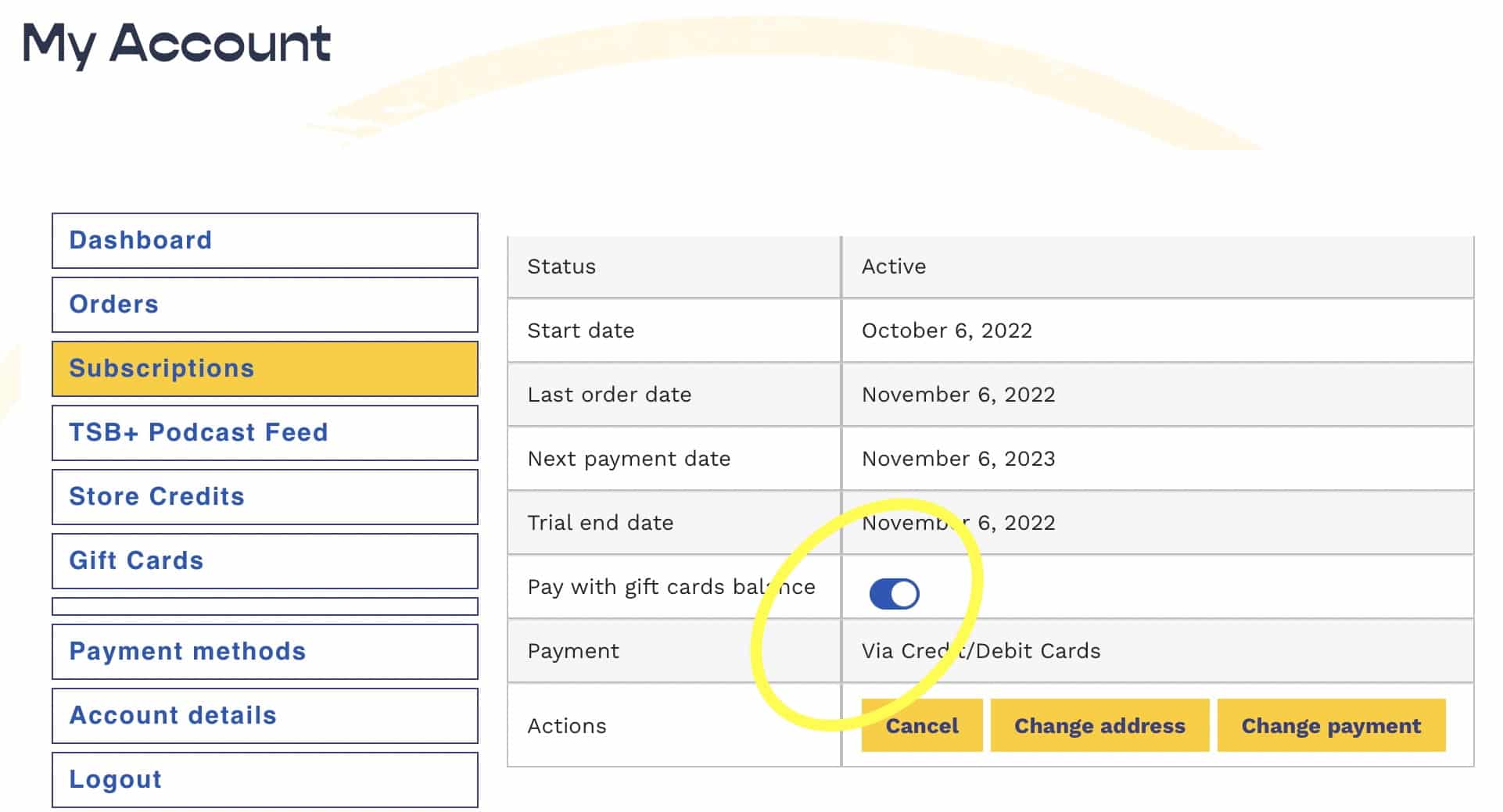 You need to do this before the end of the first month trial, otherwise the payment will come from your saved payment method. If this happens, please get in touch with us and we'll sort it for you.
You can also use your account dashboard to add your Gift Card to your account balance.
If you have any questions, please get in touch with us here: thesquareball.net/support