There are lots of strange, confusing things about the Kings League, but the main thing I wanted to know when I watched a game for the first time was, why the hell is Pablo Hernandez playing in goal?
Pablo didn't seem to mind. In fact, he seemed to be loving it. Maybe he's always wanted to be a goalkeeper. He nearly played in goal once at Leeds, after Kiko Casilla was sent off against Sheffield United at the end of 2018/19 and Marcelo Bielsa had used all his substitutes. While the rest of the Leeds team argued about the decision, Pablo calmly walked back to his own penalty area and started putting on Casilla's gloves, only for his teammates to turn around and force a grumpy Pontus Jansson to play as an emergency goalie so they didn't sacrifice their best player when they needed to score. Perhaps Pablo's inspiration in the promotion season was borne out of frustration that, if only he'd been allowed to live out his fantasy, Leeds could have had a much easier time. Let's face it, he'd definitely have been better in goal than Kiko.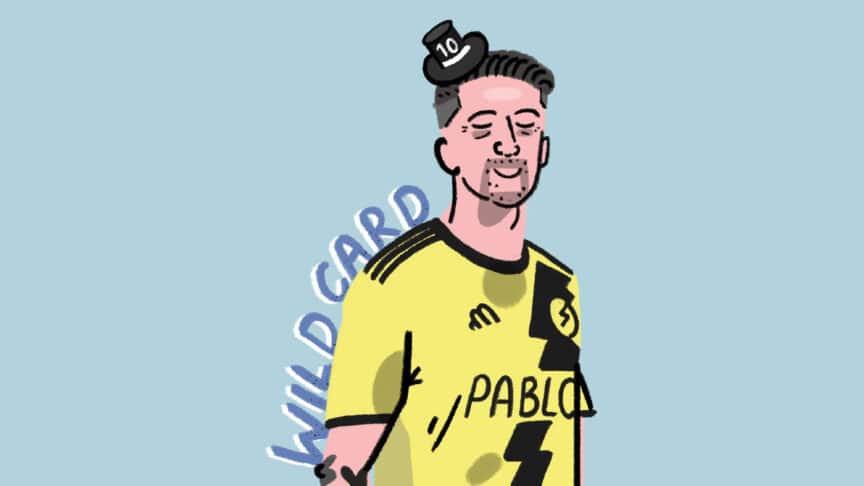 Two days after announcing he was retiring from professional football and remaining at boyhood club Castellon as an advisor and ambassador, he was testing that theory while playing for Rayo de Barcelona in the seven-a-side Kings League. He was in goal, sort of, wearing an outfielder's kit with the number 10 on the back. Unable to use his hands, he was throwing himself at shots taken from inside the centre circle, trying to stop them with his feet, head, and anything else he could get between the ball and the goal.
It was one v one, taking turns to shoot. Pablo scuffed his first attempt scruffily wide. He connected better with his third, shaving the hair of his opponent and pinging the ball against the bar. In between those two shots — bang! One arrowed into the top corner. It was his second goal of the game, having earlier scored a penalty against a proper goalkeeper who was wearing gloves and allowed to use his hands and everything. But Pablo celebrated neither goal as wildly as the saves he made by stretching his legs low to his right, deflecting the ball wide off his shins and jumping back up punching the air. All that was missing was the kiss of his children's names tattooed on his wrists.
Whatever Pablo wanted to do in his retirement he'd have been good at, because he's Pablo Fuckin' Hernandez. In an Instagram post confirming his professional career was over, he thanked the fans who 'made me feel unforgettable emotions and moments that I will keep forever with me'. Liam Cooper commented that it was time to get his 'feet up and enjoy! You deserve it mate.' But it was apparent Pablo wasn't entirely finished: 'It's time to say goodbye, but it's not goodbye to football, it's just goodbye to the pitch, goodbye to putting on my boots to train every day or play every weekend. It is not a goodbye to football because football has been, is and will be my life and my passion!'
A day later, Rayo de Barcelona announced they had signed Pablo to appear in the Kings League as a guest player, and the following day he was making his debut against Porcinos in an indoor arena. Rayo had to win to have any chance of reaching the play-offs. They lost, but Pablo was still named MVP as the best player on the pitch by scoring twice and making a couple of saves. Rayo's owner, a famous Spanish YouTuber and streamer known as Spursito, confirmed Pablo was staying with the team permanently. "The magician, Pablo Hernandez, accompanied us in the match against Porcinos, making one of the greatest exhibitions of the Kings League with two great goals," he said. "A truly great player. The decision has been made that he will be the chosen one."
At Leeds, Pablo used to occasionally stream himself playing video games online. He's still got a link to his Twitch account in his Instagram bio, but all the videos have been deleted. Approaching middle age with three children to raise, he'd have probably struggled to justify spending a few hours filming himself playing The Sims. Instead, he's playing in a real life video game in the Kings League, a tournament that resembles football crossed with Mario Kart.
To call the Kings League quirky or idiosyncratic would be fair. A more accurate description is to call it completely batshit mental. Before each game kicks off, coaches from the respective teams choose a card each that can be used during the match as 'secret weapons'. There are cards that give teams an immediate penalty, or allow them to choose an opposition player to be 'sin-binned' for two minutes (one team played this against Rayo and Pablo immediately started walking off the pitch without having to be told it was him), or steal the other team's card after it has been played.
The game kicks off with the ball being dropped from the roof. The second half starts with the ball on the halfway line and both teams lined up on their respective goalline, encouraging the two quickest players to sprint and clatter into each other, like a drop ball with a run up. There are offsides and VAR, with each side getting one VAR referral per game, which they keep if they are successful in overturning a decision. Referees are fitted with cameras and microphones. Games are played over two twenty minute halves, and during the last two minutes of the match goals count as double unless the score is tied, in which case it becomes a period of golden goal. With two minutes remaining of a first half, games are stopped so someone in the stands can throw a massive dice onto the pitch, and whichever number is rolled decides how many players remain on each team, often leading to bizarre one v ones, and that's how Pablo got to play in goal.
The competition was established by former Barcelona defender Gerard Pique, who is spending his own retirement like any bored rich man by doing whatever the hell he wants. In 2020 his company Kosmos helped arrange a deal to stage the Spanish Super Cup in Saudi Arabia, reportedly pocketing Pique a $25.9m commission both he and the Spanish football federation insisted was completely above board. Among other ventures Pique has used his riches to launch are the Balloon World Cup, in which participants compete in a glass perspex box filled with IKEA furniture, throwing themselves around desperately trying to keep a balloon in the air while commentators scream "¡VAMOS!" despite the fact that balloons actually fall really slowly and there isn't that much tension. I suppose it's one way of getting over breaking up with Shakira.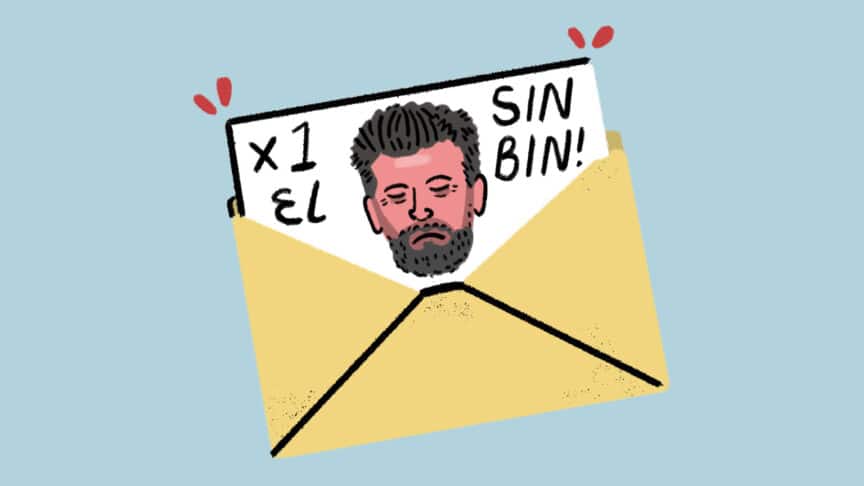 Like much of Pique's exploits since retiring, the Kings League hasn't been without controversy. All fixtures are played on the same matchday at the same venue, and streamed live for free on Twitch, but the 2023 finals day was held at the Camp Nou. The scheduling coincided with the women's Clasico between Barcelona and Real Madrid, which had previously sold out the Camp Nou but had to be played at the much smaller Johan Cruyff stadium instead. Pique hopes to one day take the tournament to the Bernabeu. "I always loved playing there," he said. "It was just one stroll after another." Many of the players are from lower-league clubs in Spain, but after the Kings League demanded exclusivity, some players ditched their professional clubs so they could remain in the tournament.
Pique seems to believe that all publicity is good publicity. After La Liga president Javier Tebas derided the competition as "a circus", Sergio Aguero — who has appeared in the Kings League as a guest player — dressed up as a clown. Aguero is chairperson of the Kunisports team, whose manager, Martin Posse, was coached by Marcelo Bielsa at Velez Sarsfield before being signed by Bielsa at Espanyol. "I remember the day of my wedding," Posse once said. "The ceremony took place a few hours after we had played a match against Boca Juniors. Marcelo Bielsa turned up at the ceremony with a video of the match we had just played under his arm (which he asked Posse to study)."
Most of the sides are chaired by famous video game streamers and YouTubers, although former Real Madrid goalkeeper Iker Casillas is an exception as the head of 1K FC. He isn't as comfortable in his surroundings as Pique and Aguero. At one matchday a bunch of Gen Z internet celebrities were singing and dancing in front of cameras that soon panned to the left and captured Casillas sitting on his own, dressed in a smart shirt, trying his best to ignore what was happening around him.
The Kings League made headlines thanks to the presence of a player known only as 'Enigma', who wore a Mexican wrestling mask, long sleeves to cover his tattoos, and the number 69. Pique said Enigma was a "first division player" who was appearing against the wishes of his club, prompting rumours it was the four-times Champions League winner Isco. Supporters were disappointed when Enigma appeared on the pitch and was described as "dreadful" and "chunky". The identity of Enigma was later revealed to be Nano Mesa, a 28-year-old journeyman striker who has spent most of his career in Spain's second tier and has been without a club since being released by Cadiz in 2022. "The rest of the story was made up," said the journalist Guillem Balague, "and Gerard Pique is probably thinking, 'So what?'"
Each team has a squad of ten players who are paid by the league, supplemented by a permanent eleventh player — like Pablo at Rayo — and guest players twelve and thirteen who can change from matchday to matchday and are funded by the teams themselves. Sometimes the streamers in charge of the teams will pick themselves as a guest player. Names like Ronaldinho, Andriy Shevchenko, and Andrea Pirlo have appeared, but they have been fleeting. The overall standard of guest player is less impressive. Prior to Pablo, Rayo had been relying on Dani Linares, a 25-year-old without a pro club who last played in the fifth tier of Spanish football, a regionalised competition that contains 324 teams. With former Barcelona left-back Jordi Alba still playing for Inter Miami, Aniquiladores settled for signing his older brother David, who has never been a pro footballer.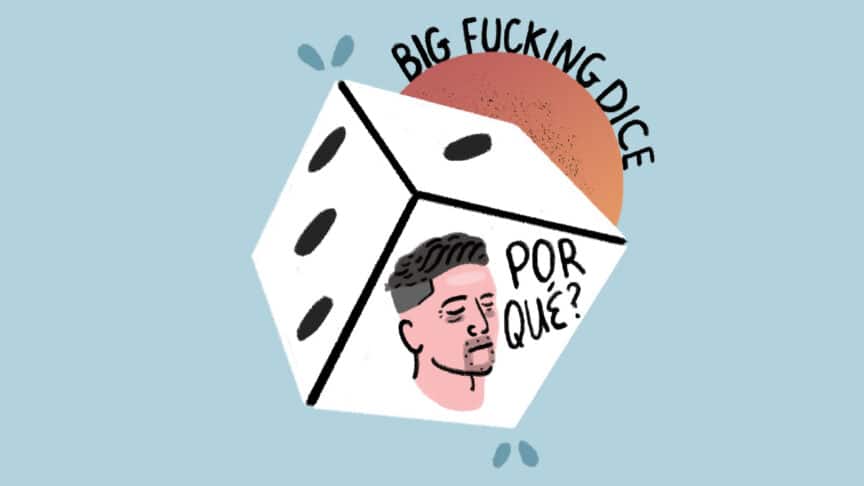 As you can probably tell, the whole thing is confusing. "We were discussing the problems of traditional football," CEO Oriol Querol told The Athletic. "Ninety minutes has become a long time, and sometimes a match can end 0-0. In a Champions League final, for twenty minutes, there can be no content." It's the same logic that applies to so much 'content' published online — the idea that young people can't concentrate on one thing for more than a few minutes — and means we're bombarded with bullshit clickbait when it's far more satisfying and fulfilling to read, I dunno, a book.
It's not a problem unique to football. Cricket has prioritised shorter forms of the game, but anyone who has watched England at the latest fifty-over World Cup has been left yearning for the drama of the summer Ashes series that was played over 25 days and still ended in a draw. Don't get me wrong, I really enjoyed watching Pablo Hernandez lash a ball into the top corner for Rayo, but that was because it reminded me of when he used to do it for Leeds in the tension of a 46-game promotion challenge and provided some of the best moments of my entire life.
The aim of the Kings League is as confused as I am. It's designed to provide short-form 'content' people can quickly move on from on their phones, yet Querol has bragged, "What we want is for things to happen all the time, and the proof is that the gameweeks last seven hours, and in the seven hours there is a fairly stable audience base because we don't give them a break." That makes me think that young people have a longer attention span than they're given credit for. Wanting to make football consumable, they've made it incredibly convoluted. The ebb and flow of a ninety minute league fixture seems straightforward in comparison — not to mention much shorter than a seven-hour slog without a break.
There's also the question of misplaced nostalgia. If the competition is aimed at a younger audience, do teenagers really want to watch an overweight Ronaldinho huff around a pitch when he was the best player in the world before they were even born? A couple of weeks ago I started watching Pablo play for Rayo but had to turn it off out of sheer sadness when he missed a penalty and kept falling over after losing the ball. The final straw was when he lazily backheeled the ball to the opposition, sprinted into a challenge determined to make up for his error, got nutmegged, and was decked by his own player trying to make a tackle from the other side.
Still, I can't deny the dopamine hit. Pablo might not be the player he was at Leeds anymore, but his brain remains as sharp as ever, and there are still flashes of his genius. In a game against Aniquiladores last month, he played his teammate in on goal with a pass that nutmegged a defender from a few yards away. Later, Rayo were awarded a penalty, and Pablo waited to take it with his hands on his hips, the number 19 on his back, and the captain's armband around his bicep. It was one of three penalties he converted that day, and after sending the goalkeeper the wrong way he turned around with a huge grin on his face that matched my own.
In the final minutes, with the opposition goalkeeper playing as a midfielder trying to help his side score a 'double goal' that would have won Aniquiladores the match, Pablo intercepted a loose ball and scored from his own half without taking a touch. Afterwards, Marca published a report opening with a line that Leeds fans could all relate to: 'Pablo Hernandez pulled the chestnuts out of the fire for his team in a way that is not valued as much as it should be.'
When the 2024 competition begins in January, Pablo will be playing for a new team. He has switched to the Porcinos side that knocked Rayo out of the Kings Cup last month. He recently made his debut for Porcinos in a game that was played by the women's Queens League team in the first half, and the men's side in the second. Now he's playing in pink rather than yellow, but not much has changed. He created one goal for a teammate and scored another himself that was worth double. It might be confusing, and it's certainly different, but some things remain the same. Even while playing for Leeds, his goals were always good enough to be worth two. If a league claims to be fit for a king, then Pablo Hernandez has to be playing in it.
(This post is free to read from The Square Ball magazine season 34 issue 3. Click here to read more) ⬢