As the Allardyce reign at Leeds began, I sought refuge by watching Caleb Ekuban's Genoa face Giuseppe Bellusci's Ascoli. Genoa would be promoted back to Serie A with a win, provided Elia Caprile and Mirco Antenucci's Bari didn't beat Modena. Lucky for me, this trip I'd booked months ago caused me to stumble upon the great promotion party that COVID denied Leeds in 2020.
Genoa were relegated last season but kept a core of experienced players to complement the younger talent that had struggled to make an impact in Serie A, which felt familiar. From a Leeds perspective, it felt comforting to see a team who'd suffered relegation bounce back immediately.
Genoa is a beautiful Baroque city home to both Genoa and Sampdoria football clubs, who share Stadio Luigi Ferraris, the most English stadium in Italy, with four enclosed walls rather than the traditional oval/circle and running track. It makes sense, given Genoa was founded by English merchants in 1893, making it Italy's oldest club. The stadium PA also played You'll Never Walk Alone before kick-off, and everyone knew the words. It has something to do with Genoa beating Liverpool in the UEFA Cup years ago.
Our seats were in the Gradinata Sud, which the Sampdoria ultras occupy for their home games, so the stand is plastered with Samp murals and stickers. It must be a strange experience for the Genoa fans, but I suppose it's better than having ancient pie stains on the wall.
The stand is almost full an hour before kick-off, so my better half and I end up sitting on the fringe of a young ultras group, watching two teenagers hanging from a railing, wielding megaphones and shouting instructions. The walkways are tiny, so the Grifoni (Gryphons) stand on their seats for the entire game, adding a new level of jeopardy to goal celebrations.
As we approach kick-off, flares and grenades are popping off, confetti is being lobbed down from the top tier onto the massive tifo being unfurled over my head. All my senses are competing furiously for my attention as the air fills with smoke while I push the tifo back. People are chanting to the beat of the drum and the direction of the megaphone conductor. The game has already kicked off. I can just about make out Bellusci's bald head through the smoke and sweat getting into my eyes. This is going to be intense.
The Genovese have acquired a taste for winning back down in Serie B, rather than touring the country taking beatings from teams with bigger budgets. They're upbeat, but nervous too. Though many English fans turn their nose up at the megaphone and drum approach, I can feel the crowd noise in my chest throughout the opening stages. Perhaps it's the enclosed walls, or maybe the sea air and steep hills gives them greater lung capacity. Either way, it's like I'm standing beside a speaker at a gig.
Unsurprisingly, Bellusci pisses off the Genoa fans almost instantly, feigning injury before squaring up to Genoa midfielder Kevin Strootman. The guy behind me calls him a bald piece of shit (in Italian) and it's like I'm back at Elland Road. Almost.
Genoa score and settle the nerves after some early Ascoli pressure. The ground explodes louder than the smoke bombs the ultras keep throwing. Just before half-time, news filters through that Bari are winning, which settles the crowd down a little, but not much. Just after the hour mark, Genoa double their lead and appear to be cruising to victory, but then they miss a penalty and Ascoli score. Twenty minutes to go and it's 2-1 Genoa, but they're wobbling. People are confused. It's all gotten very Leedsy. Danilo, who is sitting beside me chatting about Genoa, complains that they always do things the hard way. I explain Leeds' past to him and suddenly he feels better.
Shortly after, there are rumours of a Modena penalty. Elia Caprile stands between Genoa and promotion. Long gone are the days of radios, so folks around us are watching Modena-Bari on their phone. Luckily for Genoa, Modena score and we celebrate like Genoa have scored, as the cheers build gradually while the news spreads, building to a crescendo that almost takes the roof off.
Genoa pull themselves together, relying on Ekuban's chaos up front to keep them up the pitch. They see the game out, but there's still time for Bari to spoil the party. Danilo and I stare silently at my phone. Time is up, but there's no notification. How can we celebrate without a notification? People at the other end are cheering. Have they gone early? My phone flashes 'FT: Modena 1-1 Bari' just as the stadium goes fully bonkers. They've done it, back to Serie A.
With people hugging and crying, it seems that everyone has forgotten about the customary pitch invasion. Perhaps the police presence curtailed the idea, or everyone is too scared of jumping off their seat to run onto the pitch, but the party is in the stands.
Fan songs play through the PA, including a second round of YNWA, and it seems most of them have been reworded to mock Sampdoria, who have been relegated to Serie B and sit on the verge of bankruptcy. An hour passes before anyone leaves, too busy singing and lighting flares to consider the short walk back to the city.
We join the convoy of red and blue. Cars and Vespas blast their horns, flags fly out of windows. The party has just begun, but we've got some tourist things to do. I've spent hours in the hot sun with 32,000 people. I need a shower and some pasta, maybe a drink.
After dinner, we make our way into the main square, through waves of Genoa fans who clearly hadn't been home. There was a music festival in the city that day and a soul band has been commandeered by a drunk Genoa fan, getting them to play club songs that for him to slur along to.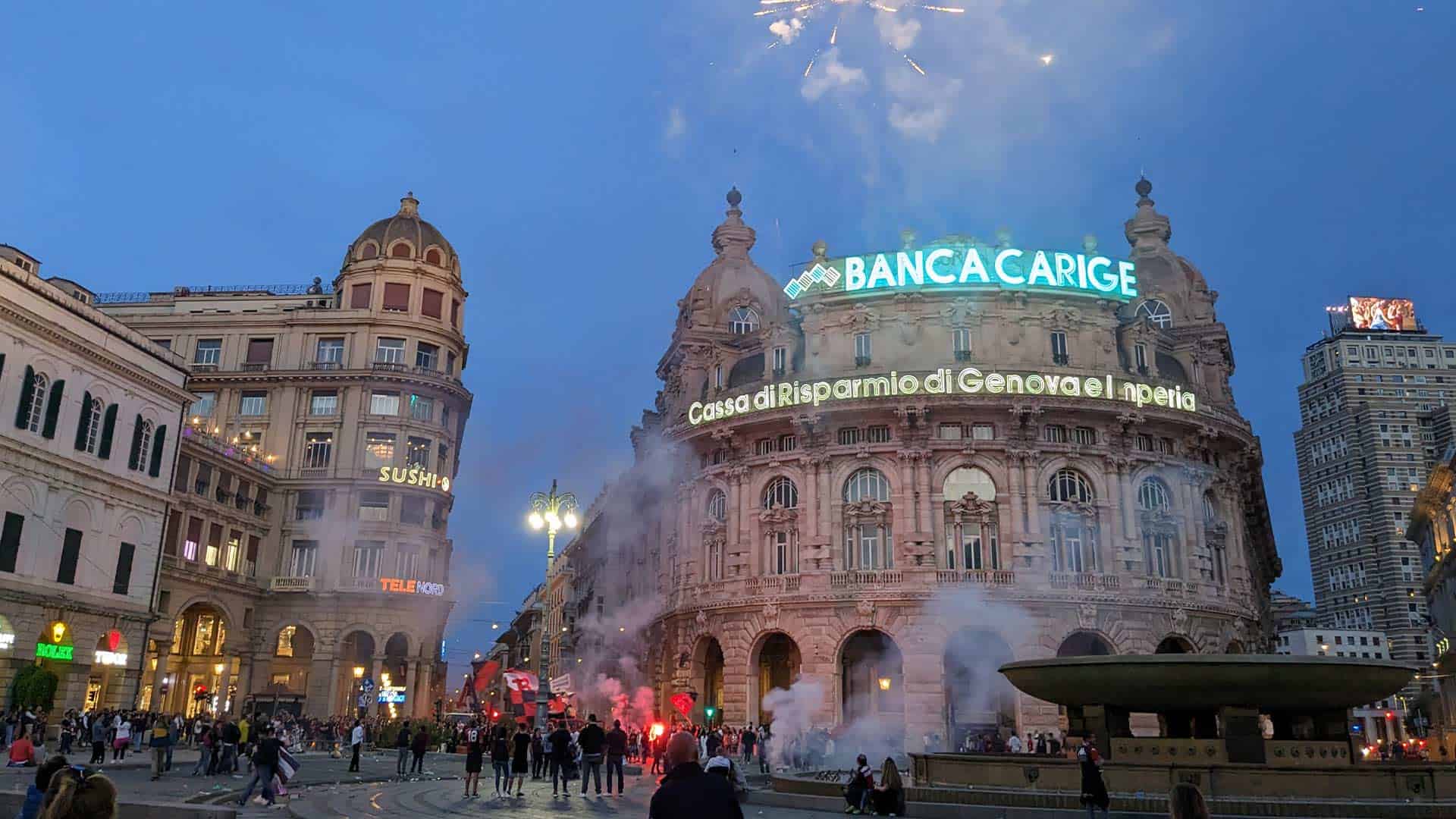 The Genoa ultras had created a stage in the square, waving flags on the back of milk trucks, while the younger ones created a fireworks display and wound up some grumpy carabinieri. The players' parade through town ended hours ago and thousands had made their way to the metro or the resting place of a barstool, but many partied on. Around every street corner lay another pocket of fans, each throwing their own mini parties, making the most of triumph after a time of tribulation.
Some stood outside the Sampdoria shop, singing about impending job losses to an empty building. That's what football's all about really. This time last year, Samp fans held a 'funeral' for Genoa upon their relegation, now it's their turn. The next day, we walked through town and there wasn't a drop of litter, just numerous bleary-eyed Genoa fans heading to mass, before a Sunday lunch to cure the hangover.
July 2020 was a weird time for many Leeds fans. I travelled to nearly every home game that season, but couldn't be in Leeds to celebrate because of Covid, and there were many more like me. The ones who could attend did us proud, but so many still missed out. The final game against Charlton should have been a chance to celebrate with those heroes like Genoa were able to.
To watch a dramatic promotion unfold, a little like 2010 for Leeds, was special. For a club who suffered a heart-breaking relegation a year earlier, it gave me hope that Leeds going down this season needn't be the end of the world. No matter what happens on the final day, there's something to look forward to next time. Maybe? I think. Ah, who knows. See you in Plymouth in November.
(This article is free to read from TSB magazine 2022/23 issue 08. To buy paper copies or read more, click here) ⬢