Marcelo Bielsa once said of himself, "A man with new ideas is a madman, until his ideas triumph," and this leads me to the furore surrounding his decision to send a club employee to peer through a fence and peek at Derby County's training session — while stood on a public footpath, it has to be said. Bielsa's snoop was inevitably spotted acting suspiciously by someone representing Derby, and the rest played out as Bielsa imagined it would. Or so I initially thought, until I came to my senses.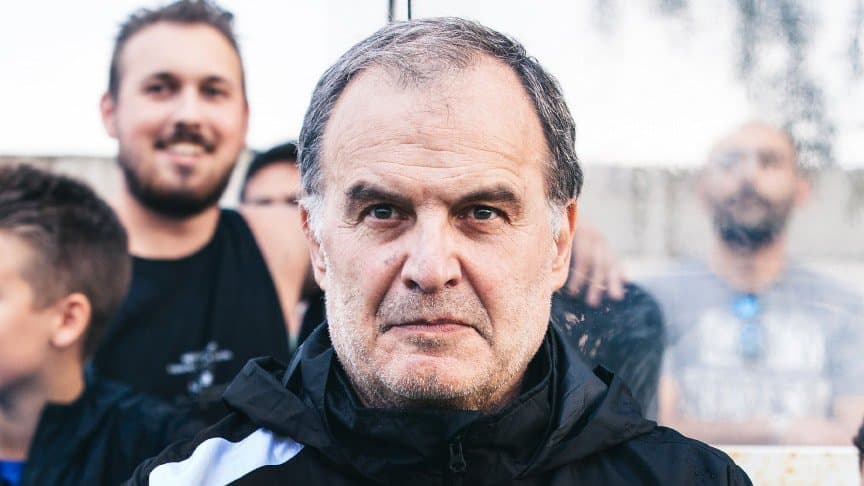 Everything we know of Bielsa, a man and coach who has inspired so many and been the subject of much curiosity and scrutiny, a man about whom several books have been written and a whole catalogue of articles published, points to an obsessive character. Meticulous in everything he does and says, he is not prone to carelessness, other than the occasion he sat on a hot drink placed unwisely on the cooler box that predated the blue bucket during his time as coach of Marseille. And yet the fools who masquerade as pundits, the masses of fans of other clubs who obsess about us at every opportunity, various managers and the eleven directors of Championship clubs who stand to lose most as a result of Bielsa's influence on this current Leeds side, inevitably lost their minds.
I convinced myself that this was the work of a genius. Such is my regard for Bielsa, and given the circumstances, I perversely believed the uncovering of 'spygate' was all part of some master plan hatched while sitting at a table in some Little Chef off the A1. I guess I got carried away.
I had told myself that the ensuing commotion played into Bielsa's hands perfectly, culminating in him calling an impromptu press conference in which he stunned those present by admitted to sending a so-called "spy" to every training session of every club Leeds were due to play. Rumours had it that he was going to resign or at least offer a grovelling apology to appease the smug underclass of punditry and countless fans, most probably consigned to their bedsits, posting furiously on Twitter to their tens of followers. But Bielsa instead laid out his meticulously prepared coaching plans and gave a tactical masterclass to the nation's press. He simultaneously exposed Frank Lampard's tactics to the watching world, while counterintuitively apologising if he had upset Lampard's sensibilities.
He knew he hadn't broken any rules, as none existed. Bielsa is, after all, the grandson of one of the architects of Argentina's legal system. He had simply done as he has always done, in whichever country he has coached. Like many, I scrolled Phil Hay's Twitter feed, mesmerised by what I was reading. I began to believe that Bielsa had sensed the time was right to set a trap for the countless 'Dirty Leeds' protagonists. I believed that sending a 'spy' and being caught had all worked out wonderfully well, and served to galvanise the club at a time when doubts were starting to creep in following a poor run of form. I was blown away by this idea.
Had Bielsa managed to tap into the narrative that has surrounded Leeds since Don Revie's days? Surely he'd have known all about Leeds United's DNA when doing his research into the club before he'd even met Andrea Radrizzani and Victor Orta. Or so I thought. Leeds are the pariahs of the English game, after all. I was of the opinion that Bielsa was too smart, too obsessive in everything he does not to have known how Leeds are perceived in the game and, in my opinion, too much of a perfectionist for the spying incident to have happened by chance. This was my belief.
I delved further; this was a man, after all, who had taken 700 hundred videotaped matches with him to the 2002 World Cup. A man who takes precisely thirteen steps when pacing across his technical area. A man who, when being interviewed by Orta and Angus Kinnear, was asked how well he knew the Championship and responded by informing them that he knew the formation used by every team in the league that season. He recited how both Bolton and Burton had set up and the likelihood of one formation succeeding against another. A man who insists on ensuring that over 300 hours is spent analysing an opponent, "Because we think this is professional behaviour. It's to try and avoid being ignorant about the competition we're playing in."
But why send someone to snoop on an opponent? "I do not need to go to a training session to find out an opponent," he said. "Why do I go? Because it is not against the rules and I didn't know it would cause such an issue. You have around twenty people who create a volume of information. Not all of which is necessary. So why? Because we feel guilty if we don't work enough and in my case because I'm stupid enough to allow myself this behaviour."
He qualified this by stating that it was as much to ease his anxiety as anything else. He had been driven to explore every angle possible to overcome any doubts he may have had.
So we come full circle to his assertion that, "A man with new ideas is a madman, until his ideas triumph," and it all seemed to make sense. The only course of action not to have been planned was undoubtedly the craziest of them all. Only a madman, in Bielsa's own words, could conjure up a plan to send someone to 'spy' with the intention of getting caught. Only a genius could have foreseen the fallout that would result. It was all part of the plan.
But amid this maelstrom of crazy thoughts I saw sense. I had momentarily overlooked the integrity of the man. A man of such strong principles and values, who famously asked his squad to take several hours to pick up litter around Thorp Arch as a means of recognising the economic sacrifices made by fans. A coach who refuses to lay the blame for a poor decision at the door of a referee and even refuses to celebrate a goal out of respect for his managerial opponent. A man who will accept full responsibility for a poor performance rather than hang his team out to dry. Bielsa had simply been taken aback to have been accused of a breach of fair play and had wanted to apologise in the only way he knew how. Jonathan Wilson, in his excellent piece in The Guardian, completely hit the spot when observing, "By a frank acknowledgment that he may be in the wrong, by an astonishing transparency, Bielsa has enhanced his legend," and, "Somehow, from an accusation of espionage, Bielsa emerges as somebody not only of intelligence and diligence but of great humility and integrity."
There had been no ulterior motive, and he was undeserving of the scrutiny that his inadvertent actions brought. But this is Leeds, and scrutiny always follows. Despite all the furore, he unwittingly elevated his status among Leeds fans, making us all realise he was destined to be our manager. ◉
(This article was published in TSB 2018/19 issue 07 and is free to read as part of TSB Goes Latin.)
(Every magazine online, every podcast ad-free. Click here to find out how to support us with TSB+)